The big theme this week: woodchips! I tracked down an arborist working in my neighborhood and was able to have a big (big!) load of woodchips delivered Tuesday. Woodchips can only block the driveway for so long, so it's been a shovel-a-thon over here since then.
Here's this week's list of accomplishments, recorded in the hopes that this practice will help keep me motivated and accountable. Please join in, and list your own weekly achievements in the comments, or if you have a blog and want to do your own post and link it up, that's great too.
Planting & Maintaining
Removed nearly all of the straw mulch in my garden and replaced it with fresh arborists woodchips. Top-dressed existing paths with woodchips.
Topdressed fruit tree areas and perennial beds with chicken-coop litter.
Finished planting potted peppers and tomatoes.
Set up drip irrigation system to keep the potted vegetables properly watered.
Side-dressed the remainder of the vegetable garden.
Trimmed out old, yellowing, or dead leaves from squash and cucumber plants.
Continued to summer prune fruit trees.
Overseeded several areas with crimson clover.
Completed at home soil test to check soil nutrient levels. (At home tests really aren't that great but we knew that going into it – we just wanted a quick-and-dirty gauge of any glaring nutrient deficiencies.)
Performed a mini, DIY soil assay with peas to check for residual herbicide residue in my garden soil. (There is some concern the straw I mulched with this spring may contain herbicide residue.)
Watered, fertigated, etc. as needed throughout the garden. Also watered my fall seedlings, which are up and growing.
Set up a bucket system to make it a bit easier to utilize Nature's Easiest Liquid Fertilizer.
Planted fall peas where a round of spring broccoli finished up.
Harvesting
Lettuce
Broccoli
Cabbage
White Currants
Blueberries
Summer squash
Blackberries
Asian Plums
Onions
Basil
One nearly ripe tomato
Honey berries
Strawberries
Various Herbs
Preserving
Same as last week – the focus was on outside, not inside this week. No food preservation projects for me.
Cooking + Eat Down The Larder
It feels like we are eating two kinds of dinner right now: meals from mostly garden veggies, and popcorn. (Related: Garden Fresh Cooking – Patreon.) My daughter was away camping for four days this week and while she was gone Homebrew Husband I got into Game of Thrones. It therefore seemed perfectly reasonable to eat popcorn for dinner…more than once.
I learned kimchi can go on everything. Even hot dogs. Never tried a kimchi dog? Your loss, friend.
Lots of zucchini and egg or zucchini and bean type scrambles. I've used up 2 pints of pinto beans this way.
Used up a jar of chili from the pantry.
Cut up and roasted my last chicken from the freezer – made "hot wing salad" with the huge amount of lettuce I'm still trying to eat before it bolts and a bit of blue cheese.
Animals
Deep cleaned coop.
Mucked out chicken run.
Added deep layers of woodchips to chicken run.
Set up my favorite fly traps in the chicken coop area. These things work so well.
Cut and installed a splash guard between the duck tub and the coop to stop water from the tub from making the coop litter damp.
Cleaned out duck tub filtration and ran lovely mucky duck poop water up to the food forest.
Household and Projects
Vapor barrier was re-installed in the crawl space, which officially concludes the crawl space sump pump home improvement project that has been in progress since January. Yes, January.
Business, Finances and Frugality
$455 per month of direct funding on my Patreon page and an amazing growing community. Doing the Patreon thing is one of the better decisions I've made with this blog.
Reminder for Patrons: our Livechat Q&A is happening tonight!
In all other financial management areas, I'm totally behind. The bills need paying, paperwork needs filing, the budget app needs updating…and so it goes.
Energy Use & Solar Panel Production
Total electricity used: 186 kWh

Total solar energy produced: 225 kWh (= $120.89 in production incentive)

Energy "sold back": 39 kWh (= $4.10 in net production)

Total earned through our solar panels this week: $124.99
Homeschooling & Family
Started reading The Hitchhikers Guide To The Galaxy to Oliver before bed. He loves it!
I need some summer reading just for me. Fiction. I get enough non-fiction in my life. Something really engaging. The last books that kept me up way too late past my bedtime were the Wool series. I like most genres, but don't like excessive/pointless violence, gore or torture. Any fantastic recommendations?
Planning and Research
Lots of research into signs of herbicide residue.
Otherwise, right now I don't have a lot of garden projects in flight so not much to obsess over.
•          •          •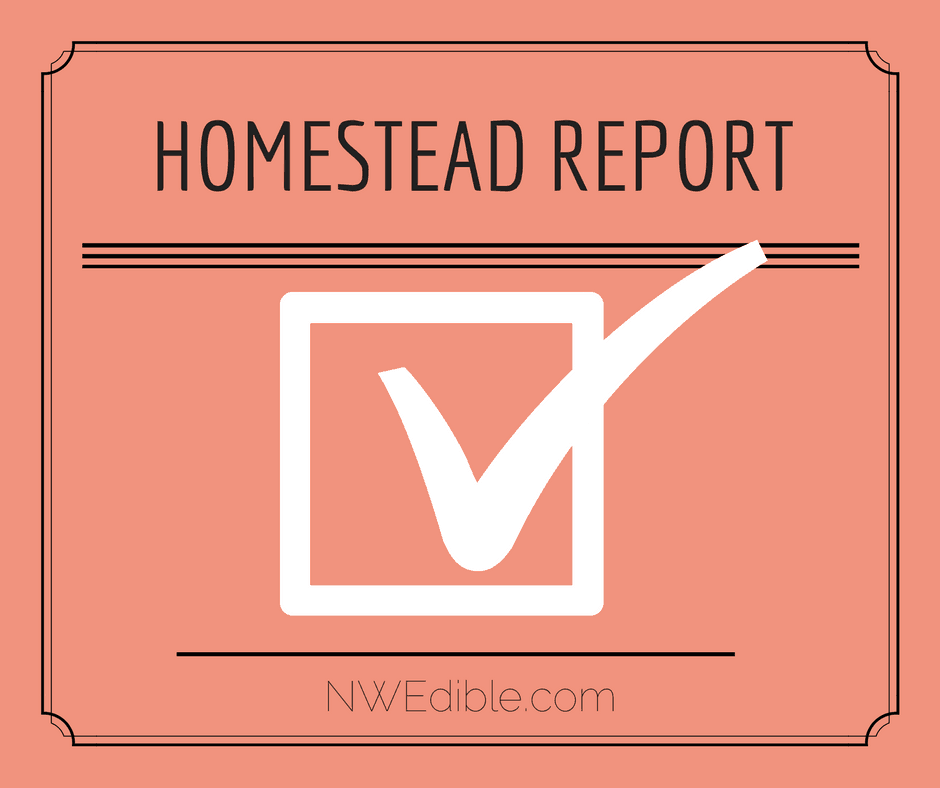 0