July is officially half over. I feel like this summer is flying by. Lazy days of summer? Not this year, not for me. Between ramping the garden back up (aka digging out of the weed hole) and ramping the blog back up it's been a full summer so far.
But please don't take that as a complaint! I'm writing this to you in bed, on my laptop, with a cup of coffee next to me on the side table. That's a pretty sweet working environment. The last four days have been a whirlwind of garden activity and it's rewarding, despite a few challenges. I can see progress so I'm really happy to be spending my time as I am.
Okay, onward! Here's this week's list of accomplishments, recorded in the hopes that this practice will help keep me motivated and accountable. Please join in, and list your own weekly achievements in the comments, or if you have a blog and want to do your own post and link it up, that's great too.
Planted & Maintained
Did a big tomato triage thing, including taking a tomato plant to the WSU Extension Plant Clinic in Puyallup.
Weeded a substantial chunk of the food forest.
Moved a bunch of straw mulch.
Side-dressed much of the vegetable garden with a complete organic fertilizer.
Set up the soaker hose to deeply irrigate food forest
Set up the sump pump to irrigate orchard with duck tub water
Replaced greenhouse window lift
Bought and planted additional tomato and pepper starts
Summer pruned and trained orchard trees, kiwi vines, etc.
Massive weed whacking of the upper yard area that had just gotten insane.
Peeled back some of the black plastic mulch in the vegetable garden and replaced it with compost.
Fiddled with soaker hoses in the vegetable garden to better optimize irrigation.
Harvested
Lettuce
Broccoli
Cabbage
White Currants
Blueberries
Summer squash
Blackberries
Plums (underripe but still!)
Onions
Preserved
Not a thing. In the cycle of these things I was outside, not inside, this week.
Cooked + Eat Down The Larder
My go to meal right now is sauteed zucchini with cumin, and then I dump a few eggs into the skillet with the zucchini and top everything with some sort of hot sauce. I've made variations on this three days this week for a late, quick dinner. (Related: Skillet Seared Summer Squash with Cumin – Patreon)
We have been pretty good about not buying groceries except dairy. But I'm not making a lot of "eat down" progress because there's a bunch of fresh stuff to eat right now. So instead of a dinner that uses up lentils, it's a dinner that uses cabbage from the garden or eggs. Eat Down The Larder works better in February. Lesson learned.
My son helped me use up half a bag of frozen strawberries by making strawberry ice cream.
A jar of ancient pickle relish was used up in tuna salad.
Made soup with canned chicken and….whatever. Some beans, some veg. That kind of thing.
Served some of the meatloaf I batch cooked and froze several weeks ago with some instant mashed potatoes from our camping/prep food that needed using up. (Potato Pearls…the Mormons in the audience know what I'm talking about.)
Made cast iron skillet pizza with flatbread dough we made last week. (Related: Cast Iron Skillet Pizza – Patreon)
Animals
Basic daily maintenance.
Snuggled with my favorite chicken. She is bullied by the other hens and hides in a nesting box all day.
Household and Projects
Not much. General cleanup. I was mostly outside.
Business, Finances and Frugality
Just clicked over $445 per month of direct funding on my Patreon page!
Scheduled Patreon Livechat Q&A and Video Hangout Sessions for July.
Budget has been terrible this week. Just not a good week for spending, despite hardly buying food.
Energy Use & Solar Panel Production
Total electricity used: 179 kWh

Total solar energy produced: 223 kWh (= $119.82 in production incentive)

Energy "sold back": 44 (= $4.62 in net production)

Total earned through our solar panels this week: $124.44
Homeschooling & Family
We put the kids to work! Both the kids were a big help this week with various weeding and gardening chores. I'm telling you, it gets easier.
Bella's working on a research paper about ancient Greek colonies, Oliver continues to improve the mini house/shop he's built out of pallets and found lumber.
If you missed it, here is why we homeschool.
Planning and Research
I'm desperate for woodchips. I had an arborist who I used to regularly get chips from, but I called him a couple days ago and he's no longer in the business.
I've made a few calls and one was so promising – the nice woman on the phones said, "oh we are in your area today!" and I thought, "could I be so lucky?!?" …. but no dice. And more importantly, no wood chips. I'm going to call around to a few more places. Hopefully I can get a load of chips delivered in the next couple weeks.
•          •          •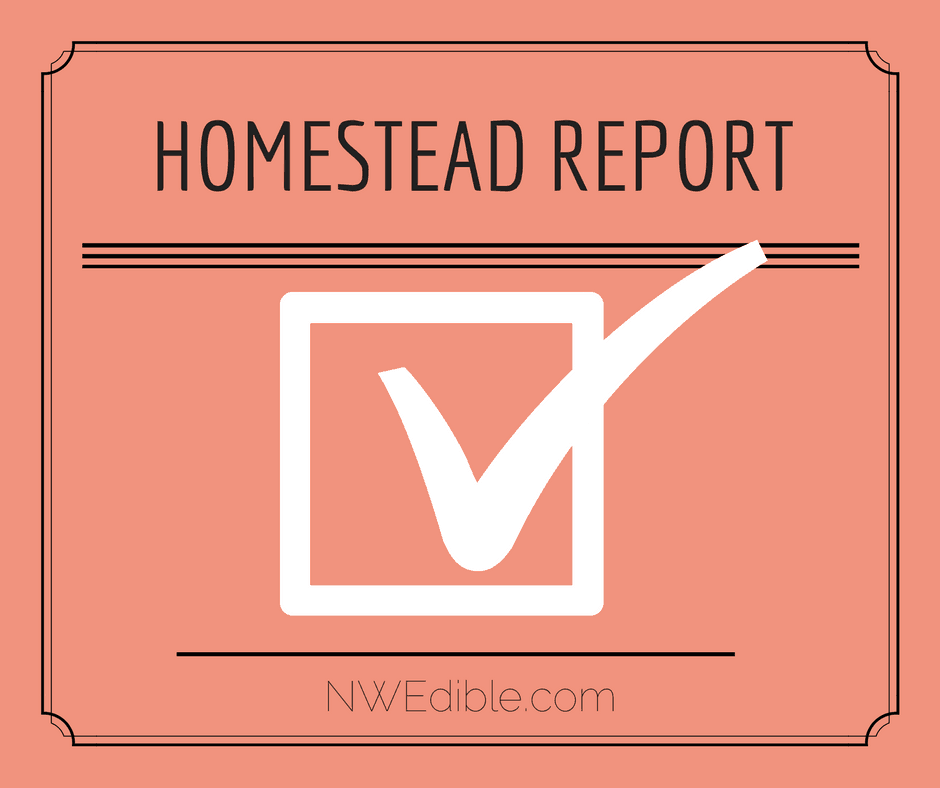 1