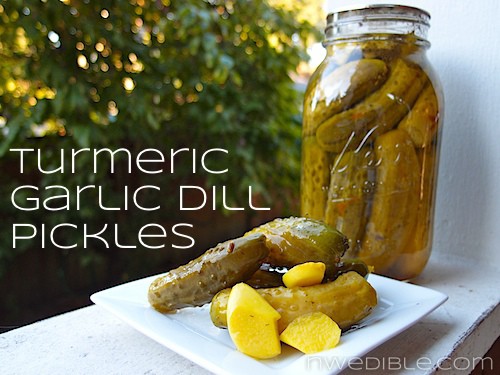 I have gotten a lot of requests for the recipe for my new favorite Turmeric Garlic Dill Pickles since mentioning them in my Can-o-rama post.
Ask and ye shall receive, friends.
Turmeric Garlic Dill Pickles
8 lbs small pickling cucumbers
Pre-Soak:
3/4 cups pickling salt
2 gallons cold water.
Brine:*
8 large cloves garlic (or 16 small cloves), peeled & sliced into 1/4″ rounds
1/2 cup pickling salt
6 cups (1-1/2 qt) apple cider vinegar 5% acidity
6 cups (1-1/2 qt) water
2 tea dried turmeric
Per Quart Jar:
2 tea dill seed, dill weed, or a combination (I use 1 tea of each per quart jar) OR 1 1/2 fresh dill seed heads
4-6 black peppercorns
1/4 teaspoon Pickle Crisp (Calcium Chloride), if desired (this increases crispness)
1 small dried chili OR 1/4 tea dried chili flakes, if desired (this makes them spicy)
Wash cucumbers. Gently scrub away any dirt.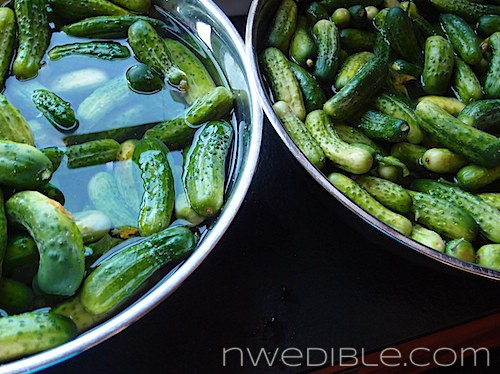 Cut a slice off the blossom end of the cucumber about 1/8″ thick. The blossom end looks like the cuke on the left. The stem end looks like the cuke on the right.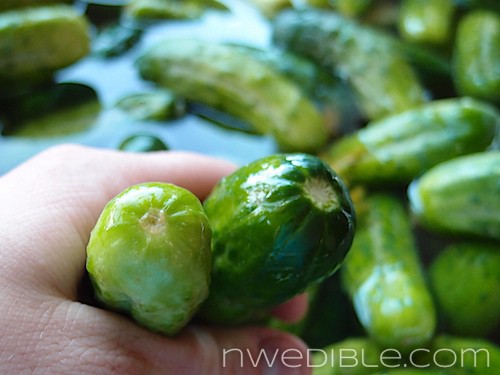 Dissolve ¾ cup pickling salt in 2 gals water. Pour over cucumbers and let stand 12 hours.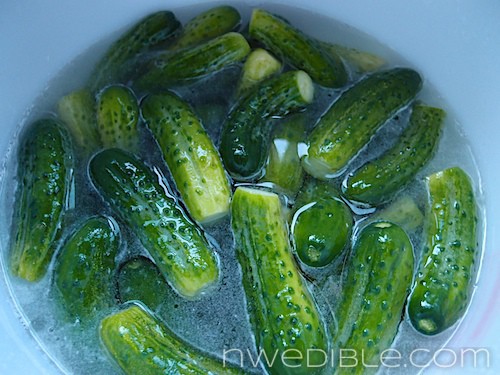 Drain and rinse cucumbers.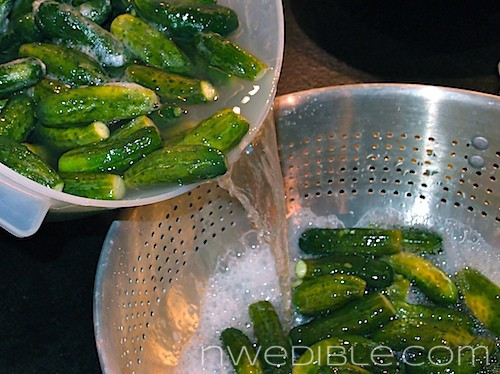 Prepare 8 pint or 4 quart jars for canning.
Combine vinegar, 1/2 cup pickling salt, garlic and turmeric. Heat to boiling while preparing jars. Do not allow to boil for more than a few minutes. If vinegar solution is boiling before you are ready to fill your jars, reduce heat to low and bring it back up to boiling before filling jars.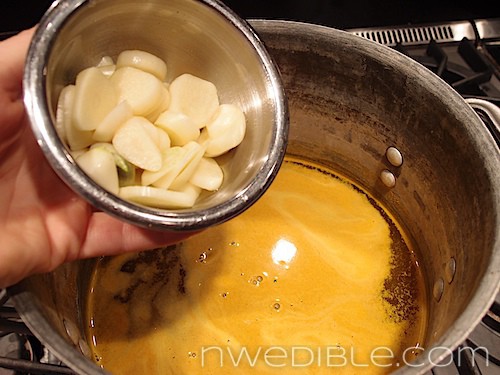 Remove garlic from vinegar and divide evenly between jars, about 2 large cloves worth of slices into each quart jar (1 clove per pint jar). Add 4-6 peppercorns, dill seed and/or weed and calcium chloride and/or dried chili if desired.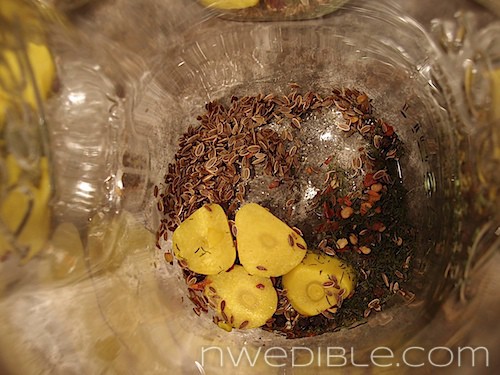 Pack cucumbers, along with dill seed heads if using. Pour boiling vinegar solution over cucumbers to within 1/2 inch of top. Immediately adjust lids as directed by jar manufacturer.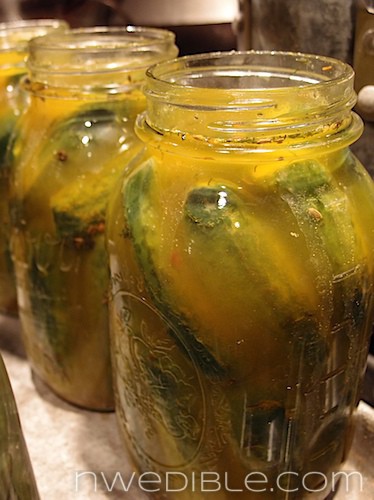 For crunchiest pickles, pasteurize 30 minutes at 180 degrees as described here.
Let stand 2-4 weeks before enjoying.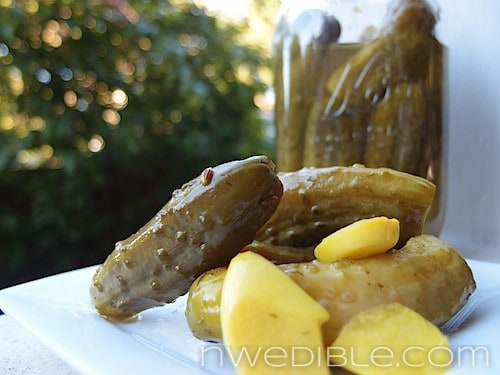 How do I know this recipe is safe?
Great question, I'm glad you asked. In fact, you should ask that question of every canning recipe you read on the internet that is not from a University extension or USDA approved recipe. This is particularly true for recipes which include low-acid foods like cucumbers, garlic, onions, etc.
This recipe follows the accepted guidelines for cucumber pickles of a brine composed of 50% vinegar to 50% water. It is based off of this tested recipe put out by the National Center For Home Food Preservation.
*Brine Note
These weights and measures are based off the proven ones from the tested recipe linked to above. This much brine consistently covers 8 quart jars (not pint jars) for me. The size of the cucumbers I use may account for the variance. I try to get as many cucumber in a jar as I can without damaging them. Your brine coverage may vary.
39