You know how those elementary-school season charts always show the four seasons divided into nice equal pie-slices? Usually the season-slices are accompanied by a seasonally appropriate deciduous tree: leaves turning color in fall, bare and snow-studded in winter, leaf budding and flowering in spring and in full green verdancy in summer.
The important part is that each season is the same length: 3 months, 13 weeks, one-quarter of the year, like so: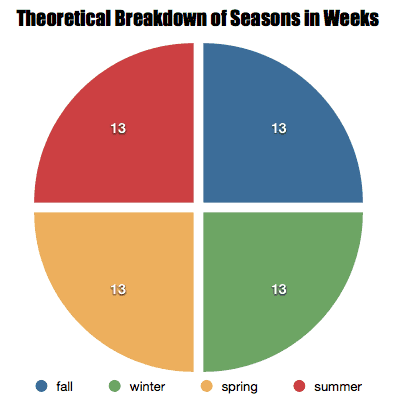 That's nice in theory, but here's how the seasonal breakdown in my neighborhood really looks: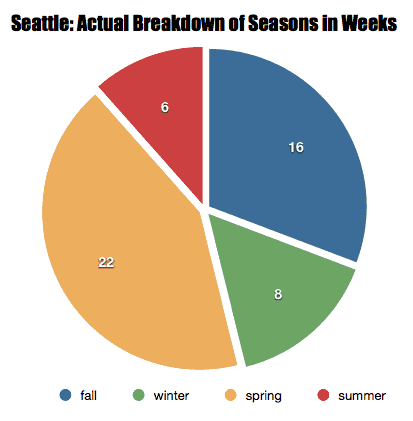 Summer just left, and she's been making for the door since August 22nd. She hung out for real for about 6 weeks. Typical. Don't let the occasional warm day fool you, at this point Fall is calling the shots. Night-time temps and the sun's intensity have dropped off so much that it's all downhill to Halloween.
Fall likes to call the shots in Seattle. That's why she drizzles on for nearly four months from September to December. Sometimes, if winter isn't paying attention and misses her cue (Jan-Feb is such a small role, you understand, it's easy to forget to show up), Fall will just do a direct hand-off to Spring in March and even long-time locals won't be able to say when the Fall rains stopped and the Spring rains started.
Spring – wow – you've got to hand it to her, that girl is slow but she's tenacious. She's slow to wake up and slow to get moving but getting her to leave so Summer can come back is almost impossible. Average stay: 22 weeks, beginning in March and ending in mid July.
But that's just my region. If you don't live in the Maritime Northwest your seasonal breakdown probably looks different.
For example, I think Hawaii is about half hot-and-dry and about half warm-and-wet.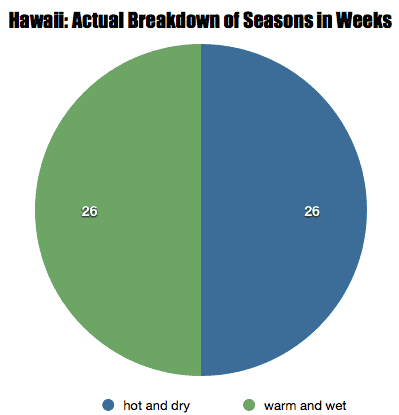 Tucson seems to have 4 months of Summer followed by 4 months of Blowtorch followed by four more months of summer. You sun-babies will have to forgive me, I come from the land of high-of-55-and-light-rain. 85 is freakin' hot to me. Triple digits and I might as well be on Venus.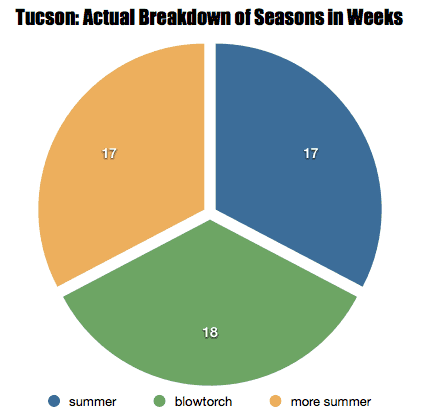 New Hampshire, somewhat surprisingly, and based exclusively on internet research, appears to be a textbook case of four distinct and equally-distributed seasons.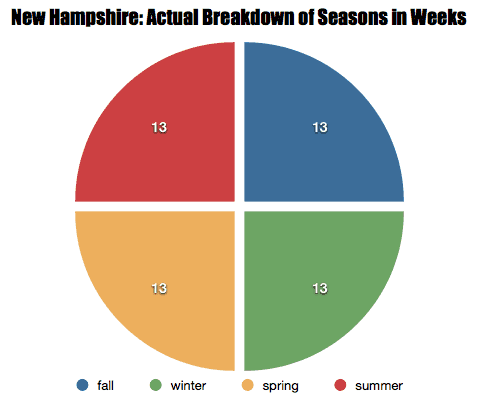 Here's my proof. The average weather for Hanover, New Hampshire, from Weather.com: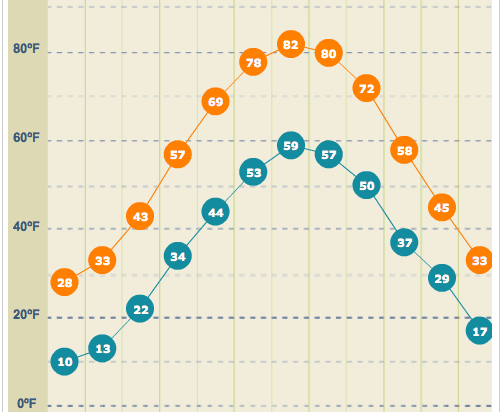 Now that is a pretty weather curve.
My theory is that New Hampshire secretly controls all printing and publication of educational charts about the seasons.
This four-equal-seasons thing is propaganda put out by the New Hampshire Tourist Board to convince people to come to New Hampshire to enjoy those seasons that their home region cannot otherwise supply. Cause hey, guess who has all the seasons? Neh, neh, it's New Hampshire! (Suck it up, Florida, you never had a chance.)
It's a conspiracy, I tell you, a conspiracy.
Of course, the good gardeners in New Hampshire may try to convince you otherwise. They might point out that someplace dubbed "The Granite State" is not actually blessed with perfect growing soil. They might mention that average temperatures do not mean a lot in a place known for dramatic summer temperature swings. They might even try to convince you that, being tucked up in the far Northeast corner of the US, they have a tremendously short growing season.
Whatever. New Hampshire has perfect quadrant weather. Made-up charts don't lie. The grass really is greener there. Well, until winter. Then it's covered in snow because in New Hampshire men are men and Winter means Winter, damnit.
So, does anyone in New Hampshire want to grow my tomatoes for me next year? I hear you have perfect weather so it should be really easy for you.
What does your Seasonal Breakdown Chart look like? Long summer? No Summer? Do you have perfect four-quadrant weather where you garden or are your seasons a little skewed like mine?
12