Looking for a gardening system that brings crops to you with little or no bending, reduces weeding to a bare minimum and is so cute it puts cat videos on YouTube to shame?
Steven and Bea, readers from Williams, OR emailed me last month to share their "Pedestal Planter" technique for growing bumper crops of edibles. When I saw their garden I knew I had to share their success with you. This is some seriously inspirational stuff.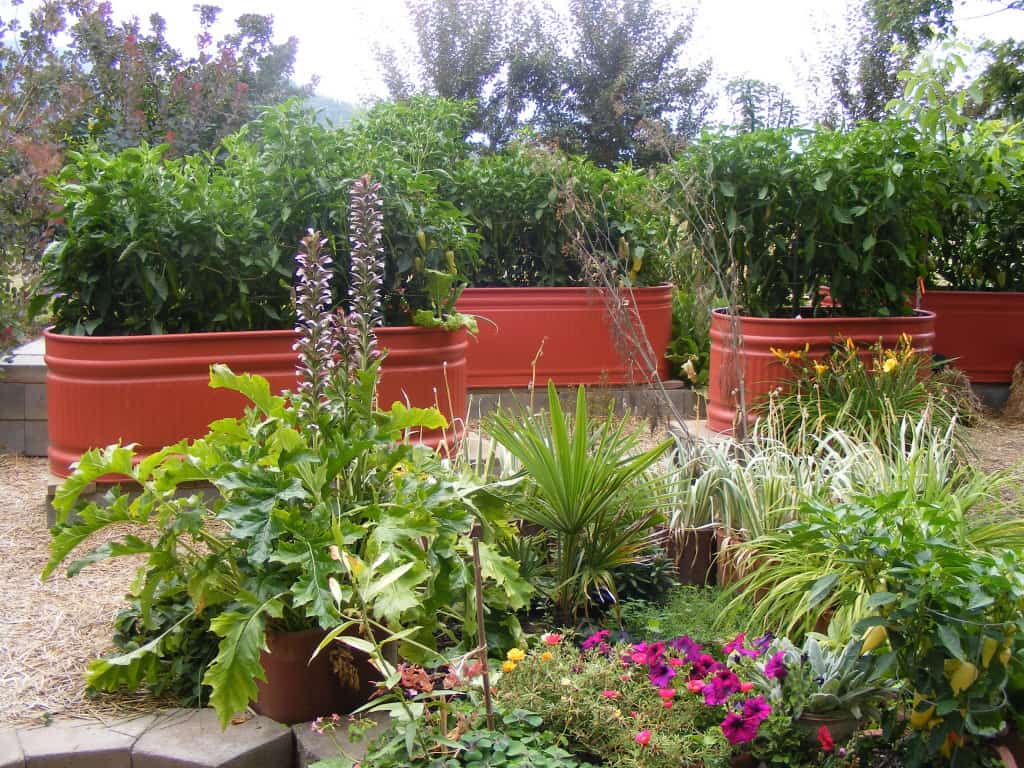 Steven's philosophy is, "More people would garden if the soil were but a little further from the ground." In order to bring their growing area to a comfortable height, Steven and Bea combined metal stock watering tanks with bases of concrete block to create waist-level, extremely low maintenance raised beds that do double duty as a lizard and frog habitat.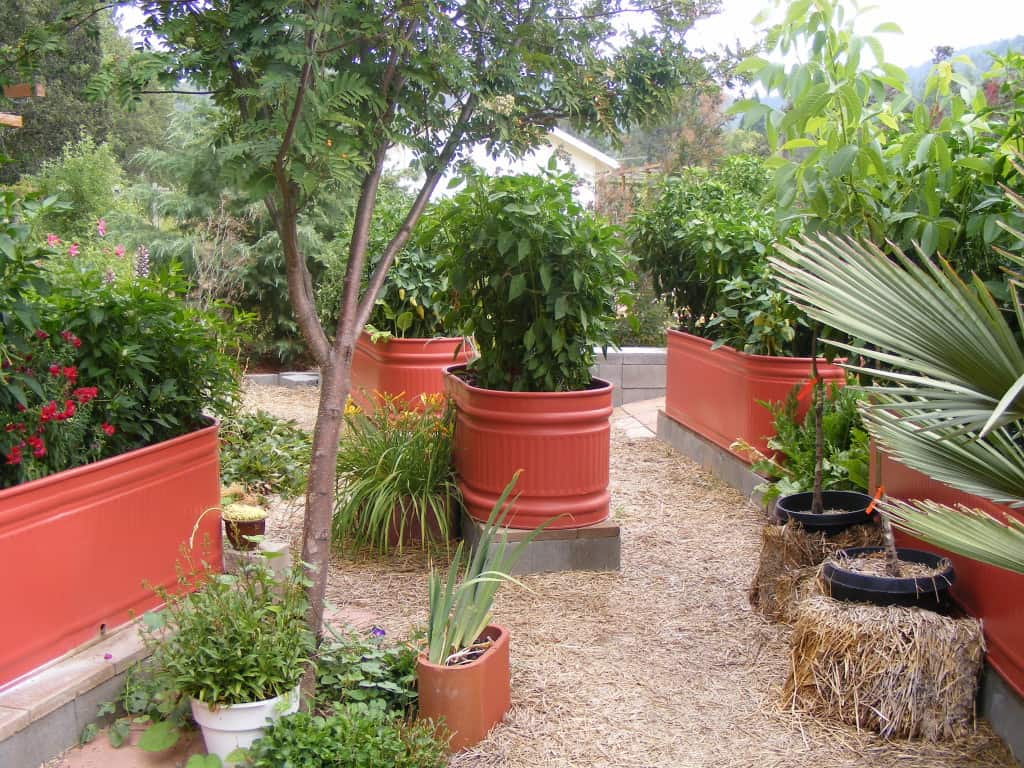 Steven and Bea were kind enough to explain how they created their easy-to-maintain paradise of edibles:
These are livestock watering tanks on cinder block risers to make raised beds. If done right, there will be no weeding and no bending.

The ground under foot is covered with straw to choke out the ground weeds. Weed seeds tend to blow along the ground no higher then eighteen inches so we surrounded the whole garden with a field-fence covered in honey suckle and daylilies at the bottom. A drip line runs along the bottom of the fence so there is no hand watering there.

To make the base for the tanks I lay down a floor of wall capstone completely covering the ground so rodents won't use it to empty their warrens of excess soil. Then a surround of textured and colored cinderblock. Don't use the gray flatface block like I did here. Cap the blocks with wall capstone to better distribute the weight of the tanks (I call them pavers).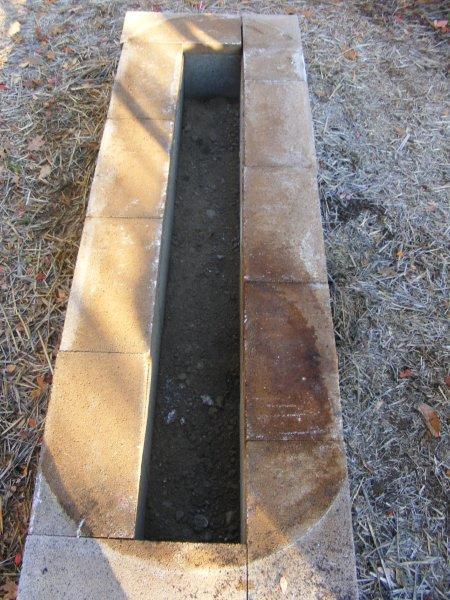 Prime then paint your stock tank in a nice color like terracotta then place it on the base. Add some artwork to the sides to dress it up.

Form a cavern of pavers around the drain hole to keep back the gravel. Frogs will inhabit the cavity so its best to point the holes away from the afternoon sun or protect it with a chimney liner full of day lilies so they wont over heat. Then fill with five inches of gravel then a half inch of pea gravel then a half inch of granite. That should provide excellent drainage.

Fill the tank with compost. The top of the soil should be above wrist height when you're done pressing it down. That's very important. You must be sure to raise the tank with extra pavers to a height so that the soil will be convenient to your hand. No bending is the big idea.

The Pedestal Planters come with a welded in drain hole with a drain plug installed. That's all you need as far as drainage is concerned because the gravel substrate conducts all excess water to the frog grotto.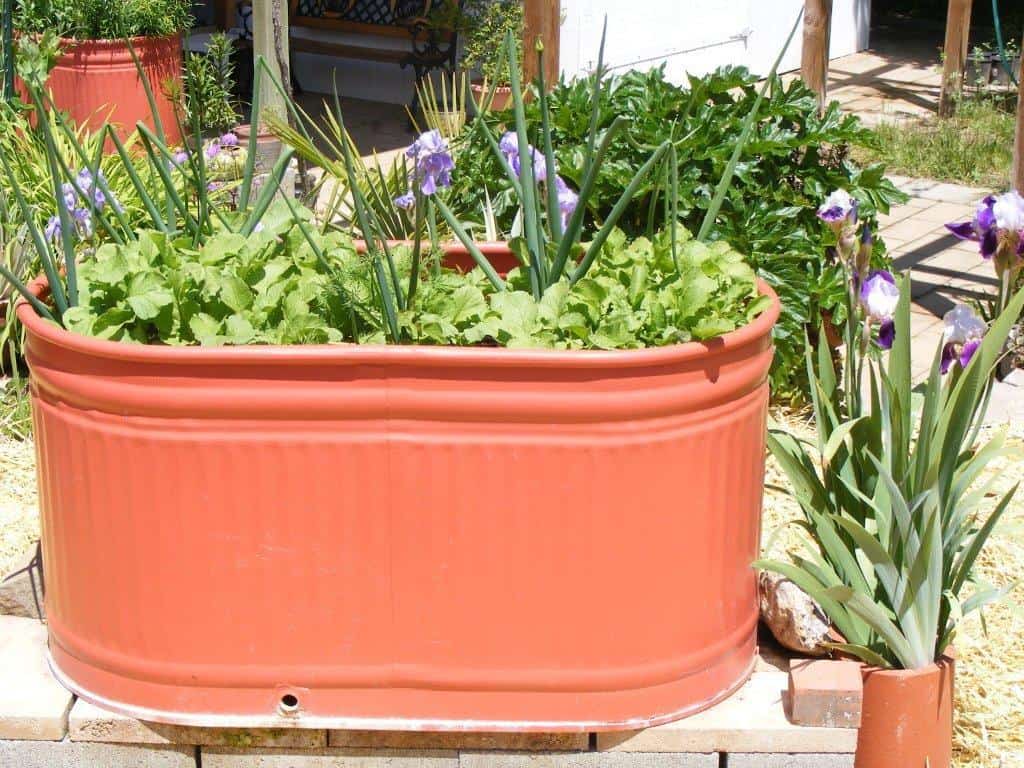 Below: "The ground cover under our dog Lucy's feet is Corsican mint. I don't know if chickens will eat it or not but we are going to find out. The rest of the area is all straw covered. This eliminates the task of mowing or weeding on the ground."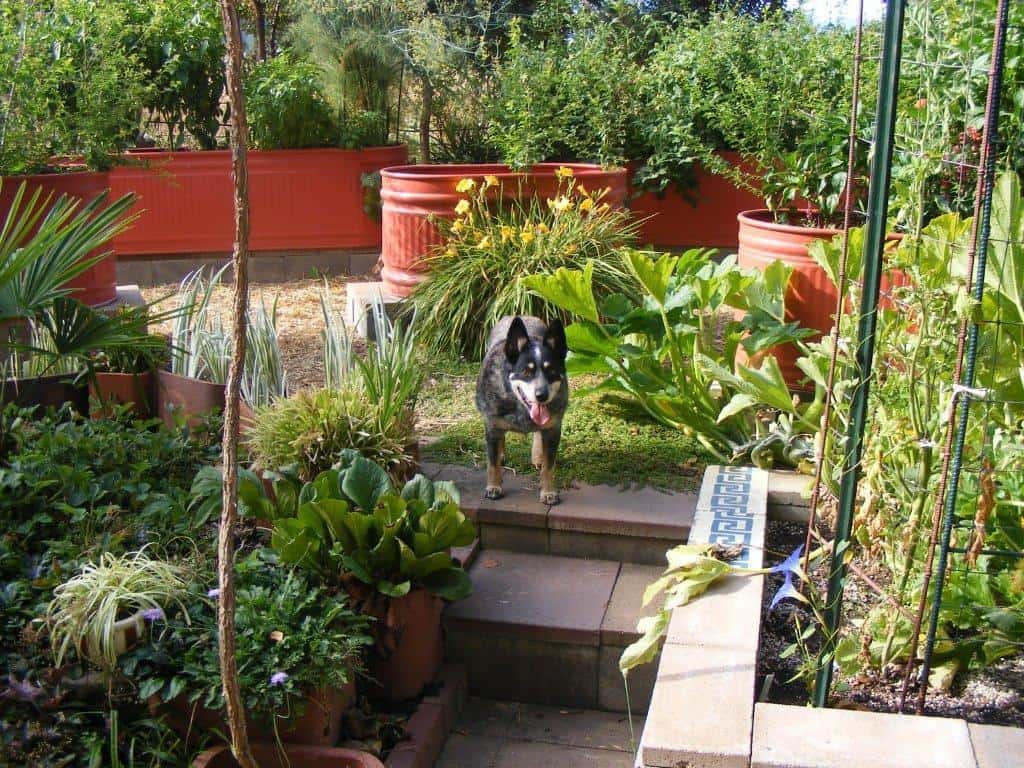 Below: "If you plant peppers in a tank and you have the ends pointing east to west then the long side on the south will be all green leaves and the long side on the north will have the most beautiful display of colorful peppers."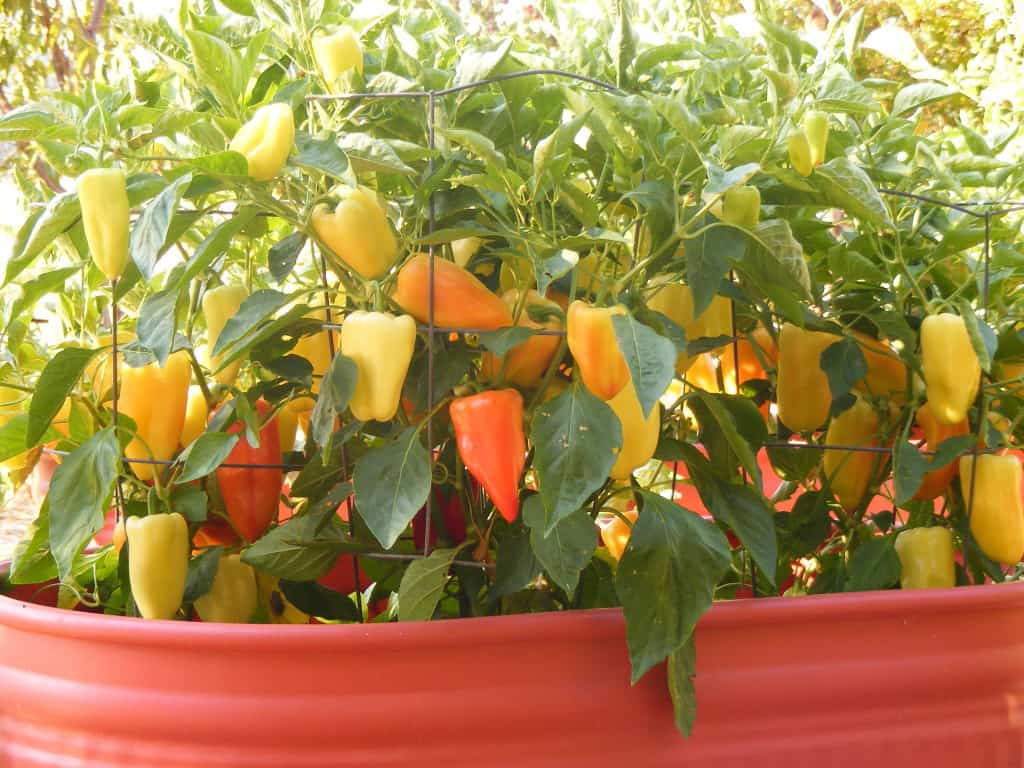 Below: "Don't forget to hang a bat box in a convenient neighborhood tree to keep down the West Nile Virus bearing mosquitoes. Lots of free phosphorus there. Bat guano is expensive. Two sheets of t1-11 paneling and some 1″X2″ furring strips make two of these three chamber boxes."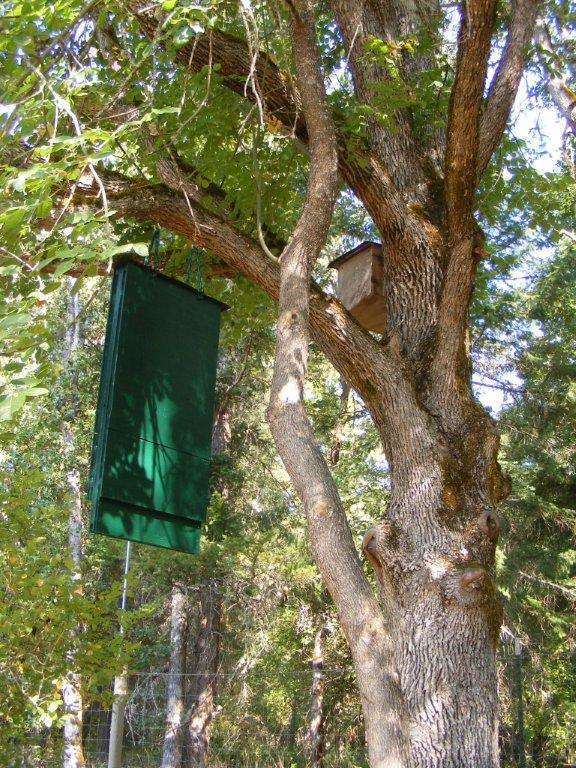 Steven and Bea's three block high planter: "This years tomatoes are monster big. At three blocks high its very convenient to sit and groom. I can also stand on them and tie without the bother of a ladder."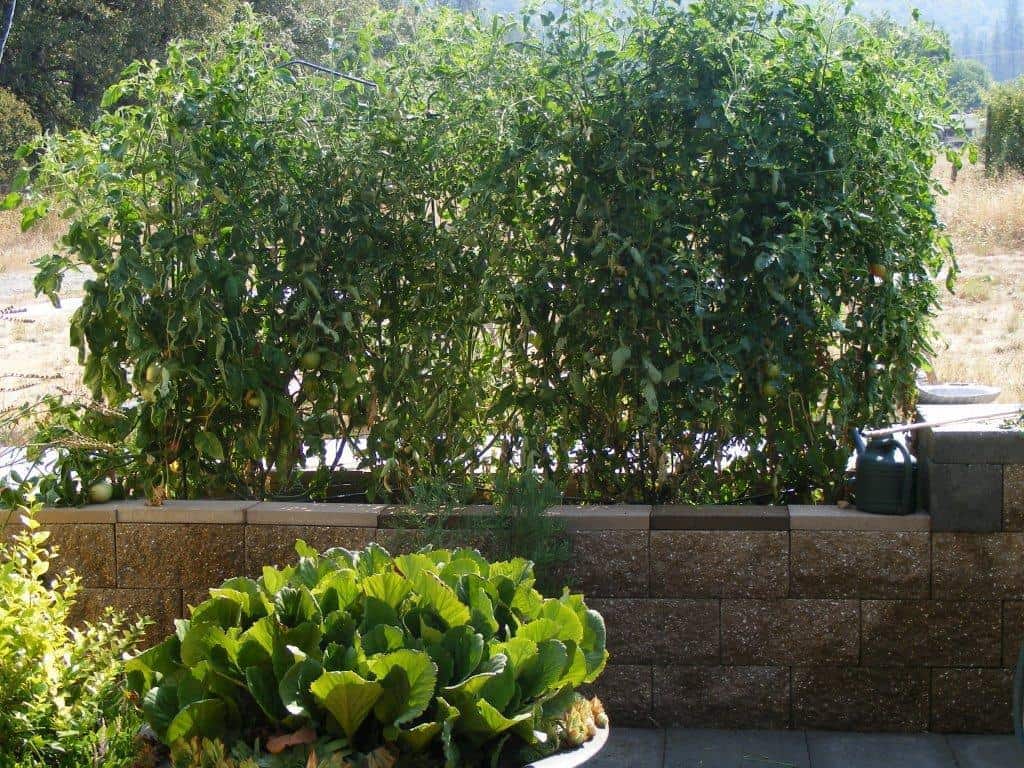 Lizards and frogs take up residence in the caverns behind the cinderblock risers. Steven says, "the gaps in the blocks will keep your lizards safe from the chickens and cat."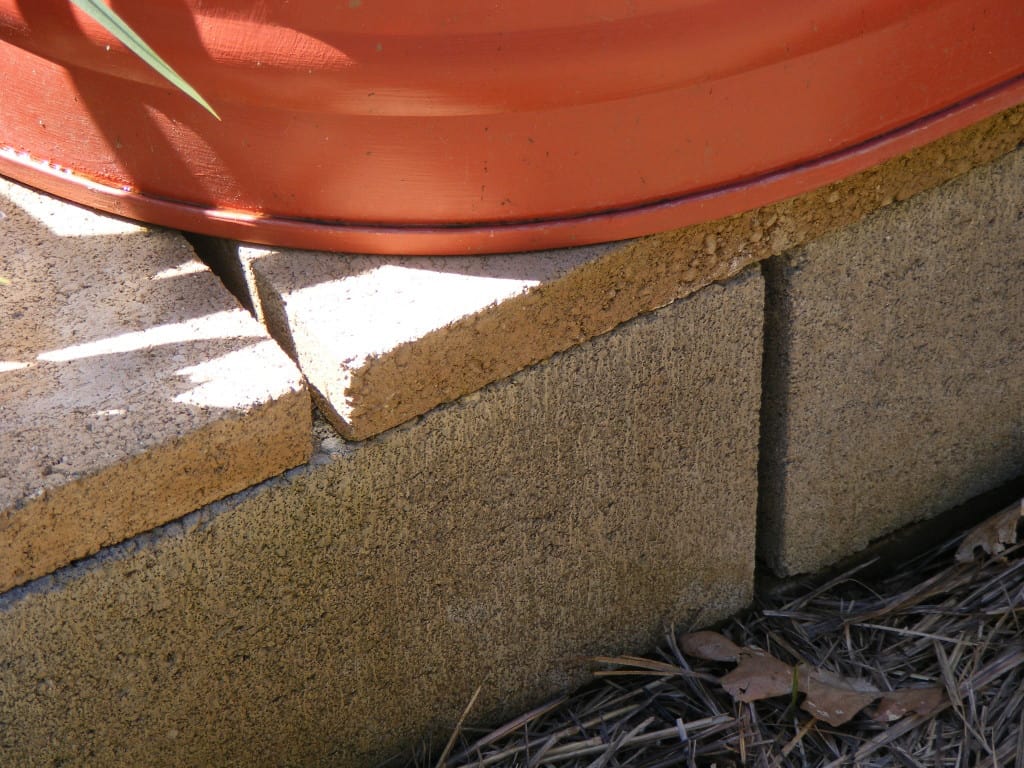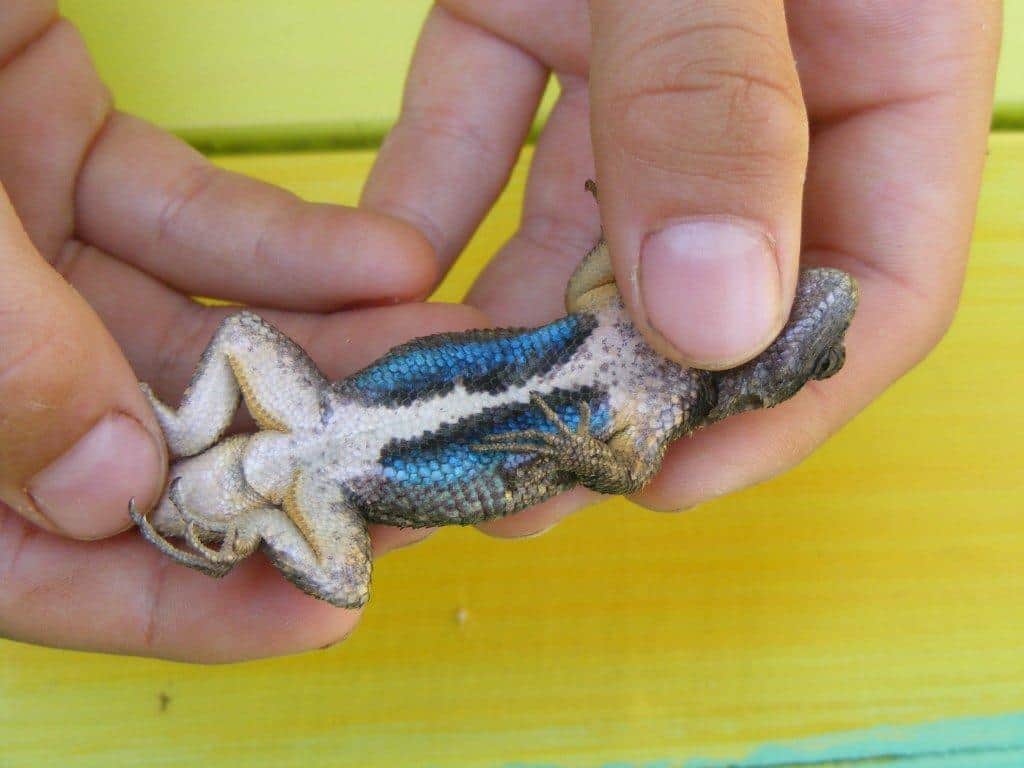 "We plant beans in cinder block planters underneath the edge of the grape arbor so they leap off the trellises and join with the grapes forming a dark green refuge on our patio. That's a nice thing to have down here in the hot season in Williams. Yesterday the temp was 98F."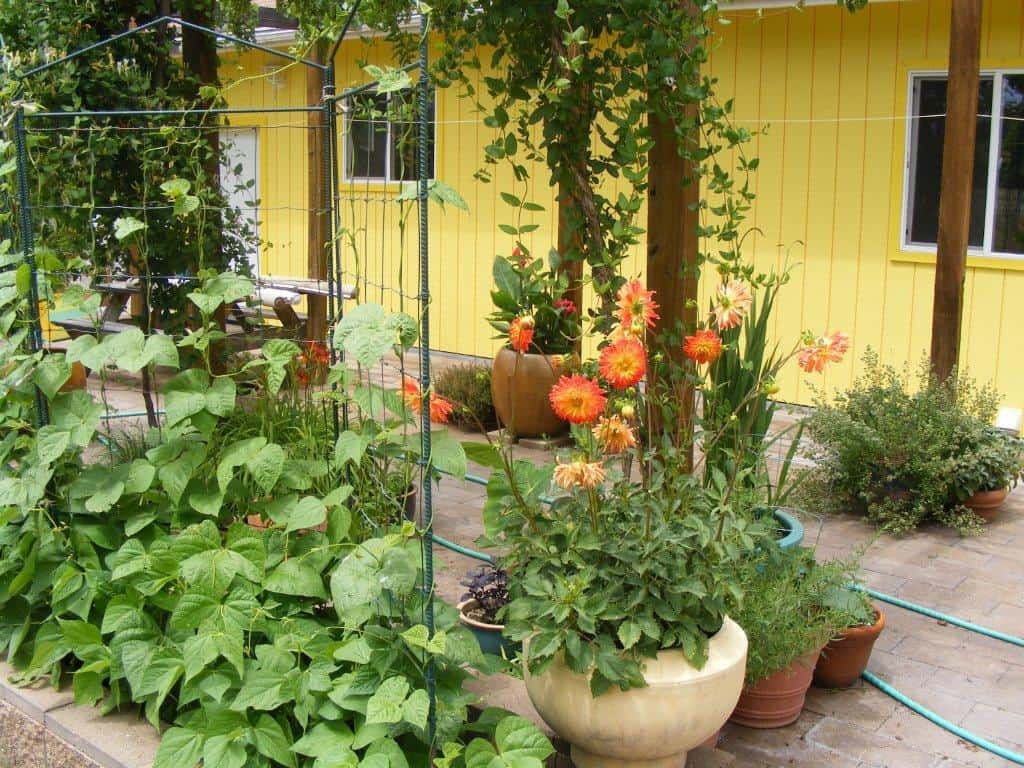 Below: "Hop plants grow very nicely in these planters if you're a home brewer. They need fertilizer (bone meal) even with rich compost. I had to use a saw to cut through the mat of roots that was a good six inches thick."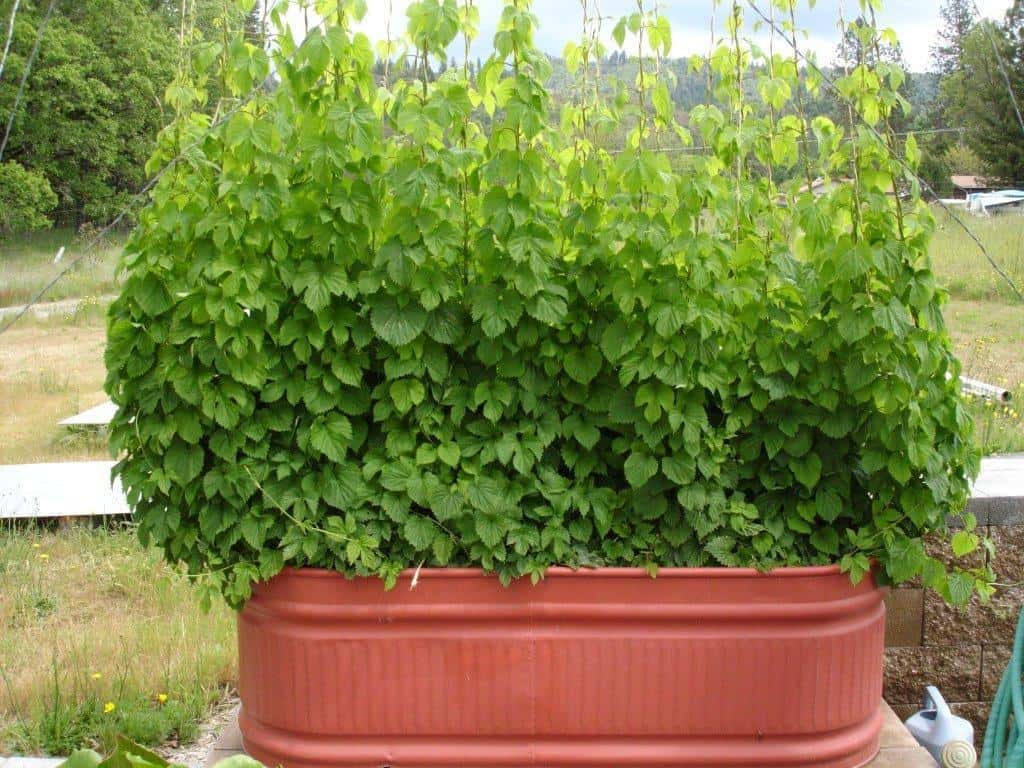 Steven says his Pedestal Planters have changed his gardening:
When you have your first Pedestal Planter set up you will begin to notice that you revel in how easy it is to maintain and you'll start to look at the lower beds as primitive painful scraping in the earth. Your old beds will start to look like a excessively time consuming dirty trick some bitter ancestor played on your dim witted gardening mentors.

"Why haven't I been told about this before" you'll demand with glassy unblinking eyes. At some point you'll decide never to bend at the waist again and snicker at weeds as if from an impenetrable fortress. If you dye your hair bright green and cackle at the morning sunrise you've gone too far!
While the up-front cost of these tanks ($130 to $190 or more depending on what size you get and where you live) is greater than our cheap pine raised beds, they do offer some real advantages, including longevity, protection against invasive roots and little burrowing creatures and ease of maintenance and weeding. Steven thinks they pay for themselves in wear and tear on the low back from reduced bending, too!
Plus, you gotta admit – these things look fantastic.
Thank you to Steven and Bea in Williams, Oregon for sharing your beautiful and functional garden with us.
If you have an inspirational and unique edible garden and you are interested in sharing it with the world, drop me a line. I can't promise anything, but if your garden has some serious wow factor, I'll try to show it off for you.
All images this post copyright  Steven and Bea in Williams, Oregon. All rights reserved. Used with permission.
114