First things first: have you done the Own Your Financial Numbers Challenge yet? That might be the most important thing you do for your financial health this whole month, so if you've put it off, go do it. No really, we'll wait. It's that important.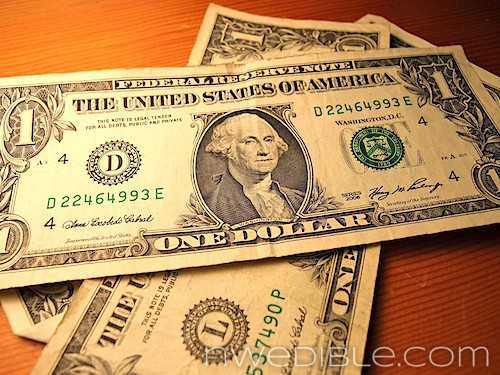 Phew. Okay, now that that is done, how ya feeling? Pretty solid? Glad to be No Spending?
Here we are, five days in to this No Spend Challenge. Has it been harder than you thought it would be? Easier? Have you slipped up or forgot you were No Spending?  If so, that happens periodically. Just get back on that financial horse and ride, partner. You can do this, and there's a lot of money still to Not Spend before the month is out.
My Numbers
This is a short "week" since we started on Monday, but Friday is a good day to do the wrap-up, so we'll go with it. My weekly disclosure was going to be pretty straightforward: nothing.
Except then my daughter came home yesterday and said, "Mom! It was picture day today!" and I said, "Oh, really? No wonder you look so cute!" And then I said, "Hey, wait…this is the first I've heard of Picture Day. Don't they need you to send in money for that?"
Then she handed me a huge wad of crumpled-up papers from some wormhole in her backpack. After I flattened out the relevent School Picture Order Form I saw:
Payment due October 4th

Photo CD: $35

No Late Orders Accepted Without Late Fee.
Oh, crap. Really? I have to pick between No Spend and commemorating the only third grade year my kid will ever have?
So I wrote the check for $35 and told my kid she was responsible for any late fees. Then I emailed the photographers and fell upon their kindness and they said it was no problem to send in an order a day late.
So, Week One: $35
Let us know what your spending this far is, and any areas that have tripped you up.
Attention Fellow Bloggers: Pimp Your Blog Here
If you are a blogger who is recording your own journey No Spending, please leave your website info below in the comments. Maybe link to a relevant No Spend Month post you've written. The more community we get involved in this challenge, the more support we all have as we work to ensure our spending is in-line with our values. Save along with me and blog along with me.
Gimme More!
Are you so geared up to pare down that these Mini-Money challenges can't come fast enough? Here's a few things to check out over the weekend.
Jump Start Savings with No-Spend Month at Bankrate.com talks about why real financial experts agree – No Spend Month works to help you permanently change your relationship to money.
Mr. Money Mustache – my personal favorite Financial Guru, MMM swears frequently, is highly opinionated and does not tolerate any complainy-pants behavior. He may also be the most inspirational money blogger out there – he and his wife figured out how to maximize income early while holding their expenses way down. By resisting "lifestyle creep" Mr & Mrs Money Mustache retired in their early 30s to raise their son and pursue their passions. Warning: if you read his entire site front to back, you will probably decide you want to embark on No Spend Life and retire in 5 or 7 years.
So, how's your experience been so far?
0