Part One
My mom will say, if you live long enough, it'll happen to you or to someone you know. It really doesn't matter what "it" is – disease, divorce, death, loss of a child, suicide, job loss, tragedy. Live long enough and eventually these things will touch your world.
I know friends, mentors, parents of friends and childhood roll models who have been diagnosed with various cancers. Many fought the good fight and are now the picture of glowing health. Some fought just as good a fight and died.
The first time you hear something like this, it's a shock. These things really happen to people I know and love? One of my closest childhood friends lost her father. He had a rare cancer. It was fast, fast and terrible. I found out he had been sick when I was invited to his memorial service. I was married, but really barely more than a kid myself. I remember crying and thinking, in my narcissistic way, "am I old enough that my peer's parents are dying?"
I don't want to seem casual about this, but today I'd have to stop and count to get an accurate tally of people I know who've passed away. It's usually cancer. It's no less terrible, of course, but it's not as shocking, because now I know. Yes, these things really do happen to people I know and love.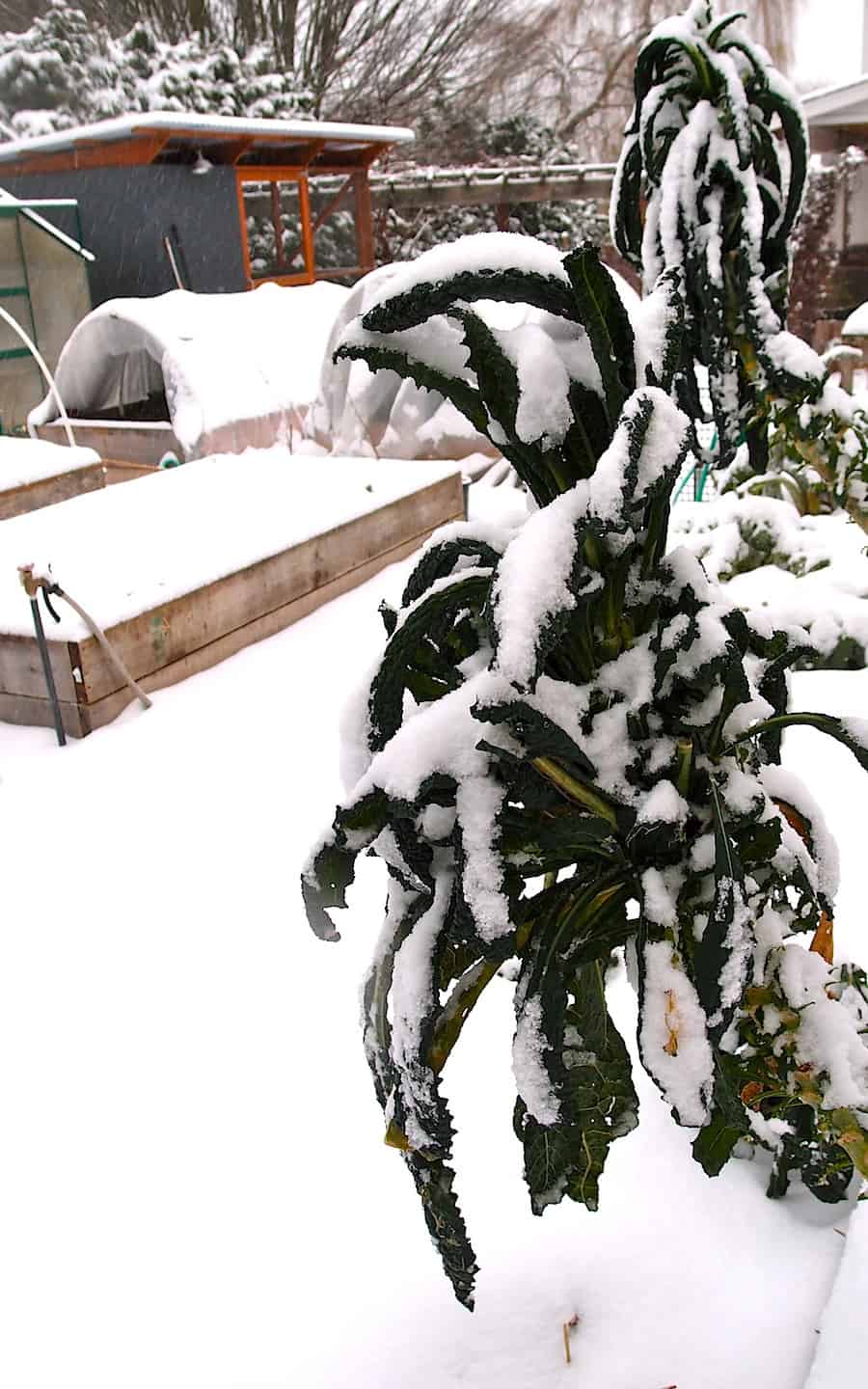 My garden is covered in snow today. Six inches. There is life under that cold, white blanket, but it's hard to see it as I stare out the window. There is beauty in that, in the quiet slow processes of life that continues on, despite winter. The beauty of the survivors.
My kale will spring back, perhaps a bit weather-beaten, but still sweet. The Brussels Sprouts will thaw out and shake off the snow and nothing will be lost. Other plants, more tender things like chard should come through, but you never know. The magenta and red and golden stems will be more vivid for the chill, if they make it.
I'm thinking a lot about challenges and survival and the unknown, in the garden and elsewhere. These last two weeks have been a bit stressful for me, personally. I went to my doctor to have a lump in my breast examined two Fridays ago. It was painful, but nothing – a clogged milk duct that resolved on its own a day after I got in to see my doctor.
They found something else, though. It wasn't necessarily scary, but it was concerning enough and puzzling enough that my doctor ordered me back to her office the next Monday for a double biopsy. Four stitches, two in each biopsy location.
That was a long week, waiting to hear back from my doctor on the results. I was mostly fine until I read "biopsy not usually performed unless cancer is suspected" on Wikipedia. Then I spent a few minutes being not fine.
But I've never been a dramatic person, and the older I get the less tolerance I have for histrionic behavior, in myself or others. Life doesn't stop because I have a little panic in the back of my mind. Kids still need lunch, chickens still need water. "Before fear, chop wood and carry water. After fear, chop wood and carry water," to paraphrase the Zen saying about enlightenment.
Last Friday my doctor called me with the results of the biopsy. I was in the middle of volunteering at my daughter's school, reading an educational story about musical pitch to a group of first and second graders. I only picked up the phone because it rang twice in quick succession.
Our conversation was rushed, as you might imagine. The kids were waiting, after all. I heard, "It's not cancerous." She told me she'd call in a prescription and that was it. I read the rest of the book in a kind of auto-pilot haze, trying to pull my focus back to the kids.
It's not cancer, it's all fine. It's nothing…nothing to survive.
Not cancer is good.
The following Monday my doctor called me back. The particular brand of nothing that I have to contend with has a high co-occurrence with thyroid and auto-immune disfunction. She wanted to screen me, "just to be safe." She had left orders for bloodwork at the front desk and wanted me to pop down and take care of that at some point during the week. Auto-immune disfunction. Well, I didn't see that coming. But I'm getting ahead of myself, because of course it's probably nothing. I feel fine. It's certainly nothing.
Of course it's probably nothing…it's certainly nothing.
Part Two
I've been progressively more and more worried about my boy. His hands and feet turn blue and red and purple when he gets cold. I'm not talking about a little flush when he's out playing for hours. No, his hands will turn bright red and look almost swollen. He also touches his hands and fingers in a way I've never seen before in a kid, like they bother him. Maybe they hurt or tingle?
Oliver is very active and very lean and so I have attributed his tendency towards cold extremities to his lack of baby fat. We've nudged the heater up, and up again, to try to keep him warm, but his hands stay chilled most of the time. So I was particularly careful to bundle him in triple layers when we went out to play in the snow on Tuesday, including wool mittens. After we came inside – it had been 15 minutes, maybe, and I'd held him the whole time – the tips of his fingers were a dark bruise-purple. The nail beds were cyanotic. They stayed that way for 20 minutes before progressing to red and finally normalizing.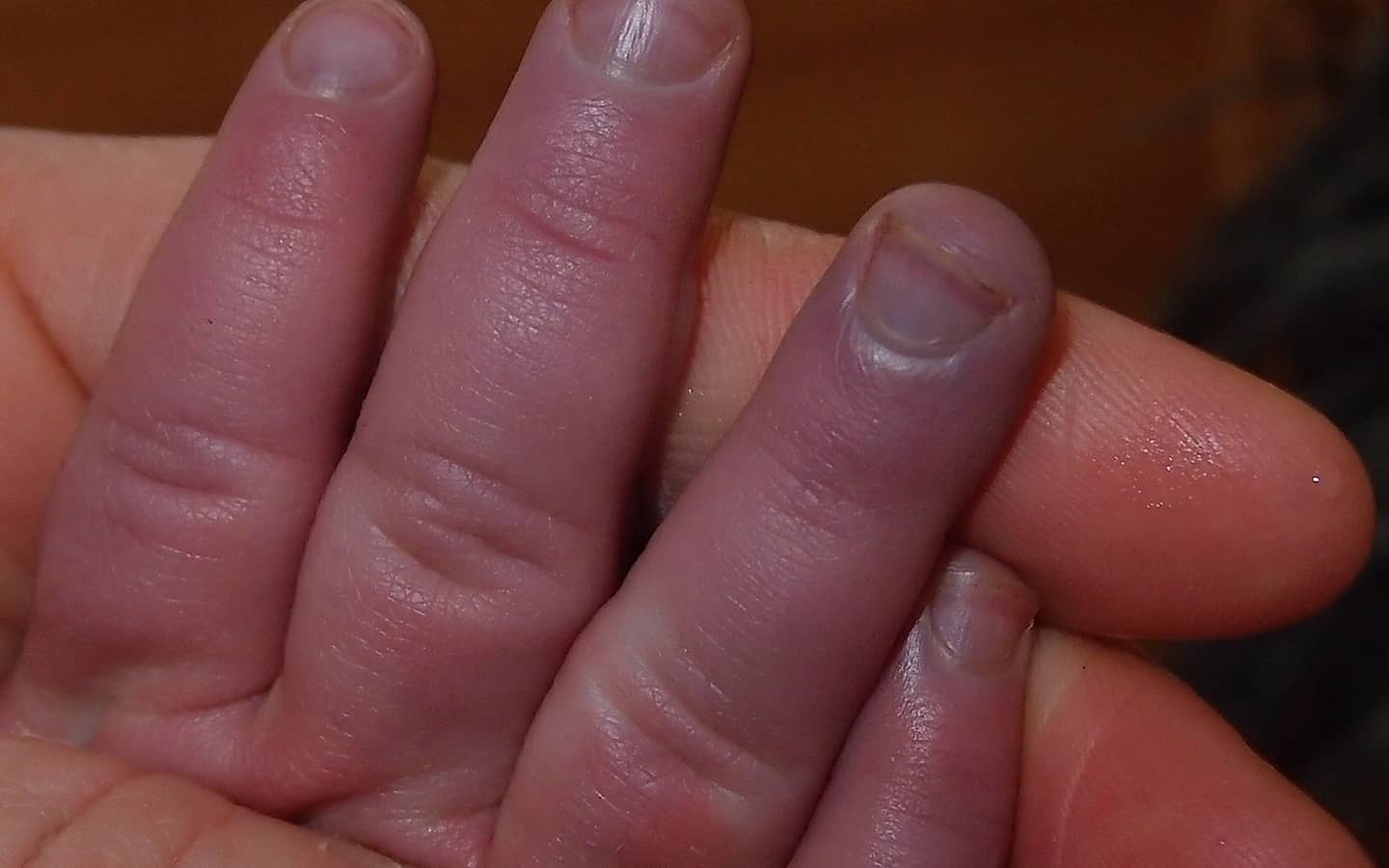 My mom senses were screaming at me. I've felt that something wasn't right with his hands for some time. Blue nail beds finally pushed me over the edge and I called his pediatrician. We had a long conversation and she told me there was no indication he had a macro-circulatory issue, like a heart problem, but that there was most likely a micro-circulatory issue happening. This might be something he could outgrow, but it might be something else.
She said there was a disorder called Raynaud's Phenomenon which causes extremities to turn blue when exposed to cold, and recommended that I research it. If I wanted to pursue evaluation, I could talk to a Pediatric Rheumatologist at Children's Hospital here in Seattle. I researched, we opened up the question "does my child have this?" and now we pretty much need to walk the path to find out the answer.
We are now in the long process of getting an appointment at the Rheumatology Department at Children's Hospital. They are booked until mid-March. Raynaud's Phenomenon, as far as I can gather, shows frequent co-occurrence with…wait for it…auto-immune disorders. But I'm getting ahead of myself, because of course it's probably nothing.
Of course it's probably nothing….but what if it is?
What if, what if, what if?
The garden is so quiet right now. It's napping. My boy is napping too, upstairs with his daddy, and I bought quiet off my daughter by letting her play Angry Birds with the headphones in. So it's me, and my quiet house, and my quiet garden and my loud thoughts. What if, what if, what if.
Before fear, chop wood and carry water. After fear, chop wood and carry water. And plan the garden.
2