Every girl should have a friend who's witty, opinionated, drives really fast motorcycles and is equally comfortable cooking French food with hand-foraged mushrooms or drinking wine out of a half-pint canning jar. For me, that friend is chef and author Lisa Simpson. Lisa was kind enough to contribute her thoughts here on the perils of the Foodie Bubble.
---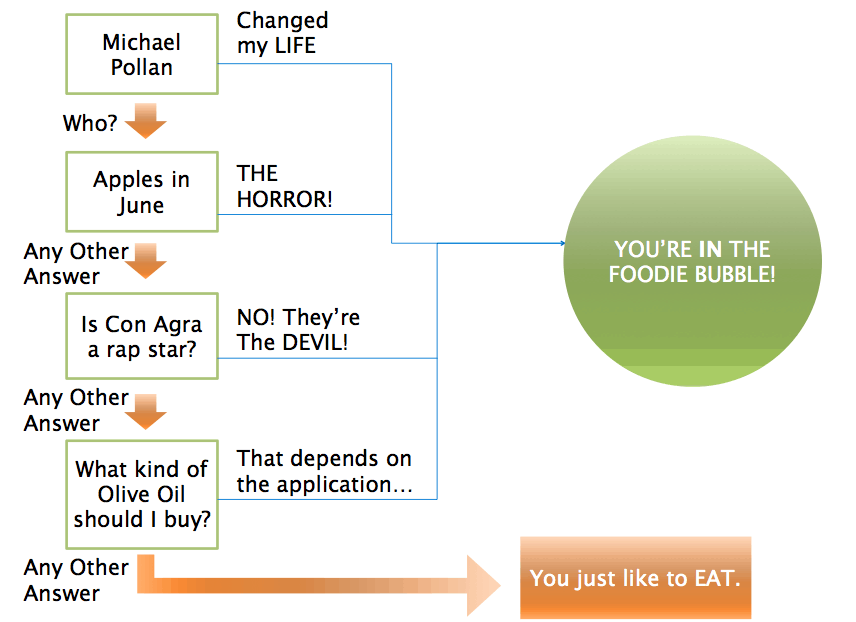 Let's clear this up right away: I am in the Foodie Bubble. It's pretty awesome, too. But sometimes I hear my mouth making the Foodie Bubble talk and I squirm. Once I was with a group that was timidly ordering off a menu where the terms 'lettuce cup' and 'Kurobuta pork' provoked so much anxiety that the chef threw together a surf-n-turf option.
Into this crowd I almost griped, "I can't believe the somme is pairing Napa Cab with Vietnamese?!"
There's so much Foodie Bubble talk going on in that sentence, I'd need to diagram it and then be force-fed a Twinkie as punishment. (But that's just more Foodie Bubble talk, am I right?)
Here in the Foodie Bubble, we forget that not everyone spends their free time chasing down raw milk producers or waiting for the perfect tomato. Most people grab a jar of spaghetti sauce off the grocery store shelf.
Yes, yes, in our ideal world, everyone would loooove to cook, we'd all make our own pickles from robust vegetables grown on our southern-facing wall, have pygmy goats that sleep in the garage so we could milk them for our coffee, no one would ever forget their reusable grocery bags, corporations would genuinely care about what they fed us, everything would have a positive environmental impact, and we'd all have reservations at 8 at Momofuku.
But listen up, Foodies. That will never happen. And it's Foodie Bubble talk to think otherwise. When we forget that, that's our failure.
Remember your own path to the Bubble? Your love of McRib sandwiches didn't lead you to mistakenly pick up Fast Food Nation and then the next day decide how to preserve heirloom vegetables. How can we demand that of everyone else?
The first organic thing I bought was milk. I probably used it to rehydrate cheese powder. I wasn't looking to change from someone who simply liked to eat into a Super Foodie. None of my foodways happened overnight, over the weekend or because nothing was the same after Omnivore's Dilemma.
In fact, I don't know a single person that read Omnivore's Dilemma that had an epiphany. Everyone that read it already knew, since that's the section of the bookstore we hang out in. It was like handing out free Bibles to a congregation that had already taken Jesus into their hearts.
And that, my fellow Foodies and illustrious Foodie Bubble people, is the problem with all of our salient, educated, erudite and passionate arguments. We are totally preaching to the choir.
An example of our passionate dialogue with ourselves is this pioneer program in LA to bring healthy, delicious food to inner city kids through the School Lunch program.
The program is failing because of quality control issues and because kids don't like weird food. And in case you forget what it was like to be a 4th grader, "weird food" is anything that isn't eaten in your own house. All these well-meaning people, good hearted, with a noble purpose, they overlooked the obvious.
So the challenge here isn't to draw people into the bubble. The challenge is for us step out of it.
And we need to, because we are our own worst PR company. We're hippies, liberals, PETA-sign waving blowhards that wanna take away soda, salt and bacon. Elitist 1%ers with obscene wine collections murmuring about heirloom tomatoes while half of America can't pay their mortgage. We're obsessed with the color of egg yolks and making corndogs fancy. We want people to think about overfed geese while there are two wars and taxes and kids getting lost in the foster care program.
When we're not patting each other on the back about our superior sensibilities we're shouting into an empty theater, having forgotten that no one wants to watch a bunch of self-satisfied jerks pat each other on the back. That's called "The Oscars" and we all agree that it's mostly awful to watch, right?
We need to remember: most people are not in the Foodie Bubble. They don't know what Momofoku is, and if they did they'd probably not go anyway. The average person is not a culinary adventurer, and deep frying a Twinkie is as much a political act as a dessert option. It's cheaper to buy 10 frozen dinners on sale with coupons than it is to buy kale at the Farmer's Market. Kale is weird. Soccer moms do not want to be goat-milking hippies. A lot of them don't want their kids around goat-milking hippies just in case goat-milking hippie is contagious.
Getting out of the Foodie Bubble is not about quitting, it is about changing the way we take on the world. Foodie minions, we need to be a broom in this system. We have to be a little more self-aware and a lot less precious, and a helluva lot better at our own PR.
Lisa Simpson – moving away from the Foodie Bubble, but never food.
---
What do you think – are you in the Foodie Bubble or do you just like to eat? Perhaps most importantly, how can those of us who do care about food politics and food sovereignty issues engage others on these topics without coming across like a pretentious foodie ass?
0