One
My greenhouse had gotten away from me. Weeds were threadening to overtake the tomates. Slugs had overtaken the cucumbers and basil, both of which needed a replant.
And so I embarked on a clean-up effort. Out came the mini handheld hoe and the red plastic mulch. Somewhere along the way I decided to redo the greenhouse bed borders with some cinderblock I had lying around. This meant moving and leveling soil and reworking the sad, one-size-doesn't-fit-all irrigation system into something more appropriate for the new layout.
I'm 5'10" and the peak height of my greenhouse is approximately 5-foot-10-and-an-eighth-inches tall. Working on the side-beds, digging under the sloping roof, requires some extreme hunched-back bending over on my part.
It is four thousand degrees inside the greenhouse. I am, naturally, still wearing the sweats I slept in and sweat is rolling in great torrents into my eyes and down my back. For good measure I have gotten about a cubic foot of gritty garden soil down my bra and with every twist and turn it abrades off another thin layer of my nipples.
Picture my sore, stooped back as I squat-tuck in a decidedly non-ergonomic posture while hoisting cinder-blocks into position around tomato plants and balancing precariously so that I don't stumble and – horror of horrors – end up stepping into my garden bed and crushing something. Cat-like, I am balanced, placing ciderblocks like I'm a reject from a failed Cirque du Soileil.
It is at this moment that my son, a 35-pound-atomic-fireball of speed and never ending energy, runs down the short walkway of the greenhouse, leaps, and hurls himself onto my back. His little monkey arms close around my neck, his little legs seek to curl around my flank and scramble for purchase, knees crashing into my kidneys.
"I gotchoo mama!" he yells, thrilled with the wild, bucking piggie-back ride that ensues for a few terrifying seconds as I simultaneously hurl parts of my body in opposing directions in an effort to not fall teeth-first into a stack of concrete blocks. One hand goes out to break my fall. The other has wrapped behind me and is pulling my son against me so that he won't be thrown to the floor should I topple.
There is a sickening crunch. I'm not sure my left kneecap will ever be the same.
Oliver giggles with delight and drops lightly to the ground. "I'm gonna getchoo again mama."
Two
He is quiet. That's usually a bad thing. I'm finally getting some work done on this cinder block border and I tell myself whatever he is yanking up, whatever newly-seeded bed he has opted to dig in, it is worth it to let him do his thing if I can just get this greenhouse done.
But he's too quiet. When I can't hear him I worry. When he wants to he can move like a panther, silent and swift, and in two seconds he can be out the front gate and in the street while I'm left spinning around, mistakenly thinking he is still right next to me.
I bound to the greenhouse door, eyes scanning for his little blonde head in the distance.
"OLIVER!!!!!!! Where ARRRRRRE YoUUUUU?"
He is right there, waiting for me, looking up.
"Mama, come see! Come see mama what I found!" He is holding out his hand for mine, expectantly. "I found beeeee-uful fwowers, mama! Dey red ones! Dey RED ones!"
Red is his favorite color.
He leads me to a raised bed only a few feet away and sure enough several of the self-seeded nasturtium clumps are blooming a rich maroon. He half-hops, half-climbs up onto the edge of the raised bed and scooches his little butt along the edge until he is sitting right next to the clump of red flowers.
He reaches down, grabs a bloom in his strong, small fist and pulls.
I think how this must look from his height, not so much taller than the raised beds. Huge swaths of billowing plants everywhere and overhead. One day a plant is green and dull, the next day it has bright red flowers. Like magic.
It is all a jungle to be explored in his eyes. There is no differentiation between crops and weeds, no judgement as to what needs tidying up or isn't growing well, no sense of failure if the broccoli buttons or the lettuce bolts. When he is hungry he grabs strawberries and cherries and peas. He started harvesting raspberries when he was nine months old. He thinks all omelets have chives in them and he is the official chive picker.
Fist held up and out, a mashed single-bloom bouquet held out just for me.
"I got you a fwower. A red one, mama!"
Nasturtiums have never looked so beautiful to me.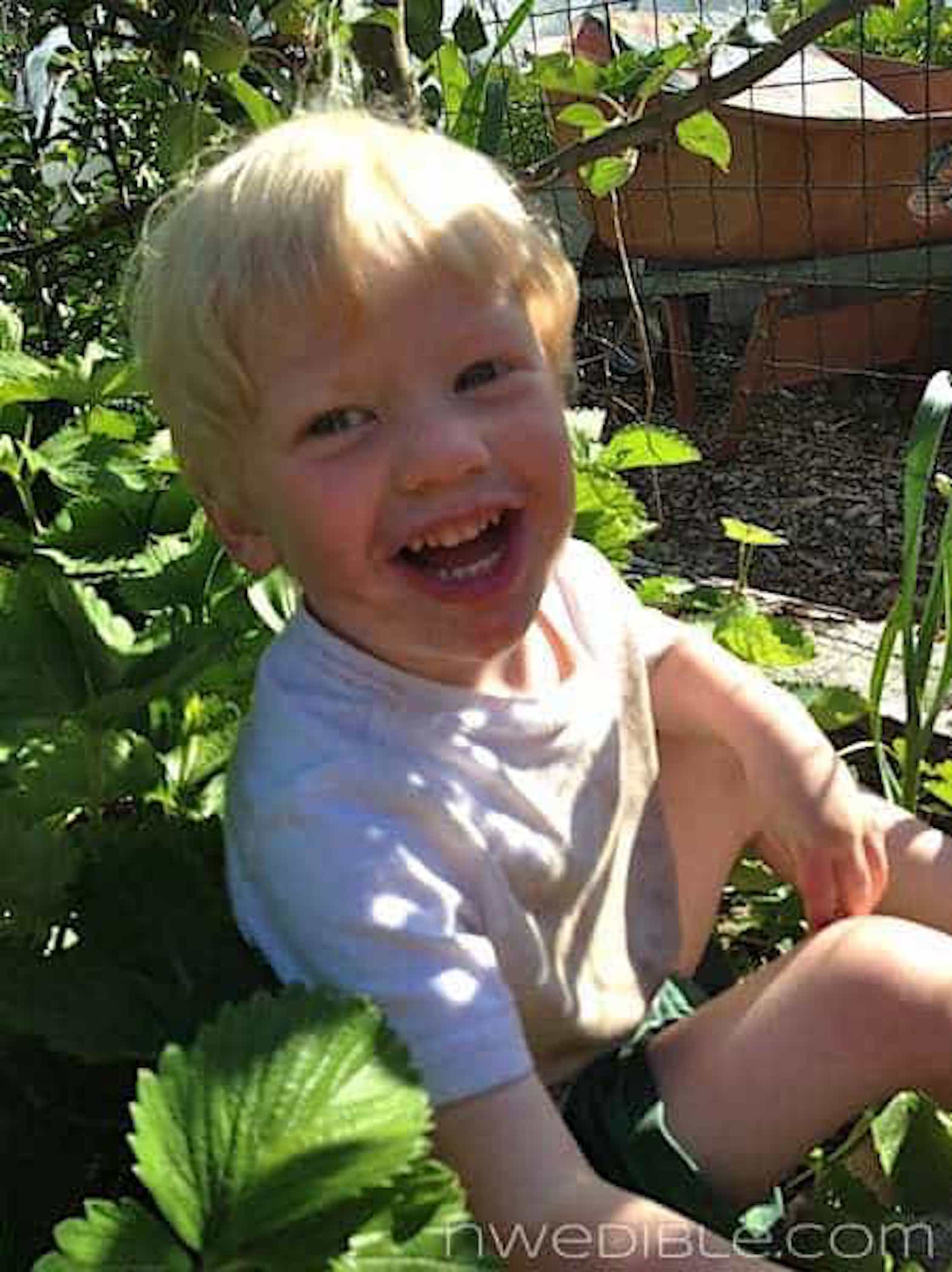 2