It's strawberry season in the Northwest. Every year around April I give in and buy a plastic clambshell full of gorgeous berries trucked up from California. Winter's been long, you see, and those berries just look like perfection. And every year, about two months later, I taste my first homegrown berry and I remember what a strawberry is supposed to taste like.
It's an interesting thing. The very best strawberries will always be warm from the garden, unwashed and literally seconds from stem to mouth. A little dirt? A little funny looking? No matter. The flavor sends kids and otherwise perfectly respectable grown-ups alike onto their knees, hunting for another bright red jewel.
Yup, if you want the best strawberries, you have to grow them yourself. Fortunately this is easy to do. Strawberries are a high-reward, low-work crop. Here are five easy steps to the most delicious strawberries you've ever tasted.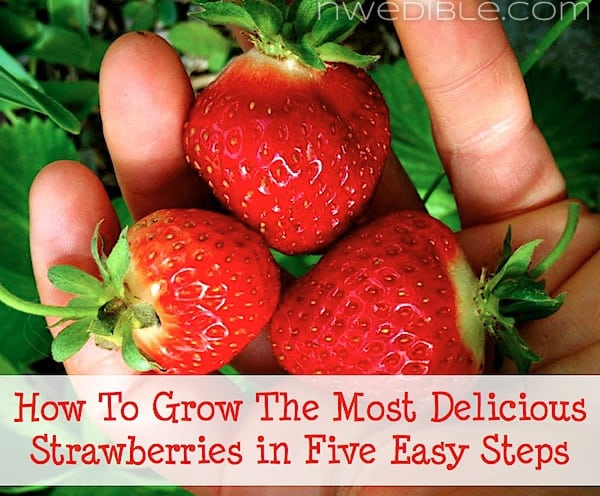 1. Cultivar
The first step in growing really delicious strawberries is to select really delicious cultivars. Not all strawberries are bred for taste über alles. Some are better for processing, some hold up better to shipping. In my region, I'm particularly fond of Hood and Shuksan for delicious fresh eating quality.
Different areas often grow different cultivars so if you aren't in the Maritime Northwest, check with your local Agricultural Extension agency or Master Gardener's association for a list of locally popular strawberries ranked by flavor.
If you are in the Pac NW, as many of my readers are, this is a fantastic guide to good strawberries for this region with notes on flavor, disease resistance, yield and many other qualities.
2. Sunlight
Like all fruits, strawberries need sunlight and relative heat to develop the highest sugar content. In the Pacific Northwest they'll take all the heat we can give, and early cropping can even be encouraged by growing strawberries in a greenhouse or under cover, but things might be different in the South and Southwest.
All else being equal, a strawberry plant grown in full, strong, all-day sun (8+ hours per day) will be more sweet and flavorful than one grown with, say, 5 hours of sun. In shade, berries might grow, but they just will not reach their flavor potential. If you only have dappled sun, look at the Woodland Strawberry (Fragaria vesca), also called the Alpine Strawberry or Fraises des Bois. It's not a big prolific fruit-maker like the Garden Strawberry (Fragaria x ananassa), but it's got an amazing perfume and depth of flavor that's been winning people over for thousands of years.
3. Soil
Strawberries like well drained soil. In my seaside home town, Coastal Strawberries (Fragaria chiloensis) are a common ground cover at public beaches. They are bulletproof and happily grow all over sand dunes. Garden strawberries aren't going to thrive in pure sand, but the fact that their wilder relatives do tells you something about the drainage needs of your garden berries.
Raised beds are a good idea, especially if, like me, you like in an area prone to late-spring sogginess. In heavy clay soil strawberries tend to sulk. Their roots won't be able to dive down easily, their crowns will be prone to rot, and they will be more susceptible to the numerous viruses and funguses that can infect strawberries. Needless to say, these aren't plants that will be pumping out the most delicious berries.
Amending with lots of compost to increase the airiness of the soil is a good idea if your soil is heavy. You might think incorporating sharp sand would help with drainage, and it can if you are willing to really go for it with the sand. But be careful if you are dealing with pretty severe clay – clay plus sand plus mixing can form a concrete-like soil that will cause you to totally give up, sell your home and try gardening somewhere else. Compost is the safer bet.
Strawberries prefer a slightly acidic soil pH (right around 6 to 6.5 keeps them happiest). Here in the Pacific Northwest, where native soil tends to run quite acidic, we generally have to lime to bring soil pH up to this level, but this won't be true for much of the country.
4. Fertilizer
For the best flavor, you have to make sure your strawberries have the minerals they need to make tasty, tasty flavor compounds, acids and sugars. A balanced slow release organic fertilizer (5-5-5) or a fruit and flower fertilizer (5-6-5 or similar) is good for strawberries unless your soil is quite mature and very rich.
I like to add fertilizer to my soil when I initially set up a new strawberry patch, working the fertilizer into the top 6 inches of soil. Base your application on the directions for your specific fertilizer, but take into consideration your existing soil fertility. If you are also adding in a bunch of compost, for example, you may want to cut back on the initial fertilizer application.
Strawberries are shallow rooted and moderately heavy feeders, which means slow release organic fertilizers (including manure and compost) will best sustain them for long-haul tasty berry making. But pay attention and if your strawberries seem hungry, side-dress them with additonal balanced or fruit and flower fertilizer. When side-dressing, little and often (or as needed) is far, far better than a big application once or twice a year.
Your strawberries will tell you if they are hungry. Look for yellowing leaves, a lack of lush growth, few or no runners and poor berry set. These are all signs of a strawberry patch that might need a meal. Before you solve the problem with the fertilizer bag, confirm that the plants aren't thirsty or sunburned or besotted with a virus, then go ahead and side-dress.
5. Water
Up until now these steps have been pretty basic: give the strawberry plant what it needs to thrive. With water, I take the opposite approach, and this is where all the difference is made.
A strawberry plant that is healthy, upright through the heat of the day (not wilting) and putting out consistent berries should be slightly underwatered. Along with cultivar choice and liberal amounts of sunshine, being stingy with the water does more to create that amazing concentrated strawberry flavor than anything else I know of.
Now I'm not suggesting you desiccate your berry plants, and here in the Northwest there's only so much we can do to control rainfall. But if you cut back on your irrigation a bit your berries will taste far the better for it.
Fair warning: strawberries grown with less water will be smaller, too, because they won't be pumped up full of a flavorless liquid. If I wanted giant, flavorless berries I'd just keep buying the quick-chilled, week-old imports driven up from California. But those just can't compare to the flavor of a warm, sun-kissed, undiluted Hood at the peak of ripeness.
My goal is unsurpassed fresh-eating flavor, and keeping the strawberry plants just a little thirsty encourages the most intense, concentrated strawberry flavor.
Psst….Don't Forget Booze
Now that fresh strawberry season is upon us, we have an obligation to use up last year's strawberry jam. Fact. And the easiest / drunkiest way to do that? The Strawberry Jam Margarita. If you haven't read it, check out my happy investigation into combining jam and blender drinks, plus a rather amazing mason jar trick, here.
How do you grow your best strawberries? What cultivar are you partial to? Let's learn from each other – add any growing tips in the comments.
59