The following post contains extremely graphic images of animal slaughter. Even people already familiar with animal butchery may find the images and descriptions contained herein to be very disturbing. I know I do. This is probably the most difficult post I've ever written. Most people will probably not find it easy to read. Please consider your own sensitivities when deciding whether to read on. There is no shame in turning around now and coming back tomorrow, when less somber topics will be discussed.
---
I eat meat, I enjoy meat, and I believe that if you aren't willing to look your dinner in the eye before you eat it then you should really stick to tofu. For this reason, I have made the effort to look a number of my dinners in the eye and participate in their slaughter and butchery. While every slaughter is a somber time, the humane killing of animals for food does not, in and of itself, bother me.
We all know about the horrors of feedlot beef, the environmental, health and animal welfare concerns of CAFOs and the big-business mentality that allows industrial meat production to defend ammonia-doused pink slime as "just meat" with a straight face.
In this culture of industrial food Big is Bad, and from there it is an easy leap to Small Is The Solution.
I agree that supporting small producers is better. But here's where the Cult of Small concerns me: small does not always equals better. Small does not always equal professional. Sometimes small just means lower volume, not higher care.
The most disturbing animal slaughter I've ever witnessed happened on a very small ranch.
The slaughter itself was textbook: fast and by-the-book with no unnecessary suffering to the animal. The problem was the Small Rancher. In the seven years since I witnessed this slaughter, I have come to believe he had no business raising or sending beef to slaughter.
He had a small herd of fully pastured beef, slaughtered on site and sold to the community directly and through a local co-op. On paper this operation hit every sustainable meat foodie's g-spot.
The rancher said he was slaughtering these two beeves that day in mid-March because his customers were asking for more meat. He called in a local mobile abattoir which performed USDA-witnessed and inspected slaughter on-site.
I rode along because I was interested in seeing how the mobile slaughter vehicle itself operated.
The field was green, thought the grass was short. Cows stood side by side with their fuzzy calves. It was very peaceful.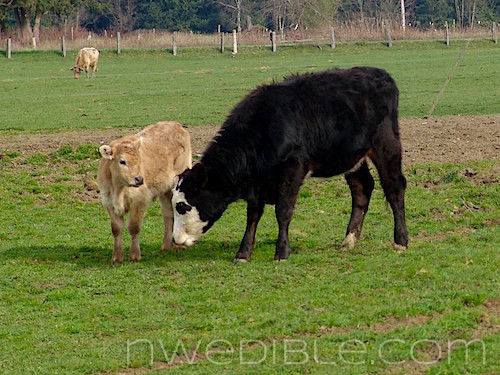 One at a time, two corralled animals were shot cleanly in the head. After each animal dropped, stunned, it was field bled by the butcher. When the animal was fully bled-out, its hooves were chained to the bucket of a John Deere front-loader and it was hoisted into the air and transferred to the the mobile slaughter vehicle's abattoir.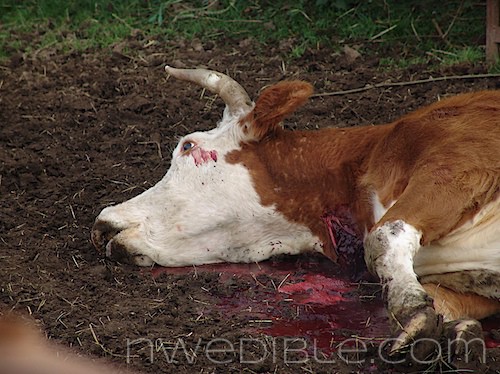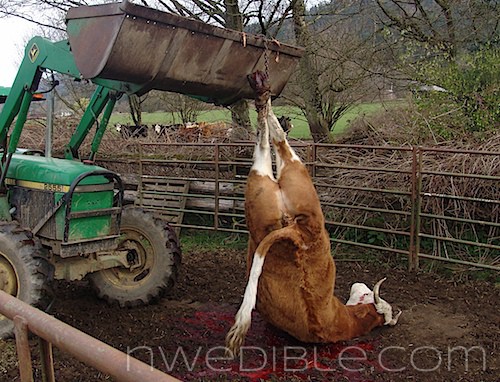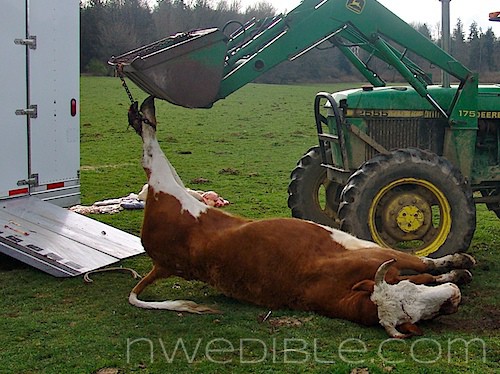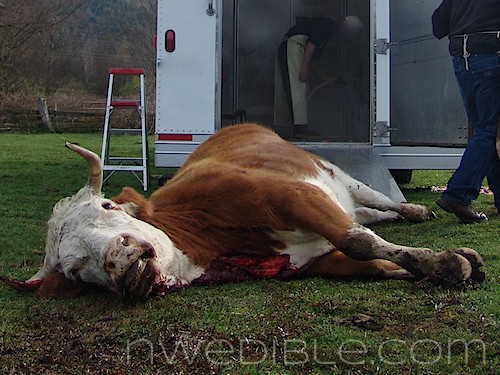 The butcher sawed off the horns of the beef, then removed its hooves and head. The flank and sides of the animal were skinned while it lay on a v-rack, spine-down. The beef was hoisted by the hind legs into the air to complete the skinning, and to allow for disembowelment, USDA grading and splitting of the beef into halves.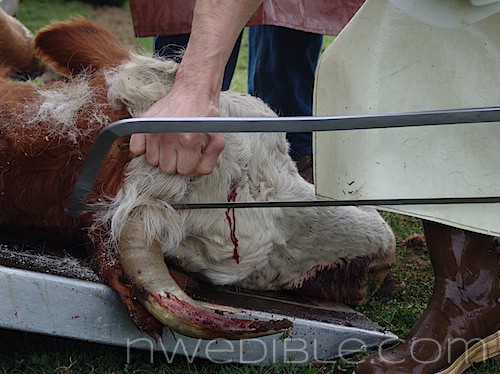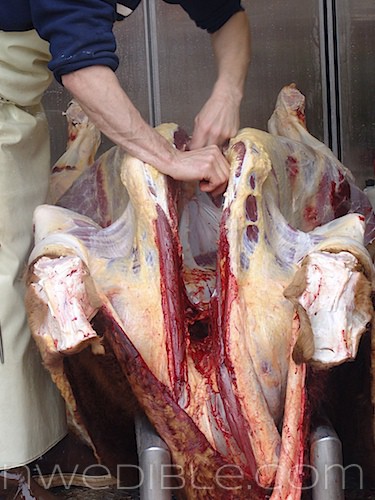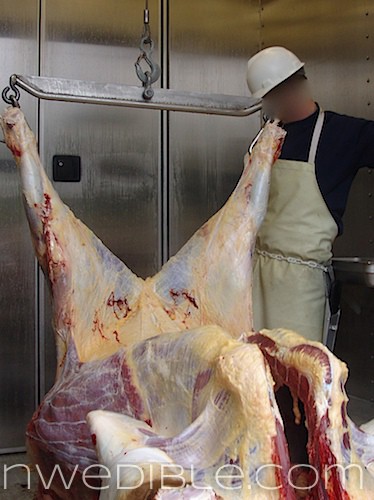 Any part of the animal that touched the floor of the abattoir after skinning was cut away. Any part of the animal that showed signs of bruising or blood marking was cut away. It was here that I started to be concerned. The butcher trimming the carcass cut away bruise after bruise. The muscle of the beef did not look at its prime to me.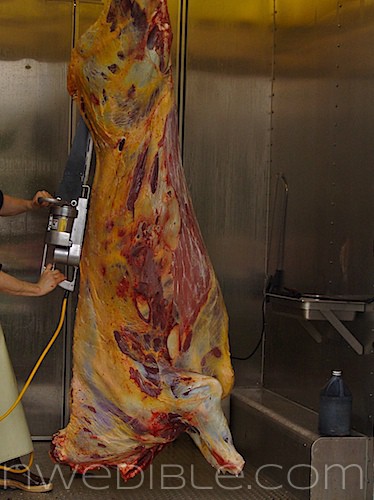 The innards of the beef were removed in one tumbling swoop. It is always a bit surprising to me how little attaches the entrails of an animal to its body cavity. The mobile abattoir had a side opening door that allowed the entrails to be pushed into a collection bin on the outside of the vehicle.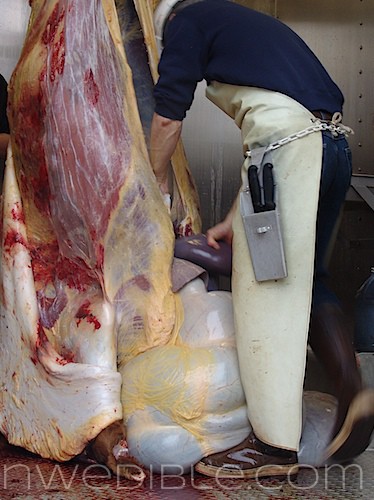 The entrails and everything unwanted from the beef animal was pushed out this door. Small Rancher had parked the bucket of his front loader in front of the door, so that the innards of the slaughtered beeves could be easily driven to his compost pile.
Those discards included this, from the first slaughtered cow.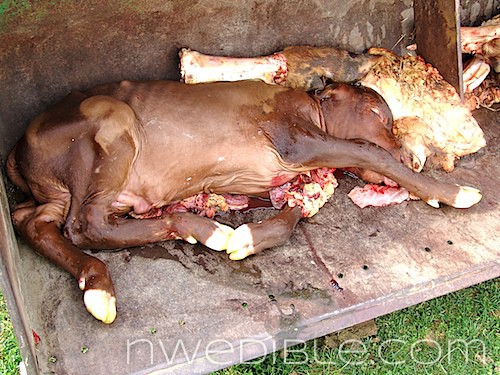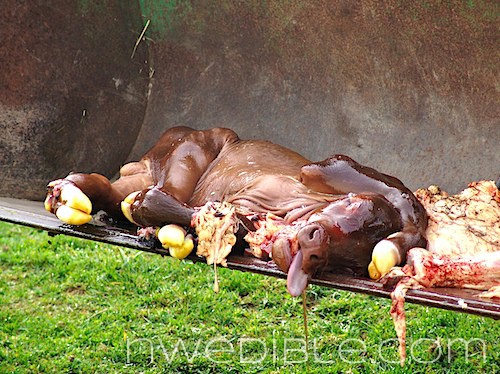 And this, from the second.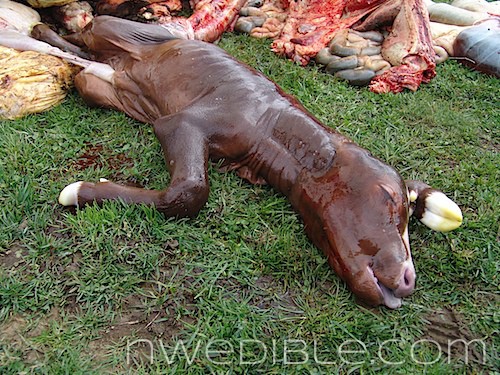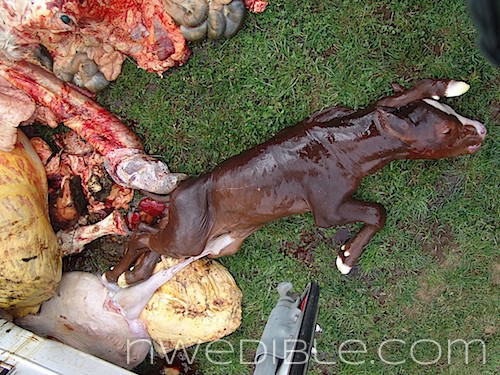 I don't have any commentary to add to what the pictures so clearly show: two very late term calf fetuses, scooped into a front loader to be composted, tossed out like the unmarketable cud-filled stomach. The umbilical cord is still intact in the second set of photos. That pains me every time I see these photos.
There is evidence that it takes up to 90 seconds after a pregnant cow dies for the fetus to die. Unlike the cow, the fetus does not receive a stunning blow before death. I'll leave you to draw your own ethical conclusions.
To me, as a meat eater, this waste is grotesque. It is excessive to the point of negligence. I believe it is possible to be a responsible omnivore. (This is a perspective not held by the vegan community, and while I respect the conviction of those who refrain from animal products, on this I know we will have to agree to respectfully disagree.) Perhaps the most critical thing one can do as a responsible meat eater is to fully minimize the waste in that eating whenever possible.
Seeing the collateral slaughter of the fetal cows was terrible. When you see things like this on YouTube or something, it's easy to feel burning rage. In person, a surreality hung over that aspect of the slaughter like a sound-deadening blanket. I wanted to do something – I wondered if I could take the fetuses for veal stock at least – as terrible as that idea was, the atrocious waste of life displayed in this slaughter had me mentally grasping for some way to salvage…something.
But of course, I didn't. That would have been too awkward, too terrible, too horrible a thing to to say aloud. I stayed silent. Everyone stayed silent.
Ironically, asking about the calves as meat would have given them value, would have forced them to be seen as real to the small group of us that observed the slaughter. It would have forced everyone to acknowledge that a slaughter and an abortion had taken place simultaneously.
Four animals dead so that two inferior carcasses could be harvested. Those cows were in the final stages of their pregnancies. All their body's energy was devoted to the growing and supporting of their developing offspring. It was no wonder both beeves showed extensive bruising. I bruised easily too when I was pregnant.
These images have hung with me for seven years. They are the kind of thing you never really forget.
When Small Doesn't Mean Superior
The decision to slaughter these particular cows was solely in the hands of the Small Rancher. It was his herd and his call. It is possible that he did not know these two animals were pregnant, but of course this begs the question as to why he didn't know.
It can be difficult to assess if a cow is pregnant but isn't the advantage of the small farm that more individual attention can be paid to each piece of the farming puzzle? Shouldn't the involved small-herd manager notice changes in his cows if they are in the third trimester of pregnancy?
Would a check of the cows pregnancy status at that time of the year – when cows are busy giving birth – have been difficult or slowed down the slaughter? This wasn't an assembly-line industrial slaughter – as far as I know nothing was going to cost more if the job took a few minute longer.
I talked, quietly and privately, to both the butcher and the USDA inspector on this job and everyone involved was horrified. The butcher said that one of the slaughtered fetuses was a big bully calf and would have made an excellent steer if it had been given just a just a week or so longer to gestate.
Slaughter of pregnant cows takes place in industrial meat production, too, of course. By some accounts over 25% of culled dairy cows are pregnant at time of slaughter. In fact, what little research I could find on this topic indicated that the culling of pregnant cows is a far greater issue in the dairy industry, which of course relies on cycling pregnancy and lactation of cows to produce milk. Of cows who are slaughtered while in some stage of pregnancy, one source claimed 90% were dairy cows.
Because this issue is, of course, tremendously upsetting, the articles and discussions I've read about it tend to come from activist sources. Insofar as groups are talking about collateral calf slaughter, they tend to be vegan/vegetarian or animal rights groups.
Beef industry publications I was able to find suggest that, except in cases of disease, the slaughter of a pregnant cow in a cow-calf beef operation is a pretty stupid business decision.
According to The Beef Site, an industry-oriented commercial beef production website:
One of the greatest determinants of profitability in a cow-calf operation is reproductive rate. Open (non-pregnant) cows are a drain on resources. They consume feed, forage, and other resources without producing a marketable calf to contribute to expense payments. Cows that are open at the end of the breeding season should be at the top of the cull list….

Appropriate times to cull cows from the herd depend on the reasons behind the culling. In cases where cows have developed severe health problems, removal from the herd may need to be immediate. In situations where cows are being culled for low performance or other less urgent factors, it often makes sense to wait until after nursing calves are weaned. If market conditions are such that even cows weaning low-performing calves are generating a profit, it may be cost-effective to hold onto these cows in the near term and then market them before they become unprofitable.
This advice to ranchers, plus the dramatically lower rate of cull for pregnant animals in beef production as compared to dairy, and the preference for steers and heifers for quality beef production suggests to me that well-run beef operations avoid slaughtering healthy pregnant cows.
So why, if it's bad business and bad ethics to slaughter a pregnant cow, why would Small Rancher take that action, not once but twice? I don't know. I didn't ask Small Rancher then why he picked those two beeves for slaughter, though I wish now that I had. Perhaps he had his reasons, but what I suspect is that he's just bad at his job.
That's the difference between crops and cows. You can fuck up pretty bad with carrots and no one gets hurt; you're only out seeds. When you're bumbling through the decision making process about what animals to kill in real-time, dead baby cows (and the profit they might represent) get composted. Lose-lose.
Growth in business is an interesting thing. Sometimes a business is small because being small makes that business agile, responsive and able to serve its customer base well. Sometimes a business is small because it's more expensive to get big than getting big justifies. Sometimes a business is small because the owner prefers a scale that allows complete one-person control.
But sometimes a business stays small because it's just not good enough to get bigger. And some extremely good small farmers and small ranchers become medium-sized farmers and ranchers precisely because they are very good at what they do.
Is the Rancher raising up 1500 head of cattle well less deserving of our support and our dollar than the Rancher raising 15 head of cattle poorly, simply because his operation is a bit larger?
Is the rancher who does that job full-time, at a scale that supports that specialization, less qualified than a smaller but part-time hobby rancher who visits his herd on the weekends and works another job durring the week? Or is the full-time larger scale rancher better precisely because that is her sole focus?
There are some amazing non-industrial pastured beef operations out there like Tallgrass and Long Valley Ranch that are huge compared to Small Rancher's. These places have corporate offices and product verification protocols and operation procedures and other things that sound Big and Bad.
But these Not Exactly Small beef companies are managing herds on horseback to avoid stress to the animals, using ultrasound to check for intramuscular fat and other eating-quality characteristics, pioneering breeding programs to develop beef than fatten well on exclusively grass and raising greater awareness about pastured beef. These are all wonderful things, and they are not less wonderful for being done by the medium-sized business.
This Small Rancher was no one to fetishize. No one should put his face on an "I Love My Rancher" t-shirt. Everything about his operation would have made for excellent ad-copy on a brochure, but in reality I think he was just a guy with a hell of a lot to learn about raising beef.
Good small farmers and good small ranchers – they deserve our support. But I think we need to keep the emphasis on good and not on small, lest we support the wrong thing inadvertently with our purchases.
Due to the difficult topics discussed in this post, comments will be monitored. Any comment disrespectful to me, this blog or other readers will be edited or deleted at my discretion. Discussion is a wonderful thing – please participate – but remember to keep it civil.
1