When I let the hens out for some free range time yesterday, I noticed one of the Austra Whites was bloodied about the comb.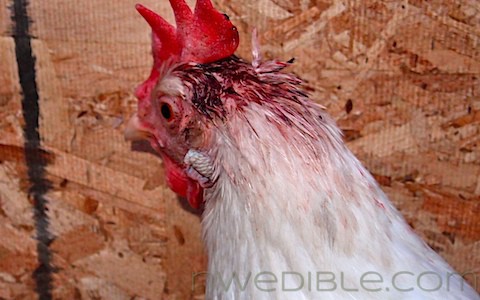 We have two of this breed, and the other one was bullied a few months ago in the same way. I was so concerned about the mess of blood on our first go-round with this that I took the injured hen to a bird vet, who recommended isolation and charged $80 to apply pressure to the injured comb for 40 minutes until the bleeding stopped.
Isolation (which we had been doing anyway) did the trick and eventually the first chicken's comb healed, she learned some deference and the bullying seemed to stop.
When I saw that we had some comb-attacking happening again, my first thought was, "Man, these Austra Whites sure get picked on!" They are significantly smaller than our other breeds and it's easy to see them as the victim.
Then I watched a little longer and saw some serious back-and-forth between the injured Austra White and a much larger Barred Rock. Both were giving, though the Austra White was taking a lot harder. To my inexperienced chicken-keeping eye, this looked like a chicken power-play situation.
For everyone's safety and flock tranquility, the Austra White needed to be separated. During the day I kept her in our semi-mobile bottomless pen atop a fallow raised bed with a little food and water. As the flock moved back into the coop for the evening roost I had a brainstorm. I wanted to keep the injured Austra White separate, but in a location that would allow her to see and hear the rest of the flock if possible.
Chicken keepers know that a flock of hens will pick one nesting box and use that while ignoring the others. We have three nesting boxes, only one of which is ever used for laying. The nesting boxes look out onto the roosting area. Looking at the two never-used nesting boxes, I realized it would be simple to partition one off with hardware cloth mesh as a hospital pen for injured on confined chickens.
Making the isolation cage was dead simple. I used wire cutters to snip a scrap section of hardware cloth to size and fitted it to the front of one of the not-favored laying boxes. Meanwhile, my daughter and trusty chicken wrangler kept the hens from beating on each other until we could finalize Solitary Confinement.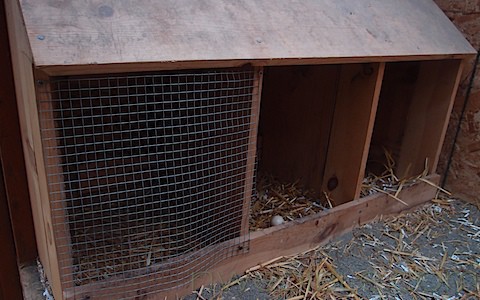 The mesh is anchored by four screws, one in each corner, and is held on by tension, making it simple to pop the mesh on or off as needed.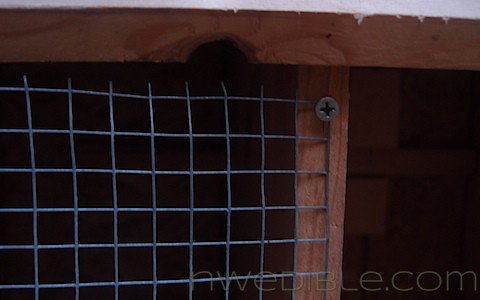 I didn't think the view from Solitary Confinement was too bad.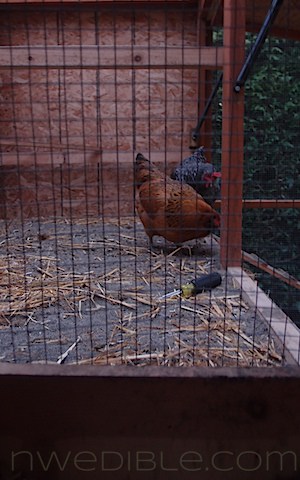 But the Austra White was clearly unhappy in such small quarters.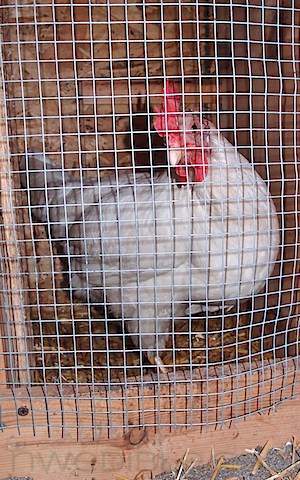 My 8-year-old daughter asked if we were going to lock her in that little space.
"Yeah, we are, but just for the evening." I said, "Hey, it's a lot more room than egg laying hens in a factory get for their whole lives."
"Really?" asked my daughter, horrified.
"And that's why we have our own chickens," I said.
A few hours later, after the sun set and the chickens were solidly roosting, I went outside to check on the Austra White. I opened the external egg hatch and discovered she was still awake!
My theory is, without the ability to satisfactorily roost, she couldn't get comfortable enough to fall asleep, but I might be anthropomorphizing dangerously. In any event, I am on a hair trigger about sleep deprivation for my own reasons right now, and I couldn't let my poor hen suffer as I do from lack of sleep.
I released her from Solitary Confinement and placed her up on one of the roosting poles. I figured no one would be fighting during roosting time, so she wouldn't get any worse overnight. There's just the issue of getting into the coop and moving her out of squabbling range before the flock awakes.
Oh well, I didn't need that sleep, anyway, right?
Chicken keepers, what do you think – is converting an unused nesting box into a confinement pen for injured hens clever or problematic? Why? And long term, what are your best tips to stop aggression in a flock?
27