On Monday I talked about seeds for beginners. Well, after a season or two of growing from seed you may become (like many of the commenters on Monday's post) a Gardener With Too Many Seeds.
You have become a G.W.T.M.S. when you have file boxes dedicated to your seeds and you debate with yourself every season how many mason jars should be dedicated to seed storage, and how many should be reserved for food preservation.
You will know you are a G.W.T.M.S when you look greedily at anyone who gets a new iPod dock for Chirstmas…not because you want their combo alarm clock/mp3 player, but because you saw two or three silica packets in the packaging and you want those suckers for stopping moisture build-up in seed storage.
Now, perhaps you will argue that one can never have too many seeds. After all, isn't that like too much fun, or too much chocolate? In response I say: you have too many seeds when you have no idea what seeds you already have!
Many of us G.W.T.M.S. have excitedly ordered an amazing sounding varietal that we simply must try, only to discover that we bought the same varietal two years ago and never opened the package! I'm not judging. I know what it's like to be a G.W.T.M.S. We're all in the same boat here. The problem is, we have so much we don't know exactly what we have.
But there is a solution, and it doesn't have to involve tossing out precious seeds. See, according to the definition, as long as you know what seeds you have you can never have too many. And that's where this database comes in. Keep this database up to date and you'll have the organization in place to bypass seeds you really, truly don't need (duplicates, etc.) and the freedom to add great finds to your collection without worry that you are wasting money.
Download in: Excel | Numbers (Mac OS) | PDF (Blank)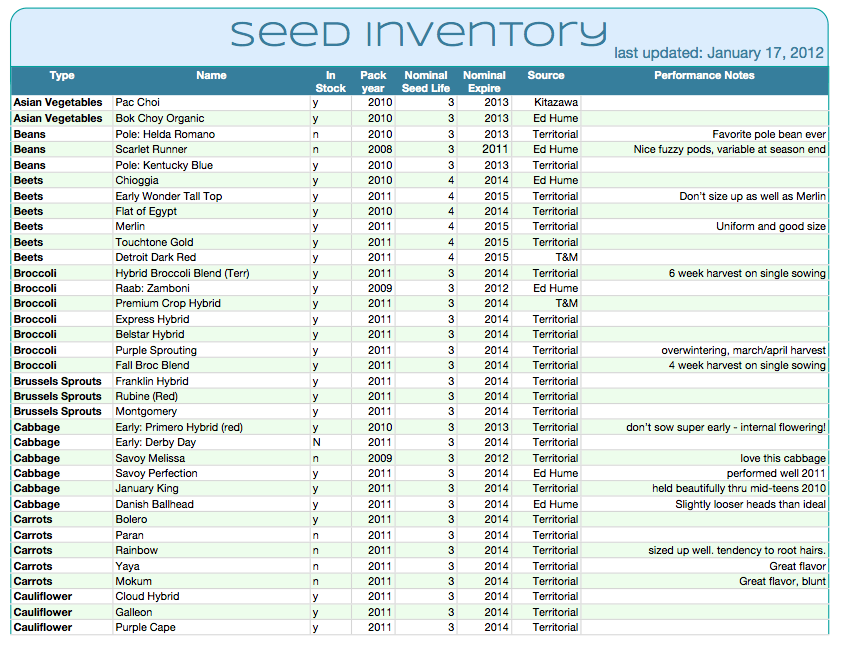 The database as downloadable is pre-filled in with a lot of the seeds I currently have on hand, so you'll need to make it your own by imputing your own seed stash as appropriate. Once your info is in, you can sort by vegetable type, or expiration year, or stock status to keep the info you need at your fingertips.
It is a good idea to print out a copy of your database before you go to any nursery or seed swap. I've been known to tuck a copy into the Territorial Seed catalog just to help cut down on temptation.
How do you G.W.T.M.S. keep track of all you have?
11