Homebrew Husband and I are dancing around the idea of maybe, someday, possibly keeping honeybees.
We are being very sensible about this. We are not rushing in. We are getting a bee education before we plunge into apiarying. I'm currently taking a fantastic Apprentice Beekeeping class through the local branch of Washington State University's Extension program, and when I'm done, he'll take the class too.
In the meantime, before we do anything rash, we are confirming that we like honey enough to use it a lot, and to one day get stung in pursuit of it.
Which is where this batch of Honey, Nut and Raisin Granola comes in. A full cup of honey goes into this recipe (to be fair, it does make an awful lot). If you have bees, or even if you don't, you might make a batch for easy no-cook breakfasts and quick after-school snacks.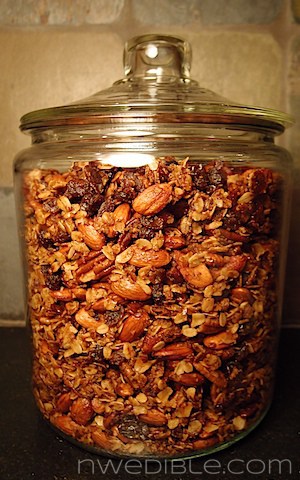 Honey, Nut and Raisin Granola
Ingredients:
(Note: all photos display a double batch. If you really like this recipe and eat a lot of granola, feel free to double – you'll need two sheetpans. Or, if you aren't sure about this recipe, go ahead and halve everything.)
4 cups old fashioned rolled oats
4 cups assorted mixed nuts (I used almonds and pecans)
1-2 tablespoons cinnamon, to taste
1 teaspoon dry ground ginger, or more to taste
1 teaspoon kosher salt
1 cup olive oil

1 cup honey

2 cups raisin or other small dried fruits, such as dried cherries or dried cranberries
Method:
Preheat oven to 275 degrees. Line one half-sheetpan (or standard size cookie sheet) with parchment paper, silicone baking sheet or aluminum foil.
Combine the oats, nuts, cinnamon, ginger and salt in a large bowl. Stir well.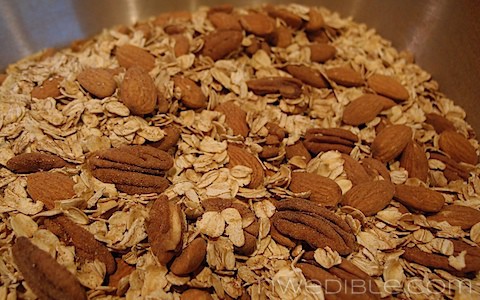 Combine the olive oil and honey. The easiest way to do this is in a large glass measuring cup. Pour in one cup of oil first, then add the honey until the combined liquids hit the 2 cup mark. You want to add the oil first so the honey releases from the measuring cup more easily.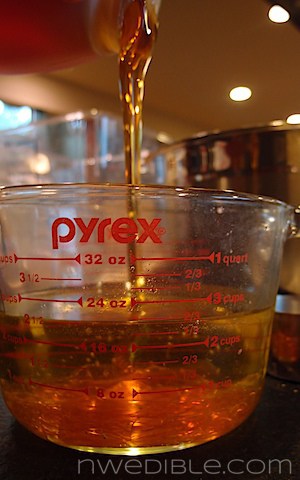 If you have a microwave, it helps to warm the honey and oil for 30 seconds to a minute or so, and then stir the liquids together. If they are warm they will sort of combine and coat the oats and nuts more easily. If you can't warm the mix, just stir it together as best you can.
Pour the liquids over the bowl of oats and nuts.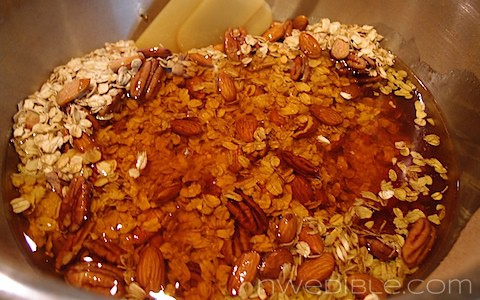 Use a spatula to gently but thoroughly stir like crazy. All the oats and nuts should be well coating in oil and honey.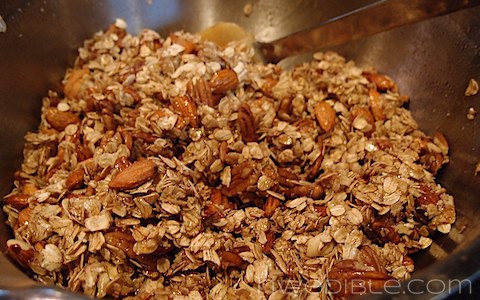 Transfer the granola mixture to your lined sheetpan. Pat it down with the spatula, so the mixture is lightly pressed together.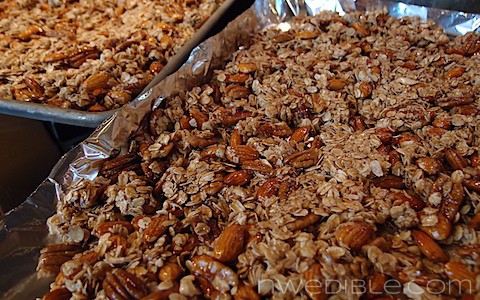 Bake in the 275-degree oven for 30 minutes. After 30 minutes, stir the granola gently, working the edge parts towards the center. Turn your sheetpan 180-degrees, so the front is now in back (this helps things cook more evenly). If you have doubled your batch, swap your sheetpans top-to-bottom, too. Don't worry if everything looks pretty pale and liquidy at this point.
Return the granola to the oven. It should take another 30-40 minutes of baking, but check every 10-15 minutes just in case your oven runs a bit hot. Every time you check, stir in spots along the edges that are browning more quickly than the center.
When the granola is glossy and rich golden brown, it is done. Remove from the oven and set aside to cool.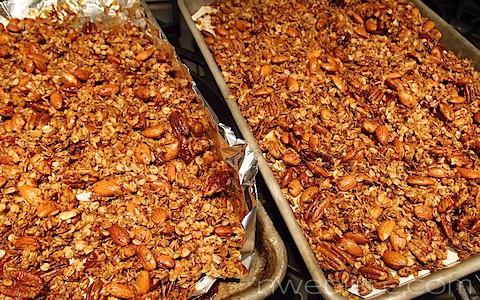 The granola will still be tacky and a bit moist when taken from the oven. Allow it to cool completely and it will crisp up. When it is fully cooled, gently turn the granola into a large bowl. I like to do this gently and maintain as many big chunks of granola as possible. "Pieces" are more popular than sad lonely oats in my house.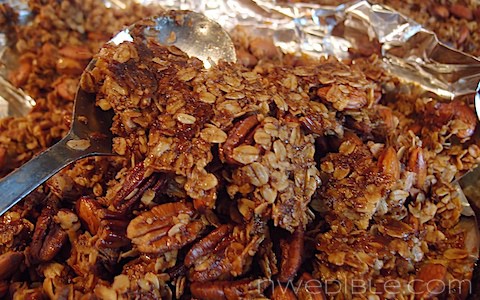 Add in your raisins. Stir gently.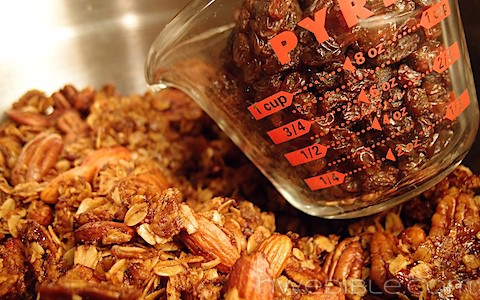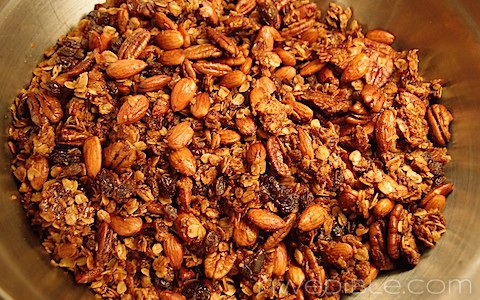 Transfer to a relatively airtight container. I think the granola's so pretty I'm storing it in a big glass jar right on the counter.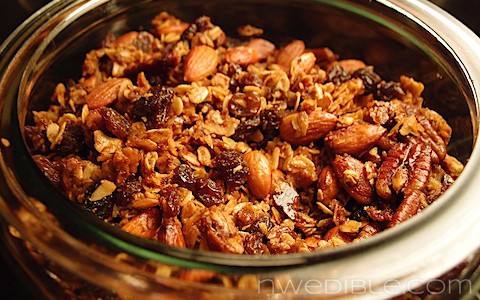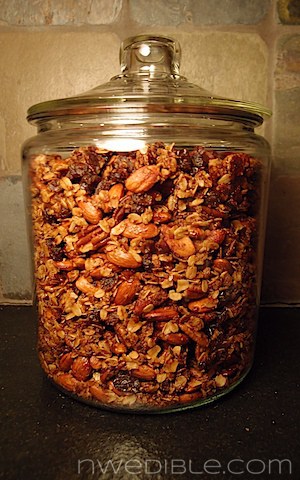 This is an excellent framework recipe. You can modify it to suit your taste and available ingredients. I happen to think a dried pineapple, macadamia nut and coconut flake granola seasoned with ginger and maybe a hint of cardamom would be fantastic, if one could afford it.
Walnut and dried pear or almond and dried cherry would be nice. I could image a slightly exotic, Middle Eastern feel variation with pistachio and dried apricots. The possibilites are endless.
I served this granola to the family layered with last summer's canned peaches and some homemade yogurt. My daughter called it parfait, invoked a Shrek reference and tucked in to some serious eating.
This bodes well for beekeeping.
0