This salad came about, as so many things in my kitchen do, because I was looking to use up some leftovers.
For dinner a night or two before I made this salad I had roasted several sweet potatoes in their skins and served them simple and plain, with butter and salt passed at the table. We didn't get through all the sweet potatoes, so a few were hanging out, chilled but fully roasted, in my fridge.
I had a half-bed of Little Gem Romaine in the garden ready to eat, so I harvested several heads and came up with this salad. I really like the combo of sweet potato and blue cheese – the sweetness of the taters and sharp saltiness of the bleu pair nicely.
The dressing on this salad is more like a creamy vinaigrette than a typical thick, mayo-based blue cheese dressing. It uses yogurt for a bit of tang and creaminess. Feel free to substitute sour cream or mayonnaise if that's what you have on hand.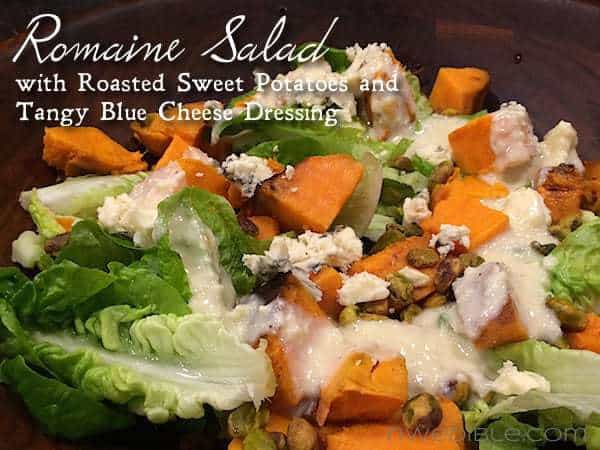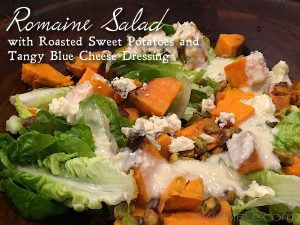 Print
Romaine Salad with Sweet Potatoes and Tangy Blue Cheese Dressing
Yield 4
Ingredients
Tangy Blue Cheese Dressing
2 ounces creamy blue cheese, such as gorgonzola.
1 tablespoon apple cider vinegar
4 tablespoons plain, Greek-style yogurt (substitute mayonnaise or sour cream if desired)
1 tablespoon dijon mustard
½ teaspoon kosher salt, or to taste
freshly ground black pepper
½ cup olive oil
For The Salad
2 medium heads Romaine lettuce, washed and torn into bite size-pieces
2 medium sweet potatoes, roasted, peeled and cubed
½ cup roasted, salted pistachio kernels (substitute walnuts or pecans if desired)
2 ounces creamy blue cheese, crumbled
Instructions
Blend all dressing ingredients in the bowl of a food processor fitted with the metal blade or with the chopper attachment of a stick blender. Can be made up to three days in advance and kept chilled.
Reserve a few pistachios and blue cheese crumbles for garnish, then toss the salad ingredients with enough dressing to lightly coat. Adjust seasoning to taste and serve immediately.
Courses Salad
Salad Tips and Tricks
Soak Your Lettuce in Vinegar Water
When I wash lettuce and other greens, I add a glug of white vinegar to the cold soak water. This does wonders to help "release" any slugs, aphids or other garden buggies that might be hiding in the leaves. It gets regular ol' dirt off, too. Mix 2 tablespoons vinegar per pint of cold water, you've got a very effective any-bacterial fruit and vegetable wash for firm or thick-skinned produce, but for delicate greens I use far less. I'd guess I add about 2 tablespoons per gallon of lettuce soaking water.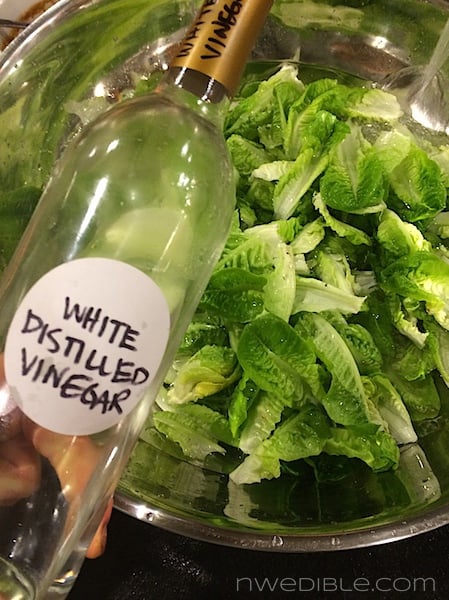 Save The Peeling For Later
Sweet potatoes can be roasted in their skins. Let them cool and the flesh will scoop right out, leaving the peel behind. If you prefer, sweet potato skin is edible, I just prefer this salad without the texture of the skin.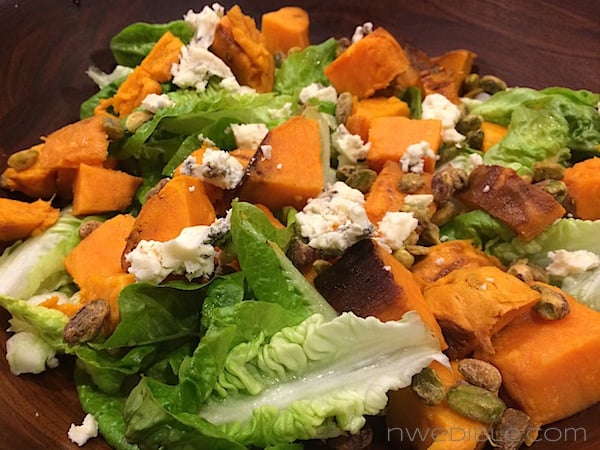 Mix Your Dressing Right in the Dijon Mustard Jar
The Tangy Blue Cheese Dressing for this salad comes together very well in a food processor or (my favorite) the chopper attachment of a stick blender.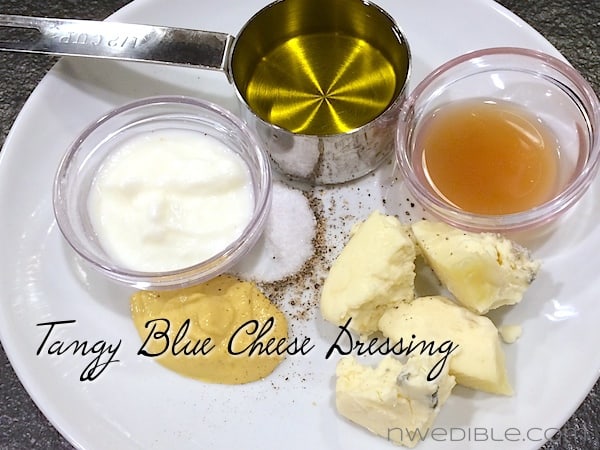 However, if you are down to your last dregs of Dijon mustard you can make the dressing right in the jar and save yourself a bit of washing up. Just make sure the blue cheese is very well crumbled before it goes in the jar.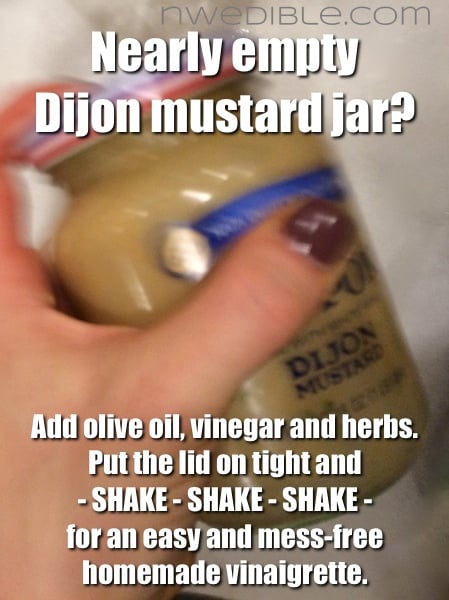 Related Tools…
(These are affiliate links. Purchases made through these links allow me to nerd out about kale seed more often. Full financial disclosure here. Thanks for your support, peeps.)
If You Like This, You'll Probably Also Like…
0