I'm on a rhubarb kick right now. Latest rhubarb concoction: the sweet-tart syrup known as shrub.
A shrub – also called a drinking vinegar – is made of vinegar, sugar, and fruit. The shrub is a very old drink, popular during American colonial times. You add the concentrated shrub syrup to water for a very refreshing non-alcoholic summer drink, or incorporate it into cocktails. It's similar to a lemonade concentrate, but instead of tart citric acid, you're using sour acetic acid.
My kids love this rhubarb shrub, so even though the whole shrub thing is super trendy with cocktailers, it's more a soda-alternative in our house. However! There are a lot of legit ways to use shrub syrup in cocktails if that's your bag.
A little history, courtesy of Wikipedia:
The American version of the shrub has its origins in 17th century England where vinegar was used as an alternative to citrus juices in the preservation of berries and other fruits for the off-season. Fruit preserves made in this fashion were themselves known as shrubs and the practice carried over to colonial America.

By the 19th century, typical American recipes for shrubs used vinegar poured over fruit—traditionally berries—which was left to infuse anywhere from overnight up to several days; afterwards, the fruit would be strained out and the remaining liquid would be mixed with a sweetener such as sugar or honey and then reduced to make a syrup.

Shrubs eventually fell out of popularity with the advent of home refrigeration.
The modern re-discovery of the shrub started in the early 2010s, when fancy bars in fancy cities like London and New York realized that a fruity, versatile, acid-sweet balanced syrup was an absolutely smashing way to bring a new flavor dimension to bespoke cocktails.
And now even suburban moms are making them.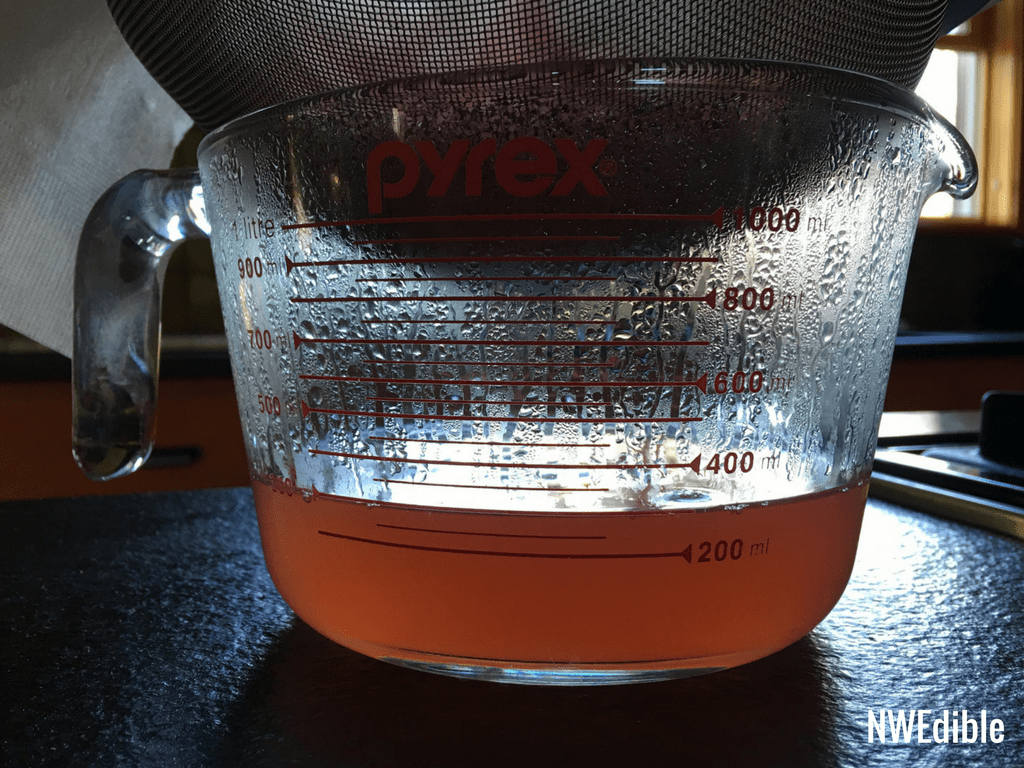 Shrub Basics
Shrubs themselves are very easy to make. A good starting ratio for most shrubs is 1 pound of fruit to 1 cup of sugar to 1 cup of vinegar.
You can play around with vinegars – white vinegar, rice wine vinegar, apple cider vinegar, red wine vinegar, white wine vinegar or a blend will all work. I find apple cider the most versatile, and white vinegar the sharpest. Specialty vinegars, like balsamic, can be added in as a portion of the vinegar to bring a richer flavor to your shrub. This is one area where I prefer vinegar without the mother.
You can also play around with sweetener – in this recipe I used half granulated sugar and half honey. Brown sugar is also an option. Coconut sugar is nice if you can get it. Maple syrup can be used in small quantities as a flavoring.
Spices can also be added, so once you get the hang of the basic shrub concept, you can play around and come up with a zillion variations.
I follow the "throw it all in a pot and simmer it" method of shrub-making, which is both the quickest and easiest method I've found, and results in a shrub with a mellow, sweet-tart flavor that the kids (and grown ups) really like. If you want a more tart, vinegar-forward flavor, read the note in the printable recipe below
Following the basic ratio of 1 pound of fruit, 1 cup of sugar and 1 cup of vinegar will yield about 2 cups of finished shrub. It varies a bit depending on how much juice your fruit throws and how much evaporation you get.
Expect bottled shrubs to last for a very long time in the fridge. Any shrub made in the manner described here with high-acid fruit is absolutely safe to water bath can, although I've never done so. I think the color would lose something in long-term storage.
To use your shrub, fill a glass with ice, add in a healthy glug of shrub syrup, and top off with sparkling water or club soda. Still water can be used too, but I think fizzy is more fun. Do the same but swap out some of that fizzy water for gin or vodka for an easy summertime cocktail. My current favorite rhubarb shrub cocktail is over on Patreon today.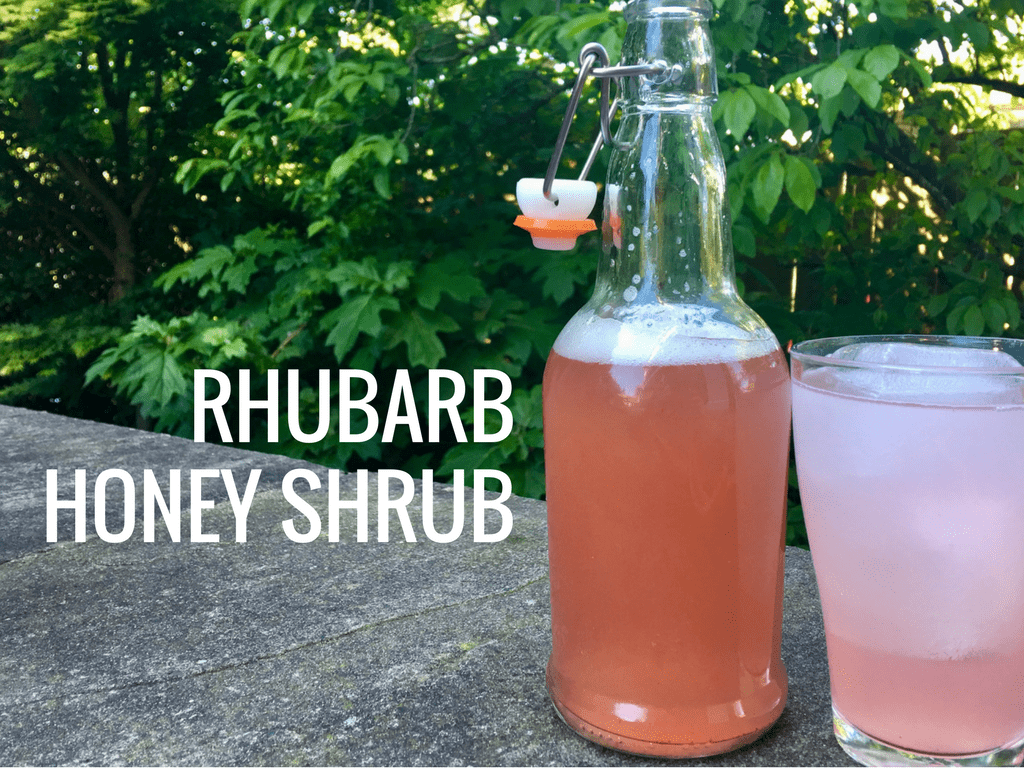 Rhubarb Honey Shrub Printable Recipe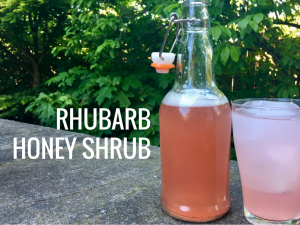 Print
Rhubarb Honey Shrub Drinking Vinegar
Yield 2 cups
Ingredients
1/2 cup granulated sugar
1/2 cup honey
1/4 cup water
1 pound chopped rhubarb
1 cup white or apple cider vinegar
Instructions
Bring the granulated sugar, honey and water to a simmer in a non-reactive medium saucepan just to dissolve the sugar.
Add the chopped rhubarb and vinegar, cover your pan, and gently simmer until the fruit is falling-apart soft and the syrup is fragrant and the color of the rhubarb, about 20 minutes. About half way through simmering, give the rhubarb a good stir with a whisk or a fork to ensure it breaks down completely.
Remove the pan from the heat and set it aside, covered, to cool to room temperature.
Strain the shrub through a fine mesh strainer into a clean, swing-top bottle or mason jar.
Notes
The method described here results in a nicely sweet-tart, mellow syrup. If you prefer a more tart, vinegar-forward shrub, cook the rhubarb, honey, sugar and 1/2 cup water together for 20 minutes, then remove from heat, add the vinegar and let the shrub cool to room temperature before straining.
•          •          •
Are you all-in on the shrub bandwagon, or is the idea of drinking vinegar a little weird?
291