As many of you know, I was at the Mother Earth News Fair all this past weekend.
The MEN Fair is an interesting gathering place. Walking through the big, gravel parking lot across from the Puyallup Fairgrounds where the MEN Fair is held, you pass pick-up trucks and minivans festooned with Conservatarian bumper stickers that say things like Make Yourselves Sheep and The Wolves Will Eat You and Invest In Precious Metals: Buy Lead. These are parked right next to Priuses and Nissan Leafs with their own declarative slogans: My Other Car Is A Bike, Dirt Worshipping Tree Hugger, and of course, Think Globally Act Locally.
Inside, tee-shirts declare people's personal political beliefs about raw milk, gun rights, soil fertility, heirloom seeds and more. What, you didn't think it was possible to have a political perspective on heirloom seeds? I assure you it is.
It's an interesting collection of people, is what I'm saying. A crowd with strong ideas and, in many ways, very polar worldviews. From the preppers and strongly conservative libertarian folks interested in unhindered living to the environmental activists who push for stronger regulation of industry and carbon neutral communities, most people who come to this Fair seem to have a real opinion about things.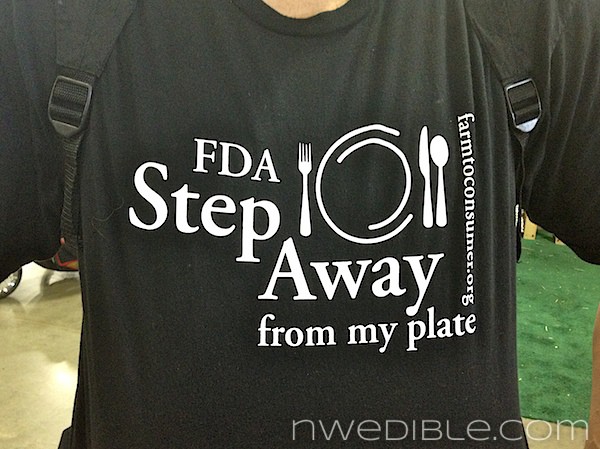 People who, on the surface, seem to have very little in common with each other join this gathering of vendors and speakers and demonstrations because they want to learn how to live a life more in keeping with their own values.
This is something I see over and over again in this community – seemingly insurmountable political differences fade into the background when practical How To Live The Life You Want issues come to the fore.
Then, suddenly, there is common ground. Self-determination and frugality make natural bedfellows with green and sustainable living. Issues of food freedom – the right to grow your own food and choose what you'll eat – bring people together over samples of pastured milk and Seed Saver's Exchange catalogs.
The bearded hippie with the ear gauges and the tattered sandals and the crew-cut dude who almost certainly has a progressive reloader in his basement swap tips for mortgage-free living, cob home-building and DIY rocket mass heaters. The born-again Christian homeschooling mom and the Pagan herbal healer both support labeling GMOs.
The practical trumps the political, at least for awhile.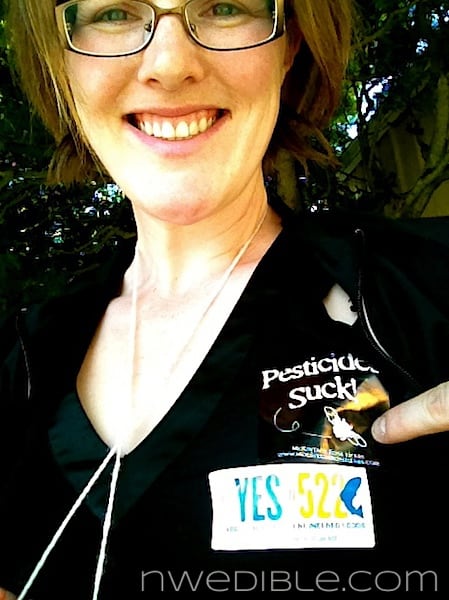 I just adore this aspect of the Mother Earth News Fair, and of the Modern Homesteader community in general. Diverse, passionate, disparate individuals all together, learning the common skills they need to live the life they want. Side-by-side, learning canning, gardening, herbalism, bokashi composting, animal husbandry, seed saving, solar cookery and more. It's like a giant Fuck You from the DIY community to the divisive, pigeonholing soundbite-world of Fox News vs. MSNBC, elephants vs. donkeys, red states vs. blue states. (And honestly, I can think of little more deserving of an upraised middle finger than drummed-up conflict for conflict's sake.)
It's almost as if there is another axis, another spectrum, different and maybe more important than the Liberal-to-Conservative spectrum. Let's call it Engaged-to-Apathetic. This axis represents just how much people care about what they see as the big picture issues. And though not everyone at the Mother Earth News Fair would agree on the exact ranking and criticality of those issues, there is a common vibe one gets from attendees: these people give a damn. They care about what's going on around them.
And here's the really important thing. These are not armchair activists, screaming at their TV in angry futility or leaving pointless, abusive comments on a news website. They care enough to put down the remote, to step outside, to learn, and to ask, and to investigate their own options for action. They are willing to do what they can, with what they have, in their own life.
What a boring place this world would be if we all looked at things the same way. But how nice it is that the different ways we look at things doesn't have to compromise our ability to learn from and with each other.
Because you read this blog, it's safe to assume that you give a damn, right? Do you ever feel like you're the only one, or are you surrounded with fellow I-give-a-damn-ers?
0