I picked up some pork from a new-to-me pork guy last month. This was a bulk-buy type situation a friend coordinated, and I asked for a variety of cuts to assess if I wanted to go…uh…whole-hog in the fall. Oliver was with me when I loaded bags of pork into the trunk of my car at the pick-up site, and immediately started clamoring for meat.
Everyone in the family likes a good pork chop, so the next day – after letting the four bone-in loin chops I'd ordered thaw – I made these simple skillet chops. This is basically a one-pan meal. You cook the chops in a heavy cast iron skillet, then make a pan sauce right in the same skillet.
There aren't very many ingredients, and this is a very simple weeknight-type meal, but there are a few technique tricks that will help make your chops excellent.
Use a skillet that is large enough to hold all your pork chops without crowding. If you don't have one, cook your chops in batches. That's totally ok.
Once you flip your chops, drop a lid on your skillet but leave the lid slightly vented. This traps heat around the chops so they cook all the way through in a timely fashion, but without allowing a bunch of steam to build up ("steamed pork chop" isn't a good selling point).
If possible, let your chops sit at room temperature for 30 minutes before you throw them in your skillet.
Don't skimp on seasoning your meat.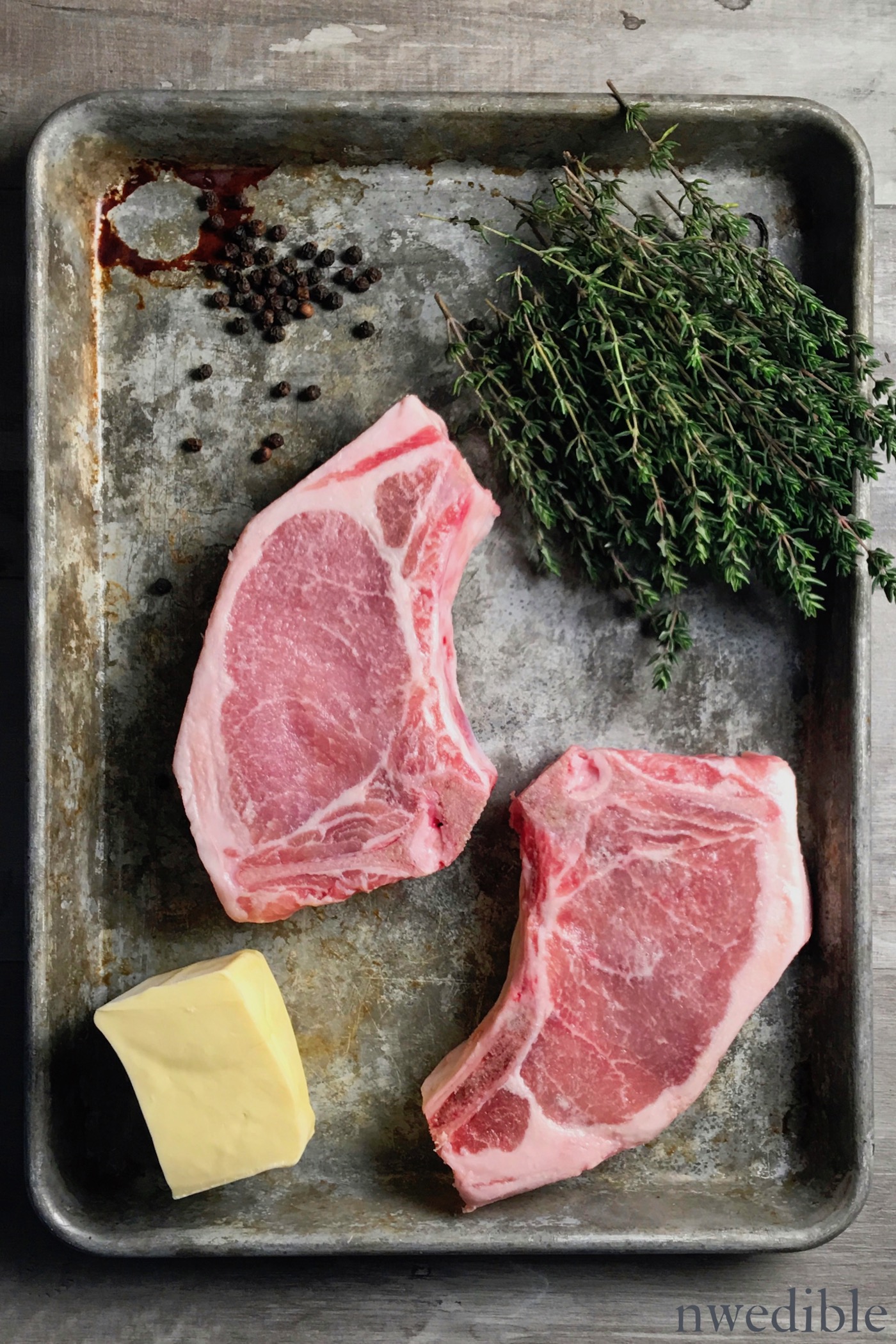 Simple ingredients: pork chops, salt, pepper, thyme, apple cider vinegar, maple syrup and butter.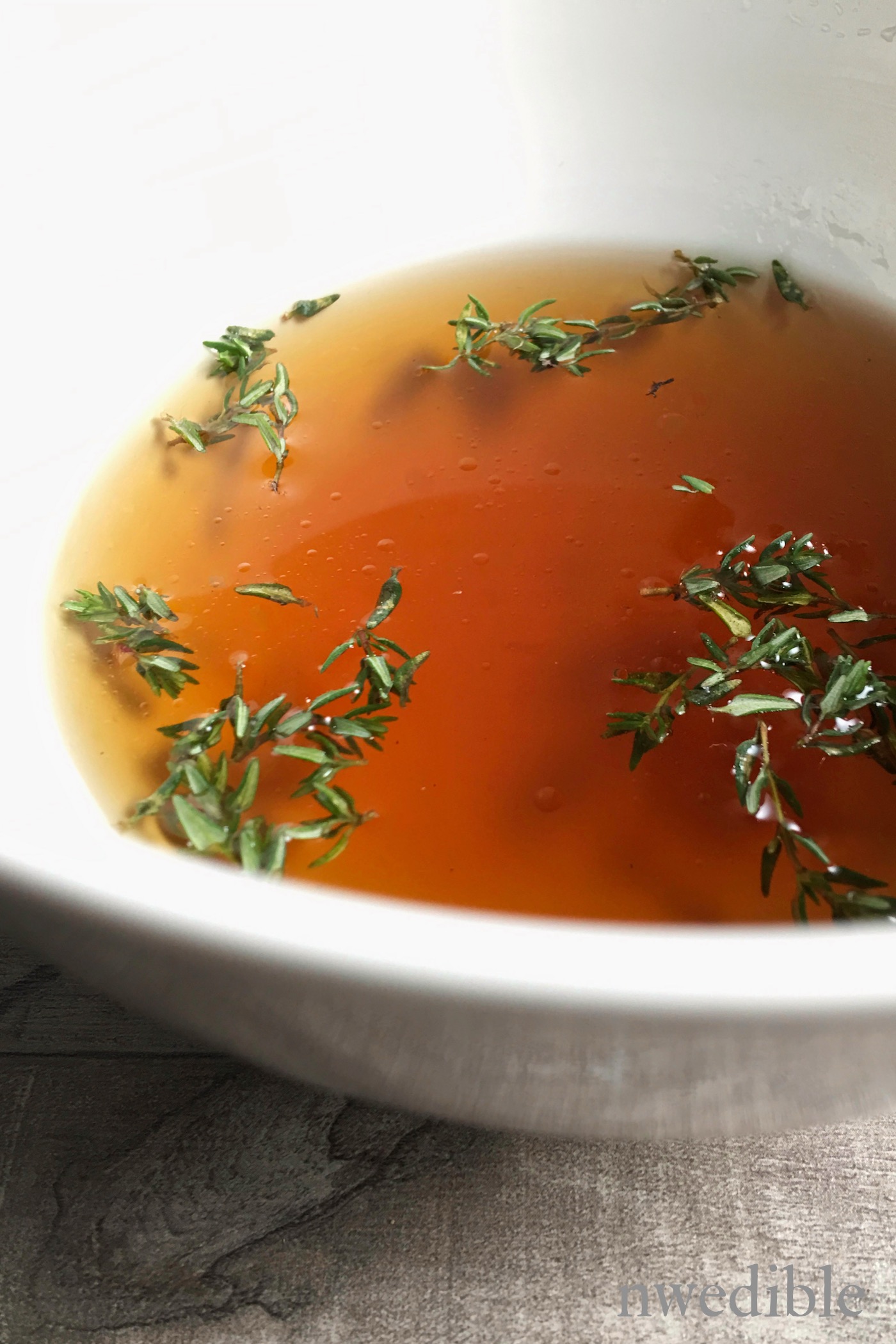 The base of the glaze is apple cider vinegar and maple syrup. Add some lovely fresh thyme, but hold aside a few sprigs for garnish.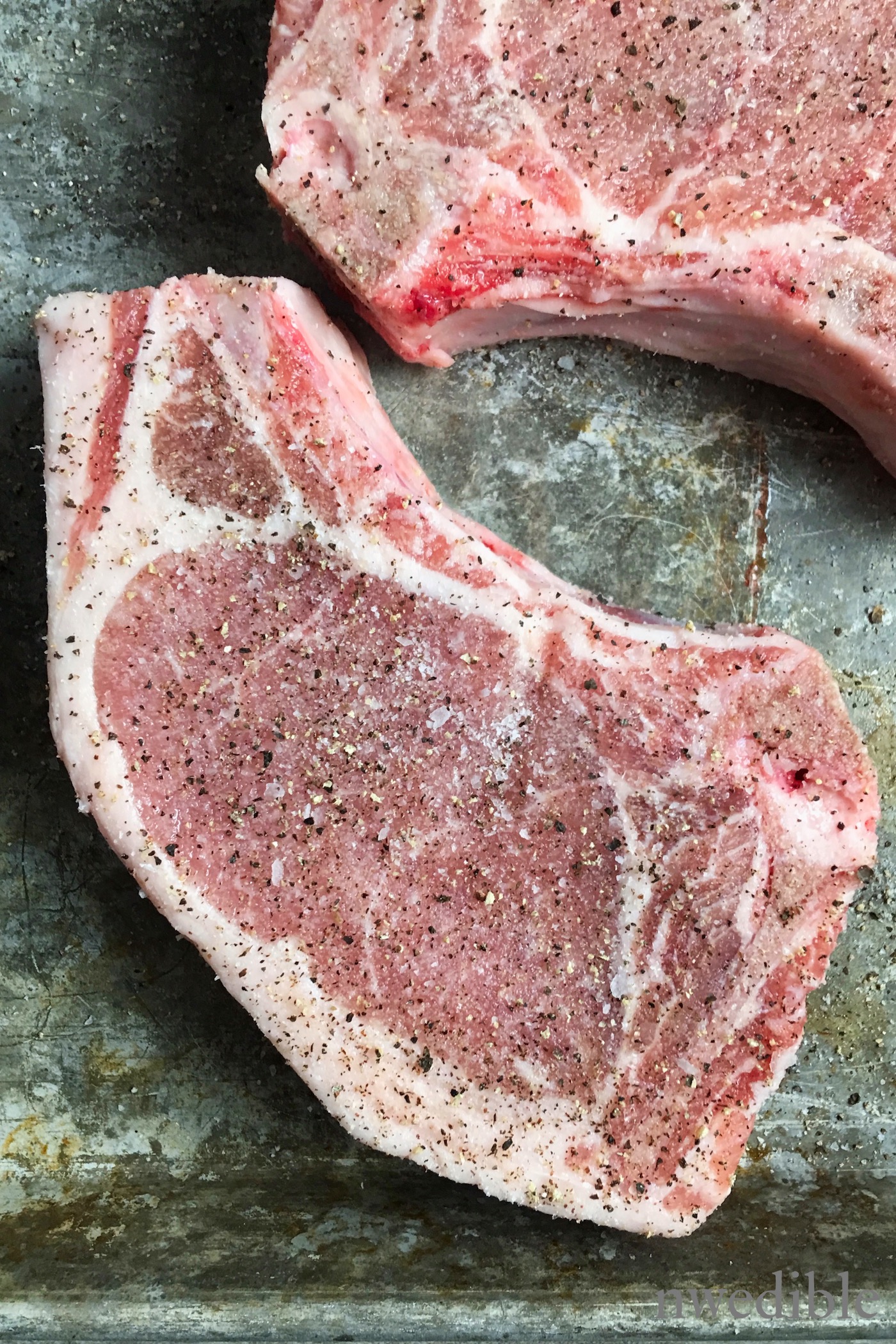 Start with quality pork, and season it well with kosher salt and black pepper.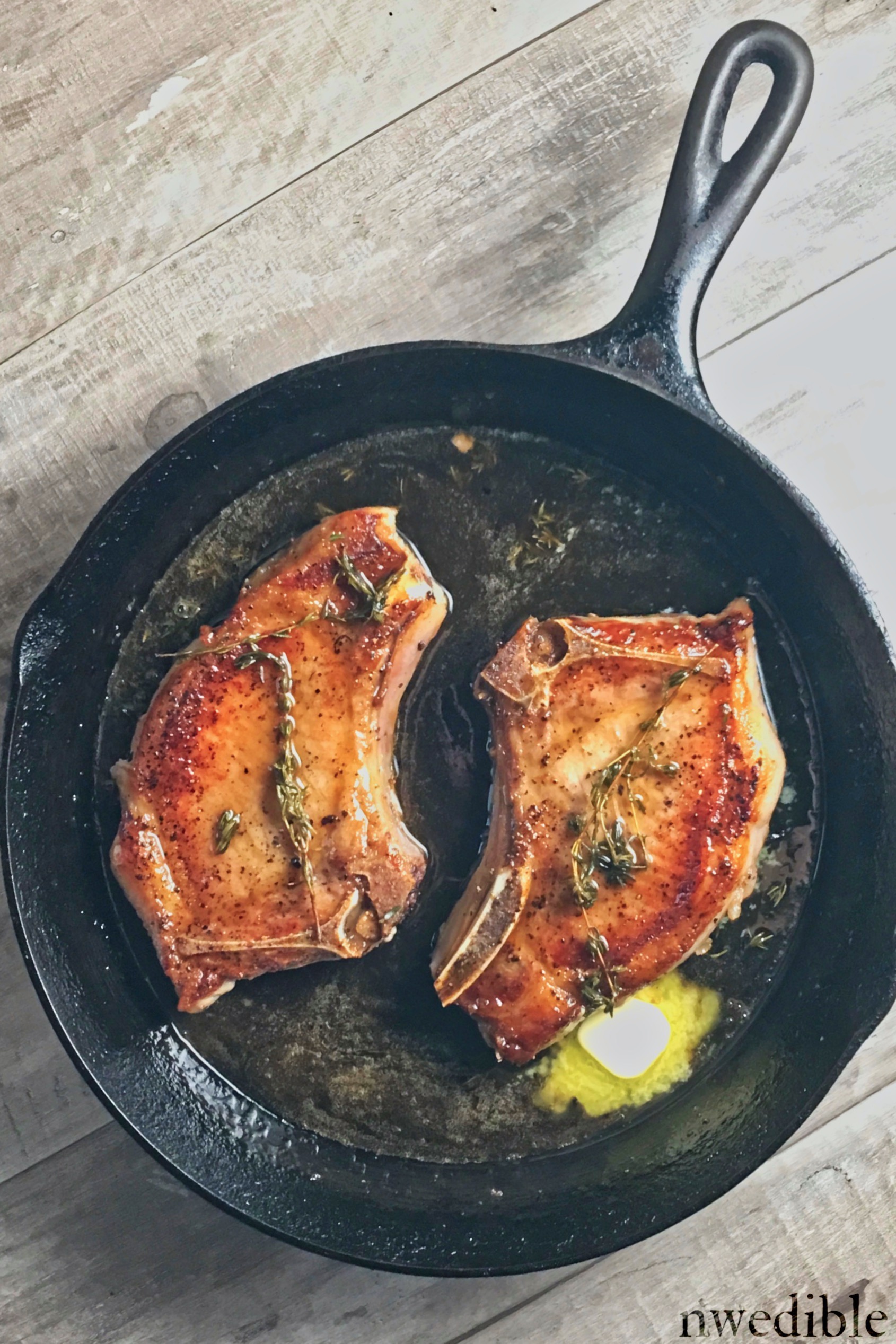 Finish the chops with an easy pan-sauce enriched with butter.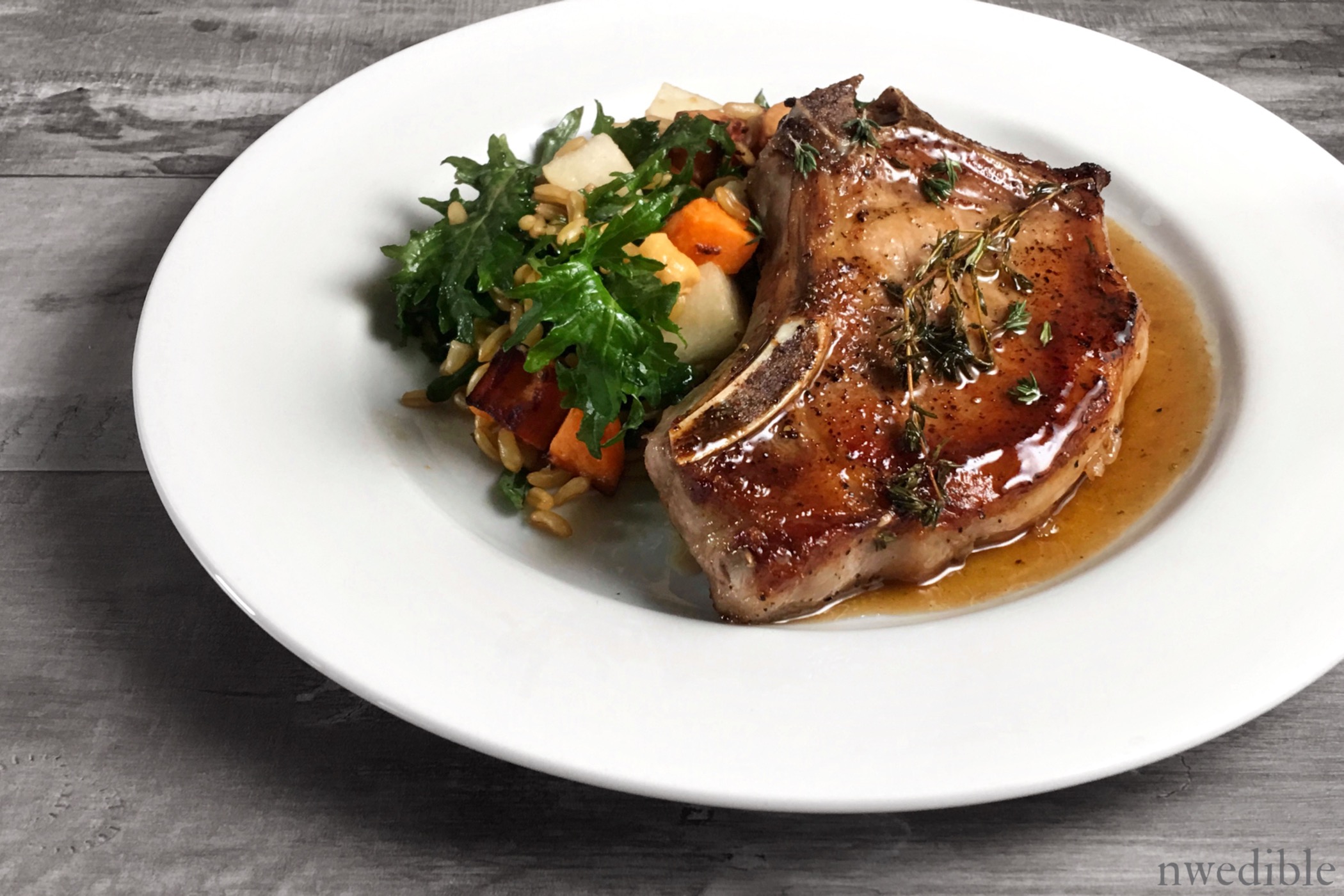 These chops are great served with mashed root vegetables or a hearty all-in-one side dish like the Kamut Berry, Pear, and Roasted Sweet Potato Salad pictured here.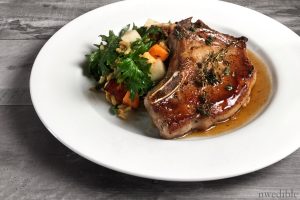 Print
Pork Chops with Cider Maple and Thyme Glaze
Yield 4 pork chops
Simple one-skillet pork chops with a butter-enriched glaze of apple cider vinegar, maple syrup, and fresh thyme.
Ingredients
3/8 cup apple cider vinegar
1/4 cup maple syrup
6, 4-inch long sprigs fresh thyme
4 bone-in pork loin chops
Kosher salt
Freshly ground black pepper
2 tablespoons lard or oil
2 tablespoons butter, cut into small pieces
Instructions
Combine the apple cider vinegar, maple syrup, and the leaves from 2 sprigs of thyme in a small bowl. Set aside.
Generously coat both sides of the pork chops with salt and pepper. Heat lard or oil in a large, cast iron skillet set over medium-high heat. When the lard or oil coats the bottom of the skillet and begins to shimmer, add the pork chops.
Cook pork chops for 4 to 5 minutes without moving, until a golden caramelized crust has formed on the bottom of the chops. Flip chops, lightly lid pan, and cook for another 3 to 6 minutes depending on chop thickness and preferred doneness. When the pork chops are done, remove them to a platter to rest for 5 minutes while you make the pan sauce.
Reduce the heat under the skillet to low and add the cider vinegar and maple syrup mixture to deglaze the skillet. Use a whisk or sturdy spoon to make sure any tasty caramelized pork fond in the skillet is incorporated into the sauce.
When the sauce had reduced slightly and will coat the back of a spoon, turn off the heat and whisk in the butter to make a nice thick pan sauce.
Run the chops through the pan sauce glaze before plating. Serve with additional glaze on the side and garnish with thyme sprigs.
Notes
Make sure your skillet is large enough to hold all four pork chops without crowding. If necessary, cook the chops in batches.
Courses Main Course
49