I love early spring as a gardener, but I hate it as a chef.
All the delicate flavors of spring we look forward to – the asparagus and rhubarb and tender greens – those crops tend to be ready for harvesting about 6 weeks after our tummies are ready to be eating them. Talk about frustration. And peas are the worst. Everyone wants fresh peas for Easter, but in the Pacific Northwest it's typically early June before we can actually harvest.
I almost called this "Waiting For Spring Soup" because that's what's happening right now. My garden has not yet started producing those eagerly anticipated Spring vegetables, but my stomach is crying out for them.
Luckily, no veg freezes more beautifully than peas, and the commercially available frozen organic peas are – to my palate – often better than the homegrown, home-frozen equivalent. I know of no other vegetable like this. Besides, shelling fresh peas is a ton of work, so I decided several years ago to not grow shelling peas at all and instead to focus on sugar-snap types.  Until the Zombies come a'knocking, I'll buy my frozen peas as needed at the store.
Which suits this soup just fine.
Petite green peas get a Thai-ish makeover with cilantro, ginger and coconut milk. This soup is easily vegan-adaptable but is plenty delicious for omnivores, too. Make it and bring Spring into your kitchen, even if you're still months away from the first fresh pea harvest.
Spring Pea Soup with Coconut Milk
Gather your ingredients.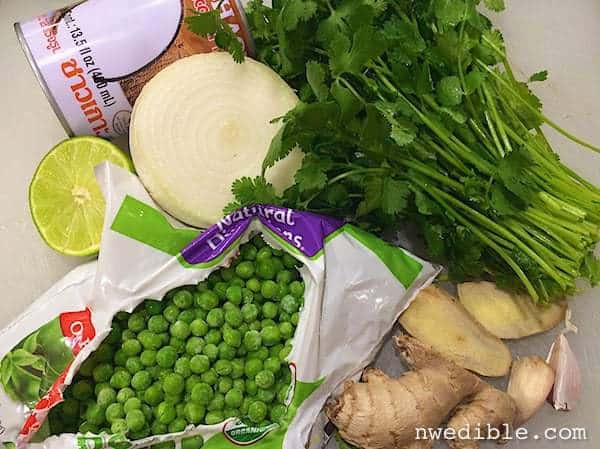 Saute the aromatics.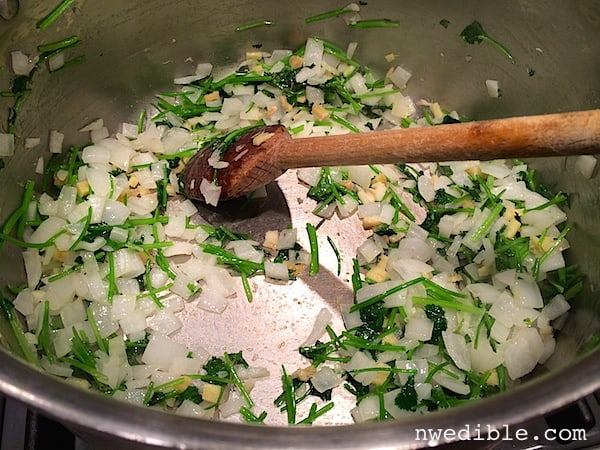 Add in the water, salt and coconut milk and bring to a simmer. Add peas and simmer until tender.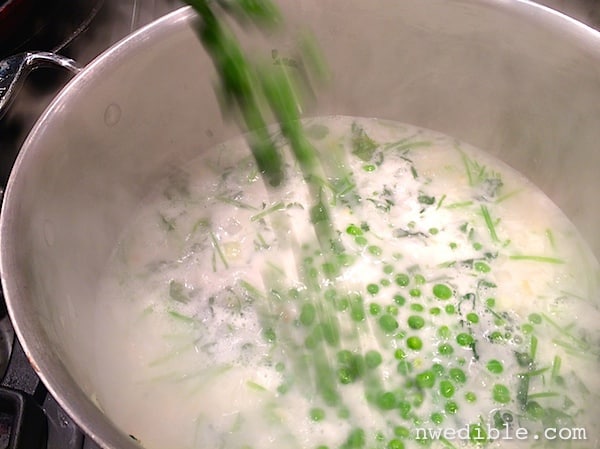 Add the lime juice and cilantro leaf, then use an immersion blender to puree the soup to the desired texture.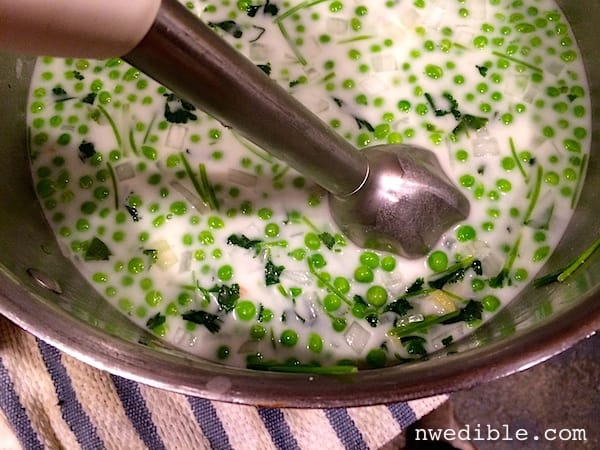 I like a semi-smooth texture.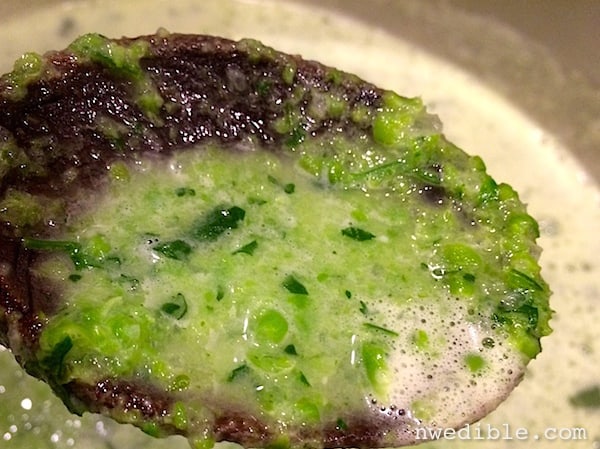 Garnish with cilantro leaf and chopped cashews.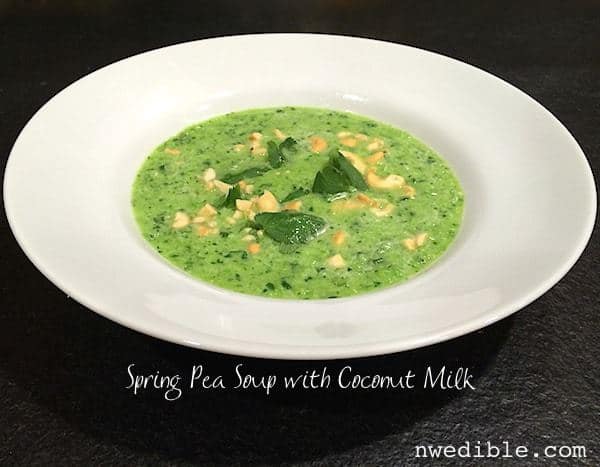 Enjoy!
Printable Recipe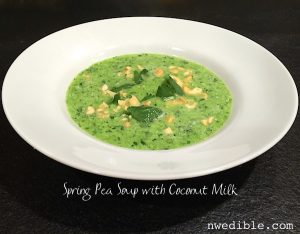 Print
Spring Pea Soup with Coconut Milk
Yield 6
Ingredients
1 tbsp. coconut oil or olive oil
1/2 white onion, peeled and rough chopped
1 large clove garlic
1 tablespoon peeled, minced fresh ginger
1 bunch cilantro, leaves and stems separated and rough chopped
4 cups water
1-2 tbsp fish sauce or kosher salt, or more to taste.
1 can full-fat coconut milk
2, 12-oz. bags frozen shelled peas
Juice of 1 medium lime
To serve (optional, but nice)
Instructions
Heat coconut oil in a large pot set over medium heat. Add chopped onions, garlic, ginger, and the tender stems of the cilantro to the coconut oil. Cook until onion is tender and translucent, about 5-7 minutes. The mixture should be very aromatic.
Add water, fish sauce or kosher salt and coconut milk to the onion mixture. Bring all to a simmer.
Add frozen peas and cook until tender but still bright green, about 4 minutes. Add in the lime juice and half the chopped cilantro leaves. Reserve half for garnish.
Remove soup from heat just after adding lime and cilantro and puree soup with an immersion blender until smooth.
For best color, serve right away, garnished with reserved cilantro leaves, and chopped cashews.
2