Recently I had occasion to make a new batch of the seed starting mix I've been experimenting with. I'll do a whole post on this very soon. But to be super brief, you basically just dump stuff together and mix, and I've found the easiest way to do this is to just lay a tarp out in the garage and make a pile.
Because I grow a lot of seedlings, this can be kinda a big pile.
So I got started on the process of mixing together the seed starting mix, and then life got in the way and I had to leave this huge pile of basically dirt in my garage for a day while I dealt with other stuff.
So, huge pile of dirt on a tarp in the garage.
I have a four year old boy.
Can you see where this is going?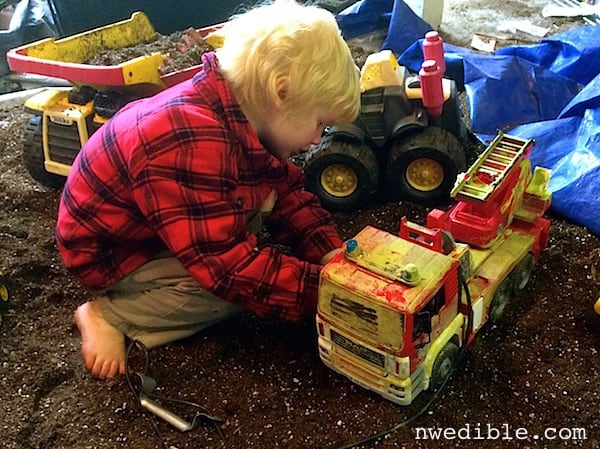 After a very suspicious period of quiet (like three minutes) I found him in the garage, barefoot with every one of his construction-type toys assembled on the seed-starting mix pile.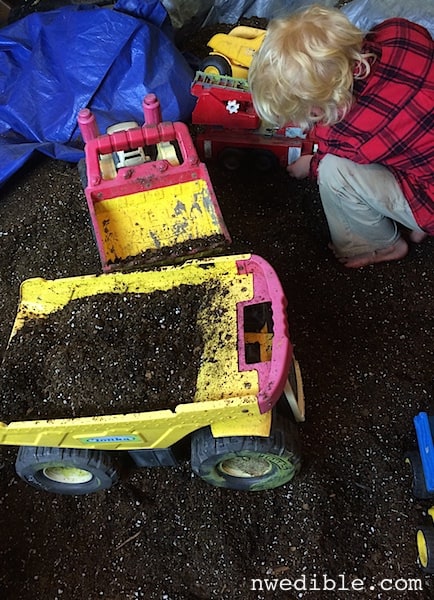 He played in this pile of dirt totally happily for over 45 minutes, which gave me enough time to make dinner and can up some corn salsa.
Now I'm just faced with an adorable, terrible decision: do I load the "dirt pile" into bins as I'd planned for storage, or do I just let him keep playing and take a few pots of my seed-starting mix off the edges as I need it?
1