I'm not what you'd call a morning person. Years of culinary training hardened my own bio-rhythms into a preference for about a 1 am bedtime and a 10 am wake-up.
Life, school, work, chickens and kids laugh at my own sleep preferences. And so, every morning, I get up, brush my teeth, pull my hair into a "Why, yes, I do have a 1 year old who still isn't sleeping through the night and therefore I have quite given up on my appearance" ponytail, and I run through a little chore routine.
If, when I awaken, my 1 year old is stuck to me like a barnacle, having been transported sometime in the wee hours to our bed from his crib to prevent a 45 or 60 minute long crib-banging, screaming, jumping fit from keeping us all awake, then I just do what I can, bleary eyed and one-handed. Mostly I use my free hand to grab coffee.
If, however, I have managed to return the 1 year old back to his crib sometime in the night, I'll make the bed, wipe down the bathroom counters and sinks, take the laundry to the laundry room, move the wash to the dryer and some random assortment of dirties into the wash. Beep, beep, beep and my machines are working for me.
Downstairs, Nick has taken care of his morning chore of making coffee, and I can enjoy a swig while I grab the compost and take it out. The chicken feed scraps go to the chickens, and while I'm there I check feed level and water level. At this hour there probably aren't eggs, but it's worth a look.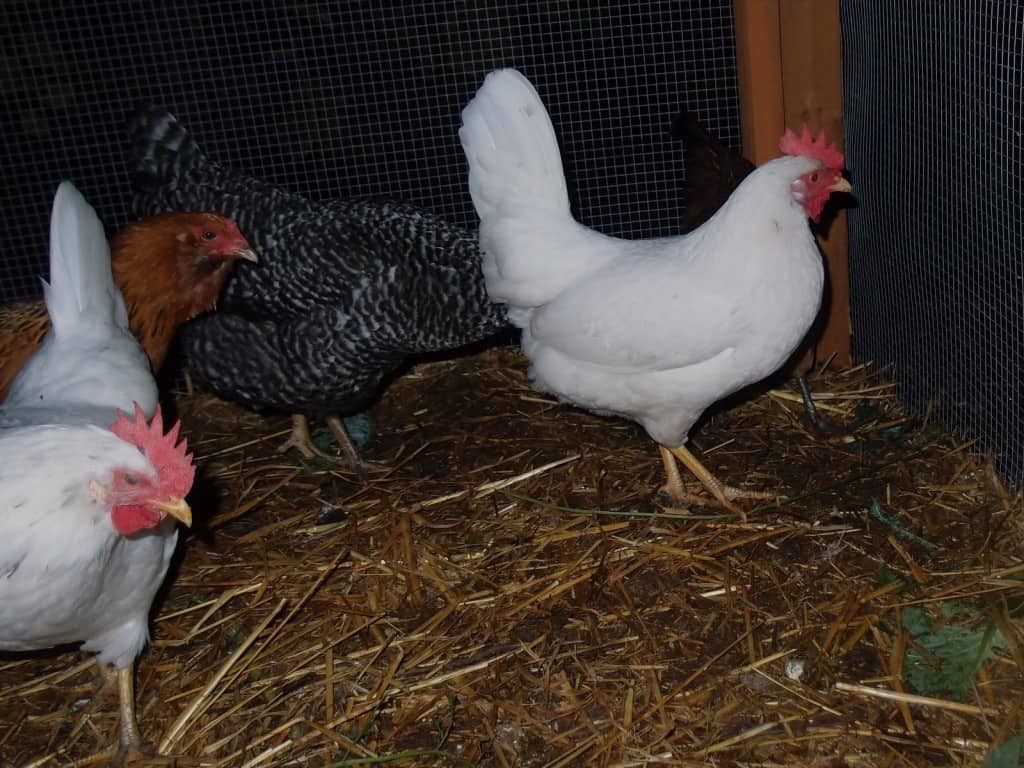 This morning, I was up and feeding the chickens before they were up from their roosts and so I heard their early morning coos. Chickens, when not obnoxiously bagawking, make very peaceful noises.
I had the freedom to scan the November garden as I flung compost. It is tented everywhere in plastic tunnel cloches. If it were summer, my morning chores would include harvesting green beans and zucchini and tomatoes and cucumbers at a minimum. Now, my fogged breath spells relaxation. I am not beholden to 8 linear feet of pole beans that will claim another 40 minutes of my mornings. Not now.
It's not quite freezing yet. When it freezes I'll need to worry about the chicken water. But for now I really can't dally – there are still school lunches to be made, kids to get up and moving, breakfast eggs to fry, spelling tests to quiz for in the car on the way to the bus.
There is a dishwasher to unload and load and there are always meals to be cooked and an endless pile of stuff to be cleaned. There are two enormous cabbages to pound into kraut and there is deep-mulching still to be done outside on the perennial bed.
But this morning, perhaps another cup of coffee first.
What do your morning chores look like?
2