And I quote:
"Kohlrabi (German turnip) is a low, stout cultivar of the cabbage that will grow almost anywhere."
Now that's my kind of vegetable. You can keep your hothouse flowering melons and peppers – "will grow almost anywhere" is exactly what I'm looking for in a vegetable, especially if that tenacity is combined with a sweet, juicy crispness reminiscent of both jicama and broccoli stem.
I grew Superschmelz Kohlrabi this fall – it looks exactly as if collard greens got elephantiasis of the stem and grew a great, pale giant green turnip between root and leaf. It's an alien plant, unidentifiable to all but the most hardened of gardeners, and I adore it.
I haven't had the best of luck with standard size kohlrabi in the past, but this gianticum has proved such an excellent addition to the fall garden that I kick myself for not planting an entire bed of it.
So far, my favorite way to enjoy Superschmelz is in a slaw. Quick, straightforward, kid-friendly and a great accompaniment to fall and winter entrees: what's not to love?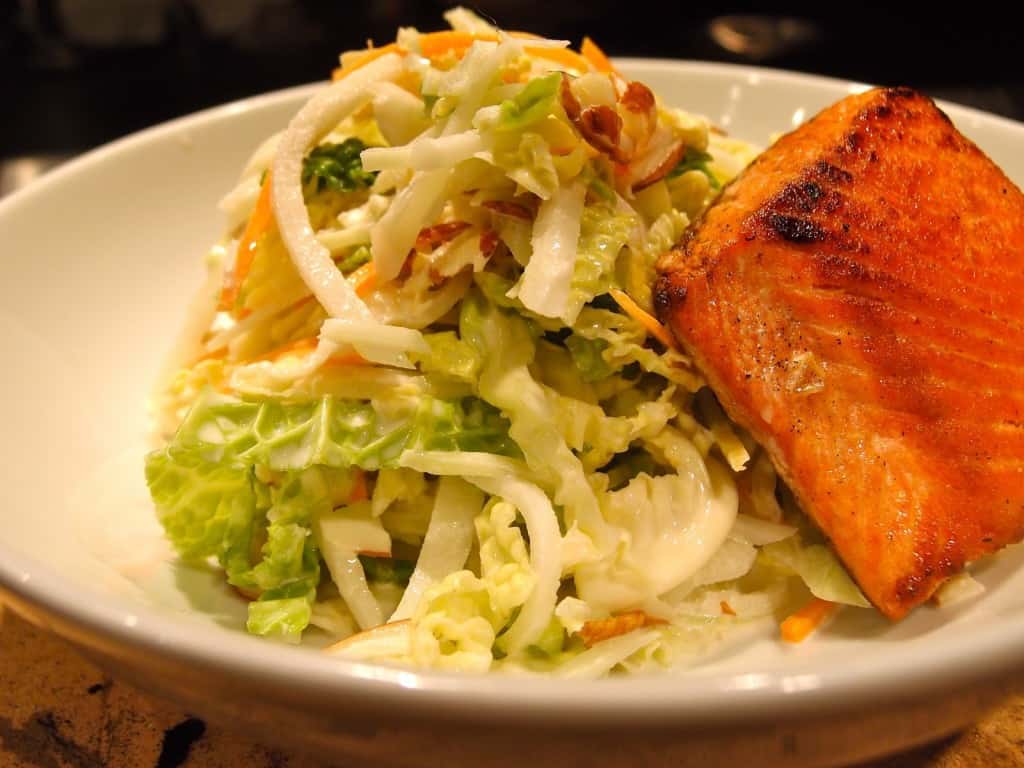 Baseline Slaw Dressing
1/2 cup mayonnaise
1 tablespoons honey
2 tablespoons vinegar*
Whisk all ingredients together. Adjust seasoning as desired.
*for most applications I use apple cider vinegar. For an Asian-style slaw, I use rice wine vinegar. For something more continental/French I might use a white wine or champagne vinegar. At the end of the day, it's about what tickles your flavor fancy. Add salt, pepper or other seasonings as you like. For example, a bit of curry powder and dried ginger added to this base makes a great dressing for a curried chicken salad with apricots and orzo. See how fun it is to customize?
Winter Slaw
– some combination of the following, use what you have:
1 small cabbage, washed and shredded
1 large (Superschmelz) kohlrabi, peeled and shredded or julienned. I use a Japanese Mandoline to achieve a fast and uniform julienne.
2 medium carrots, peeled and shredded or julienned
1 medium celeriac, peeled and shredded or julienned
1 cup sliced almonds
Method:
Couldn't be simpler: once all your vegetables are cleaned and shredded, add vegetables and enough Slaw Dressing to a large bowl to lightly coat vegetables. Toss well. Add almonds and toss to combine.
Excellent as a side with chicken, pork or fish, or as the basis for an entree salad.
I served this slaw (Asian, rice wine vinegar variation) with some soy-maple glazed sockeye salmon to friends who were kind enough to let us join them for trick-or-treating on Halloween. It got rave reviews, despite its simplicity. And you really can use what you have – cabbage, kohlrabi, carrots, even beets make an excellent slaw. Our friends commented that they didn't usually think to make raw vegetable salads during cool weather, but that is precisely why this slaw shines. So many fall vegetables make for great raw eating if they are only shredded and dressed thoughtfully.
Slaws: not just for summer picnics, wouldn't you agree?
1