I'm a bit late to the game this year in terms of laying out my canning goals. But, with the majority of the summer harvest still to come on in this area, it's not too late to make a game plan.
For a canning overview, I like to list out my canning projects by type (jam, pickles, etc.) rather than by fruit or veg because then it's easy for me to see when I am way overdoing it in an area.
When you browse through canning cookbooks (this one is my favorite) it's so easy to get caught up in the jewel-tone inspiration photos that you vow to make a double batch of every preserve that looks delish. Then come October you wonder how and why you have 14,000 half-pint jars of jam in your pantry, and – more to the point- how you're going to use them when you also have a food philosophy that limits jam to "treat" status.
A canning master plan by preserve type helps avoid that by letting you see what kind of quantity you are really getting yourself into.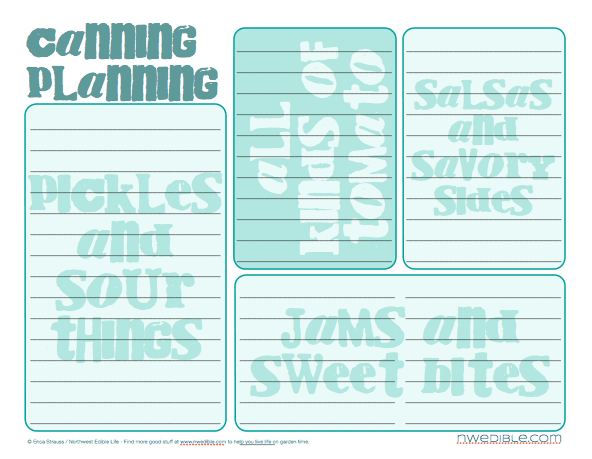 I scoured the internet for a visual planning sheet to help me get a move on and get my 2012 canning laid out but didn't see anything that really worked for me. So, I made my own Canning Planning Sheet, and I'm happy to share it with you here.
This Canning Planning sheet is available for free PDF download on the Downloadables page. I'd love your feedback – these categories and the amount of spacing given are based around what I make, but if I have enough readers offering feedback for other categories, etc. I may be able to make variations on this theme.
Do you organize by category when you plan out your preserving?
2