You may remember that back in September I had the amazing experience of hosting the Growing a Greener World TV crew so they could film my garden and we could talk about modern homesteading and family.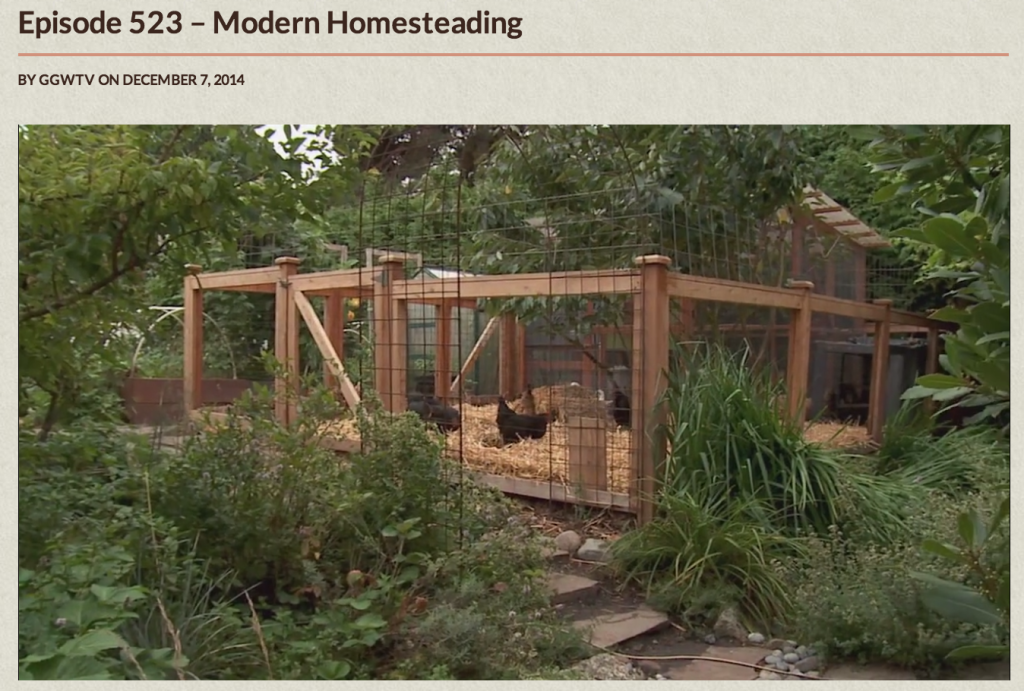 In case you missed it, here's the TL;DR: super talented TV people came to my house to put me on TV and I talked to them about duck poop. It was the greatest fifteen minutes of fame ever.
I'm happy to be able to share the Modern Homesteading episode my family appears in with you guys here. It also features the lovely and talented Jessi Bloom, bestselling author of Free Range Chicken Gardens and soon-to-be-released Practical Permaculture, and one of my favorite people.
Our episode aired in early December, but if you missed it on your local PBS affiliate you can watch it below.
My Key Messages From The Modern Homesteading Episode
Modern homesteading is an effort to transition from a lifestyle of consumption to a lifestyle of production. There's a lot of ways to boost your own personal productivity: gardening, livestock, food preservation, alternative energy, conservation efforts, DIY, natural home and body care and more. You don't have to do everything, and your goal doesn't have to be about total self-sufficiency – just pick what you enjoy and do what you can, with what you have, where you are.
Start small and expand your areas of production over time, as your skill and experience and interest grows. As your life shifts, it's ok to shift your garden and home to accomodate. For example, as my life has become more full, I've started to shift towards more perennial crops to keep productivity and homegrown yumminess high while trying to cut down on seasonal chores and maintenance.
Involve the family as much as possible. Real chores and responsibilities are good for kids. A "Real Chore" isn't just makework – it's something essential to keep the homestead running. For example, our ten year old daughter has a lot of responsibility for the poultry we keep. We don't ask her to do anything outside the scope of her maturity, but she knows that living creatures are counting on her for clean water and topped-up food.
Relatedly, if you have a partner, this life is so much more fulfilling and feasible if you can work together. My parents use the phrase, "two oxen yoked to the same cart." If you are pulling in opposite directions, that cart isn't going anywhere, but if you pull together, nothing's going to stop you. (Would you stop two oxen heading straight at you? I wouldn't). Bottom line – neither my husband nor I could do this without the other. Husbands who hang laundry on the line are awesome.
Ducks are freaking adorable, hardier and far less destructive to a vegetable garden than chickens, easier to herd and manage than chickens, and they like to poop in water. Understand their duckiness and design a system to contain and target the duck poop for bigtime garden fertility without much effort. Ignore their basic duck needs and prepare for a nasty, wet, duck poop mess that needs constant work.
If you've had a chance to watch the Growing a Greener World Modern Homesteading episode, let me know what you think!
3