At this time of year, no one would blame you if you were a bit partied out. From Thanksgiving to New Years tends to be a glutton-fest of rich food, sweets and frequent libation.
I'm eager to revive the ol' Friday Cocktail Tradition around here, but sympathetic to folks who may be feeling like a warm, soothing cup of tea might be a better way to go for a bit longer.
Let's compromise, with an alcoholic drink that's old-skool medicine: The Grandpa's Cold Cure. A hot mug of lemon, honey, fresh ginger and over-proof whiskey, this drink will soothe a sore throat and frazzled nerves. And if you prefer to skip the whiskey all-together, well, Grandpa would be horrified but I won't tell.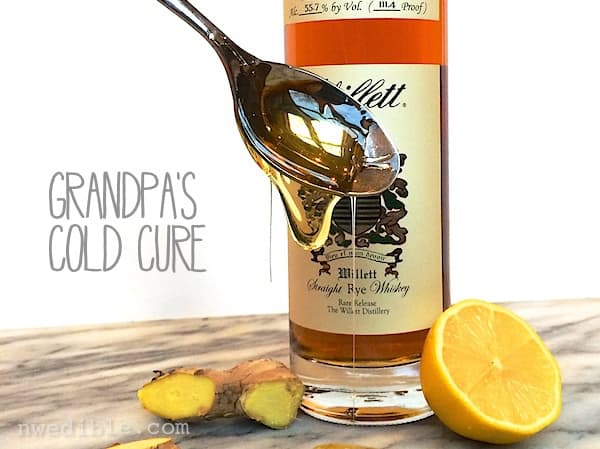 Grandpa's Cold Cure
Ingredients
1 tsp. finely grated fresh ginger root
juice of half a lemon
a spoonful of honey (raw if you have it)

piping hot water

1.5 oz bourbon, rye, scotch or other strong whiskey
Method
Add the ginger root, lemon juice, and honey to a big, cozy mug. Add enough piping hot water to fill the mug about 3/4-full. Stir until the honey is well dissolved. Add the whiskey to the mug and stir to combine. Sip slowly next to a fire, or while relaxing in a warm bath, then go straight to bed.
Happy Friday, everyone!
16