I've been tying a lot of stuff up lately. Must be that 50 Shades of Grey cultural zeitgeist thing working on me.
If you want to make all your kitchen bondage tasks (everything from trussing a beef tenderloin to draining your homemade ricotta) far easier, make yourself a DIY twine holder from a mason jar.
This is the simplest kitchen hack ever, and I highly recommend it to keep your kitchen twine clean and tangle-free.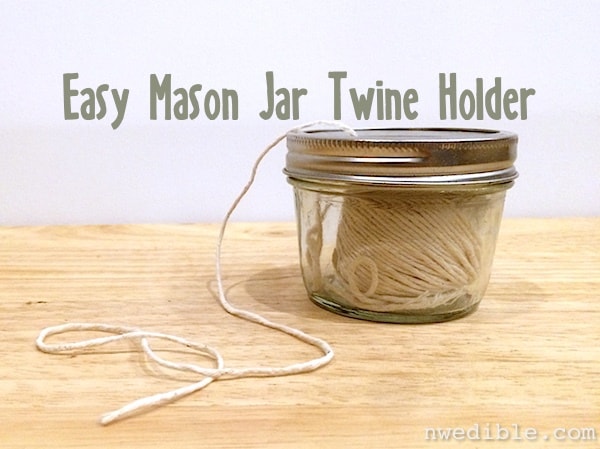 You'll Need:
A spool of kitchen twine. Are we over the fancy stripy twine yet? I know I am. I use something like this.
A mason jar with metal lid. Pick one that fits your spool of twine. I like the wide mouth half-pints for this.
A hammer and nail. Or, if you feel fancy, maybe a drill with a narrow drill bit.
How To Do It:
Take your canning jar lid off the jar, and take it someplace you can nail it hard. (More 50 Shades of Grey double entendre. I'm so sorry, I can't help myself.)
Punch a hole through the lid just large enough for your twine to slip through easily. You can punch the hole at the center of the lid, or off to the side. I don't think it matters much. If you end up with sharp edges, just bash them down a bit with the hammer, or sand them smooth with some rough sandpaper.
Here's what mine looks like: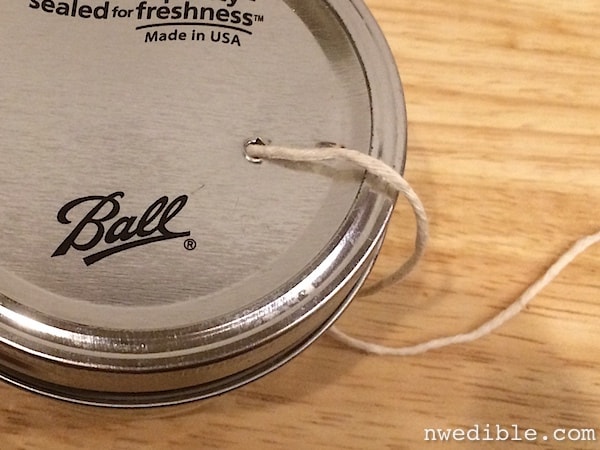 Feed your twine through the hole in the lid from underneath. Typically these spools of thread are wound so they cleanly pull from the center of the twine ball, so look for the loose end in the middle.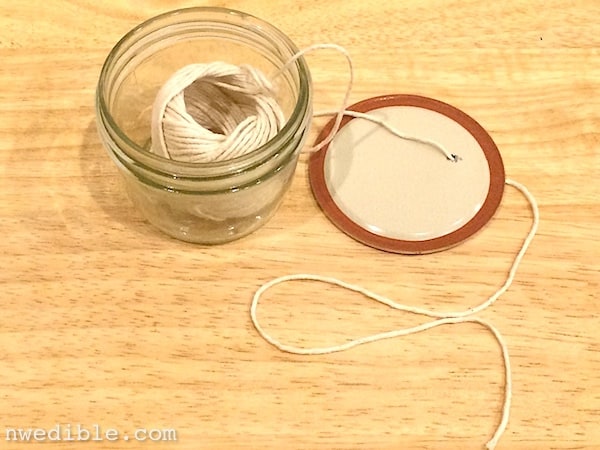 That's it! Assemble your new mason jar twine holder by screwing the lid onto the jar. See how easy?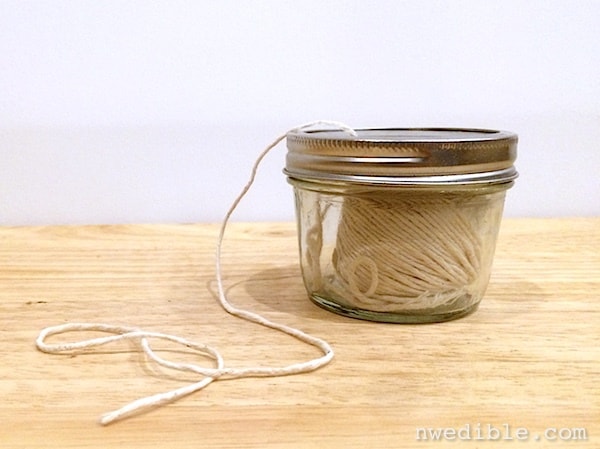 Want To Save This On Pinterest?
Here's a pinterest-friendly reminder on how to do this. Just click for the full-size graphic on Pinterest, then pin it onto your own DIY or Kitchen Hacks board.

1