Why hello beautiful people. This is Erica's website speaking. Can you tell I've….had a little work done?
So the past three weeks or so here at the NWEdible headquarters has been website migration fun. When I say fun I mean fun like sticking your face inside a preheated waffle iron is fun. Actually it wasn't that bad – you guys know how much I love a project – but this was a long, detailed job.
This is the forth major overhaul NWEdible has undergone in the 7 years I've been blogging. This upgrade was by far the most extensive, time consuming, and comprehensive. This was more of a "rip it down to the studs" remodel than a "coat of paint and call it good" job. But you're here to read about gardening and fermenting, not my tales of technical insufficiency, so I will skip right to the conclusion and the good parts.
The new and improved NWEdible 4.0 is faster, fuller featured, easier to navigate, better on mobile, more reliable and (I think) a heck of a lot more attractive.
I'd like to give you a little tour.
General Navigation and Post Filtering
The main menu is about what you probably remember, with all the main topics of this site listed for fast access: gardening, cooking, food preservation, etc.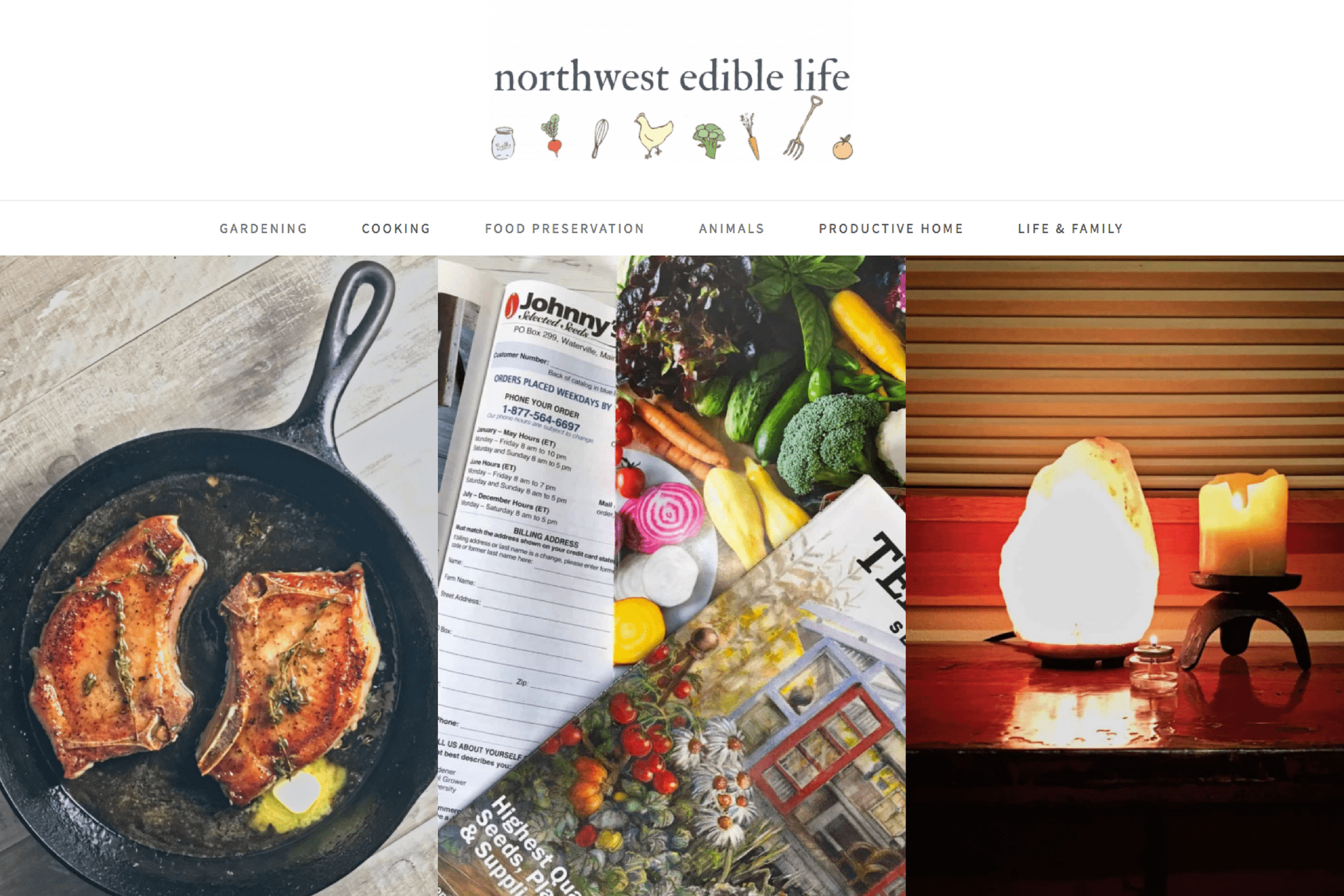 Now, each of those links takes you to an index page where all articles from that category are displayed. On the right hand side of the index page (or above it if you are on mobile) there is the option to filter your results. Toggle sub-categories on or off to dial in on exactly what you are looking for. Want to see just the Monthly Garden Chore Lists? No problem, just hit "Gardening" on the main navigation bar, then toggle on the filter for Monthly Garden Chore Lists.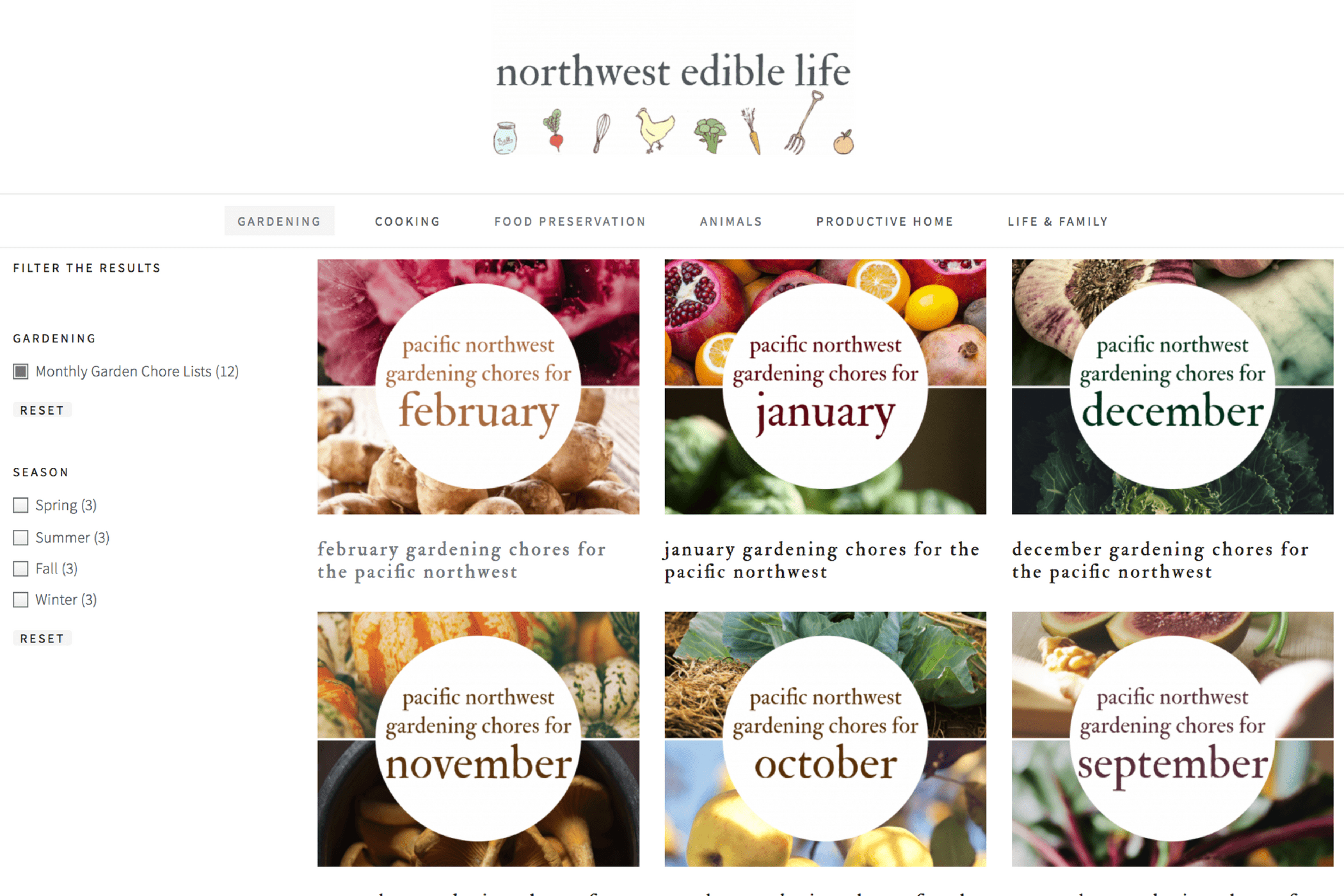 Every Topic Category now has an index page, and the ability to toggle down to specific subcategories. It has never been easier to find all the Preparedness posts I've ever written, for example, or that one recipe for soup you're trying to remember.
One note: making this feature functional has required quite a bit of taxonomy work and re-categorizing on the backend. Not every post is fully properly categorized. I'm working on that just as fast as I can, and full filtering results should only get more accurate and comprehensive as time goes on.
Homestead Calendar
By specific request from one of my Patrons, the site now includes a Homestead Calendar – a detailed look at what I do in my garden every single week. This is a feature I'm still developing, but as of right now it has all my target indoor seed starting dates through (I think) May.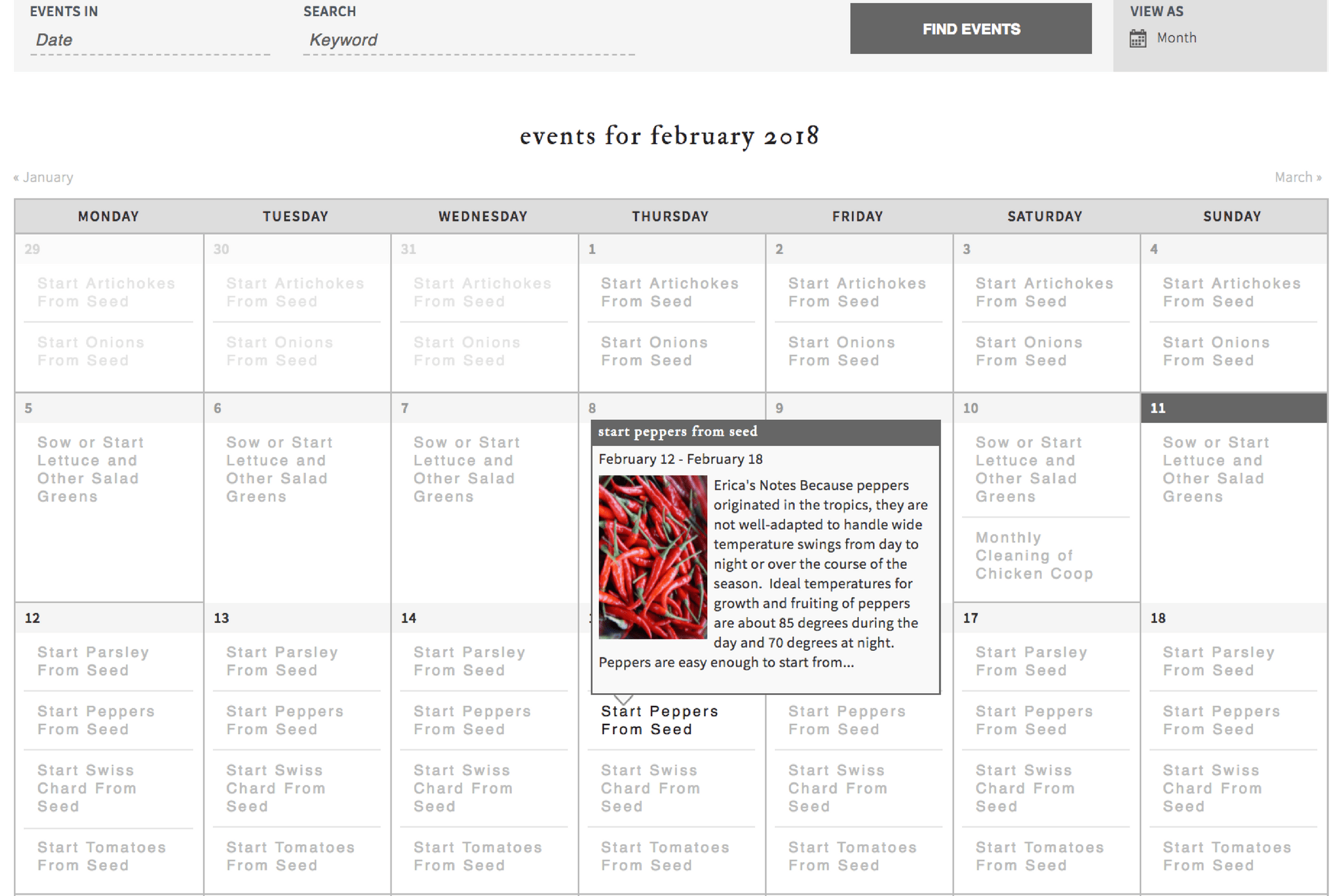 You can view the calendar entries in a variety of ways to suit your needs – by month, week, or visually by task.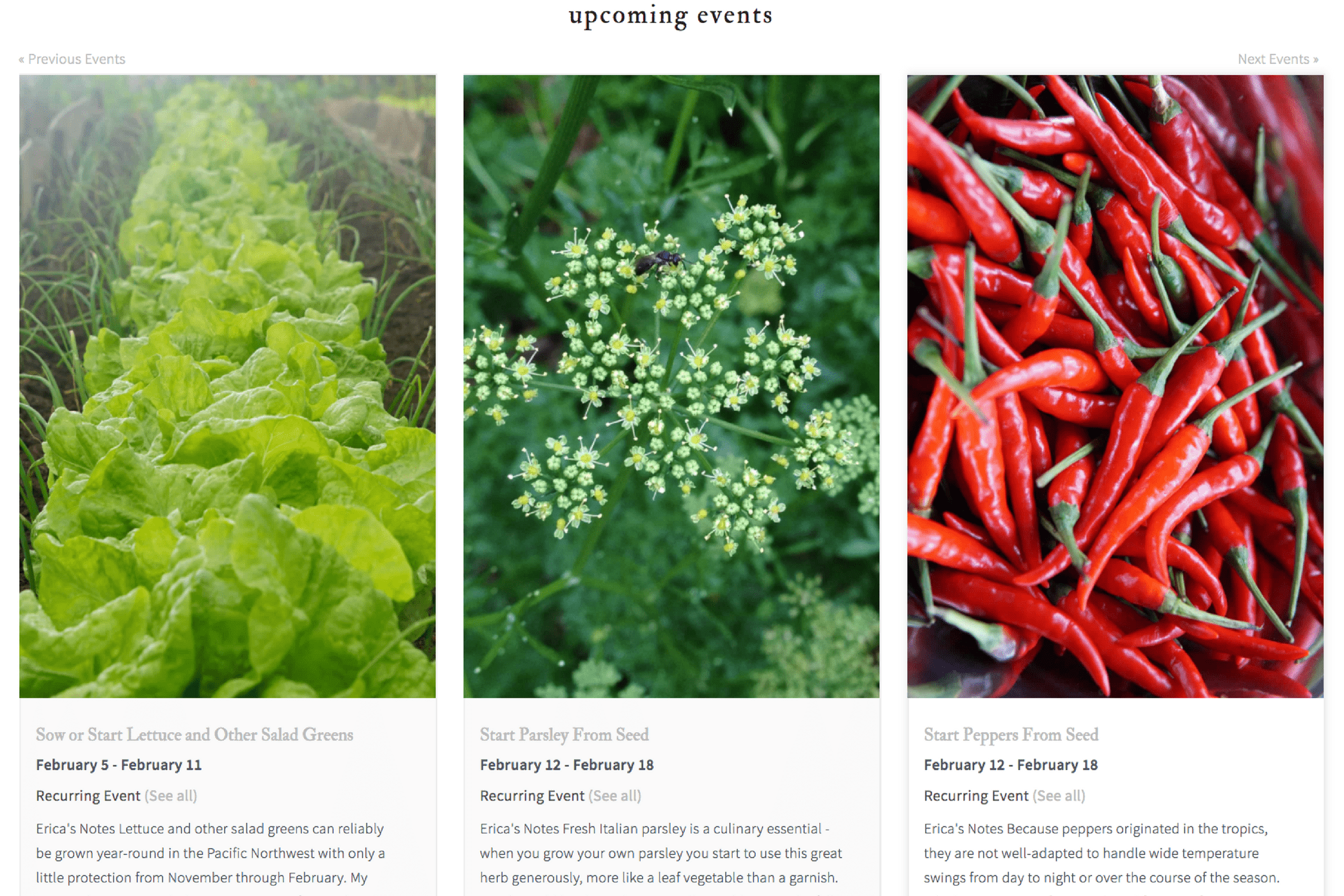 Each task or event has a brief section describing my notes for that task, and then links to additional information. For the most part, I'm still developing the additional information links, but as my time allows, this homestead calendar should grow into a seriously useful digital one-stop shop for gardeners in the Northwest trying to figure out what to do and when to do it.

Recipes
All recipes (except some of the very old ones I'm still manually transferring) now have a cleaner, more print-friendly layout. Going forward on recipes, there will be a button to leap you past step-by-step and process photos from a recipe and take you straight to the printable version of the recipe.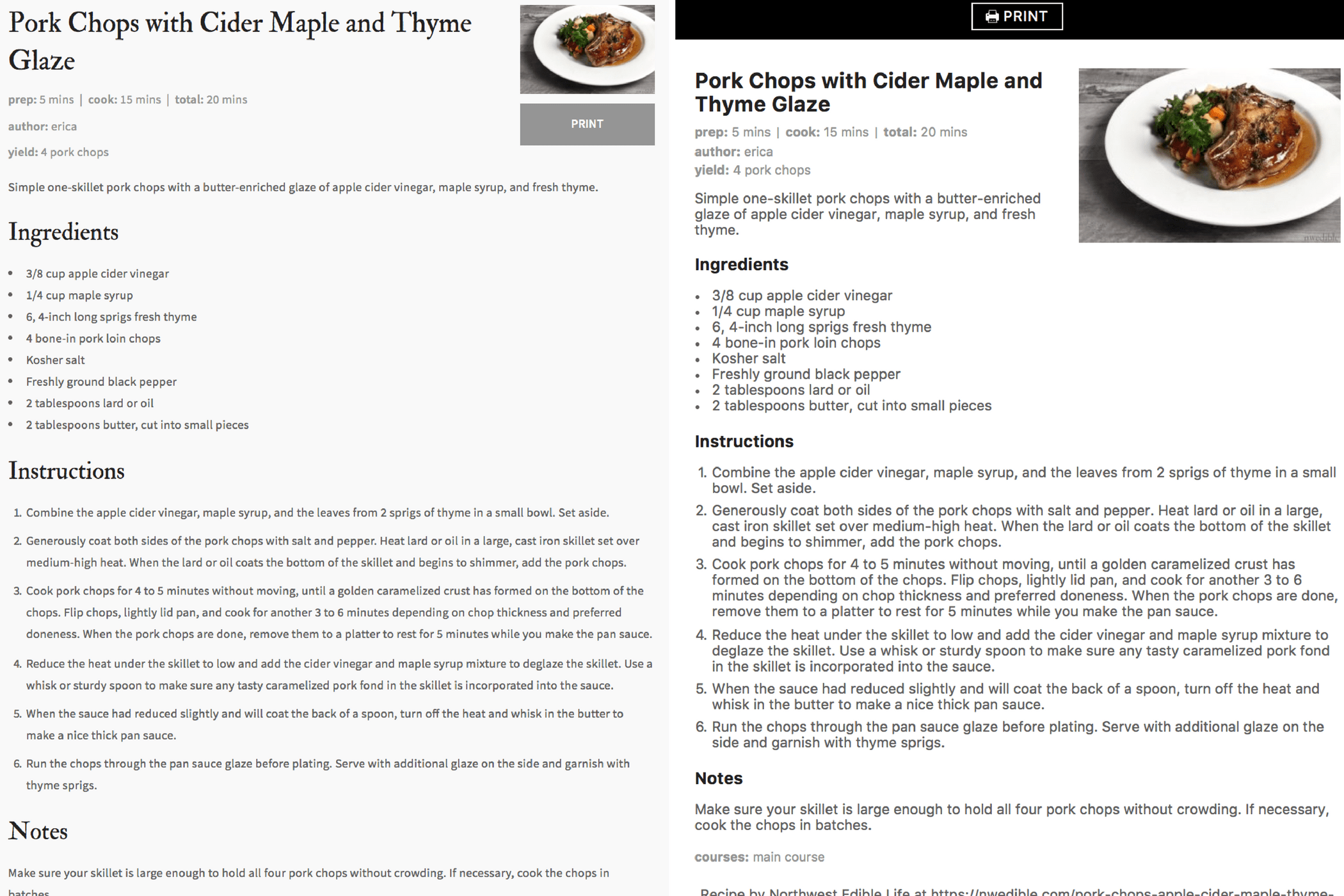 Recipes can be found by going to the Cooking Index via the main navigation menu and toggling options for course, season and more. I have big plans to expand the recipe database into a more comprehensive repository of simple recipes I really like to make, over and over again.
Featured Posts
The new design allows me to pull great seasonal articles from past months and years back onto the home page to feature them.
On desktop, there is a spot with big, graphic images to display the three latest substantial posts (Five things Friday and similar won't make it up there.) Underneath there are featuring posts to coincide with seasonal tasks, cooking, or whatever else seems relevant. Right now I'm featuring four posts that that will help you sort out your garden planning and seed starting – because that's what we're all dealing with up here in the Northern Hemisphere right now!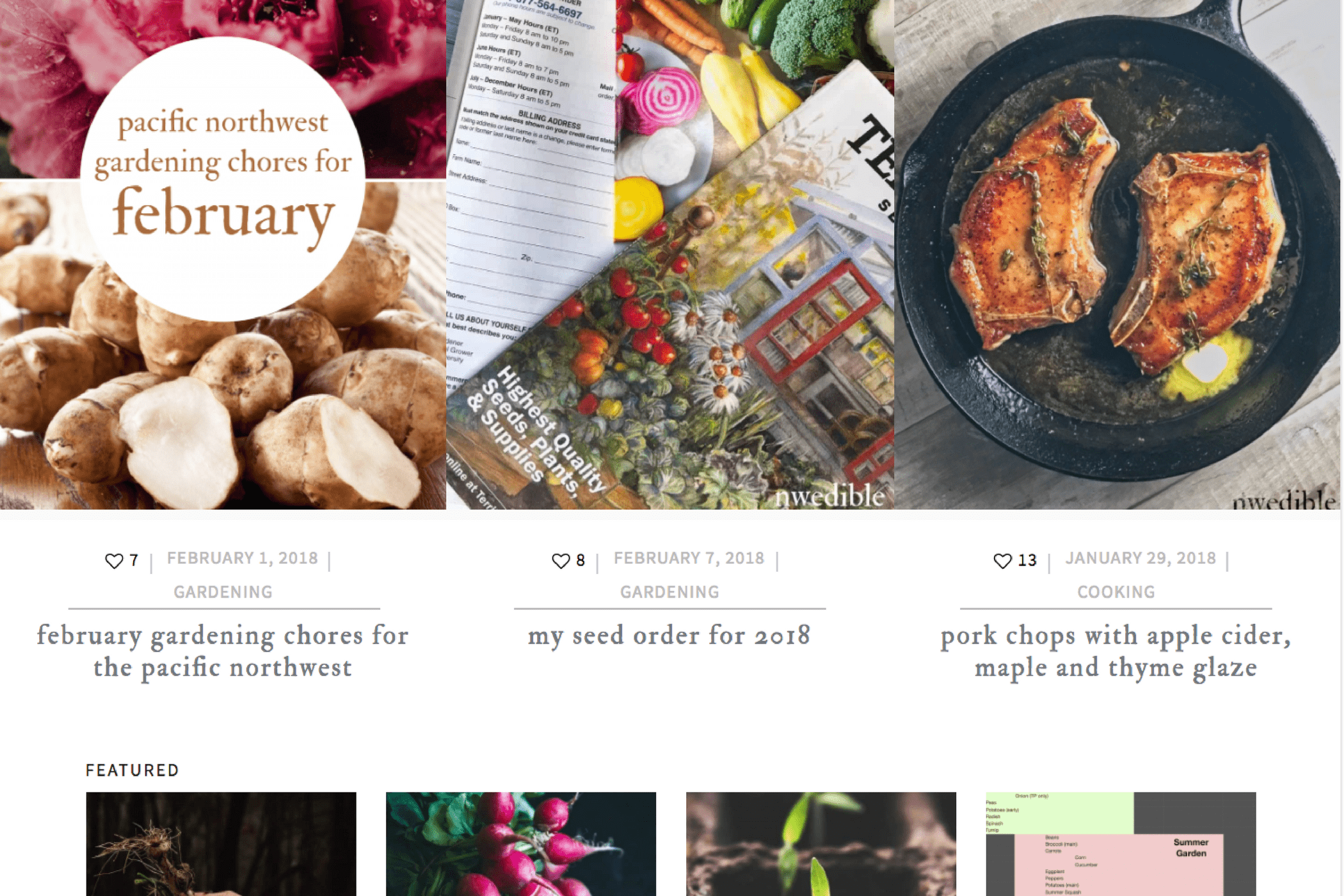 My vision is that I will change out the featured posts fairly frequently. Something less than weekly but more than monthly. Something like that.
Scroll down just a bit under the featured posts and you'll find all the latest posts, displayed chronologically. You can always get to every post displayed chronologically by going to NWEdible.com/recent. The Giant List of All The Posts hasn't gone anywhere, either.
Upgraded, Clean, Simple Design
The new design is just way, way cleaner. It's hard to really explain this if you don't have something that you stare at for hours a day, but I was just tired of looking at my old site. It felt muddy and cluttered and a bit dated. It's like a house. Every so often you have to shovel out the accumulated crap, take a run to Goodwill, and give everything a fresh coat of paint.
As part of the digital equivalent of that process, colors, photos and just number of things have all been cleaned up. There's a visually stunning large featured image header for each post (older ones are still getting revised to comply with the new image size requirements), and the main text is simple black-on-white to make it easier for folks like me who have some issues with less-than-perfect eyesight.
Right now there are a few known tiny lingering design problems I'm still working on (mostly certain links that show up in a color that's too light for easy reading) but more or less the design you see is complete.
Heart This: A Busy-Persons Way To Show The Love
Each post is enabled with something called "Heart This" which is a like button for the content. As more people browse via mobile and click through from Facebook and other Social Media platforms, comment engagement on websites and blogs across the board is way down from 5 years ago. That's totally fine – we all gotta adapt to the times.
So if you want to let me know you've seen a post and liked it (but if leaving a comment from your phone while commuting on the bus requires a little more finger dexterity than you've got!) just push the little heart icon at the top of any post.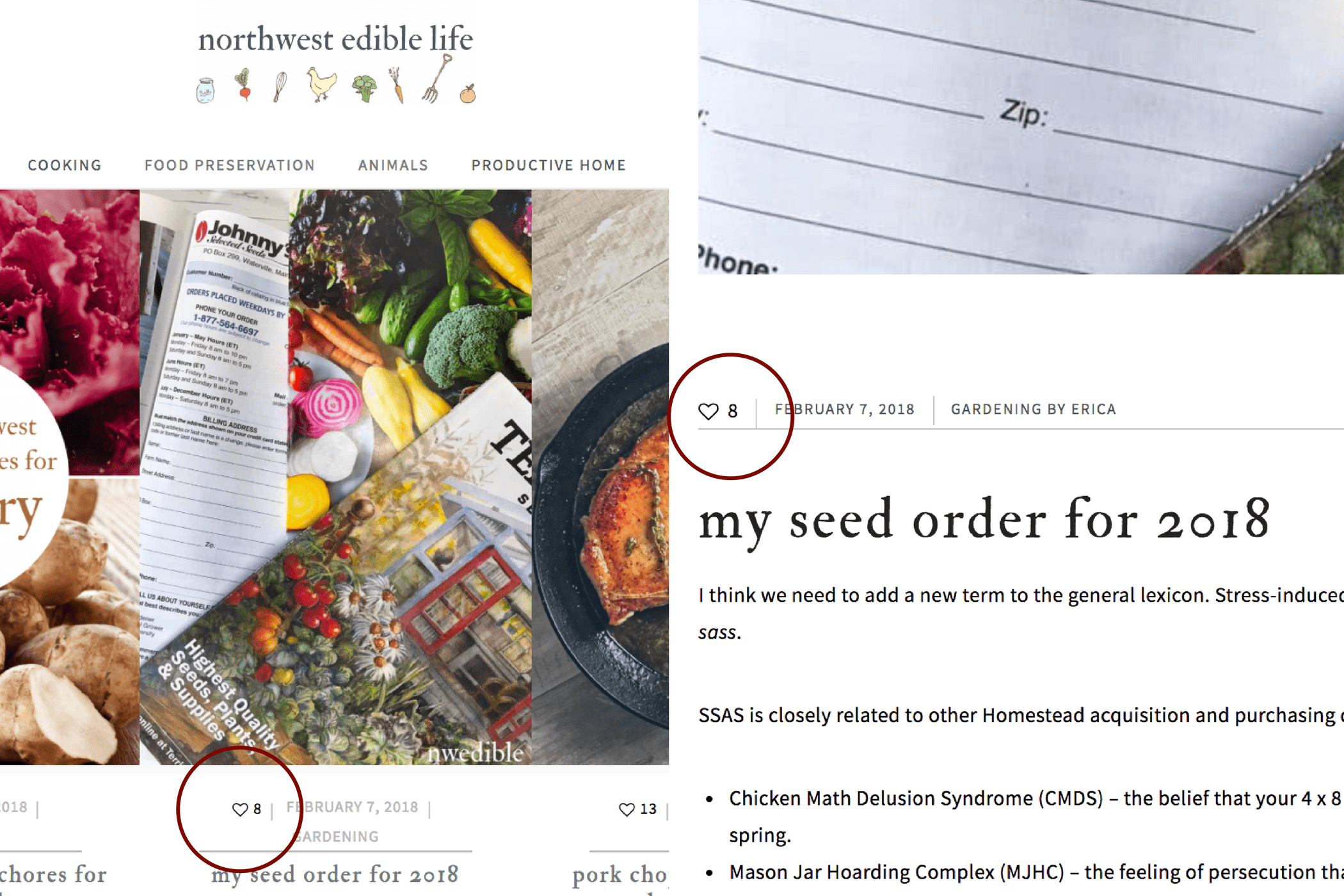 Giving the thumbs up to posts you enjoy helps other readers know what to check out, and helps me know what you want more of!
Folks, We're Ad Free
This isn't a promise, I reserve the right to change my mind if Patreon collapses on me. But for now, there are no advertisements on the site.
Long-term readers know I never really liked having ads on this site. Monetization is important insofar as it contributes to the sustainability of the site, but it's never been my primary goal or desire. I was happy with my amazing, prescreened, truly awesome seasonal sponsors like High Mowing. But the 3rd party ads – you know the ones that periodically launch into a micro movie about How To Make Tide Pod Sorbet in Your Mouth or something – I always sorta hated those, and I'm happy to have left them behind.
Going Ad Free is only possible because of my direct supporters on Patreon, so if you want to support a world without Tide Pod Sorbet, consider jumping over there and throwing a buck in my seed money jar.
Zippy Mobile Upgrades
If – like 70% of my readers – you visit NWEdible via a mobile device – I think you will like the upgraded mobile features.
First, there is a sweet Mobile Menu. You'll see it down at the bottom of the site. Just tap the thin black bar down at the bottom and you'll see options to take you where you want to go. There's also a search bar and home button, so no matter how far you've scrolled or clicked, you can always easily jump back to the main page.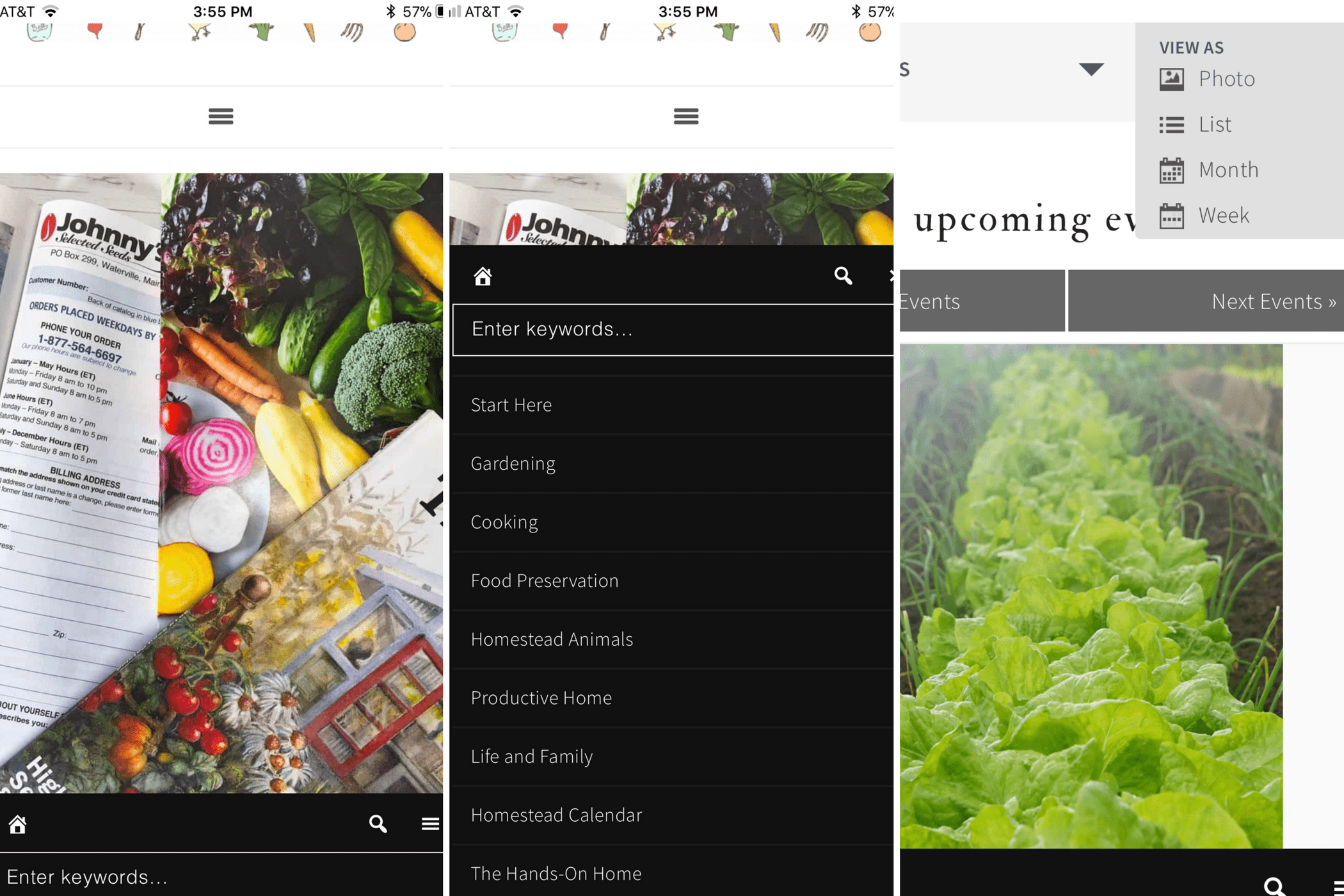 Back-end optimizations mean the site should be fast to load on mobile and suck up less of your bandwidth to do so. Other upgrades, including the calendar and upgraded printable recipes, are all designed to be fast and clean in their mobile configuration as well.
Upgraded Hosting
This isn't anything you can see, but we jettisoned our old hosting provider when they couldn't keep the site up and running for more than a few days in a row. In the middle of the migration, in fact, my site (still on the old host) crashed over 12 times in one day!!!
The hosting challenges were what actually pushed us over the edge to make this big leap, so it you've been caught out by error messages or an NWEdible homepage that wouldn't load, hopefully all that is now a thing of the past.
New hosting, in addition to some great tools to make even large images load fast, should speed up page load times and get you off your computer and out into the garden even faster.
With Huge Thanks To:
First, my husband, who (while very nerdy) is not actually a database engineer. Nick did an incredible job and pulled many late nights helping me out with some of the technical stuff. He also helped me completely upgrade the website taxonomy (that's actually a really big deal and if we've done our job, you'll never know!), figured out how to make filtering options work across multiple page indexes, and tackled the very tedious process of deleting 8000 image files by hand over FTP. Love you honey!
My Patrons, who are the only reason this upgrade happened, and who have all expressed remarkable support and patience while this process has been underway and I have totally not posted any cute videos of seed starting (coming soon!!! I promise!!)
StudioPress Hosting, who have proven to be a zillion times more responsive and helpful than BlueHost, and provide a set-up process that's dreamy easy. Yeah, that's right I said it. Screw you, BlueHost. We had 9,000 trouble tickets open with you and you never responded to any of them. Good riddance.
Last but certainly not least (least is BlueHost) – You! Yes, you! Darling reader, patient follower, person who let me disappear for a year, helped make "Erica Strauss Obituary" the top Google Auto-Complete for my name for over a year, and then just jumped right back in with me when I said, "Hey, been awhile, sorry about that, let's grow something again together." I'm still very disillusioned about the online world in many ways, but you actual real people on the other side of the screen are awesome and always have been. Thank you for being here.
Now go look around! Check out the new digs. Try and break things. If you manage to, tell me all about it in the comments so I can get it fixed! 
37