It's been cherry-palooza around here. I've dried, frozen, canned in lime-almond syrup (fabulous, by the way), given away and eaten (and eaten and eaten and eaten) fresh cherries by the pound.
We've even got my 2 year old saying "cherries make ya poop a lot!" which seems far more adorable when it's coming out of a grinning toddler mouth than it does now that I've written it in black-and-white, actually.
So, ahem, moving on.
The cherry preserve I am most excited about is this Lacto-fermented Cherry Salsa.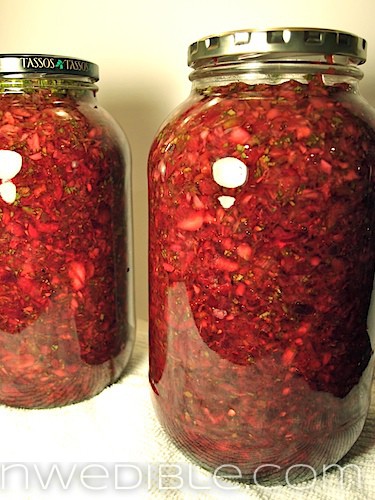 Most of you know that I am a big fan of fermenting foods, and I'm a huge fan of salsas. The two things are made for each other.
Salsas tend to lose a something in texture and taste when you cook them, as you must if you want to preserve them by canning. Lacto-fermenting is a preservation technique that keeps that fresh taste alive for months and months. Last year's LF tomato salsa lasted in very good condition, refrigerated, until about April when I used up the last jar.
So, when I was brainstorming ways to use the 55 pounds of cherries I got hold of, a LF cherry salsa topped the list of New Things To Attempt.
Now that I've made it, I think this one's going to be a ZOMG Where've You Been All My Life winner. Down the road I image pairing this salsa with pork, chicken, prawns or salmon when I need a simple way to dress up a meal in a hurry. And an honorable corn chip would feel no shame in wearing this salsa either, me'thinks.
Chop everything in a food processor. Seriously. You don't have all day. Feel free to halve or quarter the recipe. This makes quite a lot.
Makes about 1 gallon (16 cups) salsa
Ingredients
4 pounds dark, sweet cherries, such as Bings, washed, stemmed and pitted
2 cups chopped cilantro (about 4 bunches) chopped
1 cup chopped mint (about 2 bunches)
1 cup chopped jalapeno pepper (about 6 whole peppers, seeded if desired)
6 cups chopped sweet onion, such as Walla Walla (about 4 large onions)
1 cup freshly squeezed lime juice (about 8 medium limes)
1/4 cup sugar
In addition, for each cup of prepared salsa you will need:
1 tablespoon whey (drained from yogurt or kefir is good)
1 teaspoon kosher salt (if using sea salt, use 1/2 teaspoon)
To make this full batch of salsa, you will need about 1 cup whey and about 1/3 cup salt.
Method
Mix all ingredients except salt and whey until well combined. Taste your salsa. If you want to play with the ingredients, feel free. All more cilantro or more sugar as it suits you. Remember you'll be adding salt later.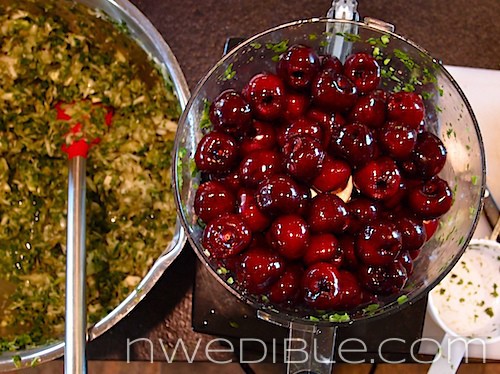 If you want to eat this as a fresh (not fermented salsa) season to taste with salt and call yourself done. Store salsa in the fridge and eat within a few days.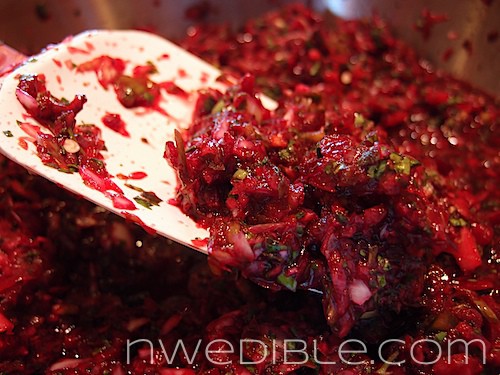 If you want to preserve this salsa for eating later, put salsa in spotlessly clean jars with well fitting lids. The volume of the jars does not matter – you can put your salsa into pint jars or quart jars or old olive jars, as I did here.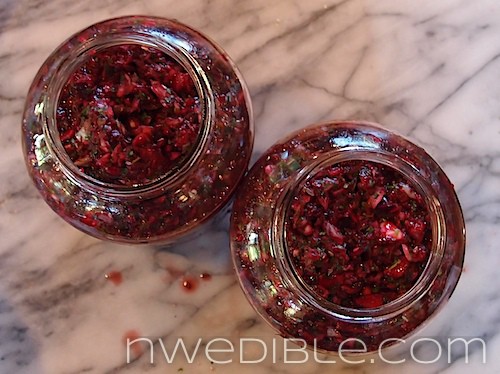 Fill jars 1 cup at a time, keeping track of how many cups of salsa you put into a jar. Leave at least 1-inch of headspace in the jar (more headspace for larger amounts of salsa). For each cup of salsa, add the following to your jar: 1 tablespoon strained whey and 1 teaspoon kosher salt.
(Psst…this might be handy: 2 tbsp = 1/8 cup; 4 tbsp = 1/4 cup; 8 tbsp = 1/2 cup)
Stir the whey and salt into the salsa and, using a clean spoon, taste the salsa. It should taste just a hair to the salty side of very good. If the salsa doesn't have a pleasantly briny salt level, add a bit more salt. As the salsa ferments, a bit of that saltiness will mellow out, but don't go too crazy.
This salsa didn't make enough natural brine to fully submerge the cherries and veggies. It's important that the salsa be covered by liquid to protect it from nasty molds and other ickiness. Top the salsa with an inch or so of water to cover. Try to keep all the chunky stuff under the water.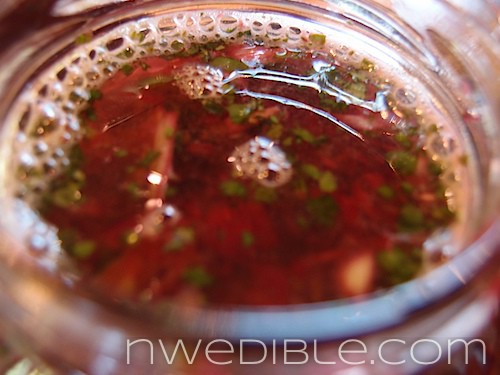 Cover jars but don't make the lids super tight. Excess pressure needs to be able to escape. Leave covered jars at room temperature for 1-5 days (see edit below), depending on your room's temperature and how much fermentation you like. After 12-24 hours you should start to see small bubbles on the surface, a sign that fermentation has started.
Edit 8/1: having enjoyed this salsa for a week I would now say to err on the side of very lightly fermented. Ferment 12-48 hours, and only towards the higher end if you are fermenting in a cool spot. Fruit ferments take off fast. When it is at a stage that tastes good and the salt has mellowed, refrigerate right away. Don't "give it another 12 hours," just trust your instincts. It will continue to evolve in the fridge. My salsa is still excellent, but with a 48 hour ferment it went about 12 hours longer than I would have wished, in retrospect, and has gotten a tad pickly in the fridge.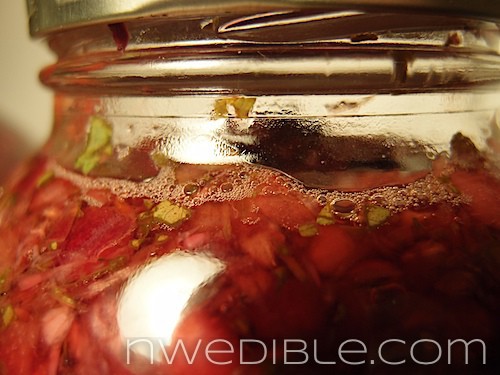 Use a clean spoon and taste the salsa every day. While you are at it, push the salsa under the brine level (clean spoon!) and re-lid the ferment asap. When the salsa is completely fantastic, it's done. Put it in the fridge and enjoy it for (what I would I anticipate to be) months.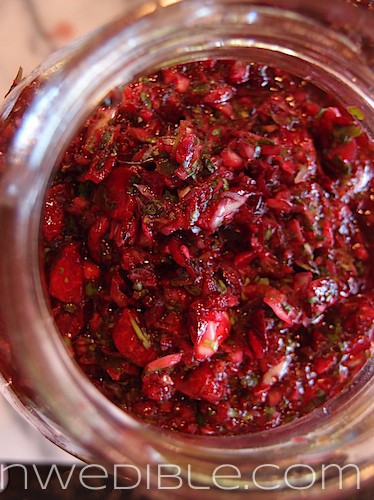 Yum!
18