You can spend a lot of money on specialized pickling crocks. Go ahead, be my guest. You'll learn all about how your $25-$200 is buying you an ideal anaerobic environment in which to nurture your precious anaerobic bacteria…blah, blah, blah.
Me? I don't need another unitasker in my kitchen. I like to be able to use a few things – bowls, food processors, knives, mason jars – in a variety of flexible ways to achieve my goals. And this isn't because I have a teeny, tiny kitchen, it's just that one trick wonders don't woo me.
So here's how to turn any mason jar into a damn fine Pickl-It style fermentation crock for about $10, or way less if you already have a reCAP Mason Jar lid (which you should, because they rock and are definitely not unitaskers).
To DIY a very serviceable lacto-fermentation crock, you will need:
1 airlock. $1.75 at your local homebrew store.
1 rubber bung (hee hee, I just said bung). $.90 at your local homebrew store. #6 is a good size.
1 reCAP Mason Jar Cap. (Wide month lids are coming soon!) $6.99 online.
1 Mason jar  in an appropriate size to hold your ferment (you totally already have this, right?)
Step One: if necessary, go shopping at your local homebrew store. So fun, even if you aren't a homebrewer. These places can be a bit intimidating at first, but just keep in mind that people at homebrew stores live for beer. Seriously. They are beer geeks. And like geeks of any stripe, all they want is for you to not laugh at the thing they think is cool.
So, here's a secret: if you are a girl of even remotely serviceable appearance, and you show up at your local homebrew store and say the following: "I'm looking for whole leaf Amarillo for an all-grain 80 IBU IPA I've been perfecting," you will have the rewarding experience of watching six homebrew-geeks trip over themselves in an attempt to assist you.
(By the way, Comic-Con people, don't bother leaving nasty comments. I am Geek, garden-variety. I speak redshirt and Quenya and zucchini and I'm proud of it. I'm on your side.)
After you've browsed around, buy an airlock and a bung. Should run you about three bucks, all told.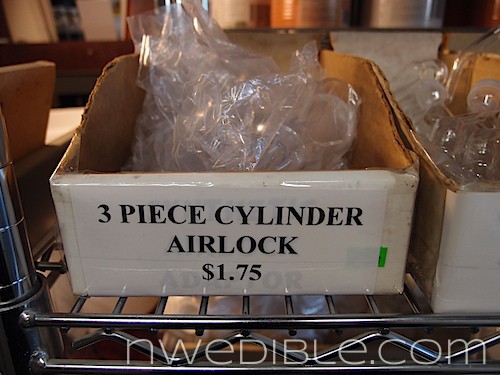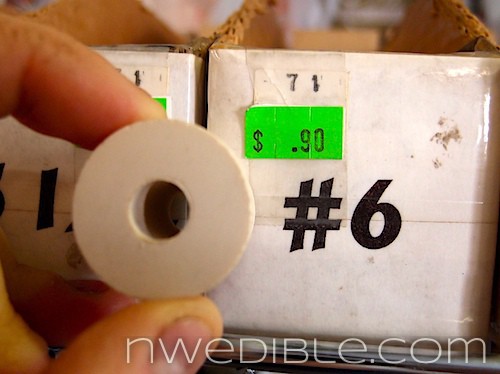 Step Two: Get your homebrew loot home and put your airlock, bung and ReCAP Mason Jar Lid together in this order: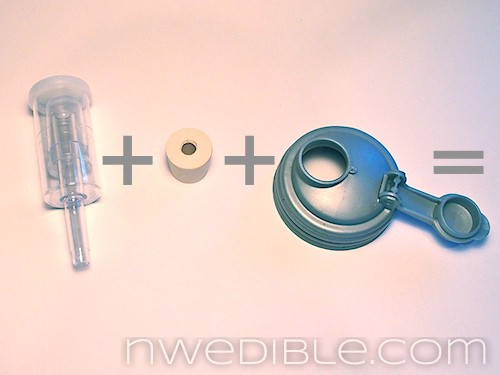 Viola! Now any mason jar is a fermentation crock. Seal off your ferment from nasty aerobic beasties.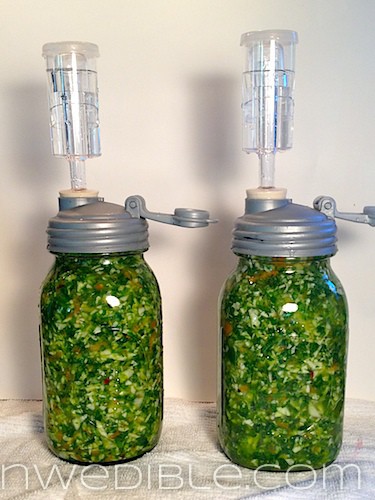 Pat yourself on the back for the $15 or more you just saved. Don't you love multi-taskers?
---
This post and lots more useful articles you might like are part of the Homestead Barn Hop on The Prairie Homestead.
65