On Thursday, March 22nd, I came back from our homeschool campus with the kids and started to make dinner. I had a lovely hunk of grass fed chuck roast in the fridge, a half-bottle of old red wine, and a jar of tomato sauce from 2016. I had braised beef on my mind.
As everyone knows, a nice braise starts with a nice sear. I popped my dutch oven on the stove, clicked the burner onto high, and glugged in enough olive oil to cover the bottom of my Le Creuset. I have done this exact move probably a thousand times.
When the oil was nice and hot I gently lowered my well-seasoned chuck roast into the dutch oven and let the bottom sear to a nice crisp. I was busy, multitasking as one does, the kids running around, Oliver calling out for me to look at or answer or do something about every 45 seconds.
It was time to turn the chuck roast, to sear the other side. I had my tongs around the beef, the meat was up off the bottom of the pot, twisting in mid-flip, Oliver said something, I turned my head to look at him, and the roast slipped from my tongs, dropping some minor but crucial height back into the pan.
I felt the oil hit the my cheek first, then my lip.
Somehow, as I spun towards the sink, I turned off the burner. I don't remember doing this, but I must have because the burner was off when I turned back. I shoved my face under a full stream of water, but the faucet was set to warm, and it took a few moments to hit ice cold. Face half in the sink I started barking orders to Oliver, who went from mild distraction to action hero serious as soon as he saw mama really needed him.
Oliver brought me a wash cloth. I grabbed a boo-boo ice pack out of the freezer. As I dabbed the water off my face with the towel, a piece of opaque white skin about the size of a dime came off. The oil had blistered my cheek, but was so hot there wasn't time for any fluid to build up – the skin just immediately fell off. I pressed the ice pack against my face and whimpered.
Oliver brought my husband down from his home office. At least I think he did. Nick was there, in any event, asking how he could help. I was out of my DIY comfrey cubes, my favorite burn remedy. Sunburn season was months away when I ran out, so I hadn't bothered to make more.
I sent the boys out with instructions to dig up some comfrey root.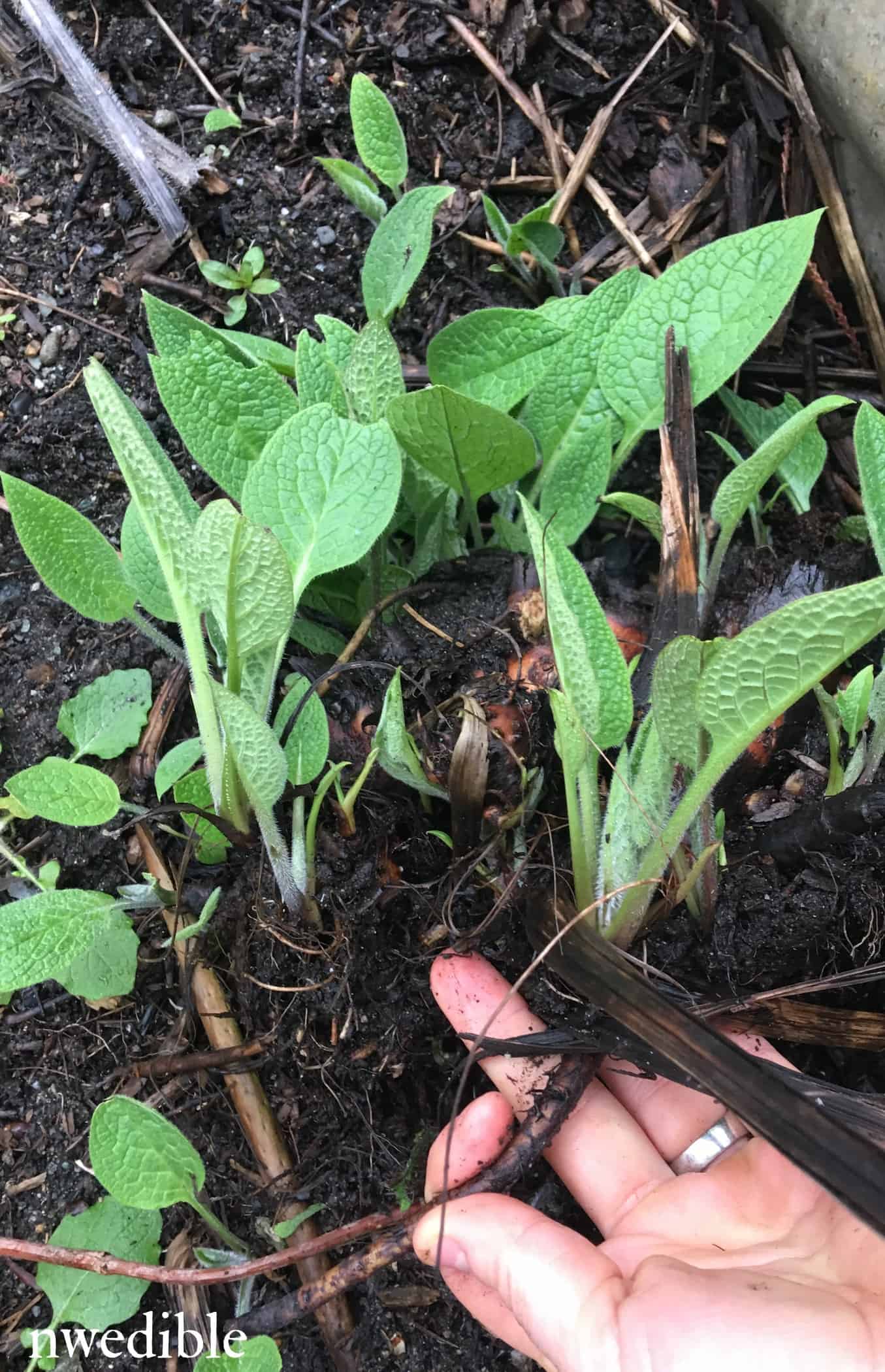 While I was waiting for Nick and Oliver to return from the yard with comfrey, I returned one-handed to my chuck roast – the other hand was still pressing an ice pack to my face. With exaggerated care I added the wine and tomato sauce to the dutch oven, covered the pot and popped everything in the oven.
The guys brought in a few pinkie-thick roots, and I scrubbed and chopped them, then tipped them into a small saucepan and covered the root pieces with water. I brought the roots in the water to a simmer and let them cook for about a half-hour, then strained the brownish gel into a small metal bowl and popped everything in the freezer.
The metal helped the gel freeze quickly, and within an hour or so, I had a bowl-sized disk of frozen comfrey gel. I wrapped half the disk in a paper towel to give me a handle of sorts, and pressed the other half against the burn on my face.
By this point I'd looked in the mirror. The dime-sized spot on my cheek where the blistered skin had immediately fallen off was the worst of several spatters of burn that flecked my lower cheek.
There was one contiguous raw triangle of burn between the bottom of my nostril and the top edge of my lip, and a large spot of burn right at the corner of my lips. These two burns basically blurred together as they scabbed over and began to heal, and in the days ahead I would cry out at my own stupidity for talking or eating or in some way moving my mouth so that the hardening scabs in this area were torn apart and began to bleed anew.
But that frustration was still a few days away. In the immediate aftermath of hot-oil burns to my face, that disk of frozen comfrey gel was my best friend. I rubbed it on the burned parts of my face until it started to melt, then popped it back in the freezer for 20 minutes to firm it back up. When the comfrey gel was in the freezer, the icepack was on my face and vis versa. Repeat, repeat, repeat.
That Thursday evening, I also texted a friend who is a naturopath and runs a wellness clinic with her husband, a doctor of Chinese medicine. "Help! I burned my face! I have comfrey – what essential oils should I rub on the burn to help healing?"
My friend made me a roller-applicator blend of frankincense, helichrysum, lavender, and melaleuca (tea tree) diluted in fractionated coconut oil and I picked it up on Friday. Through the weekend I alternated applications of comfrey gel and the essential oil blend.
Right after the oil splashed me the full extent of the burn wasn't really visible, although I could feel it. The spots that had blistered and peeled were an odd yellow-ish color, and tacky. (1) After a day or two, the visible portion of the burn had spread, as more of my upper lip turned red and weepy. (2) Slowly, the burn began to dry and, eventually, scab over. (3) This brought its own problems – as I mentioned the thick scab was not in an area that was easy to keep still, and the scab itself cracked and bled with the stress of the movement.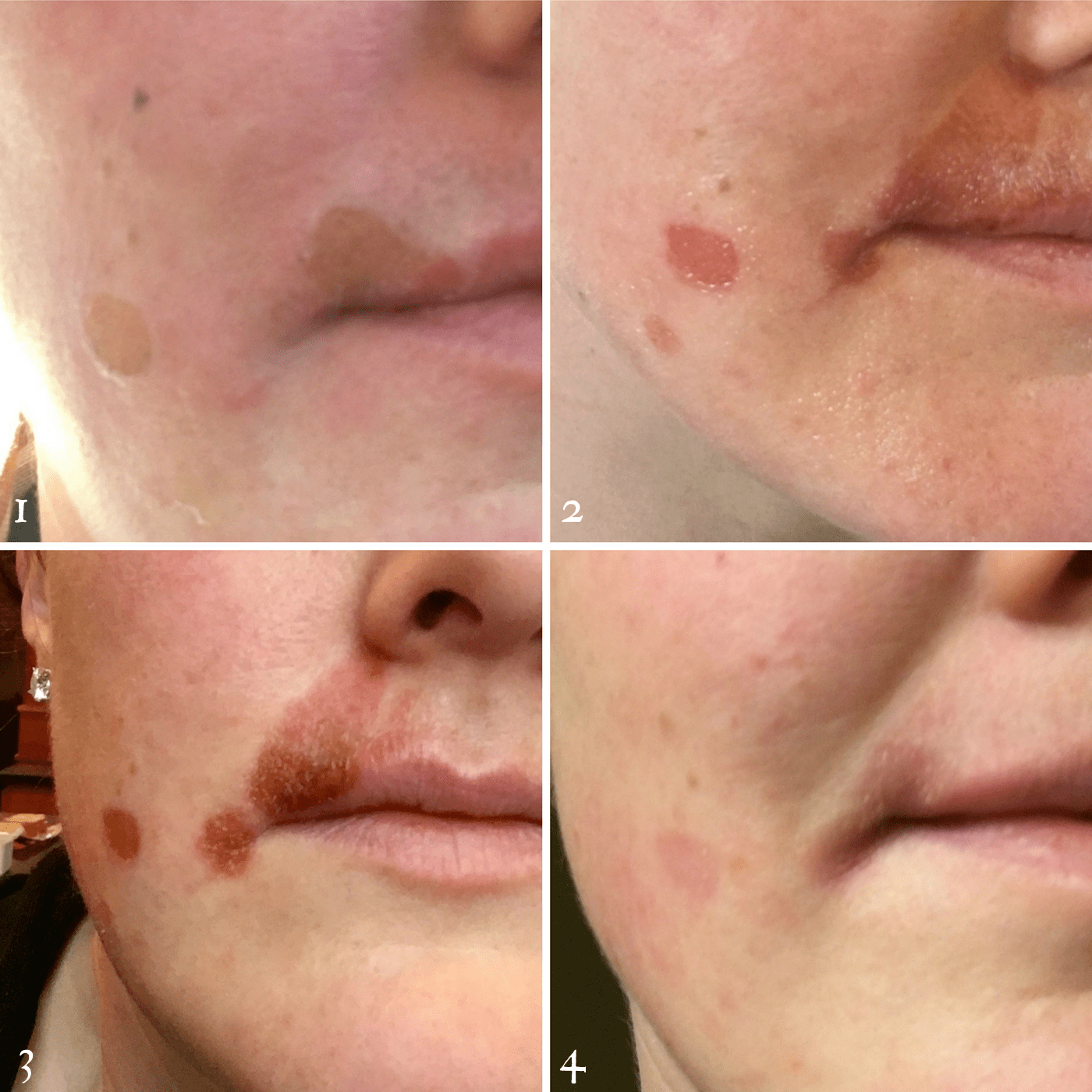 At this point I made a proper salve with dried comfrey root and coconut oil, and began to dab the comfrey salve on the scabbed-over burn several times a day, being careful not to get it on my lips where I might accidentally ingest it.
The time immediately after the burn was the most painful, but the scab-portion of the healing was the most annoying. I looked awful – the photo (3) doesn't really show how bad the scabbing got as it progressed. At one point everything from the edge of my nose to the burn at the corner of my lip was a contiguous, thick raised scab and chunks of scab would dry and fall off. It was not pretty.
People would glance at me and not know if they should ask what happened and I would volunteer, "I got burned with oil. I was cranky and irritated and my face hurt and itched. That lasted a little over a week – probably 9 days.
This past week I've seen real healing. The burned area is still pinker than my normal skin, but the scabbing has all fallen away and the texture of my skin is mostly normal (4). The spots that were hardest hit and blistered immediately are still quite obvious because of their darker pink color and because they are a little different thickness than the surrounding skin – like a slightly shallow depression.
I have continued to apply my comfrey salve and essential oil blend to the area a few times a day. I really think both have helped.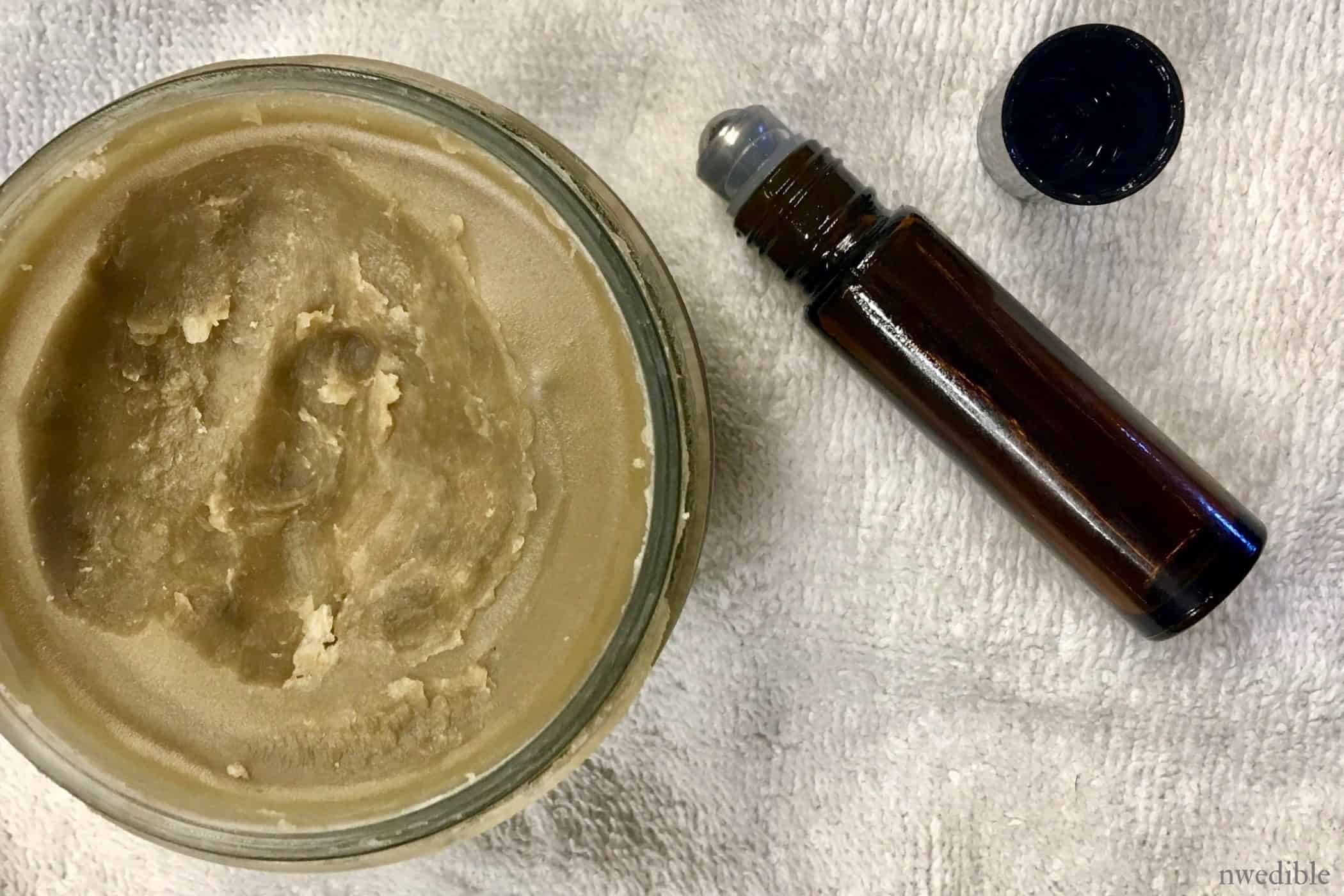 So what did I learn?
No one is really ever so experienced in the kitchen that they are immune from accidents – be careful!
Keep Comfrey Cubes in the freezer at all times.
Roller applicators for diluted essential oil blends are the best. I'm now hooked.
If you can't open your mouth without tearing open a scab and making your face bleed, don't attempt to shove a piece of spicy tuna sushi roll in your gob, no matter how hungry you might be.
Oh, and about the braised beef….it was absolutely delicious.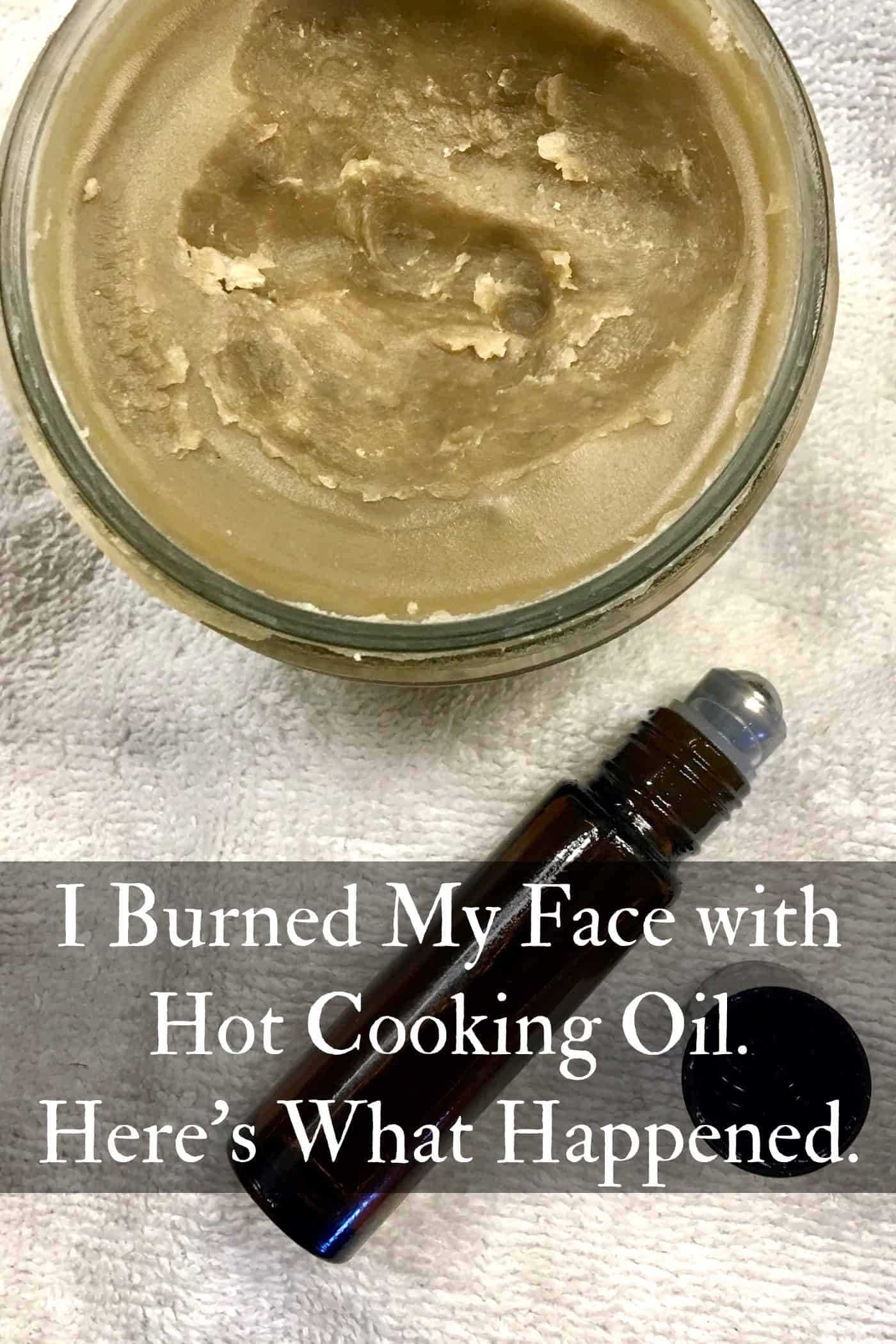 663