I've talked before about how "right sizing" my patch of grass really changed my perspective on "evil, non productive lawn" to something almost like fondness.
Well, my thinking on lawn has shifted yet again, and again for the better. We recently converted to an eco-lawn mixture and these days I find myself downright loving my lawn.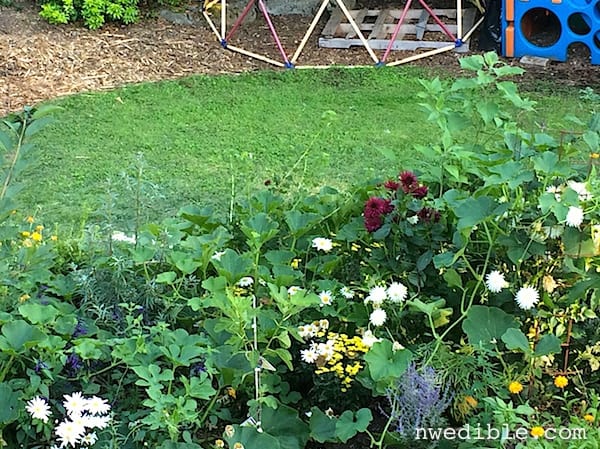 Don't let the fancy name and Prius-marketing fool you: an eco-lawn is simply a collection of plants that work together to give you a consistently lush, foot-friendly patch of green with less water, less work, and little or no fertilizers. Some blends include low growing herbs and teeny flowers, but these aren't essential – they just add some prettiness to the mix. The key ingredients in most eco-lawn blends are a blend of drought-tolerant fescue grasses and low growing clover.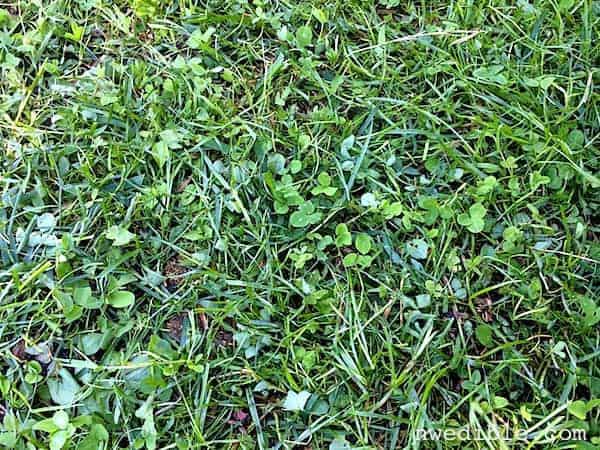 Fescues are pretty common in cool-climate grass seed blends, so I'll assume most folks are reasonably familiar with this component of an eco-lawn.
Here's why the addition of clover is important. Clover is a member of the legume family, and – with the help of some beneficial microbes – has the quite awesome ability to take nitrogen out of the freaking air and turn it into fertilizer. The legume plants are kinda like the people in Cloudy with a Chance of Meatballs before everything went wrong – they can just snatch their snacks out of thin air.
The nitrogen that the clover doesn't need immediately away gets stored away in cool little bead-like nodules on its roots, much like my thighs expand with convenient storage fat when I recipe test too many plum galette recipes (OMG, so good).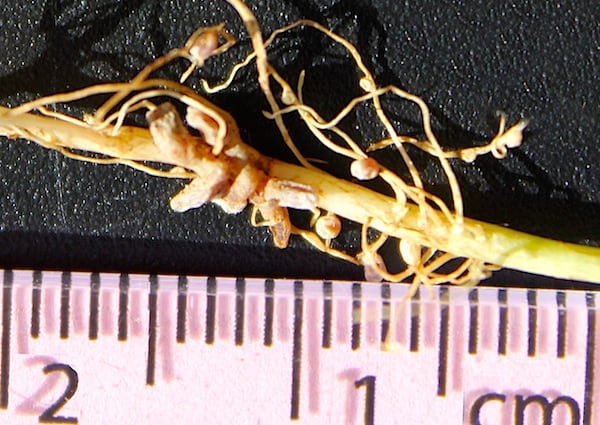 Rule number one about understanding plants is this: the leaf mass and the root mass are always kept in balance. You cut the top, some roots die. You screw up transplanting and kill off a bunch of roots, some leaf mass dies off until the plant can get the root mass rebuilt. Internalize this and everything from lawn care to tree pruning will suddenly make so much more sense. So when the clover loses leaf mass – because a sheep nibbles it or you come through with your push mower to cut your lawn – the roots of the clover die off to compensate.
This leaf-root balance is key to a successful eco-lawn. When the clover roots – all full of those nitrogen nodules – die off, the nitrogen is released into the soil like some nature-made Miracle Grow, available for neighboring plant roots to scoop up and use. And you know who just loves lots of nitrogen? Grass. Grass loves nitrogen so much that chemical lawn fertilizers have redonkulous NPK ratios like 26-0-2 or 32-0-4.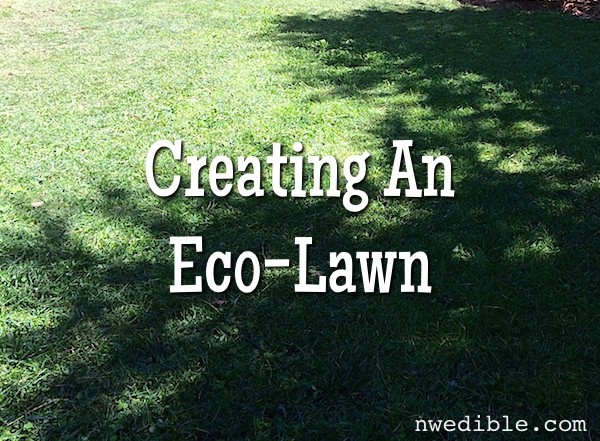 When you blend grass with clover you are setting up a lawn system that does not require additional fertilizer. Every time you mow, the clover feeds the grass through those cast off nitrogen nodules. And, just in case I didn't fully emphasize this enough, this is all fed by nitrogen that is in the air. So this process is totally free and requires no additional work on your part.
I researched several brands of eco lawns and the major drawback to every one of them is that they are expensive, at around $30 a pound. Since most eco lawns are simply a blend of fescue grasses and clover plus whatever pretty stuff seems like a good idea, I thought I could save money by blending my own eco lawn seed mix.
I was wrong.
Fescue blends are cheap – you can get 5 pounds for about $15 – but most eco-lawn mixes include a very small leaved variety of clover called microclover or miniclover. This clover is very expensive – about $40 a pound. So, if you are DIY'ing a small eco-lawn, it can actually make more sense to just buy the pre-made blends.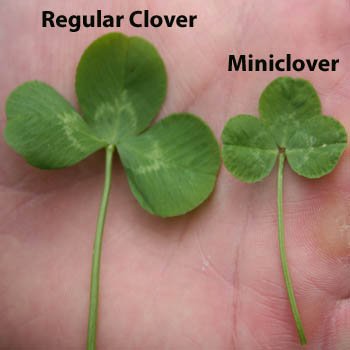 But there is another option. White clover, while not nearly so cute and diminutive as microclover, makes a perfectly serviceable lawn component and is cheap – you can find it for like $5 a pound. Other clovers – particularly crimson clover, an annual, and the red clovers, which are more upright and less dense in their growth – aren't as good for a lawn.
Whatever clover matches your budget and personal aesthetic, adding clover to the mix of ground covers that make up your lawn is a very good idea. I went with a no-name eco-lawn blend from my local nursery, supplanted with some additional white clover.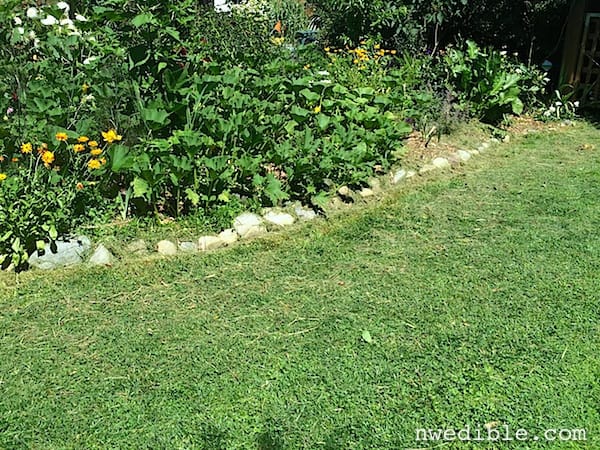 Establishing an eco-lawn takes the same care as establishing an all-grass turfgrass lawn. If you are overseeding a current lawn, raking away thatch to expose bare earth is important. If you have bare earth, good soil prep including grading and amending your soil is key.
I was dealing with neglected grass that had been partially killed off by (unintentional) smothering. I raked the grass area well to remove thatch, then re-graded the lawn area with peat moss. Using a crappy, hand-held seed spreader, I distributed the eco-lawn blend. After about a week of keeping the seeds watered, they germinated. After about a month, the new lawn was really filling in. Now, while it's not yet as dense as it will be, it's full and green with very little care. Since the eco-lawn established, about 6 weeks after sowing, we've barely watered and yet the lawn has stayed very green. We mow about every 3 – 4 weeks in the summer, which is probably half as often as we mowed our full turfgrass lawn.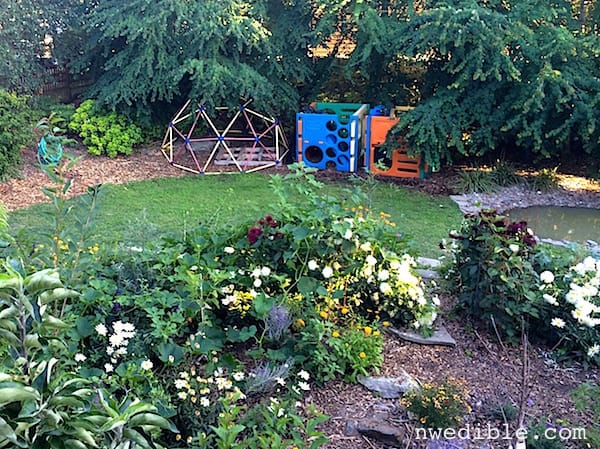 One possible disadvantage is that clover in blossom is very attractive to honeybees. I think this is awesome, but if you have an allergy to bee stings, you'll need to mow frequently enough to keep the clover from blooming.
68