So…a year without gardening for me also meant a year without buying seeds. Well, ok, maybe I bought a few packets early last year before I collapsed into homesteading ennui. But I have only a handful of seeds from 2016 and none labeled 2017.
Of course, because I have suffered from seed hoarding disorder for about 13 years, I still have gaggles and gaggles of seeds. The question is, are my old seeds worth planting?
Seed viability is usually claimed at about 2 to 4 years. It varies a huge amount, of course, based on type of seed (stupid alliums), but most seed companies will tell you most of their seed should be good for a couple to a handful of years after you buy it.
Beyond seed type, how you store your seeds then has a huge impact on their longevity. I keep my seeds in the fridge, which is the kind of low-moisture, low-temp environment most conducive to seed longevity.
Which brings us to my old seeds. I just re-inventoried my seeds. It'd been 2.5 years, it was time. After I tossing a few old packets, I ended up with a "keeper" list of 206 varieties. The oldest seeds in my collection date from 2009, with most between 2011 and 2015. That's a pretty big investment to just toss because we are at or over the nominal "Best By" date.
So, I'm doing what I periodically do: germination tests!
A germination test is a way to measure what percentage of your seeds are still viable and show strong vigor. A germination test will give you a germination rate which is the percentage of seeds that germinate and show a future of strong growth.
At home, DIY seed germination testing is so easy a child could do it. Which is why I make my children do it for Homeschool Science. Mwaa Haa Haa. Just kidding, they love it.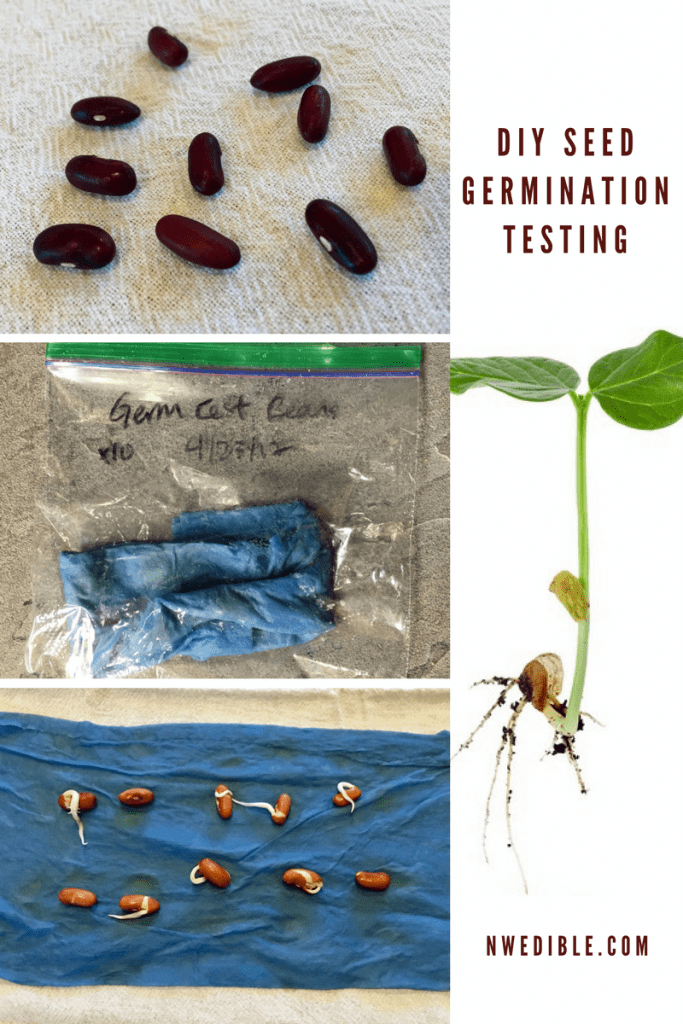 Performing A Seed Germination Test At Home
1. Count out at least 10 seeds. Ten will give you an estimate of germination rate to the nearest 10%. 20 seeds will be a more reliable estimate to the nearest 5%. 100 seeds will give you a very reliable germination rate, but seriously who wants to use up that many seeds? I usually just go with 10.
2. Get a paper towel wet, then wring it out so it's just damp, not sopping. Fold your paper towel in half. Lay your ten (or however many) seeds out on the paper towel, spaced out a bit.
3. Fold the paper towel over the seeds, then fold up or roll up your seed testing towel. The goal here is to try to keep the seeds a bit separate on the towel, rather than allowing them to all fall and bunch up together.
4. Slip your seed test towel into a plastic baggie to keep the moisture in. Label your baggie with the following information: Type of seed, variety of seed, number of seeds tested, the date. If you are testing multiple varieties it's especially import to label because – be honest – you can't really tell a cauliflower seed from a brussels sprout seed.
5. Stick your baggie-o-seeds someplace warm-ish. Normal room temperature is fine. Something around 70 degrees would be great.
6. Check out the Days To Germination Chart below in this post to get an idea of how many days the type of seed you are testing should take to germinate and begin to sprout. Note that the temperature plays a huge role in the time it takes for a seed to germinate, especially for warm-climate garden favorites like peppers, eggplant and watermelon. If you keep your house very cool, it may be worth finding a nice warm microclimate for these types of seeds (over the fridge, maybe), just so you aren't waiting weeks for a result.
7. After a suitable number of days, check your seeds! Slide the damp paper towel out of the baggie, unroll it, and look for seeds that have germinated. It should pretty obvious: they'll have a little white "tail" unfurling from the seed – this is the beginning of their root system.
8. Do really basic math. If 8 out of 10 seeds have popped a tail, you have an 80% germination rate, which is pretty good for most vegetables. If 4 out of 10 sprout, you have a 40% germination rate and the seed is probably useless.
9. Check the Minimum Germination Rates Chart below to see what kind of germination rate the US Government considers the bare minimum for legal seed, and what Johnny's Select Seeds considers their in-house minimum to sell. Compare these rates to your own, DIY Germination Test results.
10. Depending on what seeds you were testing, you can continue to grow them out for sprouts (like, you know, for a hippie-type cream cheese bagel sandwich with avocado, tomato and broccoli sprouts), you can feed them to your chickens, you can attempt to carefully transplant them into a pot or the garden, or you can just compost them. Your call.
Days To Germination: How Long Do I Let The Seeds Sit?
This is a key part of assessing the vigor of your seeds. You don't just want seeds that someday, eventually send out a sad little root and eventually struggle to push a weak sprout above the soil. You want seeds that jump up and holler, "Sprouting seed at your service SIR!"
Check out the Days To Germination Chart above. That chart actually measures days until a seed planted a half-inch down pokes it head out of the soil for the first time. If, accounting for temperature, the seeds in your baggie take that long to just show the barest sign of germination, vigor is low even if germination rate is ok.
I recommend you start checking your seeds at the halfway point. So, if your house is about 70 degrees, and the chart says beans should take about 10 days to germinate, I recommend you first take a peek at your seeds on day 5.
If you see high germination rates at the halfway mark, your seed is a keeper! If a few seeds have germinated but most haven't, just slip the seeds, re-rolled in their paper towel, back in the baggie and give it another day or 2. If most of the seeds are only just starting to germinate at or near the days listed, consider that your seed is probably low vigor and will tend to grow weak and runty plants as compared to high vigor seed.
Minimum Germination Rates: How Low Is Too Low?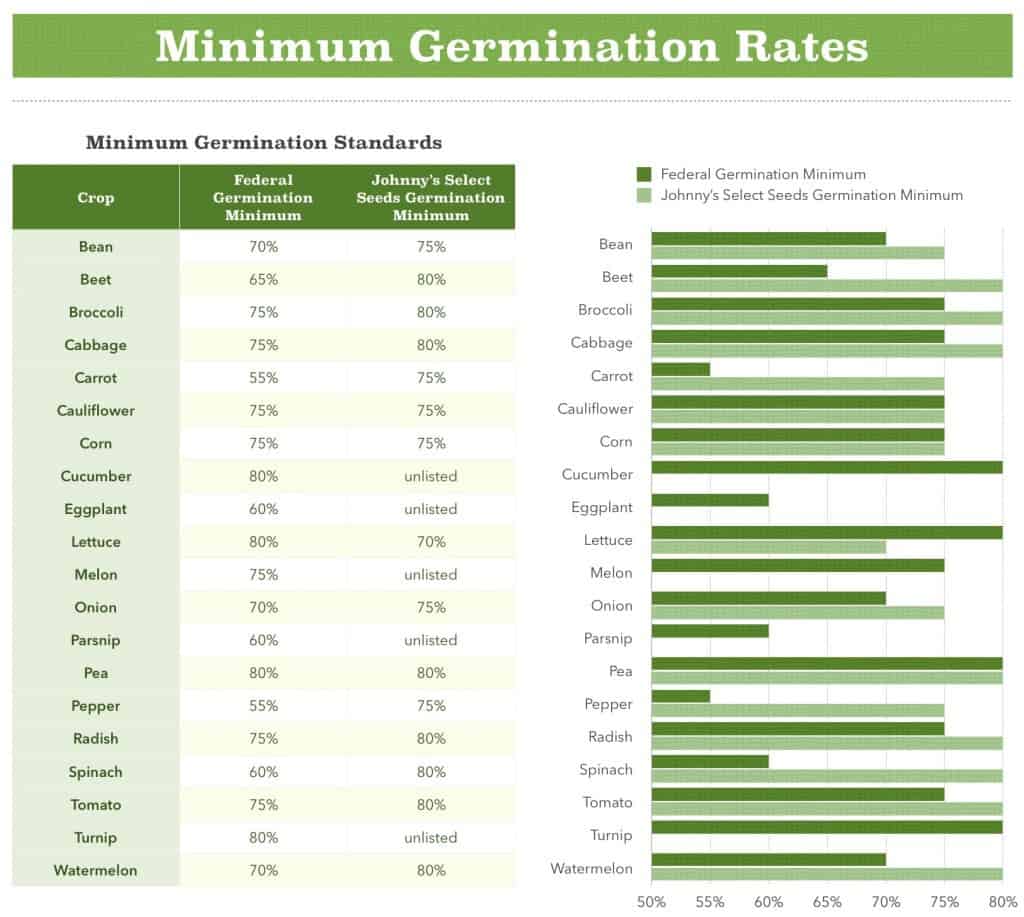 Huge thank you to Johnny's Select Seeds, who was willing to email me a giant spreadsheet showing their own in-house minimums for seed germination rates. Note how, for some vegetables, there can be a 15% or 20% difference between federal minimum and Johnny's in-house minimum.
What If My Seeds Fail Their Testing?
If your seeds don't test well, please tell them that there are lot of great trade programs out there and they'll probably be happier without the burden of years of college debt anyway.
But seriously….here's the thing about germination tests: you will probably get either quite good germination (80%+ depending on the seed) or really terrible germination (30%).
If the germination is terrible, there's no point in wasting your time on those seeds. Buy fresh seed. May I recommend friends-of-the-site High Mowing Organic Seed or Johnny's Select Seed?
How's your germination this spring? I'm hearing rumors of a slow start to Spring germination here in the Pacific Northwest.
8