It is January 1st, 2014 and I have no resolutions.
Looking back at the past several years – what they were, not what I resolved them to be – 2012 was The Year That Knocked Me On My Ass, and 2013 was The Year of Recovery from 2012.
And so here we are on the first day of 2014 I find that I'm just not that interested in making New Year's Resolutions.
When I was a bit younger, on the first of the year I was always chock full of energy to hurl myself towards some self-improvement project or another. The Year of Fitness. The Year of Home Organization. The Year of Weight Loss. The Year of Professional Growth. The Year of Dressing Like A French Woman. The Year of Savings.
I am a particularly project-oriented person, so I'm a good match for the whole Short Term Resolution thing. That is how I'm wired: I can bring down a peculiar kind of tunnel vision and throw myself towards a goal with little regard for sleep, outside interaction, my own well-being, or the various other things in my life that deserve some chunk of my time.
For awhile.
But then burnout sets in, or another project comes along and distracts my passion. Then the muscle tone that was gained inside a bubble of fitness hyper-focus softens and a few pounds creep back on.
Or the kitchen cabinets that were vacuumed out of crumbs and wiped clean and carefully organized devolve back into a jumble and the laundry piles up. The attempt to look perpetually polished instead of like a mom who plays in the dirt inevitably fails when I run, unthinking, out to the garden in what are supposed to be my "good" shoes.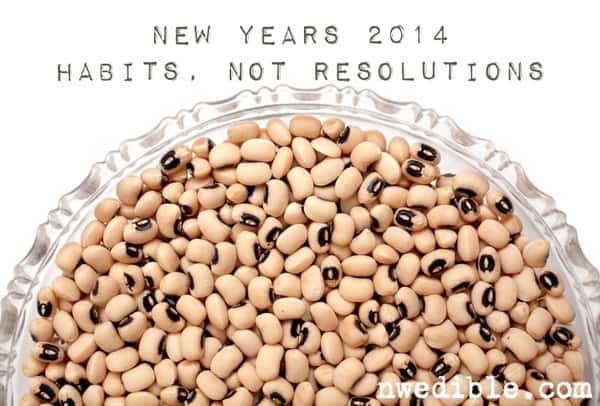 It's not that I'm against Resolutions or Challenges or Goals, at all. I love doing things like No Spend Month and 200 Squats a Day and I think these can be an excellent way to jump start a desired change. But what I've found is, for that change to stick, it has to go from Goal to Habit. No one has a New Year's Resolution to brush their teeth every night (at least, I hope no one does.) We all do that every day because it's habit – it's unthinking.
Here's a personal example. In the past 10 years, I have gone from definitely overweight (I weighed 260 pounds when I delivered my first child) to a fairly stable, healthy weight. Sure, there have been ups and downs (and another pregnancy in there), but for the most part I spent about three years very slowly losing a hundred pounds (through the supremely boring behaviors of eating fewer calories and exercising more) and another seven years more-or-less maintaining that weight loss.
I have similar stories for how I went from one of the messiest, most pathetic housekeepers ever to a reasonably organized and clean person who, for the most part, can have people over without panic cleaning. (All credit here to FlyLady, who is all about helping people cultivate small habits and whose book, Sink Reflections, has helped the most hopeless [me] learn how to get and keep a clean-ish house.)
I don't even remember what Resolutions I've made over the past decade, but I do know that changes that have stuck haven't actually come from my obsessive, tunnel-vision, goal-obsession, but from consistent, boring habits. Go for walks as often as possible. Breathe extra deeply when you are near the water. Eat vegetables. Load the dishwasher. Shine the sink. Feed the cats. Make dinner.
When these things get inside you so much that you don't even think about them, you just do them, then they become part of you, a habit. They become the minutia that becomes your life.
Right now, I just feel content with my life, just as it is. I'm happy to be here, because here is not the darkness that was there. I'm supremely grateful to have come through the past two years stronger and more humbled and more supported than I'd even have imagined.
So here's to 2014. May all your resolutions morph into habits and may here never be there.
What are your hopes and plans and resolutions for the upcoming year?
0