I'll make this brief so we can get to the good stuff, which is Free Seeds.
Something happened a couple months ago when I started getting death threats for writing this blog. I had my own "put up or shut up" moment and realized that, in writing here, despite what I'd been telling myself about how this blog was just my hobby, I had accidentally created for myself an awesome job, and I had two choices: quit and lick my wounds because sometimes people are jerks, or respect this gig for what it really is.
After the douche-waffle thing, I took a few weeks off and really thought about what the hell I was doing here. In the end I decided that, if the Universe hands you the opportunity for your dream job, you take it and you work hard and you don't complain. That snapped me out of a kinda anti-consumerist delusion I'd been operating under, this idea that I would be a complete fraud if I got compensated at all for the inordinate time, effort and expense it takes to make this blog happen.
So, anyway, long-story-short, now I have a sponsor. No – I have the best sponsor. When you are a little advertising shy like me, it helps when your first and only sponsor is a small, friendly, super-ethical seed house that believes in the exact same things you do.

Meet High Mowing Organic Seeds
High Mowing Organic Seeds is my new sponsor. They are a 100% organic, GMO-free, farm-based seed house. They are located in Vermont, and grow and trial many of their varieties in-house, but also have partner organic seed growers in Washington, Oregon, Idaho, California, Vermont, and New York.
I love them, and here's why. High Mowing is doing something really important – they are aggressively developing more varieties of seeds that are successful for organic growers. That matters for two reasons.
The Selfish Reason – Organic Adaptation: You know how people talk about how heirlooms are awesome because they have become adapted to certain conditions over generations of seed-saving? Well, the organic thing is no different. Seeds grown from organically grown plants carry genetics that make them better adapted to successful organic culture in the garden or in the field.
Conventionally grown seeds come from plants that probably grew well with a lot of help from high doses of very strong chemical fertilizers, fungicides and herbicides. But you aren't growing your veggies that way, so why buy seed that is adapted to that culture when organic seeds are more likely to thrive under the backyard organic conditions you're providing?
The Big Picture Reason – Look, most people growing vegetable seeds are decent folk, but the regulations regarding what can be sprayed on seed crops is far more lenient than what exists for crops grown for human or animal feed consumption. Because of this, it's pretty easy to spray stuff on your seed crops that you'd never be able to spray on your food crop. The Oregon Department of Agriculture, as an example, grants Special Local Need (SLN) pesticide registrations for crops grown for seed. These give the grower carte blanche to spray…um, basically whatever…as long as they include this message on the wholesale tag:
"This seed was produced using one or more products for which the United States Environmental Protection Agency has not established pesticide residue tolerances. This seed, in whole, as sprouts, or in any form, may not be used for human consumption or animal feed. Failure to comply with this condition may violate the requirements of the Federal Food and Drug Administration, the Oregon Department of Agriculture, and other regulatory agencies."
That's just not very comforting, is it?
Stuff like this makes me feel like insisting on organic growing methodologies from seed-to-sandwich isn't nearly so paranoid as it might seem. And that's where High Mowing comes in. 100% organic seed production means none of their products are part of the problem, and – in fact – by pushing more seed crop land into organic production, supporting their seeds is nudging acreage towards the solution.
Win Free High Mowing Organic Seeds
Okay, back to selfish…High Mowing is starting off their sponsorship here at NW Edible with a bang by giving away one of their 100% Organic Garden Starter Collections to one lucky reader.
The High Mowing Garden Starter Collection includes 10 seed packets of adaptable, easy-to-grow, organic vegetable varieties (I've grown most of these very successfully in the Pac NW) and – bonus!- it comes in a fab, reusable box.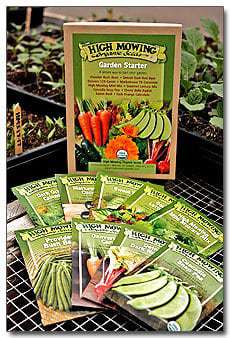 This collection includes one packet each of:
Provider Bush Bean
Detroit Dark Red Beet
Danvers 126 Carrot
Marketmore 76 Cucumber
High Mowing Mild Mix
Gourmet Lettuce Mix
Cascadia Snap Pea
Cherry Belle Radish
Sweet Basil
Dark Orange Calendula
This collection is valued at $27.50. One lucky winner will get the whole collection for free.
To enter to win, leave a comment on this blog post telling me what vegetable you have the most trouble growing. (Mine is carrots, which is why I am excited to see if this rust fly resistant carrot lives up to the hype.) The winner will be notified by email.
Contest open until Thursday, January 9th at 8:00 PM PST. Contest open to US residents only due to shipping regulations.
Thank you to High Mowing for sponsoring this giveaway. I encourage you guys to go check out High Mowing and request a free catalog. See if you like what you see.
Good luck everyone!
Update: Contest now closed. Thank you to everyone who entered, and to High Mowing for sponsoring this giveaway. Congratulations to winner Joy D, who said, "I started gardening in a field claimed as a community plot for gardeners. Therefore the root veggies were/are the hardest. (I could find no one with a rototiller. When I was a kid my Dad was busy with his rototiller every day after he came home from his job until dark. Helping everyone he could to get a good start in their gardening.)"
2