Zucchini is like that friend who calls you just a bit too often. When the relationship first starts up, you're so excited! New, cute little zuke, nice little chit chat…and for a while you're thinking: wow, this is so great! This relationship is so rewarding. And then, after eight weeks of being stalked incessantly by an unending wave of zucchini and pointless banter, you're looking at the plants with barely concealed resentment and you're checking caller ID before you pick up, cause you just…need…a…break.
My zucchini is finally slowing to a crawl. Good thing, too. I'd definitely reached the "How about I call you?" phase with my summer squash. I've been staring at a growing pile of zukes on my counter for the better part of two weeks. I'd diligently pick the new ones off the plants and add them to the pile. But somehow, I haven't been able to bring myself to actually cook them for some time.
Yesterday, the time had come. I broke out the Cuisineart shredder disk and filled a huge bowl with shredded zucchini and patty pan squash. After I shred zucchini, I often toss it with sugar (for sweet uses) or salt (for savory uses) to draw out the ton of moisture that it holds. That extra moisture is why zucchini bread is often gummy. All the water from the squash messes up the moisture ratio of the batter as it's baking.
You don't have to be precise about the sugaring or salting – just add in enough to lightly coat the shreds and mix the whole thing up. Go easy on the salt so you don't end up with something unusable.
I tossed this particular huge bowl of zuke with sugar and let it macerate overnight. Then, I dumped the shreds into a colander and drained off liquid equal to probably half the zucchini by weight. If, like my neighbor, you feel that all the nutrition is in the zucchini water, by all means add it to smoothies or soups. I just chuck it.
Once the zucchini was nicely drained, I made a humongo batch of Almond Zucchini Bread.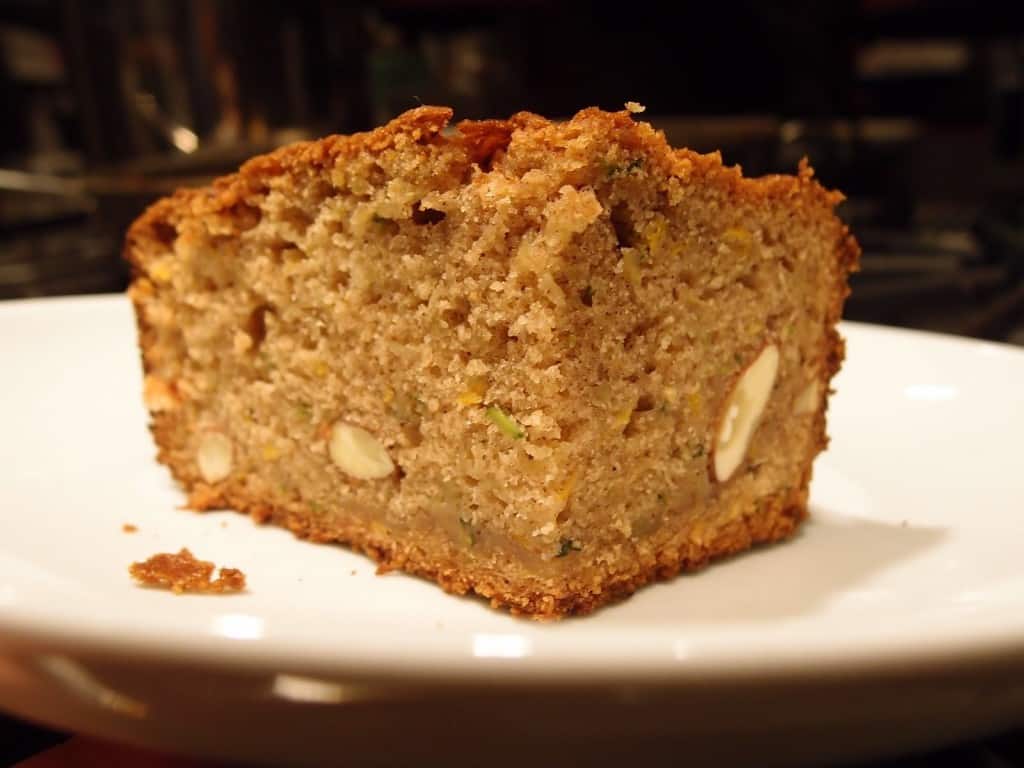 Triple Batch Almond Zucchini Bread.
For when you have a small mountain of zucchini to use up. Makes 3, 9×9 pans of bread, or about 4-6 loaf pans (depending on how deep you fill them) or about 4 dozen large muffins. Recipe can be halved or thirded ("Thirded": real word! I Googled it!).
Dry Stuff:
9 cups all purpose flour (substitute half whole wheat, if desired)
1 tbsp salt
1 tbsp baking powder
1 tbsp baking soda
3 tbsp cinnamon
Wet Stuff:
9 eggs
3 cups oil or melted butter (I used olive oil)
6 cups sugar
1.5 cups yogurt OR scant 1.5 cups milk + a glug of apple cider vinegar to bring it to 1.5 cups
3 tbsp almond or vanilla extract (depending on how almondy you like it)
Add Ins:
9 cups well drained, shredded zucchini
3 cups chopped almonds
Method:
Adjust your oven racks to the center, and preheat the oven to 325 degrees. Grease and flour your baking pans of choice. I used three 9×9 square pans, which necessitated periodic pan rotating to keep them baking evenly. Whatever works for you works for me.
Whisk the Dry Stuff together in a big (and I mean big) bowl. Mix the Wet Stuff together in a medium bowl. Dump the Wet Stuff into the Dry Stuff and stir everything together until combined.
Stir in the Add Ins.
Bake until done, about 20-25 minutes for muffins, 45 minutes to and hour or more for square and loaf pans, depending on how deep you fill them. Just check them every 10 minutes or so and when a skewer inserted in the center comes out clean, they are done.
Remove pans to a rack to cool for a few minutes, then turn out of pan and allow to cool completely. It you aren't feeding an army, wrap well and freeze for several months.
In Pictures

Volume baking to deal with the last burden bounty of zucchini

Eggs look spaceshipy and cool sinking under a few cups of oil.

A rainbow of eggshells.
Stirring together the batter and the mountain of zucchini.
Completed big batch of zucchini bread!
3