Well, hello, you gorgeous, sweet-talking readers. I think I'd like to buy you a drink, just to say thank you for the unexpected and lovely outpouring of anti-troll support you laid on me last week. That was….wow. It was wow. Please know I appreciate it, and I have no intention of letting a few anonymous jerk-wads derail this blog.
Since I can't actually buy everyone a drink, I'd like to do the next best thing. Giveaway!
If there's anything better than a gardening book, it's a gardening book with a drinking problem, and I've got one that lives up to that promise.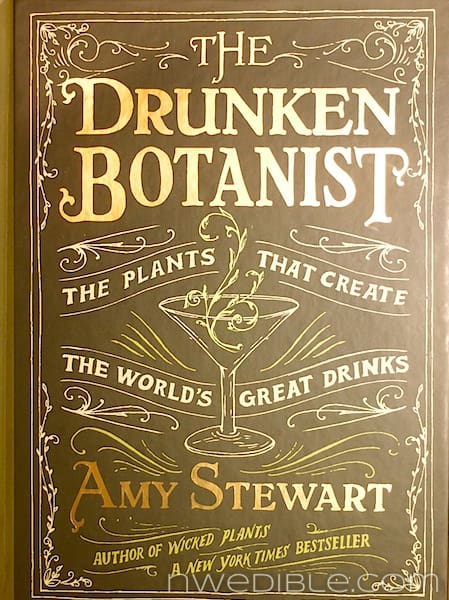 I happen to have two signed copies of The Drunken Botanist to give away, which is kinda cool since this book isn't even being released for sale until March 19th.
The Drunken Botanist is the latest work of staggering genius to come from Amy Stewart, author of many books including Wicked Plants and co-founder of the fabulous blog, Garden Rant.
The story of how Amy (New York Freaking Times Bestselling Author) Stewart handed me a few copies of her book after the Northwest Flower and Garden Show isn't nearly as flattering to my garden writer reputation as you might think – she has no idea who I am.
No, basically the extra copies were just too heavy for Amy to lug back on the plane, and I threw myself in her path as a willing book porter. I think I basically jumped up and down with my hand in the air yelling, "Oooh, pick me! Pick me!"
Did I ever claim to have a lot of shame when, after several herbal cocktails, free books were up for grabs?
No. No, I did not.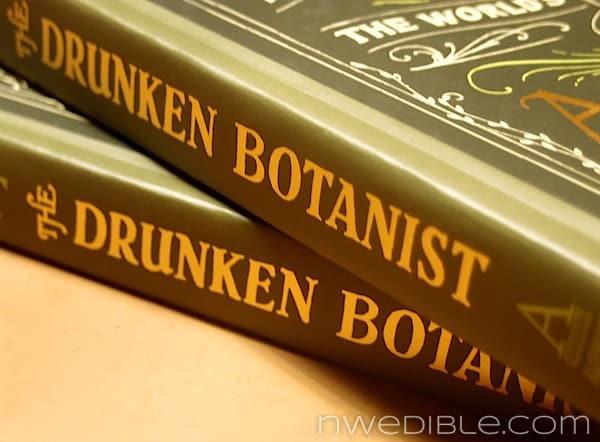 Which brings me to The Drunken Botanist.
Next time you pull a piece of silk from between your teeth while you are eating a fresh ear of corn, remember that you've just spat out a fallopian tube.
Summer barbecues will never be the same: "Is that a fallopian tube in your teeth, or are you just happy to see me?" Yes, this book will change the way you look at plants, even if you already think you know them pretty well.
Stewart manages to turn a seemingly random botanical collection of grains, herbs, spices, fruits and vegetables into a fascinating guidebook to anything that could end up in a cocktail glass or beer stein. She crams cocktail recipes, history, accessible science, varietal suggestions and growing tips into The Drunken Botanist, and keeps the whole jaunt really fun to read.
The only thing this book doesn't have that you might expect is detailed instructions on how to actually make hooch. There are instructions for simple infusions and cordials, but this is not a winemaking, homebrewing or distilling how to book.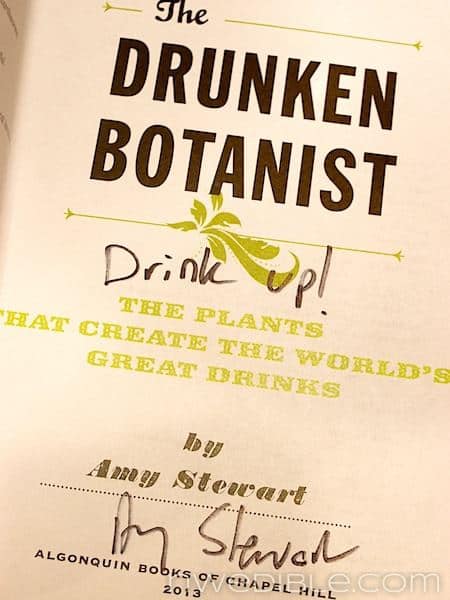 As if combining plants and booze isn't hedonistic enough, the book itself is a joy to hold and page through. The paper feels burnished, and the color, typography and graphic flourishes are vintage-fun. This is the kind of book-lover's book that makes you hope Kindles and Nooks never completely take over.
To enter to win one of two copies of The Drunken Botanist, leave a comment below telling me how you use the harvest in your own creative mixology ("Pineapple Sage Mojito!") If you don't drink booze, non-alcoholic beverage refreshment options are welcomed, too!
Contest open until Thursday, March 21st at 8 PM PDT. US residents only, please, because of shipping constraints. Two winners will be selected randomly and notified by email.
Good luck, and thanks again for being wonderful.
2