I can't explain how much I love this book.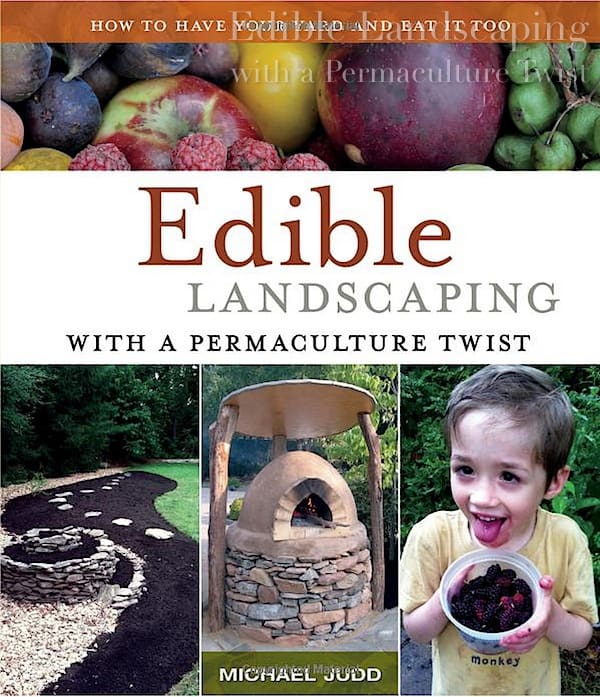 The author, Michael Judd, sent me a copy and asked me to take a look at it. This kind of thing happens with some regularity, so I have this huge stack of books that are already in my "read and review" pile. I know if you're a nerd like me, this sounds like the best possible problem in the world, but the truth is I feel terrible about just not having the time to tell the world about every book that comes over my desk.
So now I try to set realistic expectations when people tell me they want to send me a book. "I have kind of a long list of books to review, but sure, send it to me. No promises," I told Michael.
What arrived was the best Permaculture book for true beginners I've yet seen. Edible Landscaping With A Permaculture Twist isn't a definitive guide to permaculture. It doesn't get poetic about the philosophy of multi-systems care that underlies a Permaculture system. It does not ask you to draw a complex schematic of your home topography before you take shovel to soil.
Instead, it provides clear, actionable techniques that you can use to bring some easy-care Permaculture style into your garden. You know how sometimes authors tell you too much and then you get kinda intimidated and don't know where to begin? This happens a lot in Permaculture writing because Permaculture includes, like, everything. All the things get balanced and thoughtfully considered in a thriving Permaculture design.
How do you narrow "everything" down into something a beginner can really grok? How do you boil the the complexity of system-stacking and layering and watershed-style irrigation management and cooperative plant guild design and more into something that makes a beginner say, "hey, that looks fun! I can do that!"
This book has done it.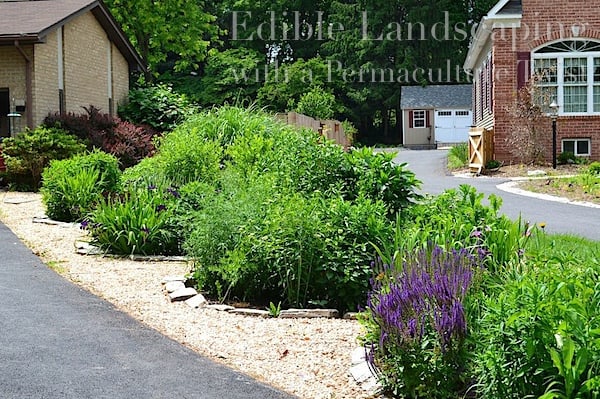 Edible Landscaping with a Permaculture Twist managed to demystify things that have left me confused for years – like how and why to build swales on the contour of your ground and the big picture overview of what to stick together for a happy fruit tree guild.
For the Permacurious beginner like me, a giant table full of every possible nitrogen fixing shrub doesn't actually help me to understand how to create my own successful guilds. A picture, a basic "recipe" and a list of a few proven guild companions to start with is just right.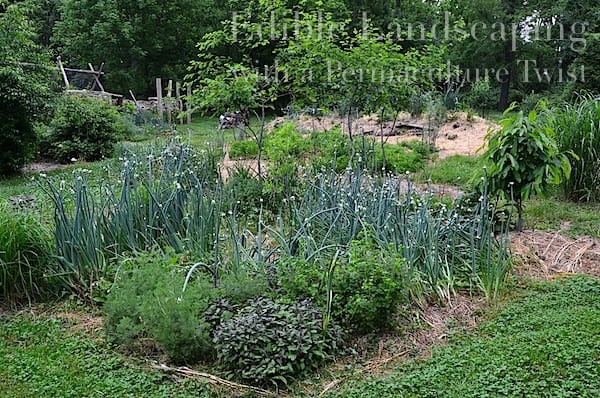 This book is full of cheerfully presented but dead-useful advice, illustrations and photos that really help to clarify key Permaculture techniques and make that system of garden design seem eminently do-able at any scale. I really feel like Michael has managed to strip out everything that didn't need to be in a practical Permaculture primer and capture everything that did.
I am currently planning to rework the perimeter beds around my patch of lawn (soon to be eco-lawn!) into something a little more food-foresty. The chapter on Uncommon Fruits has been so helpful – I feel like someone else has given me the cheat sheet of what to plant.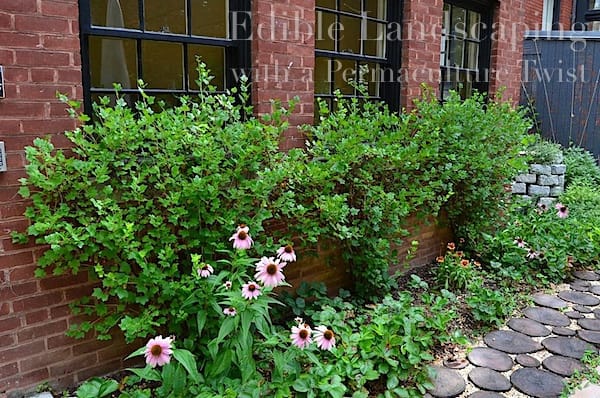 So, all in all, a great introduction to Permaculture techniques that will be especially useful to the beginning Permaculturist and folks (like me) who prefer a hands-on approach to learning and just want to jump in and see what happens.
This book will give you the info you need to jump into Permaculture successfully without bogging you down in details you probably don't need to worry about yet (when it comes time to select that perfect nitrogen fixing shrub, the entire internet is there for you).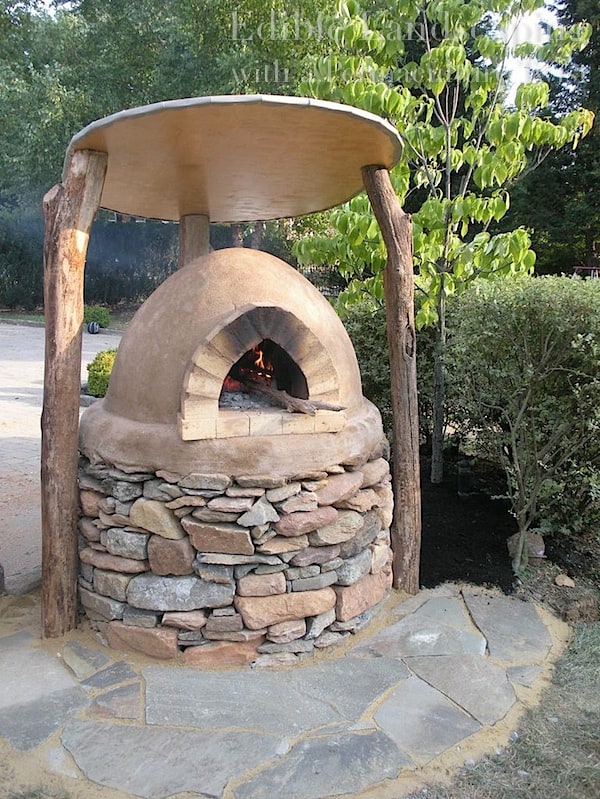 Edible Landscaping with a Permaculture Twist has a fun, you-can-do-this tone and the book itself is of good production quality, with full-color printed, gloss pages throughout. The fact that there are periodic cocktail recipes in the book doesn't hurt my estimation of it, either.
Highly recommended.
To give you an idea of what's covered the book, it's  a easy-reading 143 pages long and covers herb spirals, rainwater harvesting, swales and rain gardens, growing specialty mushrooms, food forests, uncommon fruits, fruit tree care and pruning, grafting, hugelkultur, earthen ovens, how to make cob bricks, and a few thoughts on creating high-margin products from your edible landscape to make a homestead life more financially feasible.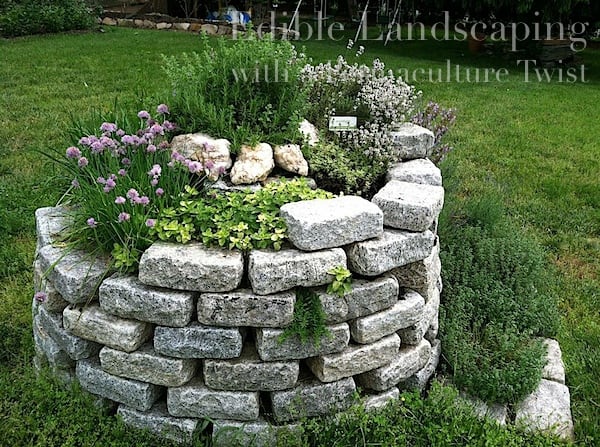 Giveaway!
Michael, the author, is offering up three free copies of his book to readers of NW Edible. To enter to win, go like the Edible Landscaping with A Permaculture Twist page on Facebook (they post all kinds of good info on useful plants).
Then, come back here and comment on this post. Tell me what you're most interested to learn about edible landscaping or permaculture and confirm that you like the Edible Landscaping page on Facebook. If you hate Facebook and are a social media conscientious objector, that's fine too, just let me know.
Fine print: Open to US residents only due to shipping costs. One entry per person, additional entires will be disqualified. Three winners will be chosen. Each winner will receive one copy of Edible Landscaping with a Permaculture Twist. Contest open until Wednesday, March 12th, 8 PM PST. Winners will be emailed and will have 24 hours to respond to claim their prize or another winner will be chosen.
Purchase
If you are not a giveaway winner but want to get your hands on a copy of Edible Landscaping with a Permaculture Twist, it's available on Amazon (check out those reviews! I'm not the only one who loves this book!) or directly from the author. If you buy from Michael, he'll sign your copy of the book and you'll get the warm fuzzies of knowing more of your money is going directly to the work's creator. 
All images except cover shot courtesy Michael Judd, used with permission.
3