Nearly every backyard urban chicken keeper I know has kids. Part of that is probably my demographic (mid-thirties suburban mom in yoga pants – I'm a walking cliche) but I think part of it is that parents my age want their kids to see where food comes from in a way that maybe we didn't, growing up in the Age of The TV Dinner.
And it's true: many people are shockingly ignorant about what it takes to get food to a dinner plate. Take the genius behind this rant: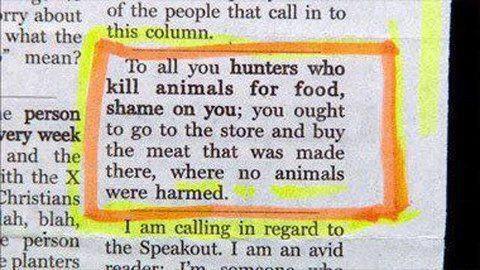 Go ahead, smack your head against your desk for awhile. I can wait.
Hens are such an easy, fun way to reintroduce some food-system reality back into the average kid's life, it's really no wonder so many parents are saying yes to the backyard coop. Plus, you know, eggs.
If you are like me, you want your kids to have a good experience with the hens and be eager to interact with them, so the breed of chicken you select is important.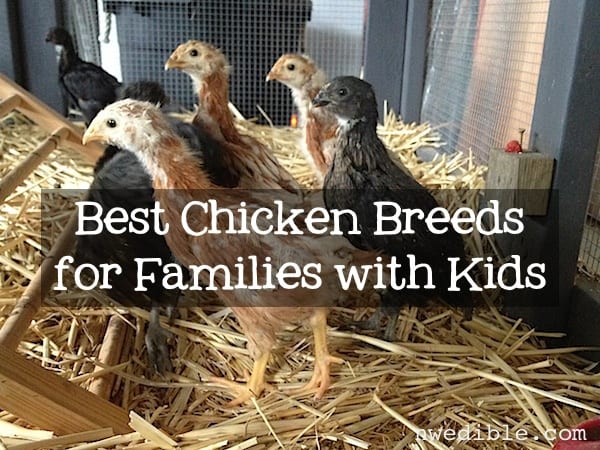 Different folks are looking for different things from their chickens, but if you have kids, you probably want a hen that is calm, docile, not-flighty and does generally well with backyard-scale confinement. Birds that your kids can catch, pick up, hold and interact with without fear are critical to everyone having a good experience raising chickens.
Some of the most popular chicken breeds fit this particular bill nicely, including Cochins, Orpingtons, Australorps, Wyandottes, Plymouth Rocks, Sex Links, Delawares, Faverolles and Sussex. These birds tend to be heavier, dual-purpose birds (suitable for egg or meat production) with a mellow personality.
Even though they are amazingly productive layers, I'd stay away from light-weight commercial egg producers like White Leghorns, which tend to be flighty and nervous. Leghorn Crosses, like the Austrawhite (A White Leghorn – Black Australorp cross) can give you a personable bird with great egg laying productivity.
I'd also avoid breeds known to be aggressive or bossy like Rhode Island Reds and Game breeds, as these can bully other birds in a mixed flock.
Picking the right breed of bird is only part of the equation to a kid-friendly flock, though. Chickens are individuals and have their own personalities. We have one Buff Orpington that is a dream chicken – in a home where chickens are not pets, she's a pet. We have another Buff Orp – same breed – that I cannot stand. She's not actually violent, but she's nervous, flighty, nearly impossible to pick up, loud as hell, and phenomenally, mind-bendingly stupid.
So chickens have their own little personalities, and you don't always know what you're gonna get even within a breed. But you do want to bring out the best in your family flock, and that means not stressing your birds. Make sure your hens have enough room and are not overcrowded. Allow a natural pecking order to establish (hens need to know where they stand in the Mean-Girls-ranking) but don't allow bully-birds to terrorize a flock.
Kids have to do their part, too, so teach them to be calm, gentle, and slow-moving around the birds. My daughter is like the chicken whisperer. She naturally has a calm, mature, old-soul type personality and can get close to all our hens, even the ones that are a bit more skittish.
My son (three years old and prone to charging the chickens like a Golden Retriever Puppy) has different results in his interaction with the chickens as you might imagine. We are working with him to use his walking feet and not scare the birds.
I have mixed feelings on how much early handling of the birds really makes a difference in personality. For sure, let your kids pet and hold and snuggle with chicks (gently and with appropriate supervision, of course). It's adorable!
But in my experience the amount of handling doesn't directly relate to the eventual demeanor of a grown hen. I have a theory that chickens are more influenced by what other chickens think, and so in any given flock, birds lower in the pecking order will tend to be more docile with kids. I don't have any evidence for this, it's just been our observation.
We have tried to build a mixed flock that would be great with our kids. Our flock currently consists of Barred Rock, Buff Orpington, Austrawhite, Easter Egger, Black Sex Link and Red Sex Link hens.
Sex Link hens get mixed reviews on personality – they are hybrid birds but the lines used to breed them out aren't set in stone, so I think this explains why some people call them boring or standoffish and some people love them. We adore both our Red and Black Sex Links. We have found ours to be curious, calm – the Reds are especially docile – quiet and exceptional layers. We will be getting more when we refresh our flock this spring.
What breeds of hens do you think are particularly good for families with kids?
43