Yesterday, as I chopped, dropped, and tried to cram just a few more blueberry bushes into my garden, it was obvious. The apple blossoms, the eager tips of asparagus, and the carpet of germinating calendula made it undeniable. Spring is here.
If you are a gardener and you do not see magic in the ripe swelling of the bud, the spread blossom that yearns to grow into an apple, the unfurling of the seed leaves – well, then I humbly suggest that you find another hobby.

This is the time for magic, for awe, for wonder. I am no mystic. I am a lover of science, a girl who who understands the biology of the springtime rites, the simple water-pump mechanics of a plant. I know there is an explanation more rational than Miracle of Creation, than Horned One and his Consort.
And yet, if you see the bud and the sprout and you do not feel a pull and tug in your deep core that is beyond those elements of understanding, the garden is not the right place for you.
Perhaps actuarial accounting would suit you better?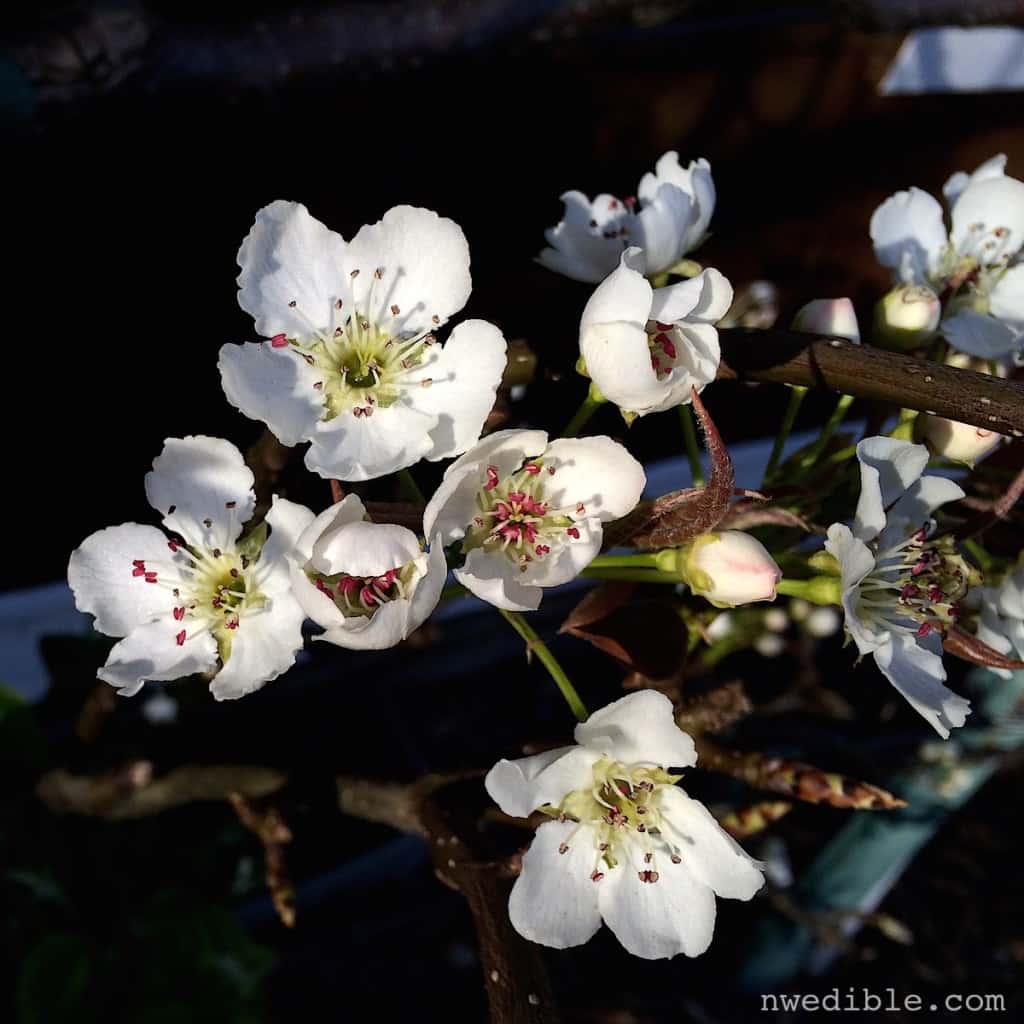 My friend and mentor (though I claim both terms only with the trepidation that she will disown them) Margaret Roach calls her very excellent garden writing "Horticultural How To and Woo-Woo."
Spring is a time for woo-woo, my friends. Summer, with all those leaf spots and blights and mildews to sort through rationally will challenge your horticultural how-to, but for now, let us sink deep into the beautiful woo-woo of the spring time garden.
Is it magic to believe I can feel nature's stirrings when I press my palm against the sun-warmed soil?
Is it woo-woo to feel that the fresh foods I can gather this time of year are simply more potent than any other I will taste throughout the year? To think the wild watercress and the nettle has power in it for rushing the gate of the seasons and proving itself first to nature's market?
Perhaps.
Perhaps this is the same woo-woo that tells birds or whales how to find their migration route, year after year. Perhaps it is the same magic that gifts certain generations of Monarch butterflies with the strength and agility to fly far beyond their peers.
Perhaps the magic is in the learning, as Dar Williams once sang. I do not claim to know. After a decade of throwing myself on the wisdom of my garden, twice a year I feel nature twist. I know in my gardener bones–way past the book learnin'–that the woo-woo is upon us. And I rejoice in it.
Our first change is happening now, as Winter passes her torch to Spring. Some years that sleepy, fridge crone is hesitant, unsure about this new, maiden upstart. This year, Grandma Winter seems happy to duck out and let Fair Spring spin her tale of rebirth. I'm guessing she has a bingo game to attend.
When subterranean Persephone rises, life proves (as always) to be its own justification. That bright, lime green of new growth, those fat, phallic spears of perennials thrusting through the gently warmed soil, the hum of bees freed from their winter ball of frenzied snuggling – all emerge as Nature's declaration that life will find a way.
This is the first moment of woo-woo, the magic of the declarative re-awakening. Every year it is incredible; a giant billboard that we will feast for another year. And every year it deserves our child-like wonder.
There will be another moment of awe, later this year, when the hot frenzy of the season matures into calm middle age. I know this from experience. I have felt it many times. It will happen sometime in August, when the puckered lips of summer still kiss our necks and tempt us with bounty and glistening harvests. The days will feel hot and sultry, but something in the light will have changed.
And like a casual lover who knows her moment has faded, Summer will begin to gather her things. "Another suitcase in another hall," sings Summer, loved hard and then shown the door. She packs up hastily, forgetting a shoe, leaving an unmade bed and a dirty ashtray behind her.
And at this moment Fall the Wife will be walking in, looking around in her sensible but not entirely unsexy shoes, and assessing what it will take to settle in and make her place for the long haul.
Fall will bring her own magic – the magic and the beauty of a season that knows she dazzles because of those crinkly patches that show up when she smiles, not despite it.
But Fall is not our goddess now. For now, we embrace the delicate maiden of Spring and thank God that another season of growth, rebirth and renewal is upon us.
0