My maternal grandmother was born and raised in England, and though she lived in the U.S. for decades, her Union Jack pride never flagged. Commemorative plates of Princess Diana decorated her walls, and she insisted on driving north to Vancouver, B.C. periodically to buy tea. "You see," she insisted firmly, "there is no decent tea in this country."
Every St. Patrick's Day her son-in-law (my father) would call her up, put on his best fake-Irish brogue, and wish her a wonderful St. Patrick's Day from one child of Ireland to another. He would ask if she was enjoying a wee Jamison and a nice plate o'potaters on this fine day.
This was flat-out teasing, a form of nationalism-rankling my father held to as a holy tradition. My grandmother would always tee hee and say, "Oh, Greg!" in exasperation.
St. Patrick's Day is next week. Ireland has no snakes, the shamrock is a nitrogen fixer and whiskey is de rigueur. Now that's a day worth celebrating.
Let's make a cake.

I don't know where the horrible tradition of adding green food coloring to perfectly nice baked goods (and beer!) for St. Patrick's Day came from, but that shit doesn't fly here.
In fact, this cake is so dark and rich and chocolatey, when I photograph it, it's practically black and white.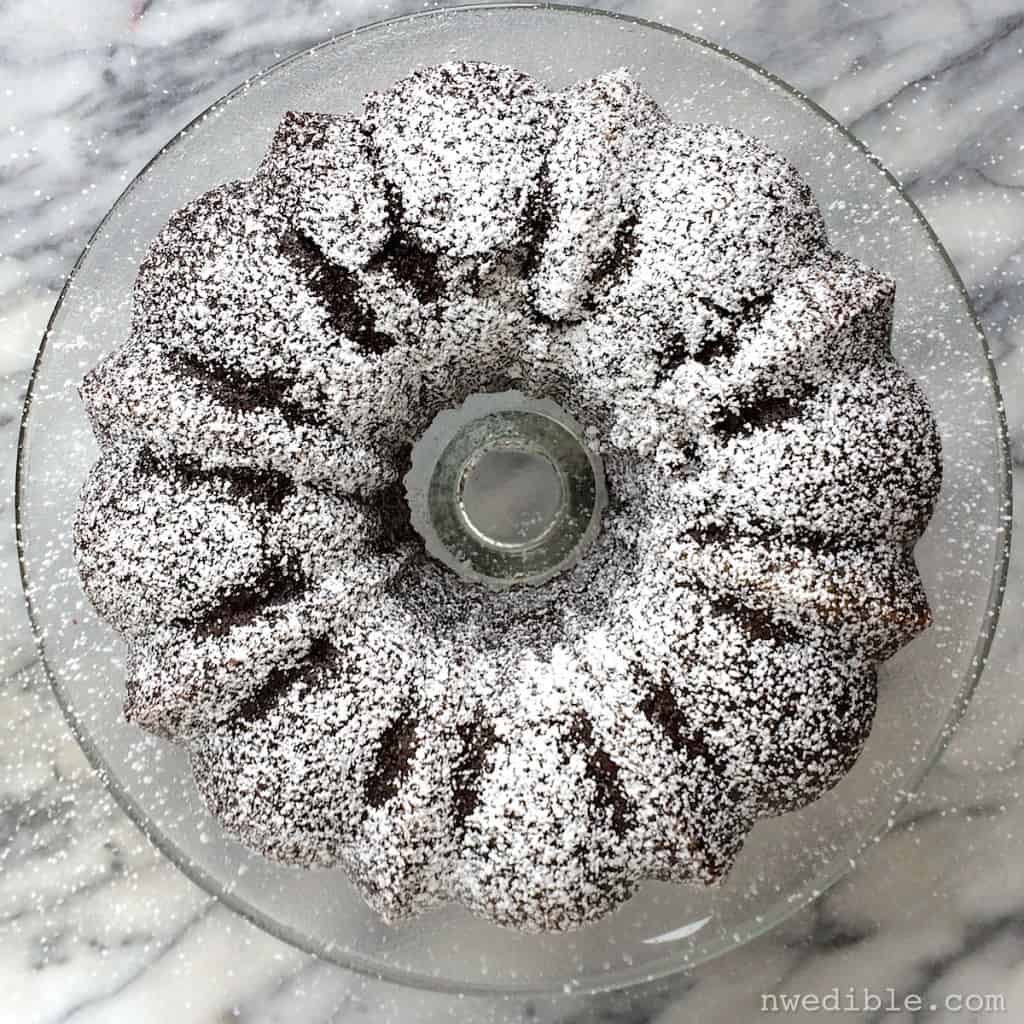 The addition of Guinness makes this cake perfect for a St. Patrick's Day dessert. The stout adds an extra creamy richness and just the slightest hint of pleasant bitterness that is perfect with the chocolate base.
Even my son can't resist checking out that cool Guinness foam.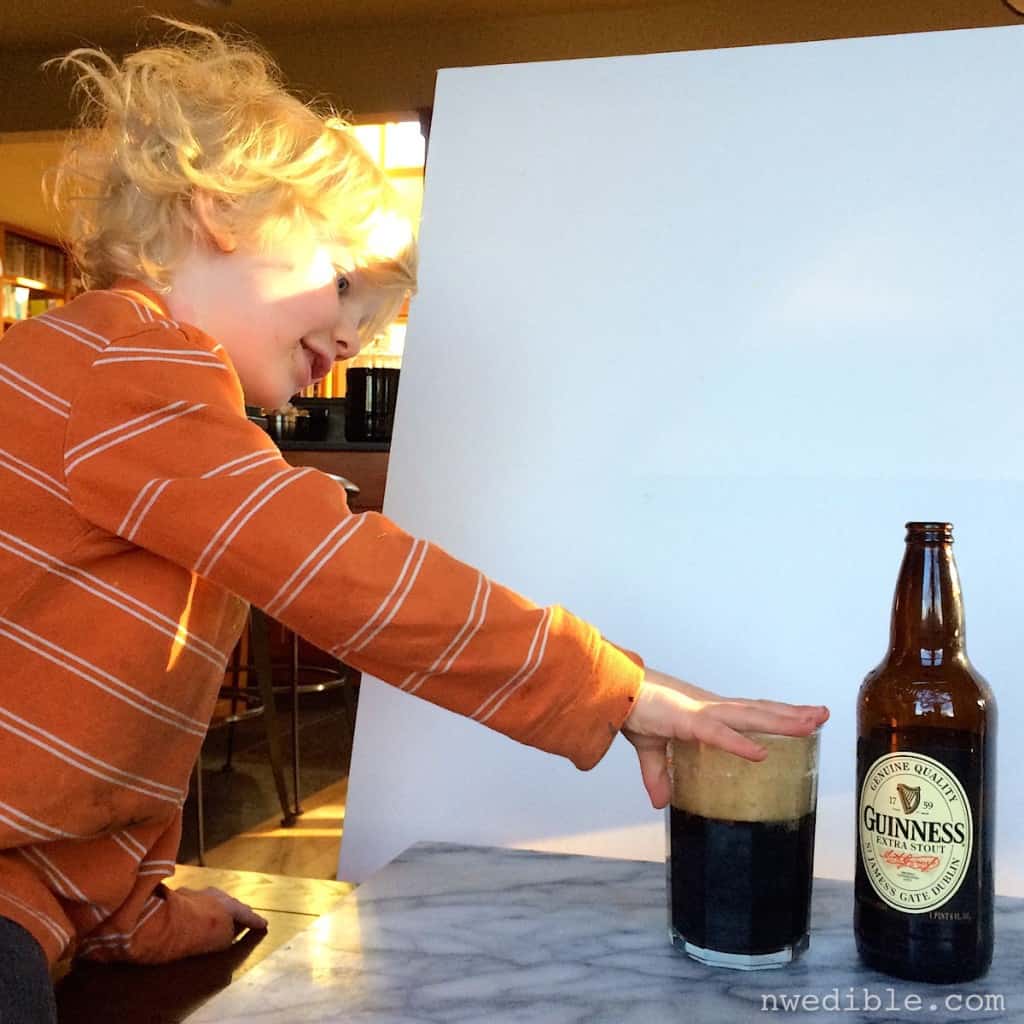 While the flavor is all sophisticated and grown-up, this is an easy and quick dessert. The wet and dry ingredients are mixed separately, then combined. Even if you think you aren't a baker, you can make this cake.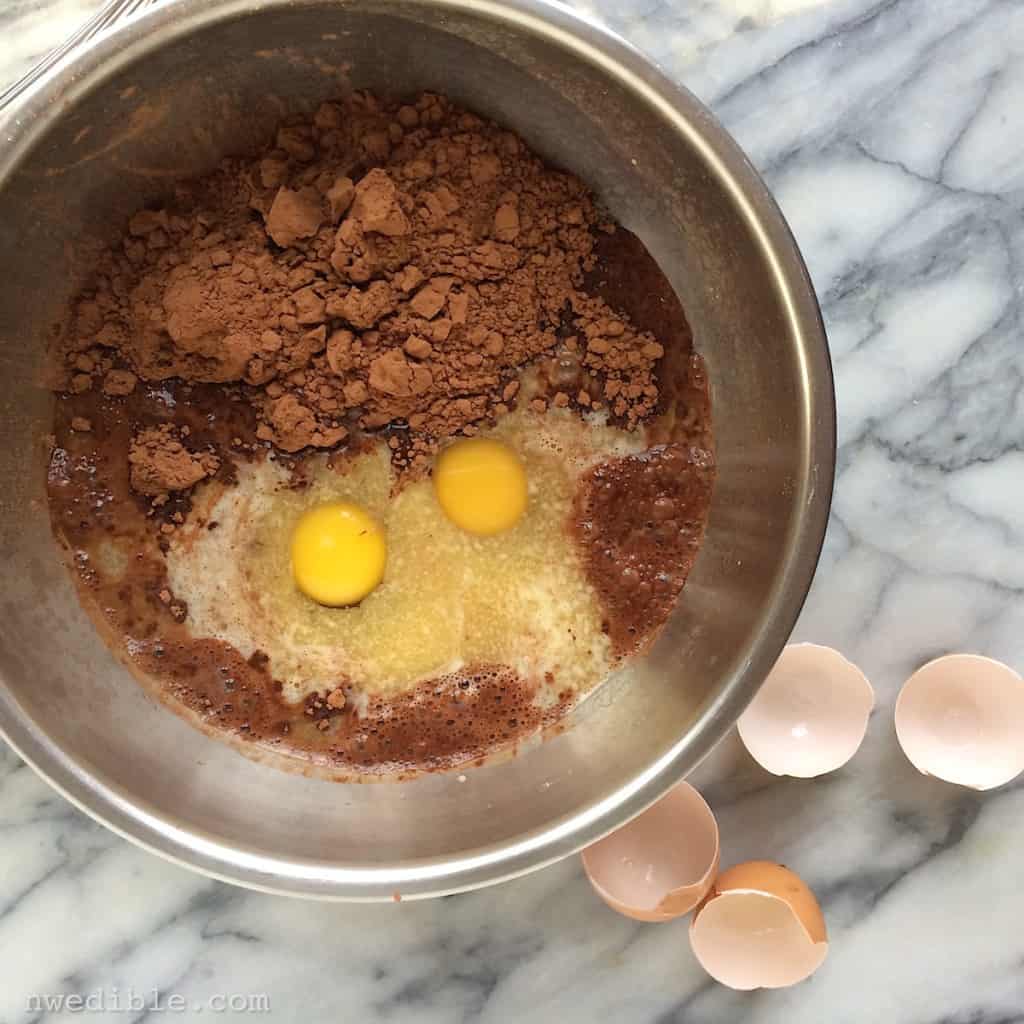 I used my bundt pan to bake this cake which makes the final presentation pretty without any real work, but a deep, 9-inch round pan will work as well.
Whatever pan you opt for, grease and flour it well. This batter likes to stick to pans unless a little care is taken. If you bake this cake in a pan without a bunch of crenulations, cut some parchment to fit and stick that in there too. Extra insurance and all that.

When the cake comes out of the oven, let it cool all the way in the pan before trying to unmold. Then, invert it onto a cooling rack.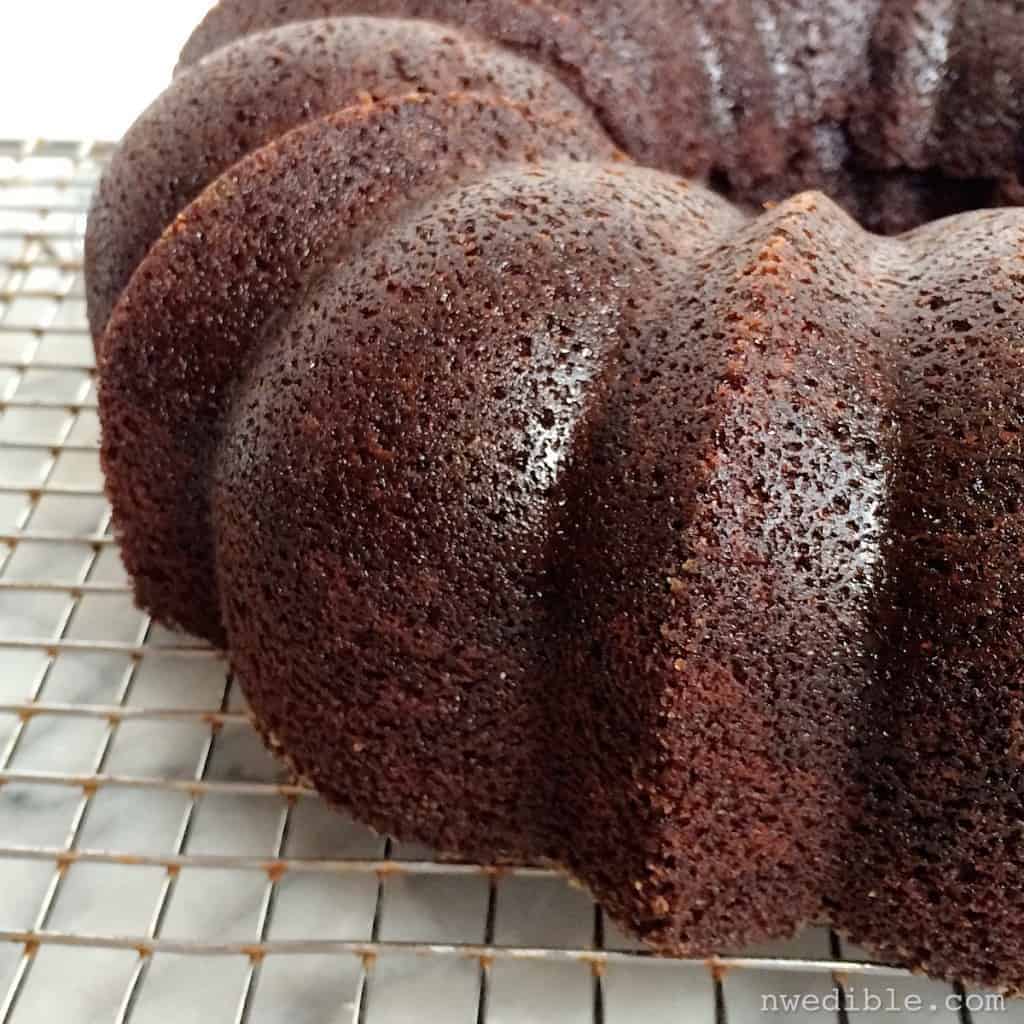 Just before serving, dust with powdered sugar to make it all pretty-like. Check out that crumb. That's some nice crumb.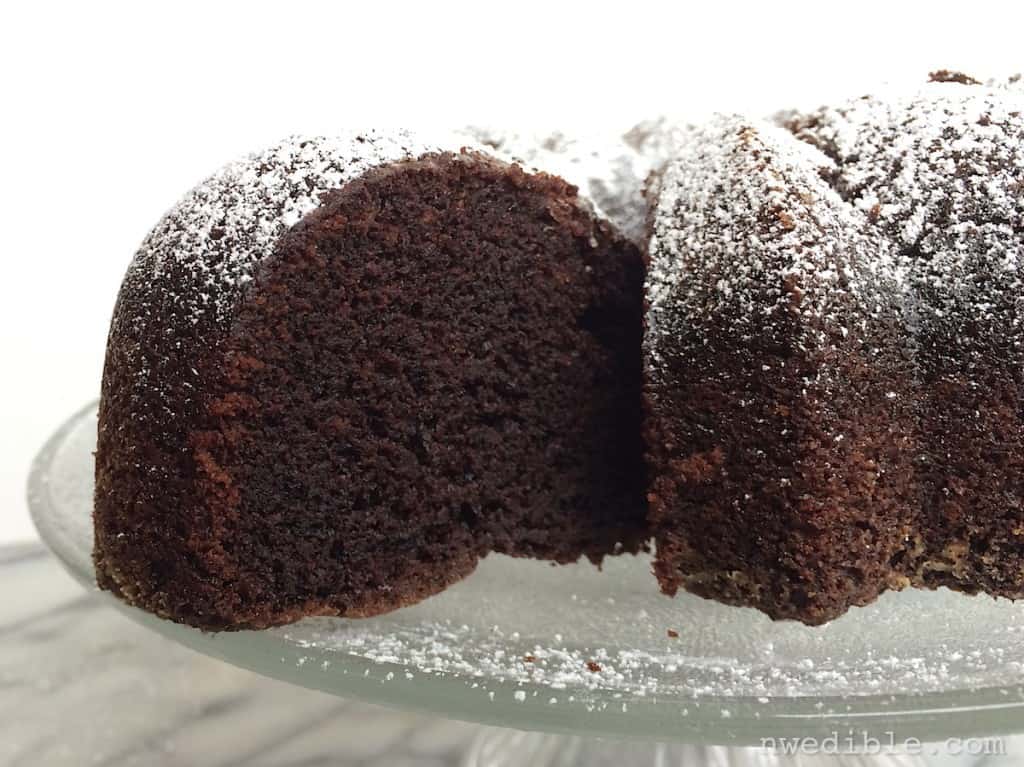 I think this is plenty lovely to serve just as it is, but if you want to guild the lily, a scoop of coffee or caramel ice cream would not be out of place.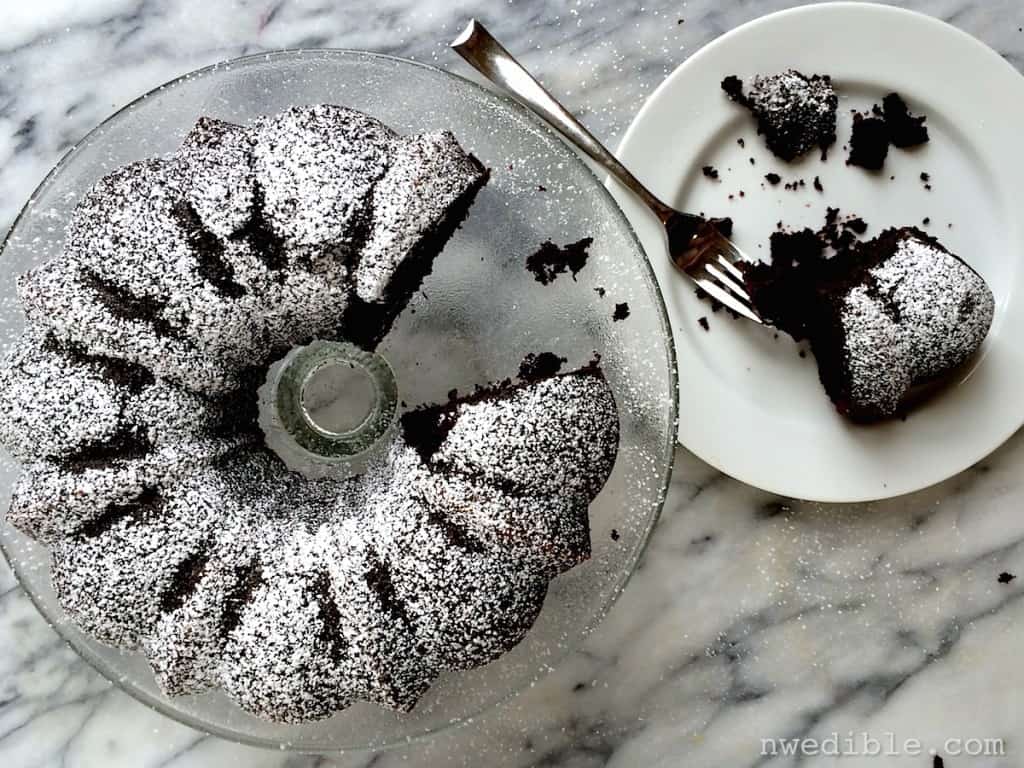 Printable Guinness Chocolate Cake Recipe
This is Nigella Lawson's recipe. I don't know which of her many books it first appeared in, but I saw it first in the New York Times.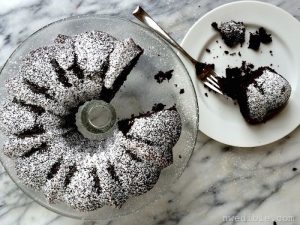 Print
Guinness Chocolate Cake
Yield 12
Rich, moist chocolate cake with a hint of stout - perfect for St. Patrick's Day! Original recipe by Nigella Lawson, shared at the New York Times.
Ingredients
Butter and flour for pan
1 cup Guinness, or other stout
¾ cup unsweetened cocoa powder
2 cups superfine sugar
¾ cup sour cream
2 large eggs
1 tablespoon vanilla extract
5 oz. (10 tablespoons) butter, melted
2 cups all-purpose flour
2 ½ teaspoons baking soda
1/4 teaspoon kosher salt
Powdered sugar, to dust cake
Instructions
Adjust the oven rack to the lower-middle position, and preheat your over to 350-degrees.
Butter and flour a bundt cake pan or a 9-inch round, deep cake pan. This cake can tend to stick to the pan, so be thorough with the greasing and consider using a non-stick pan if you are comfortable doing do. If you are using a round cake pan, cut a piece of parchment paper to fit the pan.
In a medium bowl, combine the Guinness, cocoa powder, sugar, sour cream, eggs and vanilla extract. Whisk the wet ingredients until the mixture is uniformly smooth, then pour in the melted butter and stir to combine.
Sift the flour, baking soda and salt together into a large bowl. Make a well in the center of the dry ingredients, then pour the wet ingredients into the dry and stir gently until thoroughly combined.
Pour the cake batter into the prepared pan, and bake for 50-60 minutes, until the skewer inserted in the middle of the cake comes out clean.
Let the cake cool all the way in the pan, then invert onto a rack. Just before serving, dust the top of the cake generously with powdered sugar.
Courses Dessert
1