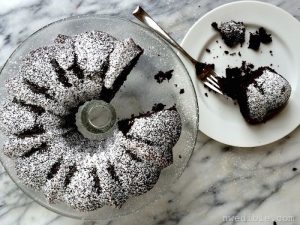 Guinness Chocolate Cake
Yield 12
Rich, moist chocolate cake with a hint of stout - perfect for St. Patrick's Day! Original recipe by Nigella Lawson, shared at the New York Times.
Ingredients
Butter and flour for pan
1 cup Guinness, or other stout
¾ cup unsweetened cocoa powder
2 cups superfine sugar
¾ cup sour cream
2 large eggs
1 tablespoon vanilla extract
5 oz. (10 tablespoons) butter, melted
2 cups all-purpose flour
2 ½ teaspoons baking soda
1/4 teaspoon kosher salt
Powdered sugar, to dust cake
Instructions
Adjust the oven rack to the lower-middle position, and preheat your over to 350-degrees.
Butter and flour a bundt cake pan or a 9-inch round, deep cake pan. This cake can tend to stick to the pan, so be thorough with the greasing and consider using a non-stick pan if you are comfortable doing do. If you are using a round cake pan, cut a piece of parchment paper to fit the pan.
In a medium bowl, combine the Guinness, cocoa powder, sugar, sour cream, eggs and vanilla extract. Whisk the wet ingredients until the mixture is uniformly smooth, then pour in the melted butter and stir to combine.
Sift the flour, baking soda and salt together into a large bowl. Make a well in the center of the dry ingredients, then pour the wet ingredients into the dry and stir gently until thoroughly combined.
Pour the cake batter into the prepared pan, and bake for 50-60 minutes, until the skewer inserted in the middle of the cake comes out clean.
Let the cake cool all the way in the pan, then invert onto a rack. Just before serving, dust the top of the cake generously with powdered sugar.
Courses Dessert
Recipe by Northwest Edible Life at https://nwedible.com/easy-guinness-chocolate-cake-for-st-patricks-day/