I recently chatted with my friend Margaret Roach on her radio show, A Way To Garden, about yogurt making. One of the things we discussed was if home yogurt makers can skip the traditional step of heating the milk to 180-degrees and then cooling it back down to 110-degrees for culturing.
As it turns out, yes. Sometimes. But first, a little background.
Yogurt making is insanely easy once you get the hang of it. Fresh milk is inoculated with thermophilic (heat-loving) beneficial bacteria. The bacteria culture the yogurt by eating milk sugars and making lactic acid. As the lactic acid builds up in the milk, the pH drops until eventually the milk proteins coagulate into the soft, tangy curd we know and love as yogurt.
Those beneficial yogurt-makin' bacteria are a bit like Goldilocks. Too hot and they die, too cold and they don't work fast enough to protect the milk from spoilage organisms. They are happiest at around 110-degrees. That's their "just right" zone. The only real trick to yogurt making is figuring out how to keep the inoculated milk at 110 degrees for several hours. On her show, Margaret and I discussed several methods to keep the yogurt at the right temperature, so take a listen if you don't have your personal yogurt mojo dialed in yet.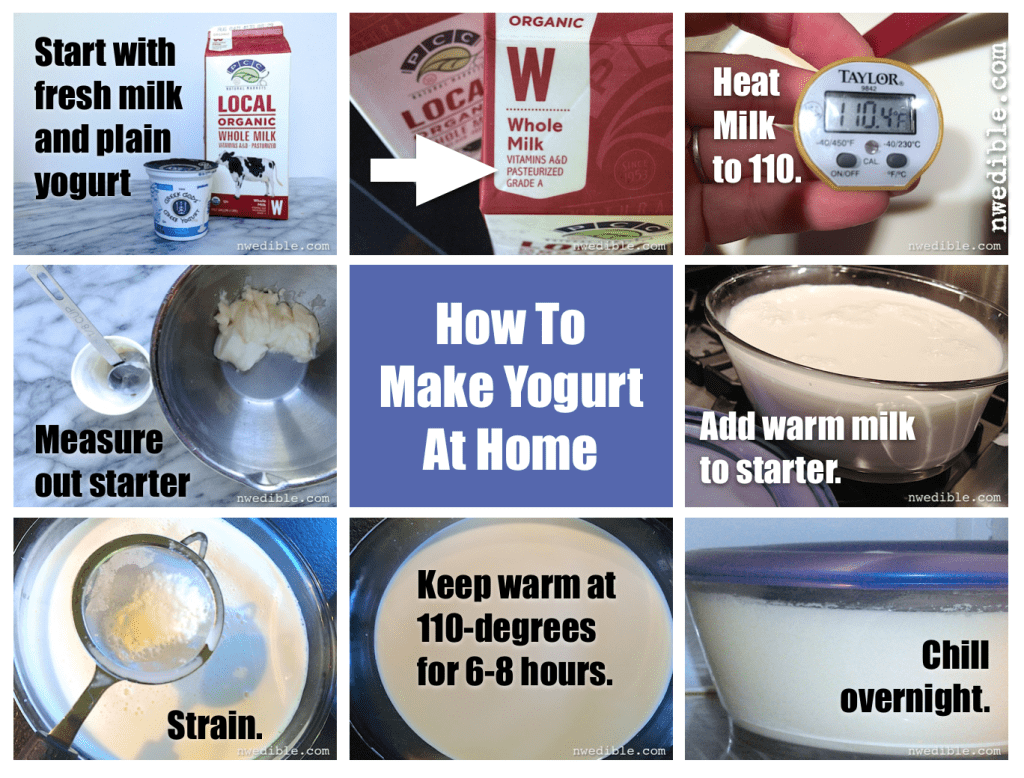 Okay, back to that question of heating milk intended for yogurt making to 180 degrees. There are two reasons why milk is traditionally scalded – brought to a simmer – before being made into yogurt.
The first is to kill off any wild bacteria, yeast or mold spores that might have fallen into the milk. This is important because you want your preferred lactic-acid bacterial strains to do the culturing of the milk, not get outcompeted by various mystery microbes.
The second advantage to the heating stage is that the most abundant protein in the whey of in milk – lactoglobulin – fully denatures and unfolds at about 172-degrees. This allows those proteins to bind to some of the other proteins in milk, called caseins. Ostensible result: a firmer, thicker yogurt curd.
Since I last demonstrated yogurt making on this blog several years ago, I've refined my own yogurt making technique and one of the things I've stopped doing is first heating the milk to 180, then chilling it to 110.
Here's why.
I start my yogurt making with fresh, store-bought, pasteurized milk. When milk is commercially pasteurized, there are a few combinations of time and temperature that can be used, and the most common of those is called High Temperature, Short Time (HTST) or "flash" pasteurization. In HTST pasteurization, the milk is brought up to between 160 and 165-degrees for about 30 seconds. This creates a milk that is reasonably sterile, which means we can ignore the first reason to heat the milk.
So that leaves the issue of the thicker curd. I wondered if heating the milk really mattered that much, so I did an experiment where I made two batches of yogurt with the same milk and same starter.
For one batch I followed the traditional method of heating the milk up to 180 then chilling it to 110 before adding the culture. The second batch I simply warmed the milk to 110 then added the culture directly. Both batches were cultured for about 8 hours before being chilled overnight.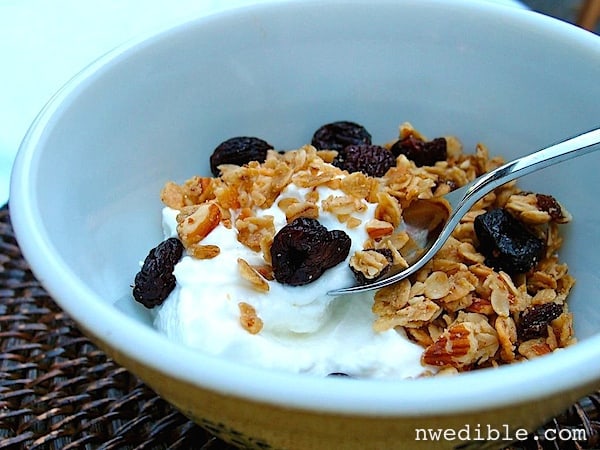 There were some minor differences in the final yogurt. The scalded-milk yogurt was a bit thicker, but not in any kind of dramatic or show-stopping way. And I actually preferred the texture of the un-scalded milk yogurt. It had a silken, very smooth texture that made the scalded-milk yogurt seem just a bit coarse in comparison.
So why was the difference in final yogurt thickness so minor, when every yogurt recipe seems to say that the initial 180 heat is somehow essential to making good yogurt?
As I see it, there are two possible reasons.
It's possible that the HTLT pasteurization heat-chill cycle does enough to denature the lactoglobulin to make scalding the milk unnecessary.
It's also possible that, when compared to the acidulation of the milk that takes place as the lactic bacteria culture the milk, the denaturing (or not) of the lactoglobulin just doesn't make that much difference. Sometimes things are done just because that's the way they've always been done and they become dogma. Starting with scalding the milk might just be yogurt dogma.
One more note about how I make and use yogurt that affects my decision to skip that heat-cool cycle: I strain almost all my yogurt to make a rich, Greek-style product and provide me with whey for breadmaking.
Lactoglobulin is one of the proteins in the whey, or the liquidy part of the famous "curds and whey" equation. Since I strain off a fair bit of the whey from my yogurt curd, any minor difference between scalded milk and non-scalded milk yogurt just doesn't seem to matter.
Cutting out that heat-cool cycle has made my DIY yogurt making far faster. Instead of shepherding milk gently up to 180 degrees without allowing it to burn, then stirring it to speed chilling back down to 110, I just warm it to 110 over medium heat. One or two stirs at this gentle heat is enough to keep the milk at the bottom from scorching.
This streamlined process cuts the hour-plus commitment of yogurt prep down to a quick ten or fifteen minutes plus inactive culturing time.
If I were starting with milk of unknown quality or raw milk, I would certainly still scald it before starting yogurt making, but if you start with freshly opening, pasteurized store-bought milk and plan on draining your yogurt anyway, you can reliably skip the scalding step.
What about you guys? Do you heat your milk to 180 degrees for yogurt making? Why or why not?
767