Here's a lovely way to save some time when you prepare apples or Asian pears for canning. Use an apple peeler-corer (see mine at work here) to make beautiful coils of automatically-cored firm fruit. The swirly fruit looks fantastic in the jar, and packs in well for a nice, well-filled raw pack.
Don't get too fussy about the end bits that never get peeled quite perfectly – they add to the charm when these jars are sitting on your shelf.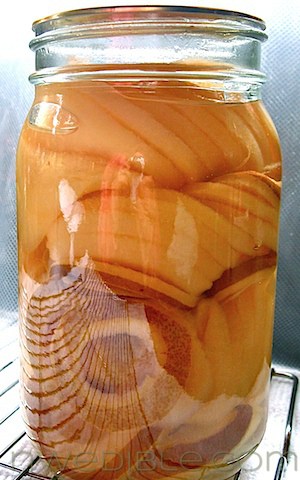 The fruit is all perfectly and evenly sliced right out of the jar.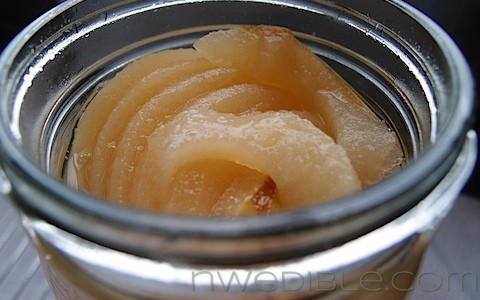 It uncoils like a slinky – kids adore this part!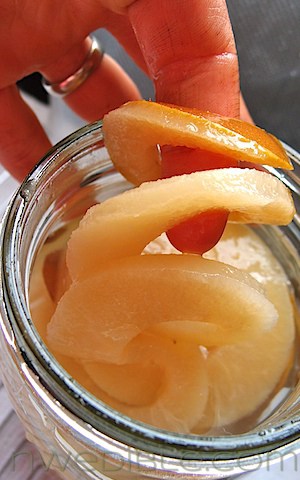 Out of the jar it's lovely too.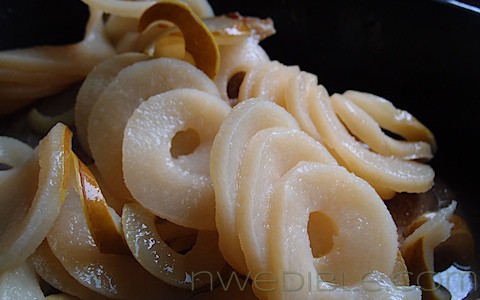 I wish I could take credit for this fantastic fruit processing time-saver, but all credit goes to my friend Fruit Lady, who gleans, preserves and donates hundreds of pounds of neighborhood fruit every summer that would otherwise go to rot on people's lawn. She hit upon the idea of using her apple peeler-corer when she was up to her ears in gleaned Asian pears and needed to get that fruit into jars and processing – fast.
I love the result and will be preserving pears this way myself this autumn. I do not know if the peeler-corer will work on teardrop-shaped European pears as well, but I intend to find out.
Would you can Swirly Fruit?
12