Early August and I'm not jumping for joy at the heat-lover yields I've been getting. A couple of eggplants, a half-dozen almost-ripe cherry tomatoes, a few small summer squash and one good red pepper.
But it's looking like maybe, just maybe, a harvest is around the corner. And until then, I'm doing great on potatoes and green beans.
Here's a few scenes from the garden right now.
Asian Pears are small but the earliest varieties are already sweet and juicy. Sometimes I "thin" 3 or 4 a day into my mouth while wandering the garden. Earliest apples are still a bit puckery, but they are edible and getting better every day.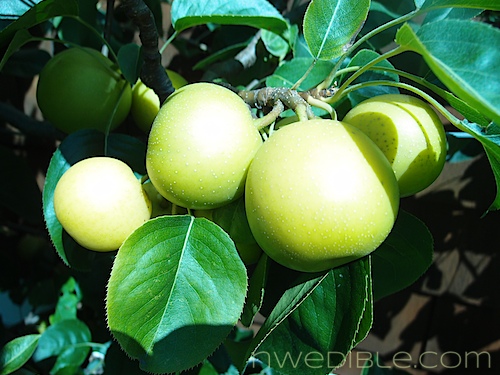 Blueberries are coming on well. Because of the way a handful of berries ripen at a time per bush, most of the harvest so far has gone into our mouths without ever making it inside. No jam, no freezing. Still, when I add it up we're getting about a pint or two every three days from what are, essentially, landscape plants.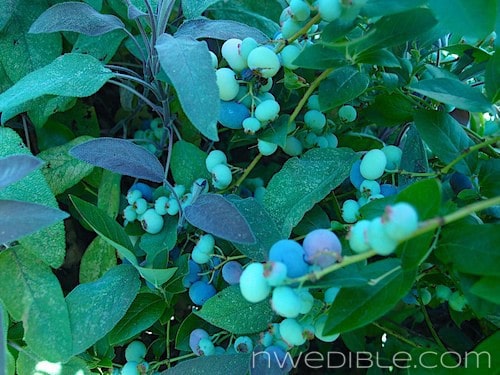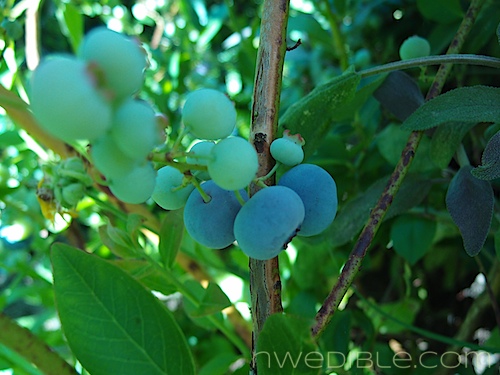 I harvested onions a few days ago. This year's yield on onions wasn't near enough to see me through the year. However, nothing destroyed my garlic this year, so on the whole I'm feeling ok on alliums.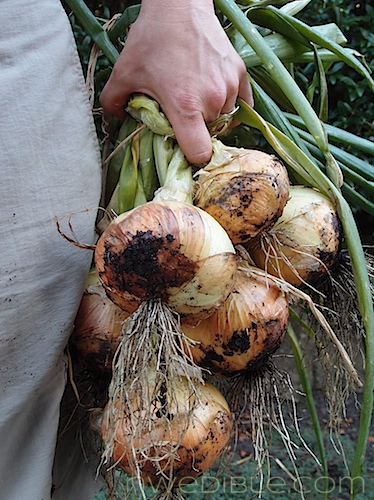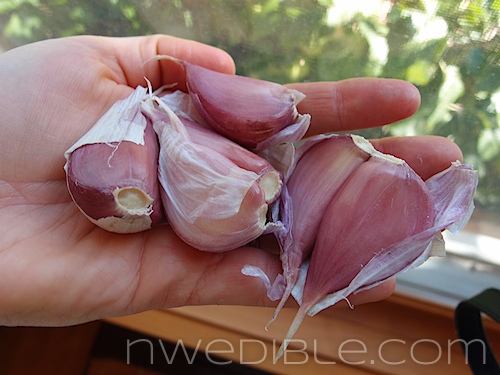 The hugelkultur beds are crazy in a good way. I don't subscribe to any particular "school" of gardening . I'm not a dedicated permaculturalist or square-foot gardener or anything. I'm more a pick-and-choose type. I'm glad I picked and chose hugelkultur.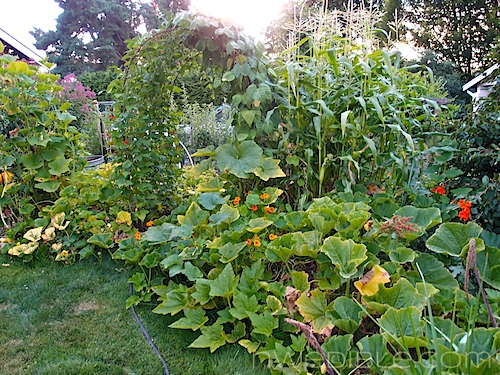 These beds have been watered once this year. They are producing an insane amount of biomass. My corn is forming up and getting bigger every day, I've got squash climbing trees (not kidding – had to unwrap a vine that had climbed up and around a tree) and the beans are doing great.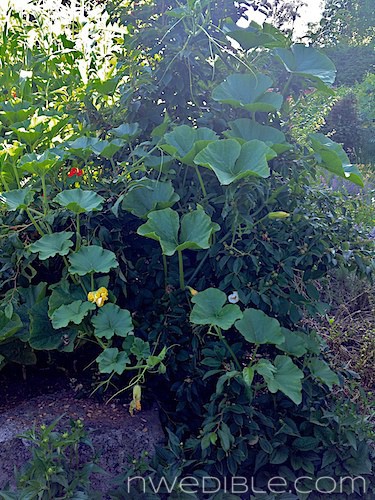 One of a few volleyball-to-basketball size squash. Now, if only I knew what it was…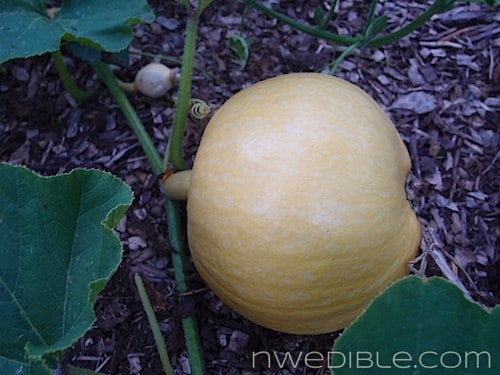 This pumpkin is forming up inside the leaves of red hot poker. The vine that it's hanging from must be 15 feet long. I'm not kidding, the squash are traveling.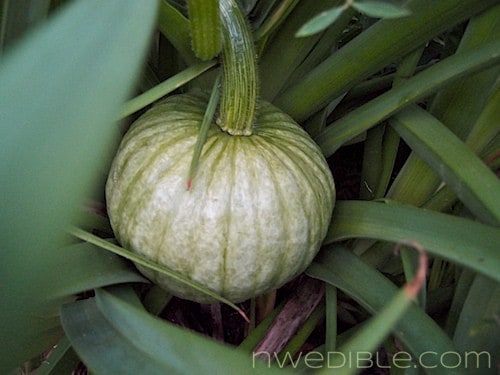 One of the "compost squash" volunteers has thrown these gorgeous variegated leaves. I think I'll keep the seeds from whatever this ends up as just to try to hold on to that leaf pattern!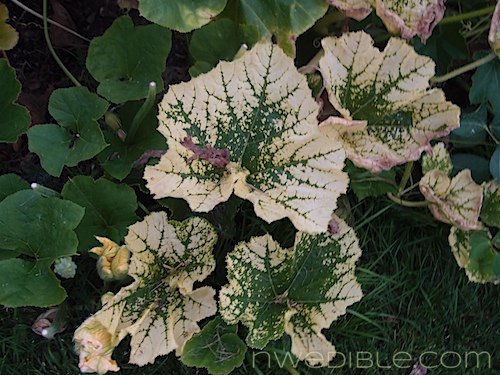 The rebar and mesh trellises have done great. The only issue is some of the beans are growing in a tangled pile at the top because they've run out of things to grow up.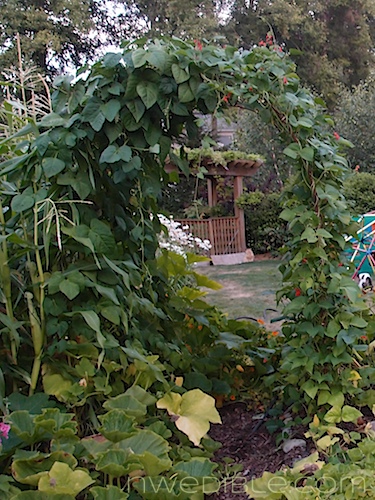 But many of the beans just hang right through the mesh. And I have to say, I really enjoy the feeling of being literally surrounded by my plants as I harvest.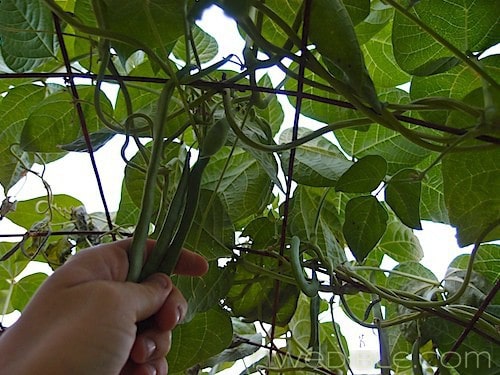 The back beds are a bit of a disappointment thus far. This growing area is slowly, slowly succumbing to diminished hours of light due to trees a few property plots down from mine. What was a short 10 minute mid-day shadow at the height of summer when we first started the garden has become about an hour-plus long black-out for about half the beds.
Chard will be big enough going into fall.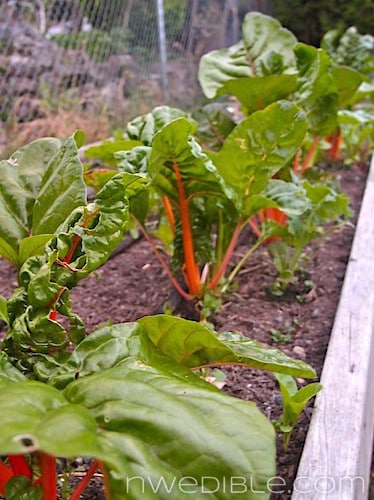 Tomatoes are making a lot of leaf but are just now starting to ripen fruit.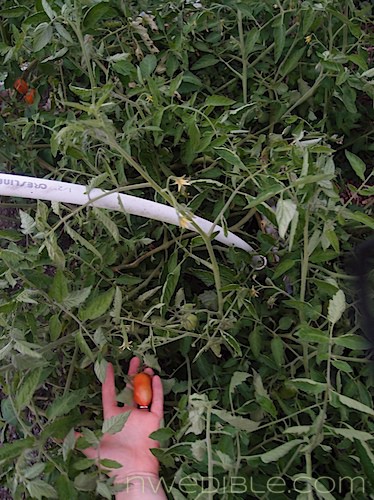 Most of the 'maters are still green, green, green.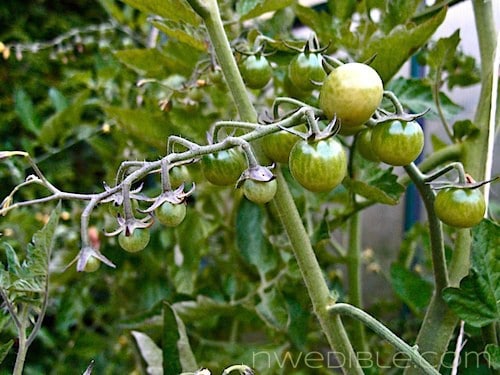 This Cousa-style summer squash is my new favorite. It's like zucchini but kinda oomphier. I like the texture, it's nice and dense and the skin is thin. Lots of nice butterhead lettuce in this bed, too.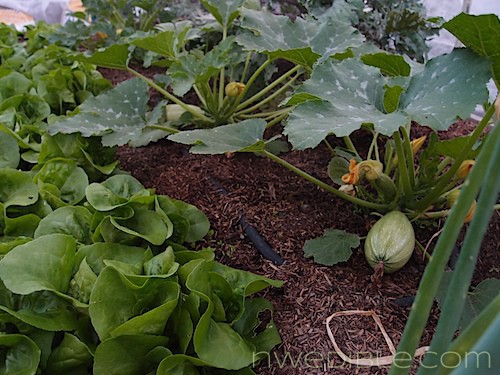 The next round of lettuce blend is coming up with my last, late sowing of basil, cilantro and dill. If I'm lucky all this stuff will make it to a nice size for pureeing into pesto.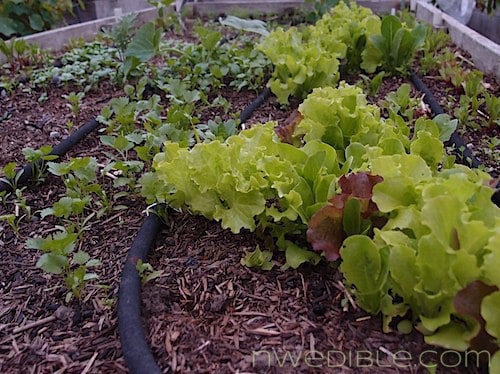 Summer squash isn't quite the size I'd like to see this late in the year, but I am harvesting enough squash for twice-weekly fresh eating. At least I'm not overwhelmed by baseball bat zucchini, I guess!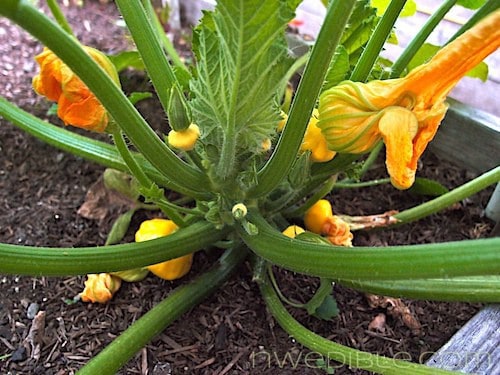 The fall crops are in, for the most part. This is broccoli for fall and early winter. The white stuff is diatomaceous earth, my insurance policy against the maggots that f-ed up my spring broccoli.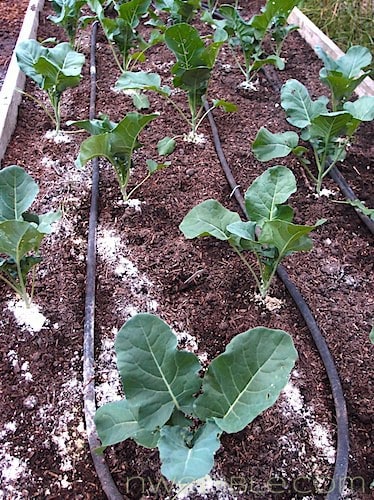 Seeded fall crops, like beets and carrots, are coming up too.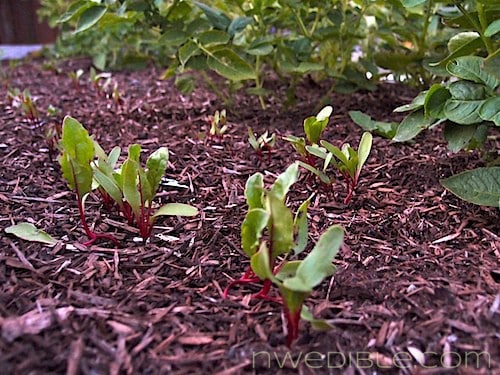 I did a front-yard display garden again this year. It's just so people walking by can see what broccoli or peppers or beans look like when they aren't wrapped in plastic on a grocery store shelf. Yet I manage to get a surprising amount of harvest from this collection of pots!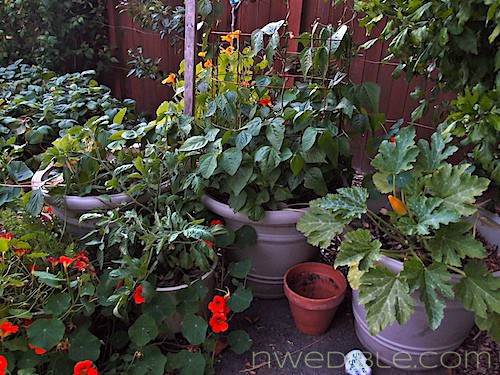 The front beds are doing well and are an ode to concrete reinforcing mesh at the moment. The upright mesh supports tomatoes.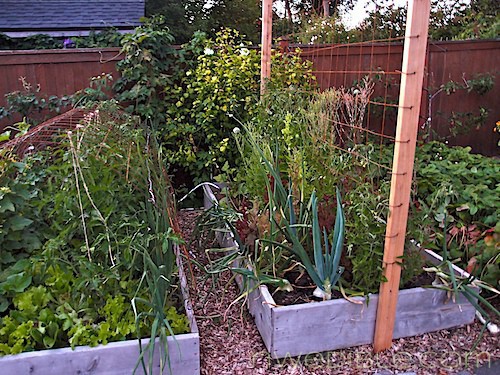 Another section bent into a hoop is supporting cucumbers on the outside…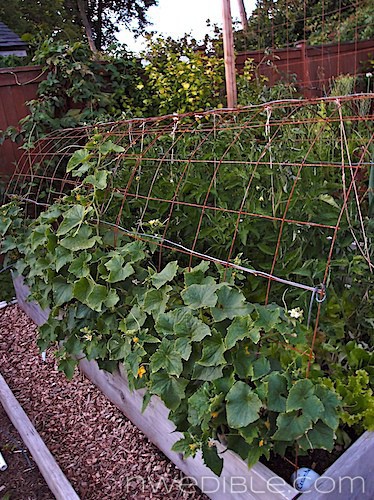 …and shading lettuce in the middle.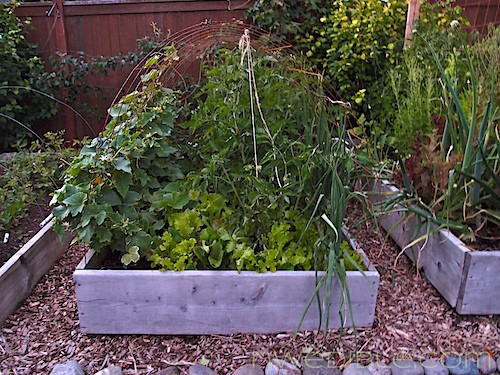 And there is a little room left over for some stuff that's just pretty, like this assortment of hydrangeas.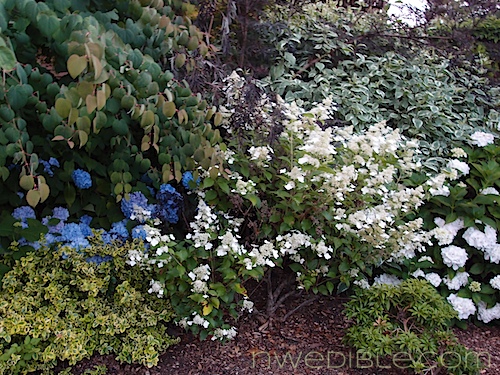 And this purple clematis that has really taken to the chicken fence. Here's the embarassing thing about this 3 or 4 year old vine: it's still in the damn 1-gallon nursery pot. I bought it, brought it home, promptly got distracted, never transplanted it or watered it and finally left it for dead. So imagine my surprise when it started doing this: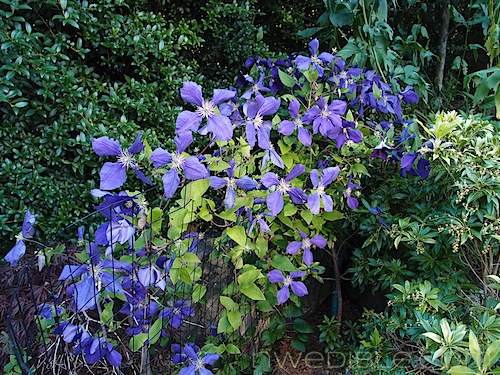 I think maybe this fall I will try to carefully cut the outside of the pot away and mound soil over it's rootball. On the other hand, it seems fine. I'd hate to fix what's not broken…
Blog news: several readers have asked if I am hosting a Nosy Neighbor Urban Homestead and Garden Tour again this year like we did last year. Not this year, I'm afraid, guys. After my car wreck in late June I just didn't have it in me in July to do much of anything, including plan a virtual garden tour.
But since there appears to be an interest, I can definitely put another Nosy Neighbor Tour on the forward-looking list for Summer 2013. And, if you are interested, we can do a fall 2012 virtual pantry tour where we could all brag about our home canned tomatoes and jam. You can show off store-bought cocktail-onions and gatorade or caches of MREs, too, if you want – it's whatever food storage means to you. There aren't a lot of rules. October/November-ish? Who'd be interested in something like that? Let me know your thoughts in the comments.
How's your garden growing? Are your zucchini's swamping you?
1