You haven't read much about gardening on this site for almost three months. That's because I haven't been doing any of it. My garden is really ugly right now. It is inadvisable to leave your garden completely unattended for almost three months because if you do then the Ugly happens.
I have done almost nothing in my garden since mid-September. No clean up, no maintenance, no last fall planting of greens. My garden shows it. Everywhere what was green is now black, sloughing off in thin layers of slimy mildew.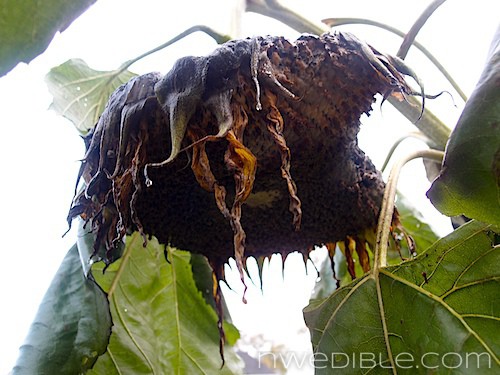 The stuff I say you should always do in fall, like covering up your beds with something (anything, really!) to stop winter rain compaction, removing anything with blight or fungal-looking ickiness to help prevent disease the following year and installing season extension cloches to help prolong the harvest – I haven't done any of those things.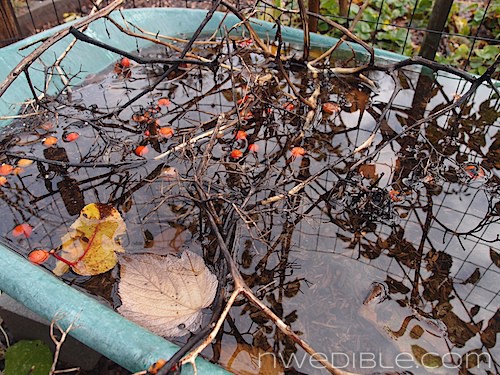 I've had a pretty good excuse, I think: for about 10 weeks after my eye surgery I didn't leave the house except to have someone else drive me to doctor's follow-up appointments. I stayed in bed a lot reading with one eye, did a pretty half-ass job of parenting and wrote a lot of blog posts about financial values and saving money (because that was one thing that I felt like I could control). I had a few friends and family members visit and help out, gained a surprising amount of weight, had periodic mental break-downs and generally kept my circle of responsibility as small as possible.
The only thing I did in the garden was plant garlic back in October – and I did that with an eye patch and a splitting headache from the motion sickness that came with being outside, but I knew how I'd feel next summer if I was buying garlic seed, so I sucked it up.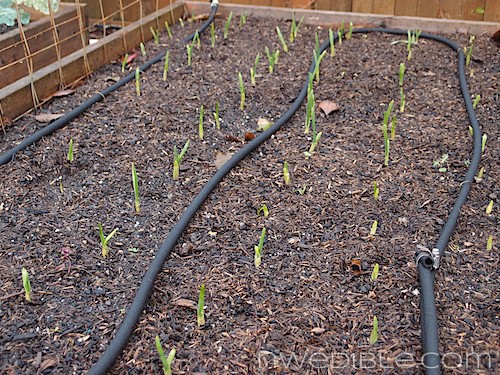 It turns out that, unlike me, the garden did not take a few months off. A few things I wanted to grow did – like my favorite winter kholrabi and those rows of garlic – but, without that little daily care from the gardener, everything I didn't want to grow leapt.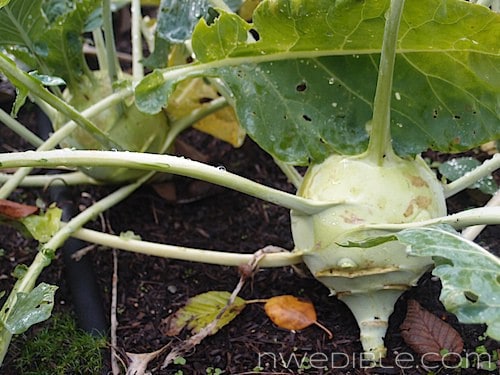 Weeds? Hell yeah I got weeds. Buttercup, horsetail, bindweed, dock and thistle – are all having a hoe-down in my back beds right now along with a whole lot of chickweed. The thistle appears to be winning but I know better than to count bindweed out. The only thing I'm sure is losing is the chard.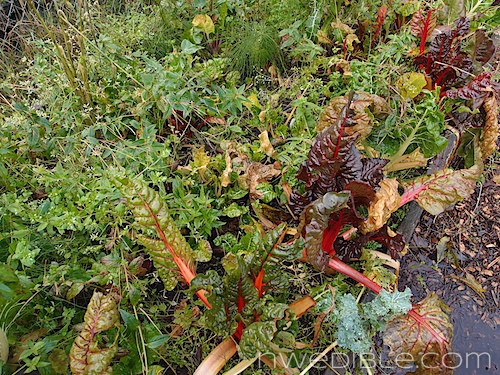 The artichokes were flowering all blue and puffy a few months ago, but now look like Satan's wedding bouquet. The Joe Pye Weed looks like an anorexic chain smoker. Sunflowers apparently went three rounds with the squirrels and the wind and lost every one. There is standing water everywhere – my garden is a bog interspersed with islands of wood chips that I never got around to raking smooth over the paths.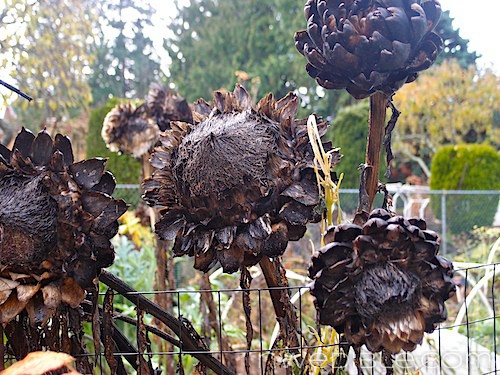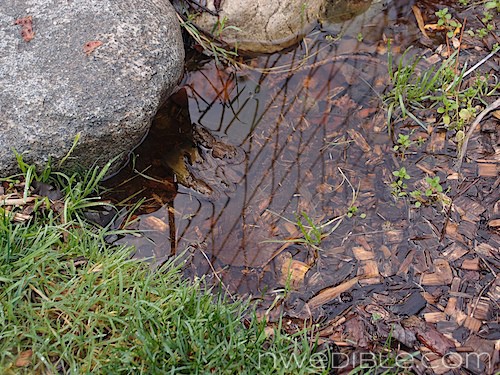 The last of the fruit and leaves off our apples and asian pears sloughed off the tree when I wasn't looking and there they sit, food for worms and slugs and all manner of fungal spores that must adore me right now.
In some respects I've gotten lucky this winter. So far it's been very mild in my neck of the woods. Even without cloching or Reemay, the arugula is still plunking along. We've frosted, and the heat lovers are dead, but the temperatures haven't dipped low enough to threaten even the moderately-hardy greens and brassicas. But of course this also means the weeds are still happily growing too, totally undaunted by chill.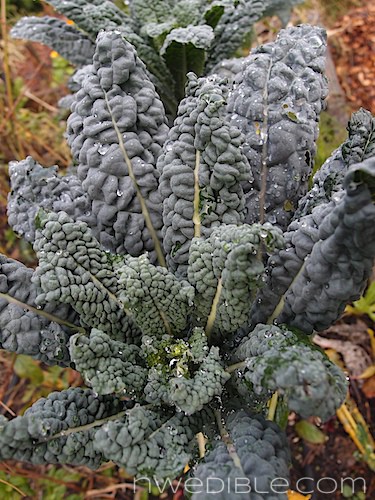 My eyes are better now. Over the past few weeks the swelling has gone down enough that my eyes can "lock-on" to a parallel position. This means that I can see again, I can drive again, and I have started to feel like myself again. My binocular perception isn't perfect – it takes awhile in the morning for my eyes to warm up enough that they can bring two flat images together into one three-dimensional one, but it's good enough that I won't need a second surgery.
So, all better right? Time to get to it!, right? It feels like there is so much to do, so much garden life to catch-up on. I know I should get out and start pulling weeds and cutting things back. I know I need to put away the remnants of late-summer projects that have just sat untended for months now.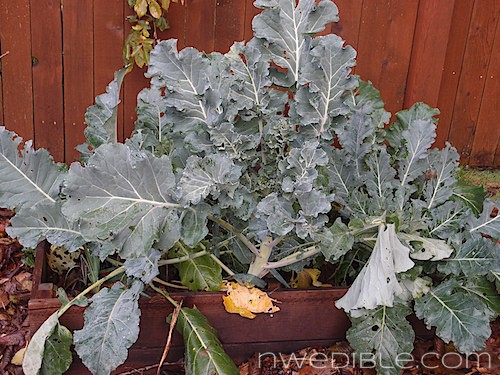 And maybe if this were one of those inspirational blog posts, I'd clean it all up and then show you a series of before and after photos. You know, go for the Amazing Makeover angle. "Wow, doesn't that look better now?!" I'd ask. And I'd tell you how relieved I feel now that the garden is back to rights. There'd be a blushing cheek apology and some kind of public commitment, like: "Oooh boy, I'll never let the weeds get that out of control again!"
But you know what? I don't wanna. Don't want to throw myself into a project and sure as hell don't want to be perky about it. I'm still tired. It's felt like a long, rough stretch, these past several months. I look out over the vista of effort my garden currently represents and I just want to turn my back on the whole mess. I much prefer the idea of going inside for another cup of coffee and another hour or two of sitting on my ass than rousing my usual energy to go weed.
Don't get me wrong. If I stare at it too long, my garden in its Ugly state drives the perfectionist in me nuts. I've had a special hatred for horsetail since I carved the original garden area out of a field of it eight years ago. Bindweed? Buttercup? I hate those bastards too. I'm not real Zen about weeds. But I have learned, through many seasons of gardening and many weeks when the weeds moved faster than I did, that the Ugly rarely permanently damages anything.
So I remind myself that, if I get to it in a week, or in three months, it'll really be ok. Ugly happens. Mildew and mold and death and decay happen. These things happen because life happened first and I didn't rush in to intervene to truncate the cycle through "clean-up." Weeds happen because the full flush of life is so powerful that it will spring up given the smallest opportunity. It will rush to convert even waterlogged soil and meager Seattle winter sun into new leaves and new roots. The fact that these leaves do nothing for me, that they are thistle or dock or horsetail, does not change the small miracle of their growth.
You might even say that the Ugly is doing what I couldn't and protecting the soil in my beds from the barrage of Winter. Other residents of the garden seem quite happy with the Ugly, too. All those mildewing perennials? The birds swarm them – little peep peep birds dance around that Joe Pye Weed, picking at the loose seeds with what seems to be avian glee.
The sculpting of a garden is a lot closer to working in clay than in marble. If it all goes to hell for a while, you can just bring your fist down, smash your ball of clay against the table and start over. Remake. Renew. A garden is just dirt – a good portion of mine is, literally, clay – and as long as you don't poison it, you can always start-over or change mid-way and sculpt a new start with a rake.
One day soon I'll be out there, pulling stuff up or cutting stuff down, raking beds smooth, remulching and reseeding. When I finally do life will still be eager to spring up and turn soil and sun into leaves and fruit and seed for me once more. But for now, it can wait. It's ok. Ugly, but okay. Ugly, and alive.
Has your garden ever turned Ugly on you?
0