My neighbor rang my doorbell yesterday. She was holding this chicken.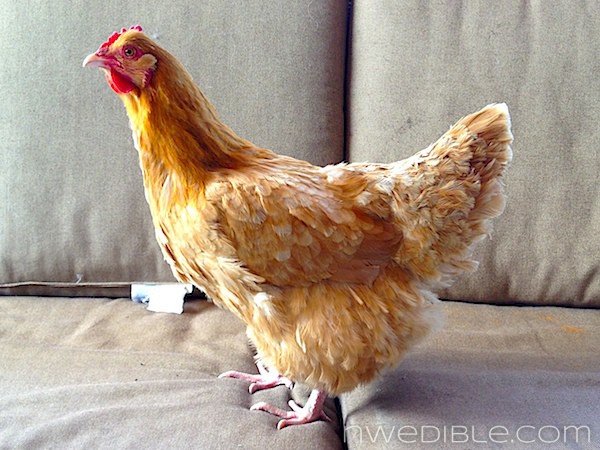 She had just come from her kids' school, where the chicken had been wandering the busy parking lot, causing all kinds of havoc by darting under and around the station wagons and mini vans.
My neighbor's eleven year old daughter is a natural Animal Whisperer and she managed to get close enough to the chicken to pull her out from under a car. Once she was in friendly arms, the chicken (named Goldie by Animal Whisperer Girl) was totally calm and, unbeknownst to me, on her way to my coop.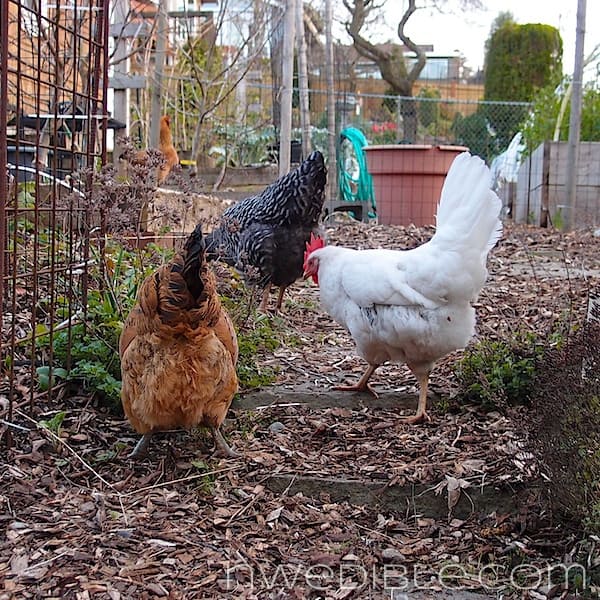 When my neighbor showed up, the rest of my hens were out, ranging around the yard, scratching and eating bugs. After a quick physical inspection (Goldie looked to be in perfect health) I let the new chicken join the other girls.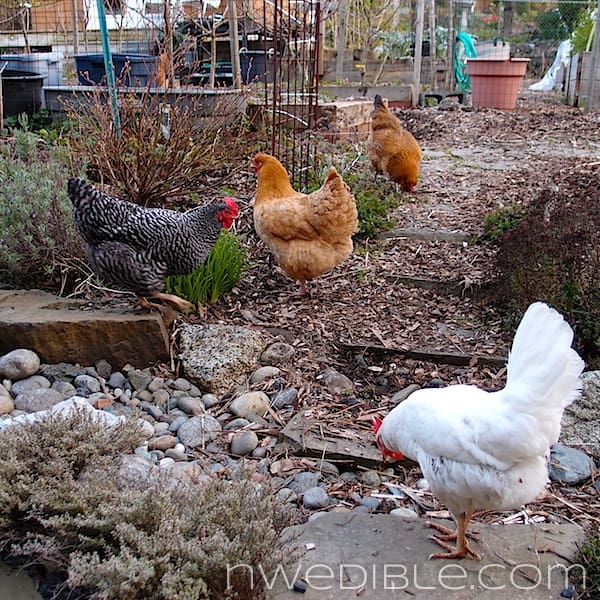 Goldie, probably because she is big – larger than any of my other hens – had very few problems walking into the established flock. There was a quick chest-bump, wing-flap thing with one of the Austrawhites, and a few desultory comb peck attempts, but for the most part the integration was very calm. This is the best advice* I can give when it comes to chicken integration – size matters.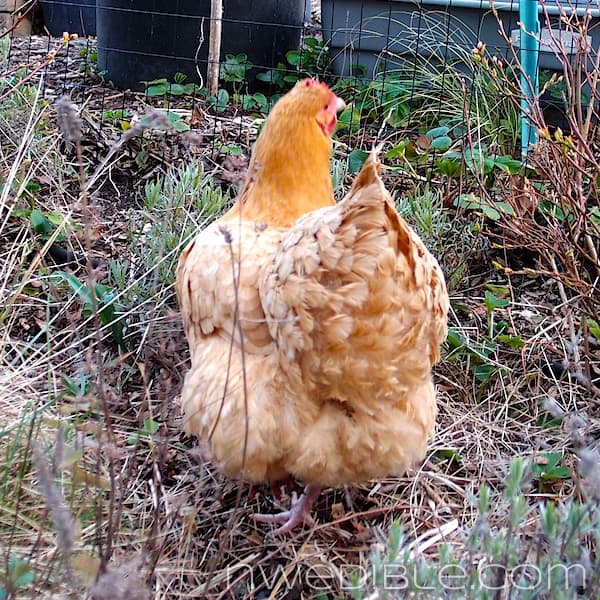 She is truly a lovely hen. I thought perhaps she was a Red Sex Link, but a few people in the Facebook community say Golden Comet is most likely. If you know chickens, I'd love your opinion on Goldie's breed. So far, she's been quiet and is very calm and docile, allowing the kids to hold her.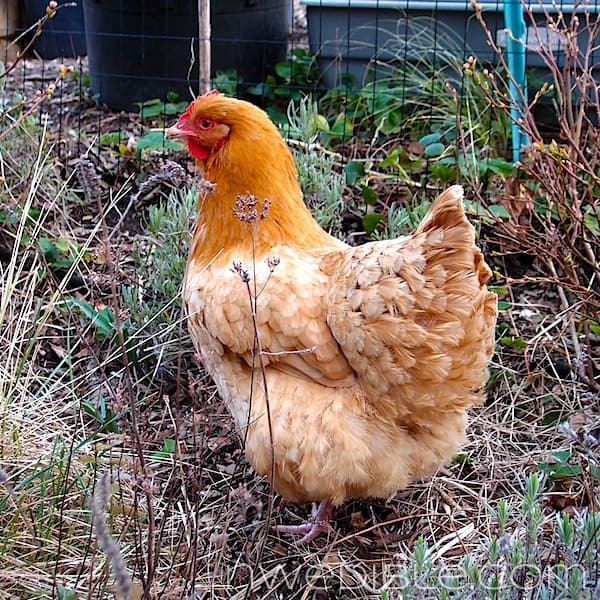 She seems to naturally understand the whole "flocking" thing and generally stays with the other hens.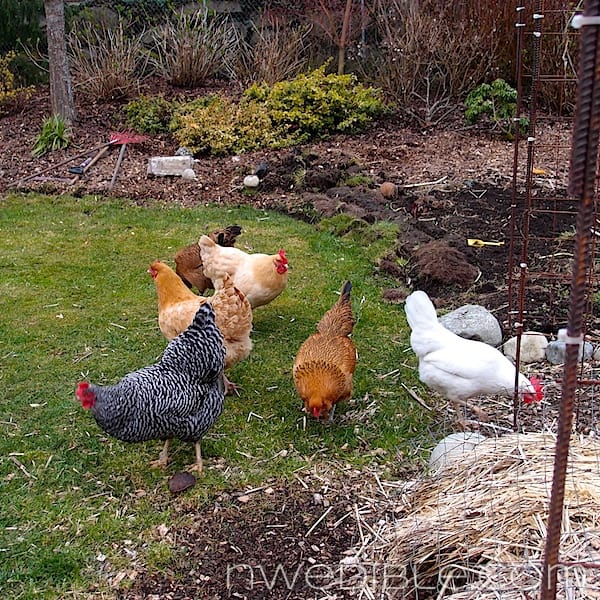 I've even noticed that the other hens tend to follow Goldie when she decides to check out a new patch of garden. It's pretty funny. Maybe she's a natural leader.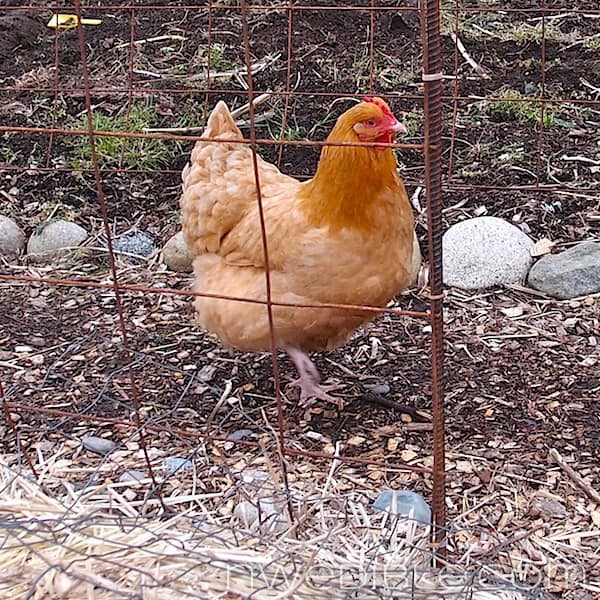 After a calm outdoor integration, my one concern was how she would do in the coop where space is more constrained. To my great delight, and without any prompting or shooing, Goldie naturally joined her new flockmates in the coop when the sun got low in the sky. She found a spot on one of the outdoor perches to roost and settled right in to her new home.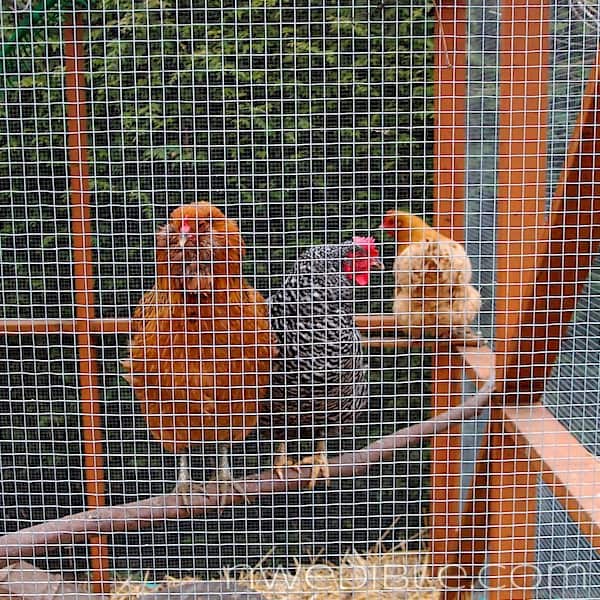 There wasn't any squawking from the coop, so I'd say Goldie has been accepted.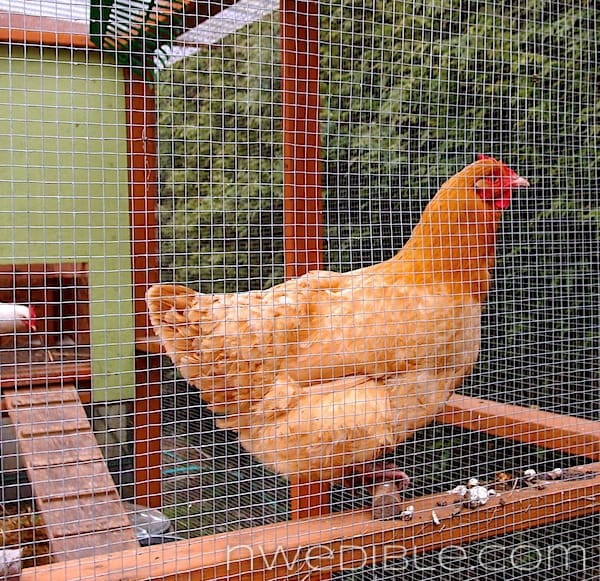 As of now I am technically "fostering" Goldie. If a bunch of flyers show up at the school parking lot asking about a missing chicken my neighbor will let me know. But I'd just assume keep her. We have room in the coop and we are coming into the time of year when feed costs go down because of extra ranging. I'm also going to try this Grow Your Own Fodder technique to further minimize my feed cost.
We have to assess her laying and make sure she's not past Henopause, of course. But her vent looks really good – my guess is that she's 2 years old and has at least another year or two of solid lay in her. And because I am getting tons of eggs right now, I don't feel a lot of pressure to optimize my flock's productivity.
And honestly, I'm just quite fond of her. She's got a lovely calm personality that is a very welcome addition to the flock.
Welcome, Goldie! I hope you can stay!
*Note: I did almost everything wrong with this flock integration, but it still turned out ok because Goldie is big. Check out this article for good tips on how to add new hens to a flock the right way, and please share your best tips and experiences adding new chickens to an established flock in the comments.
4