Perhaps, like me, you spend far too much of your life doing laundry. Far too much. I have asked everyone I know if they have any tips or tricks to cut down the number of loads or number of hours involved in laundry and the consensus seems to be, you just have to put on the big girl (or boy) panties and do the damn wash or soon all your big girl panties will be dirty. Gross.
But my mother (ah, my mother, a Domestic Goddess of the highest order, I tell you) did let me in on a teeny time and mess saving trick. It's not a miracle or anything – I don't want to get your hopes up – but it does shave a second or two off each load. If I'm doing the math right on the number of loads of laundry I do, a few seconds per load adds up to something like 12 weeks per year in saved time. You know, roughly.
Here's the trick. Get your enormous tub of bulk enviro-friendly laundry detergent (because if you do few enough loads to not buy your laundry soap in bulk than this post probably isn't for you anyway).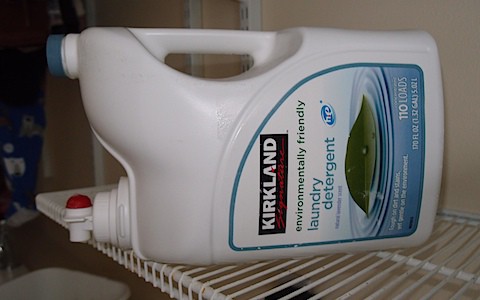 Now get a squeeze bottle. Like those plastic ketchup and mustard bottles from diners, but not red and yellow. You can find them at any restaurant supply store, or here. Fill the squeeze bottle with the bulk soap, as so: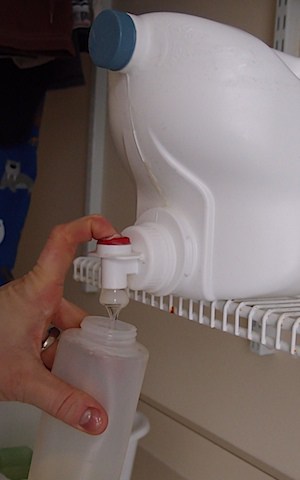 Recap and voilà! Easy to use, fast, dripless way to get your laundry soap in your machine.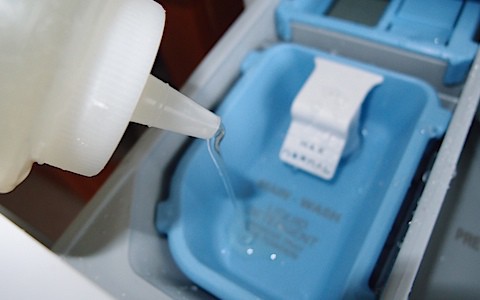 Perhaps you are thinking: but those giant bulk laundry containers come with a convenient measuring cup, why would I need this?
Well, in my experience, those cups are evil. They get tremendously coated with slowly dehydrating soap. They do not "conveniently store over the dispenser" as promised – instead they fall off, usually bouncing their sticky soap residue all over a pile of clean clothes you haven't quite gotten around to putting away. Finally, every time you fill one a little extra soap from the container's dispenser drips on your counter. Leave that soap drip on your counter long enough it'll take the color right out of Formica. And that, friends, is why my counter has that custom Jackson Pollock look to it.
No, trust me, the squeeze bottle is far better.
It's not a solution, but it's a start.
Anyone have any other good laundry simplification tips? I'll take any help I can get.
3