When I announced to the interwoobles on a whim that I was quitting drinking for Lent, I expected a little good-natured ribbing and I got it. Friends expressed concern that I'd been replaced by a podperson, asked how the tremors were going, sent me photos of cocktails overlaid with "wish you were here," like a postcard from Boozeville.
Yeah, it's possible likely obvious in retrospect that I was drinking too much. I don't think I'm alone in this. I know I'm not the only mom who's found that nighttime glass of wine slowly morphing into a nighttime bottle over the years. So I am actually relieved that it's been a bit of a non-event for me to stop what had become unhealthy levels of habitual drinking.
I know not all of my readers – some of whom have joined along privately with me on this experiment –  have had the same experience. Some folks who tried to stop drinking found it more difficult than was comfortable. And any time you can't stop a behavior you'd rather not engage in, it's difficult. It's a wake-up call.
I don't want to make it seem like this has been absolutely no big deal – I've had a few moments over the past 6 weeks. My husband and I recently booked a trip to Scotland to celebrate our 15th Anniversary, and I did have a celebratory sip of single malt scotch. It's not every year the grandparents come through with an offer of 2 weeks of childcare, after all.
Nick has continued to drink (though without a partner in crime, his consumption is down, too) and there have been quite a few evenings when his Boulevardier looked so freaking delicious. But generally, it's been alright.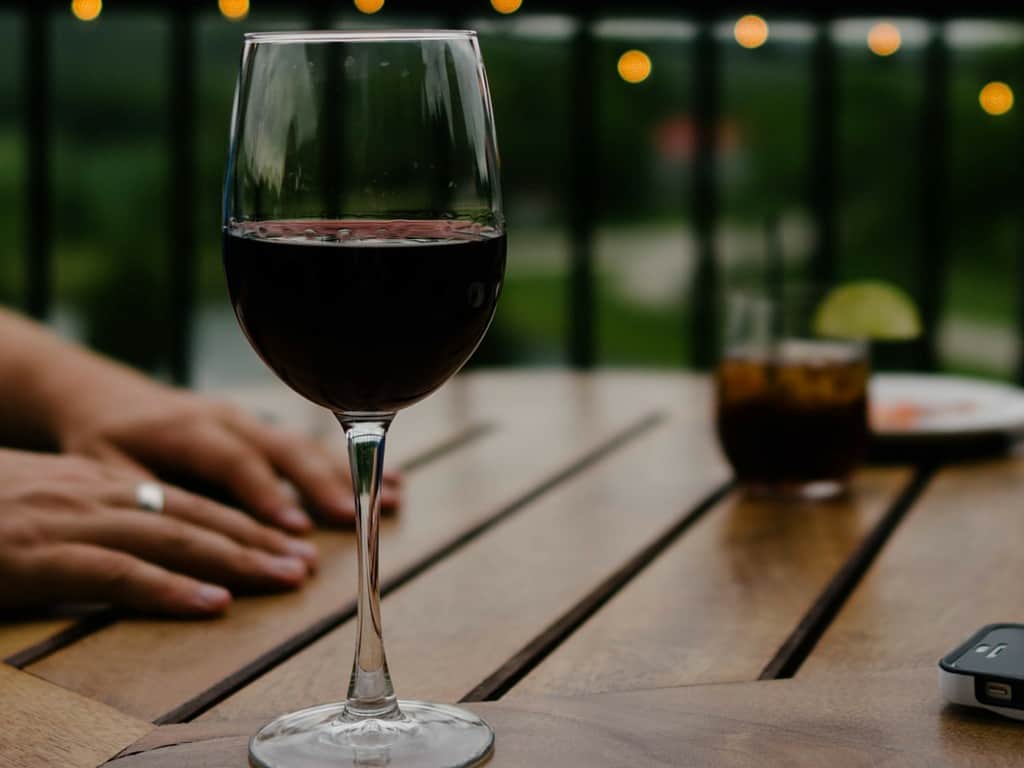 Lent Ends Tonight
In the Catholic Church, Lent officially ends at sundown tonight – a day called Maundy Thursday. Tomorrow is the more well-known Good Friday, followed by Holy Saturday and finally, Easter Sunday. That means technically, at 7:28 PM tonight, I could tie one on and still have achieved my goals.
But the larger point of this booze fast was to help me pause, break mindless habits, and approach my relationship with alcohol afresh. So, to that end, here are the biggest things I've noticed:
Sleep
I think it's time to just admit I've reached that certain age. You know the one (if you don't yet, just wait). It's when drinking more than 1 or 2 glasses of whatever totally screws with you physically.
Regular readers may recall that I basically didn't sleep for the 2 years after my son was born, and to this day, getting 8 hours of solid, uninterrupted sleep is like finding a unicorn. After this 6-week alcohol free stretch, I can say with absolute certainty that I sleep, on average, better without alcohol in my system.
Money
Booze is expensive. Because I'm kinda a snob about cocktails, the stuff I drink is definitely expensive. My not-drinking for 6 weeks made a noticeable difference in our out-of-pocket, "fun" expenditures. Savings are getting re-routed to alternate fun things, like this upcoming Scotland trip where we will go and drink exciting foreign booze.
I never actually did this, but it occurred to me that if I paid myself $5 for every drink I didn't have over 6 weeks, I'd have a nice little wad of cash at the end of the booze fast. $5 is a bit more than ingredient cost for most of the cocktails we enjoy, but easily half to a third of what we'd expect to pay for those same cocktails in a bar.
Diet and Weight
When I first stopped drinking I noticed I was eating way more than I normally do, and was craving sugar like a mofo. I have quite a sweet tooth, but it's unusual for me to crave candy and starch and bread and cookies and pasta to the degree that I did.
Here's my theory: alcohol acts a lot like sugar in your system, and somewhere in my brain chemistry or my gut microbe or something, a substitution effort was being made.
Will power is a bit like any other muscle, and honestly, I did not have the strength to say no to both booze and chocolate at the same time. Result? I gained several pounds over those first couple weeks of Lent. Then, about a month ago, those sugar cravings faded back to their normal level – a periodic shout of "hey, remember how donuts are delicious?!" instead of a continual roar of "eat all the carbs!" and my weight started drifting back down to my baseline.
Now, after 6 weeks without alcohol, I actually find my food cravings are a bit different. Not sure if this is from the booze-fast, the change of seasons or what, but right now I can't go a day without a huge bowl of plain yogurt, and I'm eating a ton of fermented vegetables. It's like I became accidentally healthy. I'm one chia-seed and kale smoothie bowl away from being completely insufferable.
Mood
I have well-managed major depression. I'm totally fine, but I take drugs to help me stay that way. (Your lack of snarky comments on this is appreciated.) When one has a mood disorder like depression, alcohol is often used as a self-medicating coping strategy. When my depression was active, I absolutely used alcohol to numb the numbness.
Anyone who's struggled with a mood disorder – anxiety, depression, whatever – has been told by every doctor ever that alcohol is a depressant and those prone to being depressed should stay away. Of course, if everyone did what their doctor told them, we'd need a lot less doctors.
So I say this with absolutely no judgement to my fellow depressives – not drinking has really helped my mood stability and if that's an issue for you, I highly recommend taking a break from drinking just to see. It's not that I'm in a great mood all the time, but it's just way easier to get back to that calm middle ground. It's easier to feel sympathy instead of irritation when my munchkins are extra needy. It's easier to be calm about last minute changes of plans. It's easier to see the joy in everyday things. It's just easier to kinda go with the flow.
Going Forward
Despite all the advantages of teetotaling, I don't have any plans to give up booze completely and forever. Wine and beer have too much of a place in cuisine for me to say goodbye forever. And honestly, I still really, really enjoy everything about the cocktail process – from the creation to the mixing to the garnish to the sipping.
So what I am looking forward to is putting drinking back into it's proper context of joyful celebrations, not daily survival. I'm so pleased with how this Lenten observance has gone that I would not hesitate to do another booze-free reset.
Expect cocktail recipes to still pop up on this site, but maybe less frequently. A life in better balance is something to which I'll always raise a glass.
356