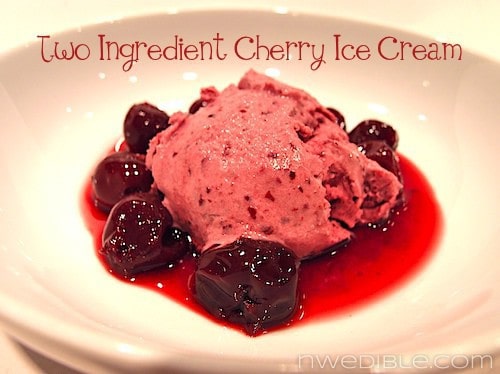 Some tastes are summer in your mouth. This is one of them.
When the weather gets gloomy, and the great overcast sky of Seattle forms a continuous ombrey of silver-darkening-to-slate with the damp pavement, this is the flavor that recalls sun on your neck and trips to the lake.
This is also the recipe that justifies all that work you spent pitting and freezing cherries in July. And just in case you need yet more incentive to make this, it will take less time to make this ice cream than it took to get the cherry stains off your fingers back then, I promise.
Two Ingredient/Two Minute Cherry Ice Cream
1 pound (about 3 generous cups) pitted, frozen, dark, sweet cherries.
1 ½ to 2 cups milk (half-and-half or part cream can be substituted for a richer result, but I actually prefer plain whole milk in this application)
Optional Third Ingredient For Grown Up People Who Like It Like That:
2-4 tablespoons Grand Marnier, Cointreau, Dark Rum, or Kirsch
Method
Combine cherries (still very, very frozen – the colder the better) and 1 ½ milk in your food processor.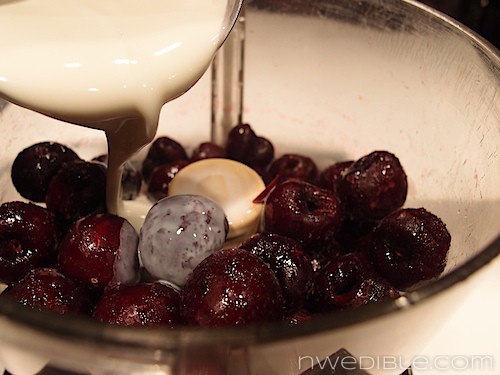 Process for about a minute, pulsing at the beginning until the cherries break up into small pieces.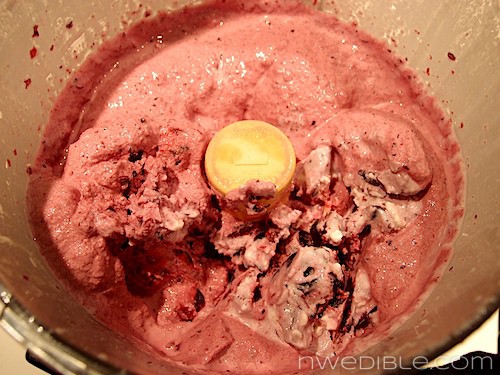 Add in liquor if using. If additional liquid is required to get puree spinning, slowly add more milk as necessary, up to an additional ½ cup.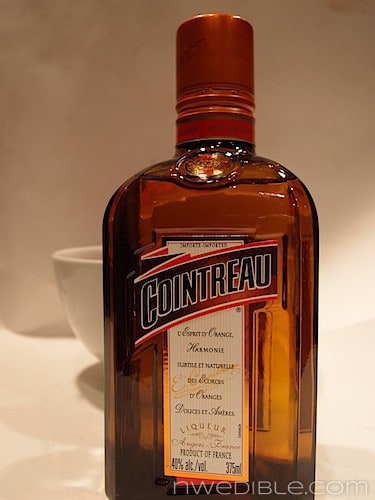 Process until quite smooth and thick, like soft-serve ice cream.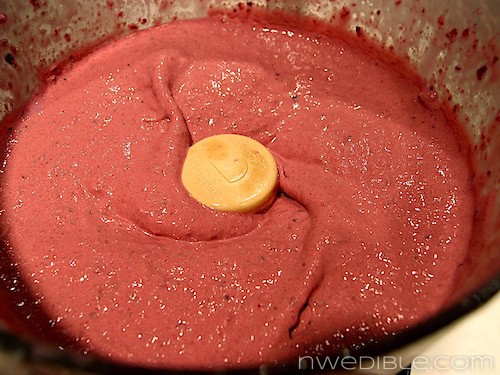 At this point, you can eat the Cherry Ice Cream as is. It is fantastic just like this, with a smooth creamy texture, but will melt pretty quickly. If you want to serve it later, or just prefer a firmer ice cream, pop it in the freezer for 15 or 30 minutes until it's the consistency you prefer.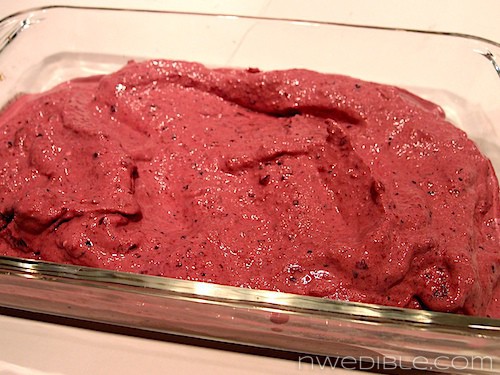 If frozen for several hours or overnight, let ice cream thaw slightly before scooping.
When I served this, I gilded the lily a bit by topping the cherry ice cream with cherries canned in a heavy lime-almond syrup.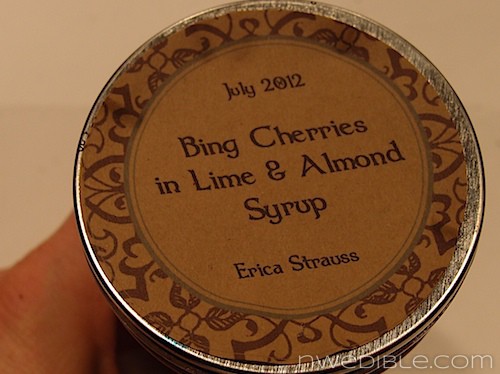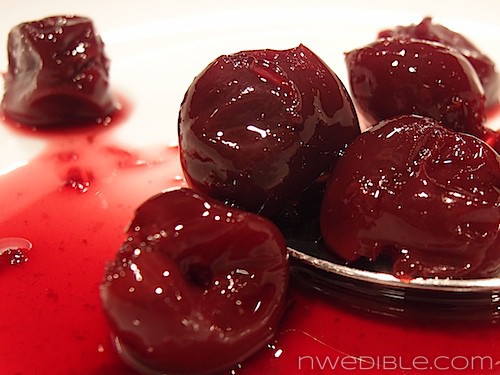 Dessert: done, and in about the same time it took you to read this.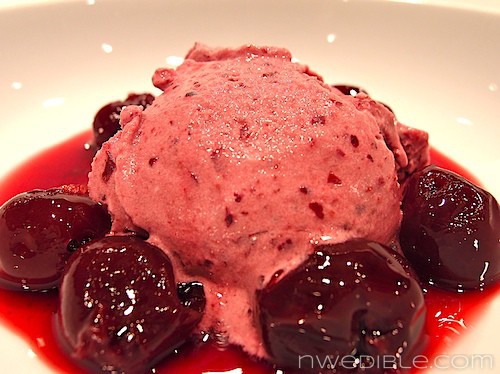 Variations On a Theme
You can do this same Two/Three Ingredient Ice Cream thing with pretty much any frozen fruit. I like peaches, mangos and any kind of berry, but cherries are great because they never need additional sugar. Fruits that are naturally lower in sugar, like this peach variation I did last summer, will benefit from a little honey or superfine sugar added to the puree.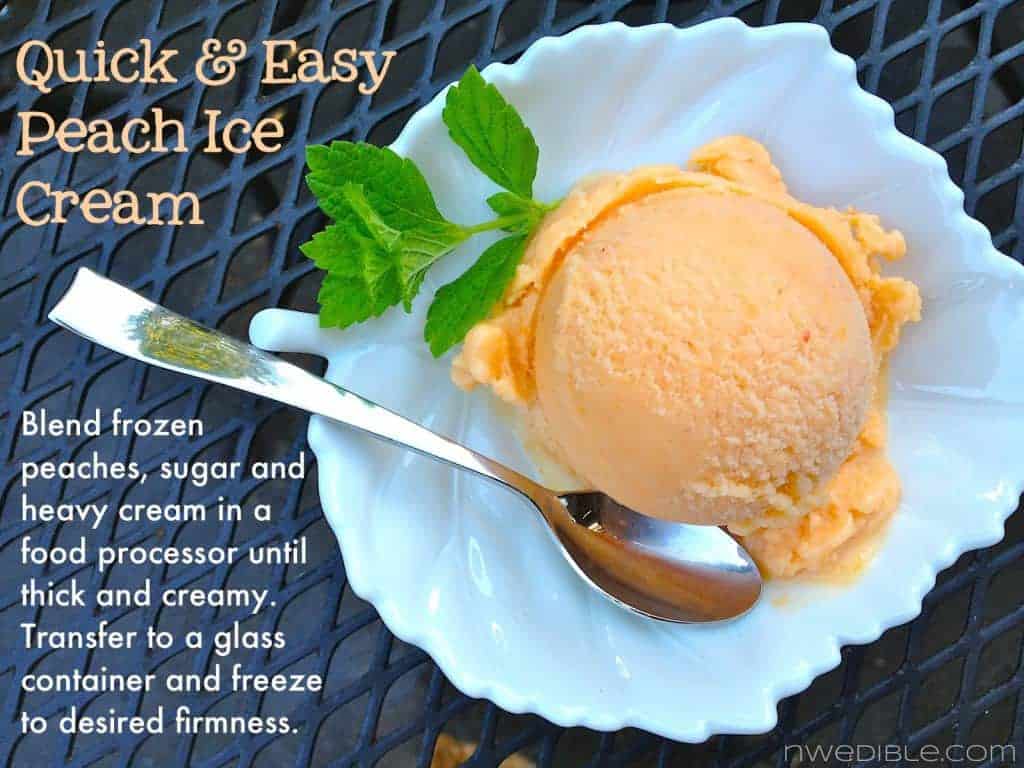 Want to make your cherry pitting easier next July? Looking for something to put on your Christmas list? This cherry pitter is how I got through 90 (or was it 120?) pounds of cherries last July and lived to tell the tale. Highly recommended.
3