It's time to come clean. It's the big finale, the big reveal – did we make our No Spend budget or blow it? Did you make your budget?
I'm happy to say that we did stay within $250, and we saved up a ton of money this month. In addition to the casual dollars we didn't spend, we made some concrete changes to our internet that will continue to save us bucks every month. We also used the time and money we didn't spend in October to plan and save for a big purchase of LED lights this month.
Getting Creative
One of my favorite thing about No Spend Month is that it forces creativity. Case in point: about a week ago, our I-don't-even-know-how-old coffee grinder started making a terrible, horrible, blood-curdling noise. It limped along, grinding beans for a day. Just when we couldn't take it anymore, the machine – blessedly – died.
So, unwilling to get a new grinder during No Spend Month, we started grinding our beans caveman style: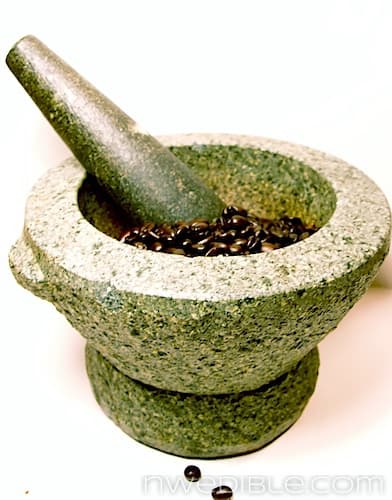 Yup, every night, we would patiently smash the coffee beans for the next day with the ol' mortar and pestle. It was actually quite a soothing activity, unless you tried to go to fast. Then beans would spurt up and hit you in the face.
We considered sticking with our caveman coffee grinder, or even purchasing a manual burr grinder, but in the end we opted to buy a new electric grinder for $30 (our first post-No Spend Month purchase). As I sit here typing and enjoying a smooth cup of decaf coffee, I am confident we made the right choice.
That caveman grind made a pretty weak-ass cup of coffee.
Final Week Spending
Groceries (milk and eggs and a $.99 bag of potato chips to buy off my very "busy" 2 year old son in the grocery store) – $8.93
Children's Birthday Party Gift – $16.18
iTunes Movie Rental (our only entertainment expense of the month but you can tell we were starting to hit frugal fatigue: chips and a pay movie in one week?!?) – $3.29
Gas (a short fill, arguably cheating) – $10.00
______________________________________
Final Week Total – $42.39
Prior Weeks – $195.18
Monthly Total – $237.57
Remaining– $12.43
Verdict: Success! $12+ left over! That's a new record I think. My inability to drive this month really helped us conserve gas, and by tapping into the larder our grocery spend was almost exclusively for dairy.
Reader Feedback, Please
This No Spend Challenge helped us financially, but what about you? Did you gain financially from this process? Did deliberately choosing to not spend shift your relationship to money at all? Did you learn anything in this past month that you will carry through into future, "normal spend" months?
I will admit that devising these challenges and posting with this frequency was not the lightest-weight blogging endeavor. My family can always do No Spend Month privately, so I'm looking to you for feedback, to see if enough people like reading about this kind of thing that it is worth blogging about or hosting another No Spend Challenge sometime in the future.
So, please let me know, how did you feel about this past month? Do you like the money saving tips and financial values posts? Is this stuff relevant to your life and your concerns, or is it not?
Thanks.
Now go roll around in the big pile of money you saved last month. You know you want to. (And after you roll around in it, how about going to the American Red Cross and donating some to the victims of Hurricane Sandy?)
1